Design Custom Gear
Personalize a custom t-shirt with our easy-to-use Design Studio
Start Designing
In the highly competitive T-shirt market, one attribute is more sought-after than ever: softness.
People who value comfortable tees have a challenge: with all the brands, styles, and fabric blends out there, how do you know which is the softest? And how do you order online without being able to feel it for yourself? We know the answer.
To be sure, we looked at all the T-shirts in our catalog known for their softness and compared them based on their hand feel, body feel, and fit. We're about to tell you which material is the softest–and why.
Tri-Blend is the softest T-Shirt material
Regularly championed by our staff and customers alike as the softest is the fabric known as tri-blend. Lightweight, heathered, and made from cotton and polyester plus rayon, tri-blend achieves a winning combination of soft hand (feel), drape, and overall comfort.
Some people consider cotton to be the ultimate in softness because of its classic organic feeling on the skin, while polyester and synthetic blends don't feel right–and for an unfortunate few, synthetics can cause itching and irritation.
But most people find that the modern, lightweight synthetic fabric blends improve cotton's softness, adding silkiness, smoothness, and suppleness (is that a word?) along with stretch–allowing for a snug fit without feeling restrictive.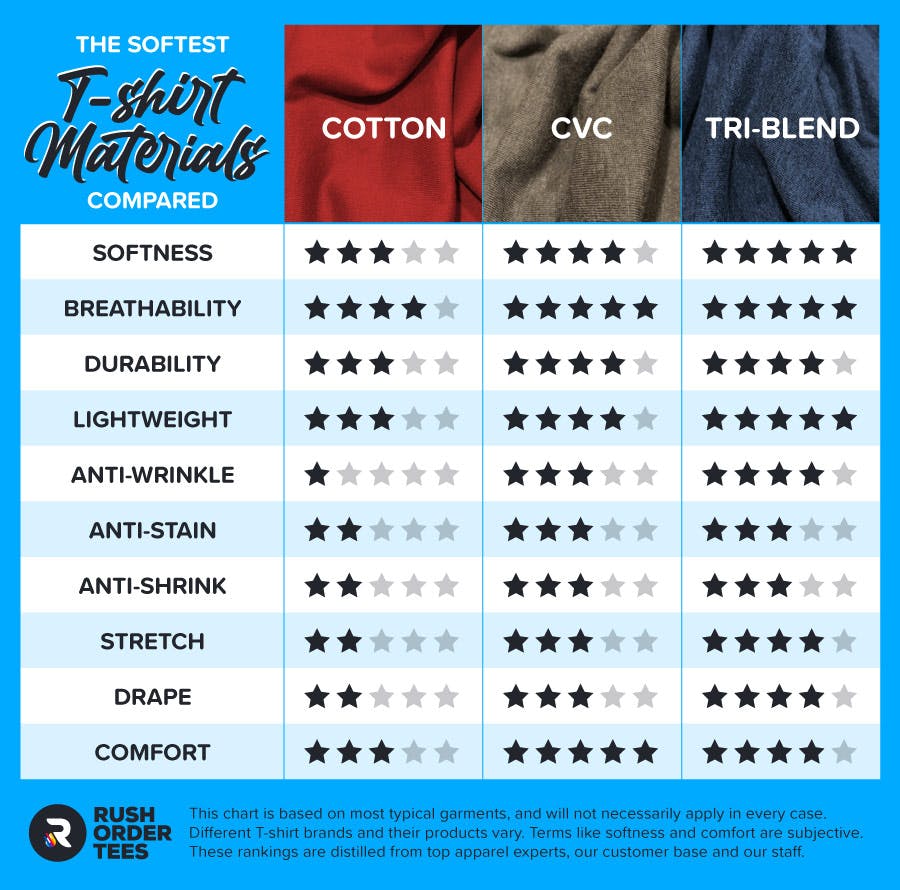 How we define soft
Supple, smooth, spongy, velvety, light, fluffy, fuzzy, comfy– there are a variety of words to describe the feeling of softness, and the feeling can be subjective. A big heavy plush blanket can be soft, and so can a breeze.
By soft, we mean overall comfort: the fabric, the feel of the surface (the hand), and how the T-shirt feels on your body when you wear it.
We all know soft when we feel it. So that's what we did. We lined up over a dozen of our top T-shirts from three fabric categories known to be soft. We felt them by hand and tried them on to evaluate how they felt overall.
The top three T-Shirt materials, ranked by softness
When it comes to softness, cotton is the main ingredient. Modern blends improve comfort by adding polyester and rayon or viscose to the mix using innovative technologies that produce smooth, supple, lightweight, and breathable fabric. Here are the top three softest T-shirt materials ranked:
Tri-blend: A combination of three materials, typically cotton, polyester, and rayon, with a ratio of 50% cotton, 25% polyester, and 25% rayon. These shirts are often "heathered," but there are solid colors available.
CVC: Stands for "Chief Value Cotton," with the other material being polyester. The typical ratio is 60% cotton and 40% poly but can range from 52/48 all the way to 98/2. These shirts are almost always "heathered".
Cotton: The classic T-shirt material, made from the natural fibers of cotton plants, specifically cellulose, an insoluble organic compound crucial to plant structure. It's spun into yarn and then woven into a fabric.
1. Tri-blend: the softest of the blends
Tri-blends are the new kid on the block in T-shirt fabrics, arriving on the scene in the early 2000s and quickly becoming a favorite among those who love soft, fitted, retro-looking tees. Rayon brings extra drape and flexibility to the already-soft cotton-poly blend, making it the best of three worlds.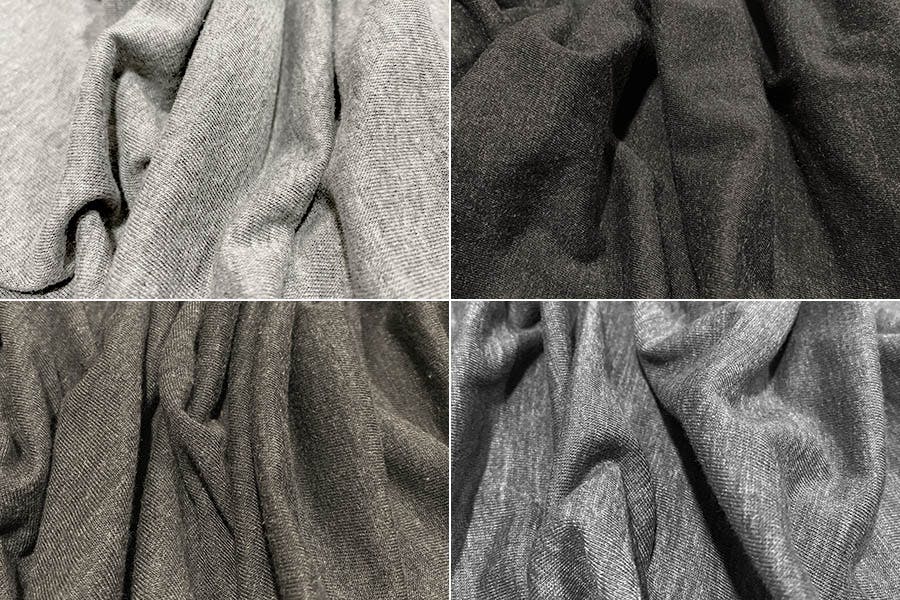 Characteristics of tri-blend T-shirts
The lightest fabric weight T-shirt
Typical ratio is 50% cotton, 25% poly, 25% rayon
Typically heathered, but solid tri-blends are available
Polyester provides a durable base and stretch
Cotton gives it comfort and softness
Rayon adds the silky feel and drape
Looser weave than cotton, more breathable
Modal instead of rayon is even softer
Retro looks and feel–best for vintage style prints
Popular in both athletic wear and fashion
More form-fitting than other tees
Can be clingy and generate static
Can be itchy on the skin for some people
The softest tri-blend T-shirts
Plenty of great tees are competing in this category, making it hard to narrow down to just a few of the best (it also means you'll probably like just about any tri-blend shirts you get). And keep in mind the price point is slightly higher than other shirts. That being said, here are our top three picks– the best of the best:
American Apparel Unisex Track T-shirt (TR401W) – The absolute #1 softest T-shirt we can recommend in our catalog. This tee comes out on top in our side-by-side hand-feel and wearable comfort comparisons. Priced competitively to the rest.
Bella+Canvas Tri-blend (3413C) – Overall, this company makes the softest T-shirts. Their innovative, proprietary manufacturing techniques are surpassing rivals, and you can feel their focus on quality when you put on one of their tees.
Next Level Tri-blend (6010) – Next Level is a more affordable alternative to American Apparel, and some of our customers like their tees better. Their cut and fit are always on point, and their tri-blend T-shirt is especially soft, silky, and smooth.
Does rayon make a T-shirt softer?
Yes. Rayon was developed as a synthetic silk alternative. Although its classified as a synthetic fiber because of the chemical process to create it, its made from natural, organic substances– specifically cellulose from wood pulp and other agricultural products. It's also known as Viscose or Lyocell, named after those particular processes. The addition of these fibers give T-shirts an extra silky feel, stretch, and flowy drape.

2. CVC: The softest of the poly/cotton blends
Most heathered shirts are CVCs, and most CVCs are softer than 100% cotton or 50/50s. The typical ratio is 60% cotton, 40% polyester, but it can range from 52/48 to 98/2. The common denominator is that they are mostly cotton (Chief Value Cotton) and tend to be at a better price than tri-blends.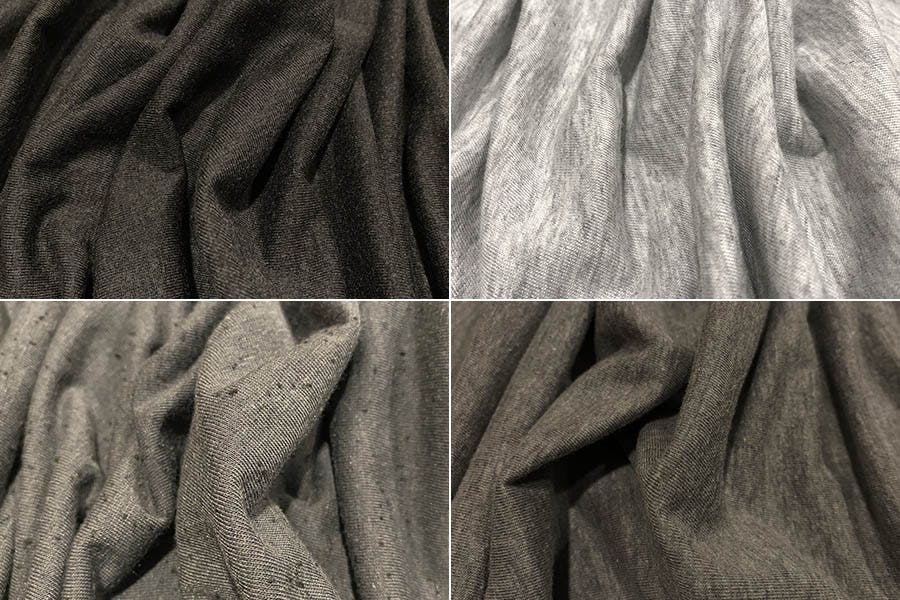 Characteristics of CVC T-shirts
Best value / more affordable than the other tees.
Typically come in shades of gray with heathered fabric.
Most 100% cotton shirts have CVC versions.
Polyester provides extra durability and stain resistance.
Cotton gives it softness and comfort.
Similar breathability and fabric weight as cotton.
Softer than 50/50 cotton-poly blends.
Some CVCs are as soft as tri-blends.
Not as clingy as tri-blends.
Garments with polyester have less shrinkage.
The Softest CVC T-Shirts
Another category that's tough to narrow down is because there are so many! Almost every popular 100% cotton T-shirt has CVC versions of itself. You'll often read in the product description something like "Heathers, Frost, and Neon colors are 60/40 cotton poly" or "Light Heather Pastels are 90/10".
This means that certain "colors" (the athletic or heathered ones) are CVCs (and sometimes 50/50s) and tend to be softer than their cotton versions. Each brand and particular product will be different, so make sure to double-check. Here's our selection of the top three CVCs we offer:
Bella+Canvas Unisex Sueded T-shirt (3301C) – What's softer than combed ringspun CVC? Sueded. This is a process where they brush the fabric so it creates a fuzzy surface that is super soft to the touch and feels like suede. Bella+Canvas pioneered this technique so they get the top spot for this ultimate soft material.
Next Level Cotton Blend T-shirt (N6210) – This CVC gets regularly cited as people's favorite soft T-shirt, and the price point can't be beaten. If you're looking for an affordable alternative to tri-blend, this one should be your go-to.
Threadfast Apparel Unisex Ultimate T-shirt (100A) – This up-and-coming company has made a splash in the blank apparel world with their innovative, fashion-forward products and super soft T-shirt material. Check out their "Blizzard" CVC, which features a unique sideways speckled heather pattern.
Does "heathered" fabric make a T-shirt softer?
Heathered is a blended fabric you know from your old gym T-shirts, sweatpants and hoodies. Originally, it was the cost-cutting combination of cotton and polyester. The trademark gray speckled or motled look was simply because the yarn or fabric was never dyed. The lack of dye along with the addition of synthetic material resulted in a T-shirt that was lighter weight, dried faster, and kept its shape better– ideal for athletics. But the material was so soft and comfortable that it soon became a desired fabric for everyday T-shirts. Today heathered material is more popular than ever, with variations like marble, blizzard, and even solid colors.

3. Cotton: The original softest T-shirt material
This list would not be complete without the T-shirt fabric that started it all and one that many people still consider to be the softest material for tees. Fresh cotton has a certain feeling when you put it on. You can't go wrong with the classic 100% cotton T-shirt when you need to make everyone happy.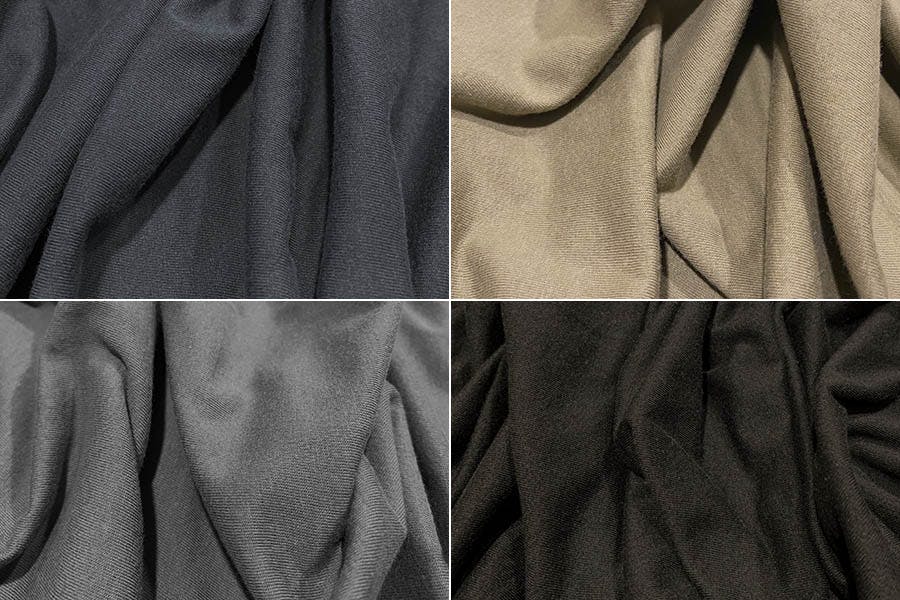 Characteristics of cotton T-shirts
Classic softness directly from the fluffy cotton plant.
Excellent surface for printing. Ink holds and lasts.
Natural breathability due to the structure of the cotton fibers.
Absorbent; holds moisture and takes longer to dry than other fabrics.
Holds dye well, even after many washes.
No static cling because cotton does not conduct electricity.
Hypoallergenic. Organic material is never irritating to the skin.
Prone to wrinkles, stains, and damage.
Prone to shrinkage if washed/dried at high temperatures.
Fibers can wear down over time.
The softest cotton is Egyptian, Pima, and Supima.
The Softest Cotton T-Shirts
Most T-shirts are cotton, so this is the biggest material category to narrow down and pick winners. Lucky, these top companies make it easy because we already knew they were the top three leaders in soft cotton tees for custom printing. We just had to rank them. And yes– its very, very close:
American Apparel Unisex Jersey T-shirt (2001W) – The one that kick-started the trend of super-soft, lightweight fitted tees. Other companies have since caught up, but this set a standard for how good a T-shirt looks and feels. And prices have come down significantly since Gildan acquired the company.
Bella+Canvas Soft Cotton T-shirt (3001C) – This tee is so soft. They use not just combed ringspun cotton, but Airlume cotton, a proprietary technique that results in a soft, smooth printing surface. Bella+Canvas prides itself on a dedication to quality, which shows in all of its products.
Next Level Apparel Crew Neck Tee (3600) – The go-to T-shirt for many of our customers, the Next Level cotton tee is as good as it gets. You'll also find this tee in a lot of our employees' drawers. Not sure why you'd be looking but ok. The construction and fit are exceptional– it's no wonder why it's so popular.
Pro tip: Avoid COE (Carded Open Ended) cotton
This will be found on most of the budget tees. C.O.E. is a cheap way to fabricate cotton T-shirt material. It has shorter strands, and it's not combed or ringspun, so tiny frays and impurities make it coarser and not as smooth as its counterparts. These budget shirts might be an option if you're doing a big batch of promotional or event shirts that will only be worn once. Otherwise, spending a bit more is worth it– if you want soft, comfortable T-shirts and a clean print.

What makes a soft T-shirt?
Quality – It should go without saying, but the old adage that "you get what you pay for" holds true here. Premium tees are made with better materials. Long-staple cotton, Airlume cotton, better overall construction, and superior materials of synthetic fibers all contribute to a softer, smoother, more comfortable T-shirt.
Knit – Most T-shirts are jersey knit, providing an excellent print surface and smooth hand feel. Some knits are tighter than others. A looser knit will provide more comfort, drape, and breathability, but slightly less durability, depending on the fabric blend and quality of construction.
Drape – Drape is how the fabric moves and behaves. There are three levels of drape: fluid, moderate, and full-bodied or heavy. Most T-shirts are in the moderate category. Some cotton tees are heavy, while fashionable styles like tri-blend are considered fluid, with the addition of rayon/viscose.
Singles – This refers to the diameter of the yarn, determined by how many times that little fiber gets twisted. The higher the single (number of twists) the finer the yarn– and softer the fabric. It's similar to thread counts of sheets: a higher thread count means softer. Most budget shirts are 18 or 20 singles. For a softer feel and better prints, go for 30 singles or higher.
Ring-spun – Yarn made by continuously twisting and thinning a rope of cotton fibers. The twisting makes the short hairs of cotton stand out, resulting in a stronger yarn with a significantly softer hand. Ring-spun cotton tees are softer and make for a superior printing surface. Most premium T-shirts are made with ringspun cotton, as opposed to "Carded Open-Ended" which is lower quality and can result in fibrillation (fuzz) and less of a crisp print.
Combed Cotton – A process by which the short fibers of yarn are removed and the remaining longer fibers are arranged in parallel order for a high-quality yarn with excellent strength, fineness, and uniformity. Ring-spun is good, combed ring-spun is even better– and softer. And your print will come out noticeably better.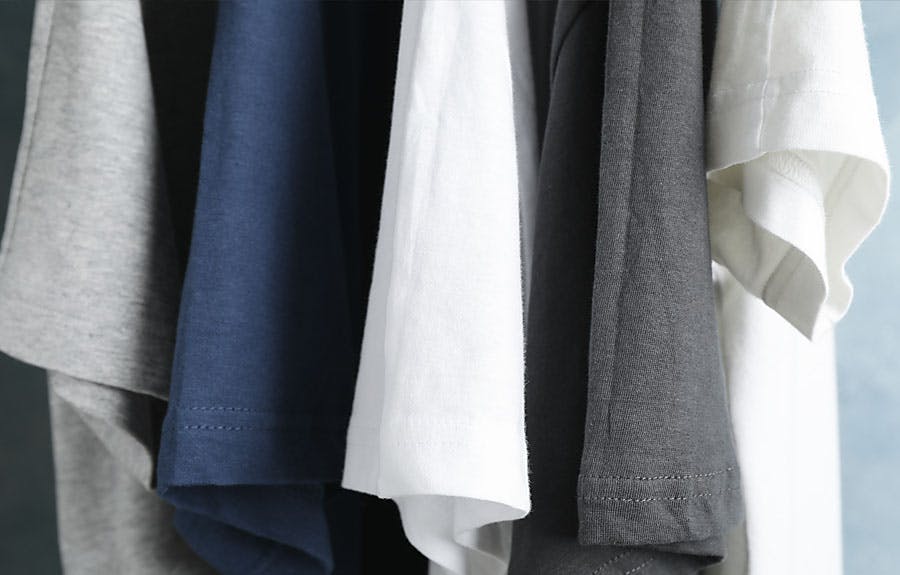 The softest T-Shirt brands for retail and premium merch
Looking for more options? There are a lot. Every brand will claim they make soft T-shirts, but the truth is only the highest quality manufacturers make the ultimate softest you can buy for custom printing. If you're starting a clothing line, selling merch, or gifting your fans, go with one of these trusted premium brands:
We also carry other soft T-shirts from well-known premium brands like Nike, Adidas, Champion, and Carharrt. Check for the placement of their existing brand logos on the garments when deciding how to customize them.
If you're looking for mid-range and budget options, you can get soft tees from established brands like Gildan, Fruit of The Loom, Anvil, and Jerzees, including combed ring-spun cotton, CVCs, and tri-blends.
Comfort Colors, ComfortWash, Beach Wash, etc: Are they softer?
Garment-washed cotton is a popular material that is "washed" after the construction of the garment, using various techniques (enzymes, pigments, and other natural chemicals) to give the shirts an overall soft and worn in feel. Many people swear by these. As far as overall softness? Some of the lightweight fabric items can compete with the other soft cotton tees, but most are heavyweight and constructed for durability, and can be slightly stiffer and more coarse than their counterparts. If you love soft-washed cotton, check out our guide to Comfort Colors. They are the best in this category by far.

Printing tips to keep T-shirts soft
In the T-shirt business, there is a term called "hand" (not the thing at the end of your arm). It's the feeling of the print on the fabric combined with the overall feeling of the surface of the shirt. Achieving a "soft hand" is always the ideal result.
On soft and lightweight T-shirts the hand is even more important. Whether you're using screen printing, DTG, vinyl, or anything else, a heavy print can feel rough, weigh the shirt down and take away from the comfort.
Luckily, there are several ways to avoid this:
Decrease the size of your designs. Nothing will weigh a T-shirt down like a gigantic design covering the whole front or back. A reduced size but still visible design has an added bonus: it looks more tasteful and people will be more inclined to wear it.
Reduce the number of print areas. If you are printing on the front, back, and sleeves, ask yourself if you really need all that. Sometimes less is more and in the case of printing on soft shirts, it's especially true. Limiting print areas means less ink on.
Invert a solid logo from positive to negative. Picture a logo that is a giant, solid square. Now picture that same square but with an outline rather than filled in. This is one of the most important T-shirt design tips for reducing the ink surface area.
Use water-based ink or discharge ink. Plastisol ink is known for its vibrant color and durability, but can be heavy and a bit coarse. A great alternative is using water-based ink or discharge ink, which both have a soft hand and add little to no weight.
Avoid embroidery on soft shirts. Seems like a no-brainer, but you'd be surprised. Embroidery is a great way to customize more structured items like hats, bags, aprons, and even work shirts, but can be a little much when it comes to soft tees.
Use the distressed effect to break up the design. Also known as the vintage look, the distressed effect is a simple design trick that can be used on almost any print. We highly recommend exploring this option for printing on soft T-shirts.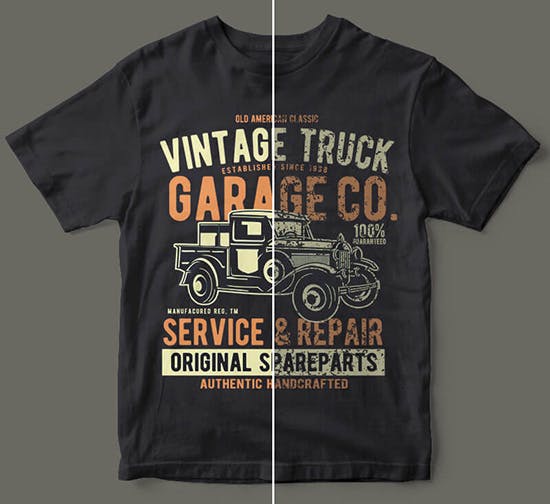 Does washing make your T-shirts softer?
Yes–and no. Cotton typically gets softer, but for some shirts (the cheaper ones), there is a point of diminishing returns–especially if you don't wash and dry properly. Eventually, the fabric can become coarse and "pilled" and the edges buckled and frayed. Blends also get softer after multiple washes, but they are more durable in the long run. So once again, blends win.

Conclusion
Cotton is still the go-to for many people seeking the softest T-shirts and avoids any issues with irritation or static cling. So when you want a classic soft feel and to make sure everyone is happy, choose 100% cotton and get premium tees with high-quality, combed, and ring-spun cotton.
But if you truly want the ultimate, tri-blends take softness and comfort to another level and have emerged as the popular choice for the absolute softest T-shirts you can get, according to a growing number of soft T-shirt lovers, apparel experts, and all the T-shirt nerds on staff here at RushOrderTees.
Learn more about T-shirt fabrics here or jump right into our Design Studio to create your own super-soft, custom tees!

Imri Merritt
About the Author
A graduate of the Multimedia program at the University of the Arts in Philadelphia, Imri Merritt is an industry veteran with over 20 years of graphic design and color separations experience in the screen printing industry.