APPAREL
How a T-shirt Should Fit: The Ultimate Guide To Choosing the Right Style and Size
Design Custom Gear
Personalize a custom t-shirt with our easy-to-use Design Studio
Start Designing
Choosing the right T-shirt can be a challenge, and finding the perfect one is an ongoing mission, even for those in the industry. There are dozens of major brands that combine up to hundreds of styles. Choosing the right fabric is a big part of it, and I've covered that in-depth, but another big part is choosing the right fit. Because not all fits are created equal.
You'd think the fit of a humble T-shirt would be a simple affair, but a lot goes into it. In this post, we cover the different terminology, the difference between side-seamed and tubular, the difference between fashion fit and standard fit, give you some principles of what makes a great fit for a T-shirt, and some recommendations.
This post will focus on men's tees, sometimes called unisex.
What is unisex style?
In the T-shirt world, when you see the word unisex, it doesn't mean that something specially designed it to fit both men and women. It can mean no women's (or ladies') version of that garment exists.
And if it doesn't specify men or ladies, it's a standalone style–aka unisex. Meaning a men's cut that women can also wear.
Historically, T-shirts have been a garment for men. They first were used as underwear and distributed to members of the US Navy, with other branches of the military following suit. Movies in the 1950s popularized wearing the T-shirt by itself, with Marlon Brando and James Dean personifying this carefree and masculine look. These days, T-shirts are for everyone.
What about the fit of women's styles?
While men's and unisex tees only have a few different fits, women's styles have a wide variety, with new styles coming out every year. The world of women's tees is much more complex, so we created an essential guide for women's sizing and fit.
The two major categories of T-shirt fit
When talking about different fits in the blank T-shirt market, the first thing to know is that different brands use different terms, and they don't always line up with each other– that's why we have an entire sales team devoted to helping our customers sort this stuff out every day. But overall, we can divide them into two broad categories: standard and fashion.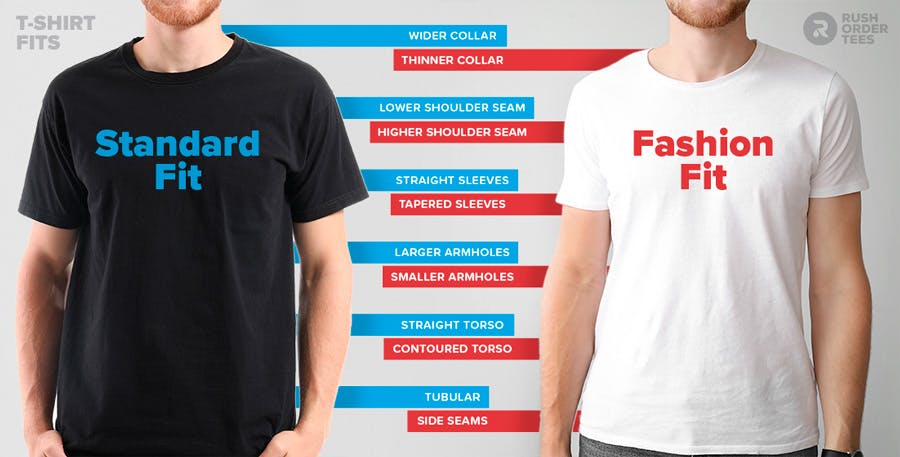 Standard fit (or classic fit) T-shirts
Standard fit gained popularity in the '80s and '90s, featuring a generic construction that tends to be more boxy and roomy, lacking the tailoring and tapering of their fashion fit counterparts. Standard fit tees are the safer way to go if you're buying a bulk order that needs to work for a variety of body types. This style can be a more forgiving look for heavy-set people.
Fashion fit (or slim-fit) T-shirts
Also referred to as "fitted," this cut contours the body more closely, with less bagginess and more form-fitting lines around the shoulders, arms, and torso. The arms have a snugger fit, and the sleeve length is shorter. We also know this as "retail fit," although it can fall between standard and fashion.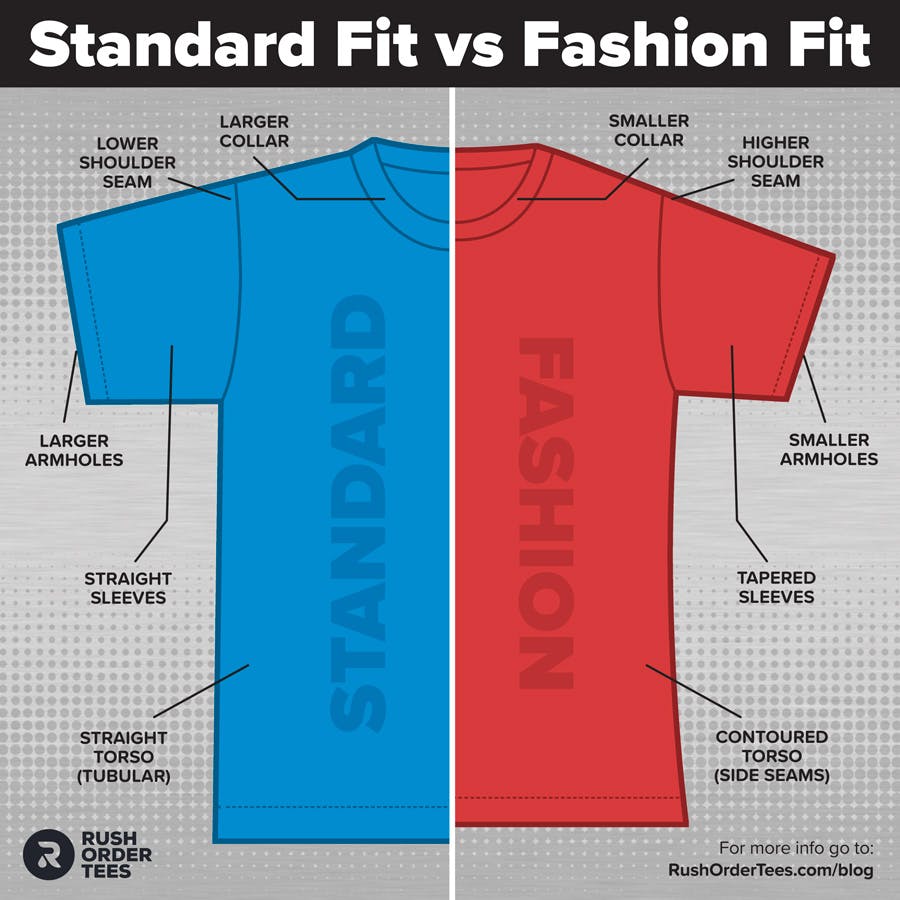 How should a T-shirt fit?
The first and most important thing to getting the right fit is to choose the proper size. Most men choose one size too big (or bigger) for comfort reasons. But when looking your best in a T-shirt, it's much more flattering to wear the size that fits best.
Here's a sizing chart I made with photos of my co-worker, James. Look at the differences and consider what qualities you should look for to determine your correct size.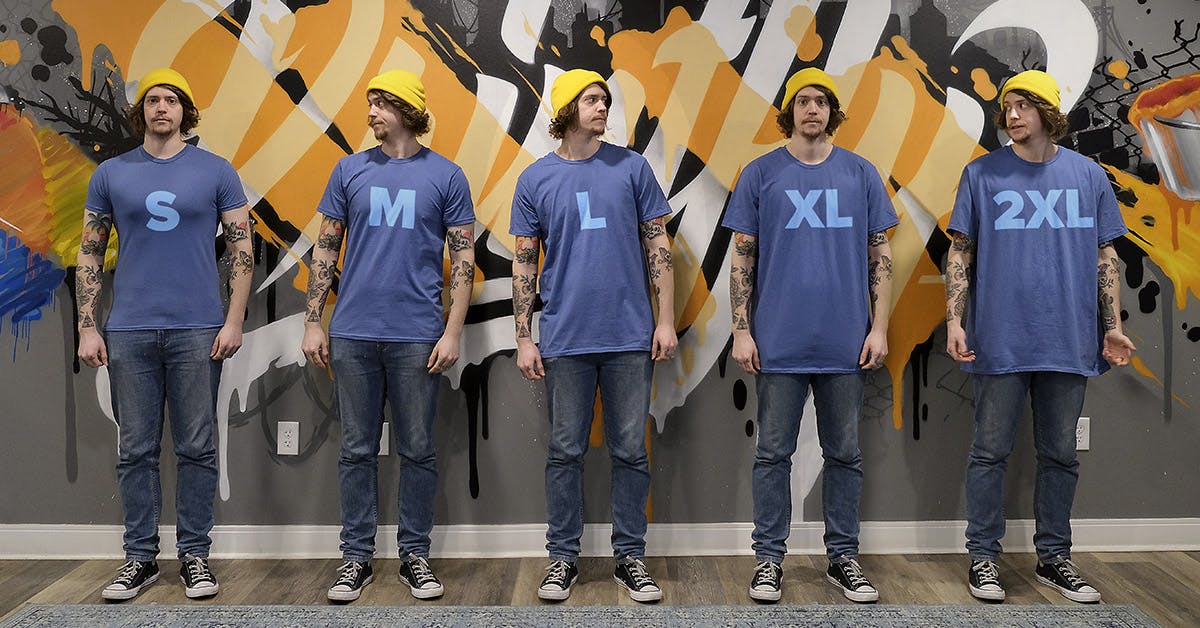 For James, MEDIUM looks good, but as you can see, there is some bunching under the armpits. LARGE is the way to go, considering these shirts had not been washed yet. That should shrink it just enough to bring in the looseness around the waist and make the length come up an inch or two. Keep potential shrinkage in mind if you're going with 100% cotton, but even polyester can shrink.
Below are the top six characteristics of a well-fitting T-shirt, followed by an infographic that you can use for future reference. You might think this is a subjective judgment based on preference, but there is an established set of criteria to consider when you try on a tee. Established by who, you ask? Fashion people! Just go with it.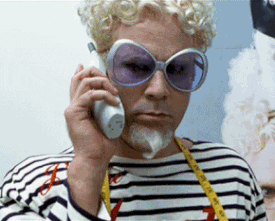 Shoulder
The shoulder seam should line up with the end of the shoulder bone, where it meets the top of the arm. If it droops over the edge, the shirt is probably too big. If the seam lands in the area before the shoulder curve starts, the tee is too small.
Sleeves
The sleeve's hem should fall at the middle of the bicep and should hug the arm without flaring out over two inches. Standard or classic fit tees have bigger armholes that flare out. Slightly longer sleeves can work for taller people.
Length
A T-shirt should cover the waistline and fall at the hips about halfway down the fly. This length can vary a few inches based on a person's height, but it should never go past the top of the inseam or start looking like a nightgown.
Collar
The neckline should sit flat above the collarbone without being too loose or light. Standard/classic-fit tees have wider collars than fashion/slim fit. A V-neck can fall just below the clavicle. Men should avoid "deep" V-necks.
Chest
The chest area should be more form-fitting than the lower half, but there should be no stretching or bunching under the armpit area. This is where the tapering construction of fashion-fit tees does a great job of hugging the body better.
Torso
The torso should taper in slightly to contour to the body, rather than straight or bulking out. Side-seamed shirts provide this fitted look, while standard/classic-fit counterparts have a boxier, baggier shape around the torso.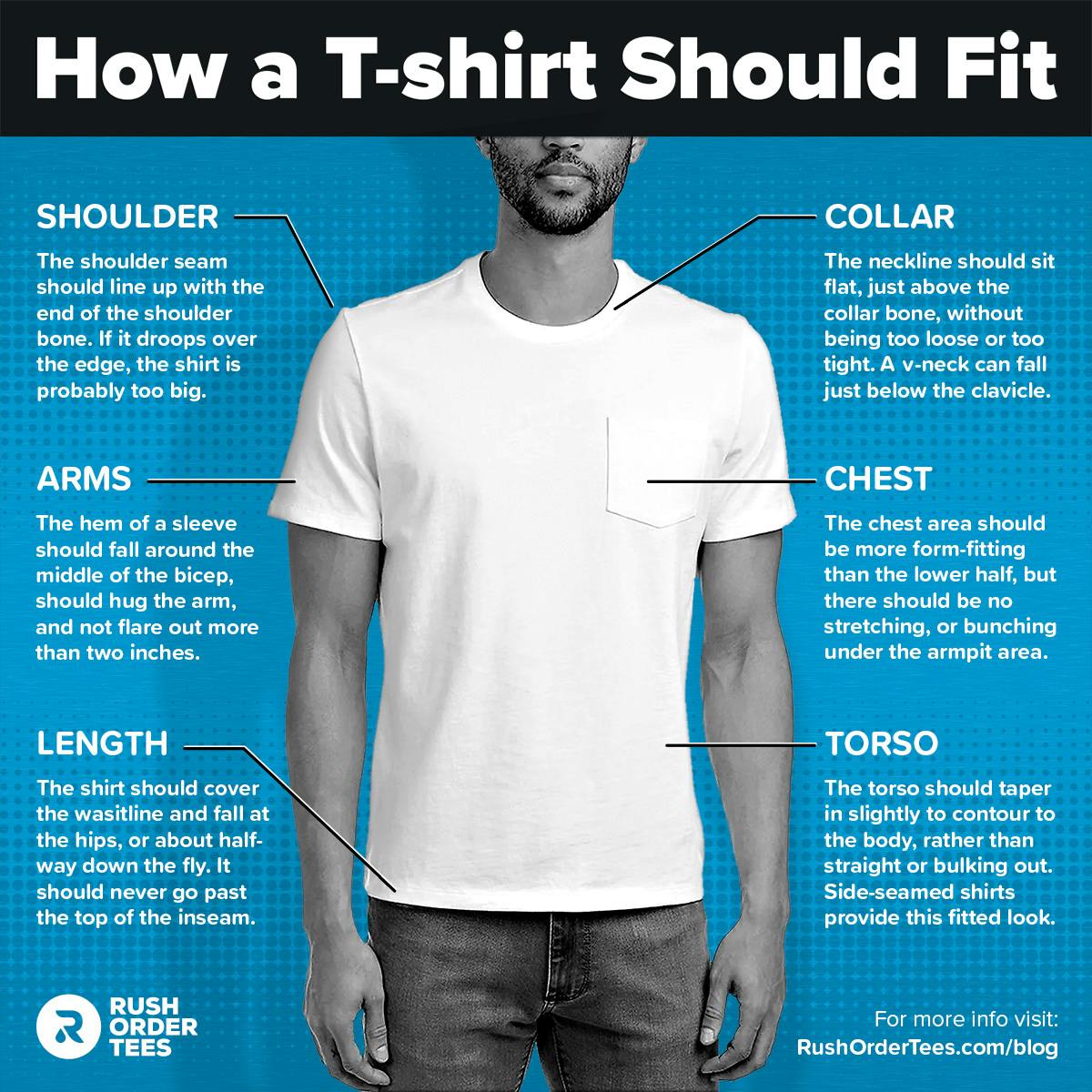 Tubular T-shirts vs Side-Seamed
There are two major ways T-shirts are constructed, which can determine how they fit. T-shirts were originally constructed with side seams until the tubular technique came along and took over the market with their efficiency, consistency, and lower manufacturing cost. Now side-seams are gaining back popularity. So which is better?
Many people will say that side-seamed construction is the way to go because of its superior fit, others say that tubular tees are totally fine. Both types of construction are widely available. Here's a quick look at the differences between them.
What is a tubular T-shirt?
They make tubular tees with a tube of fabric that becomes the torso of the shirt, with the neck and arms sewn in. This style is cheaper than side-seamed because less sewing is involved, and it's easier to produce. The trade-off is a generic, inferior fit– because the human body is not shaped like a tube. At least I don't know anyone shaped like a tube.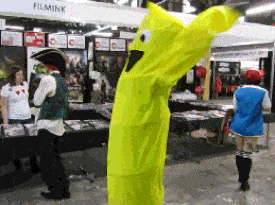 Another big issue besides fit is "torquing," where the garment starts twisting, particularly after washing and drying. Because it doesn't have the side seams to support the garment's structure, it can make any custom print look misplaced and have you walking around with a lop-sided look. It doesn't always happen, but when it does, it's not the best look.
One benefit of no seams (other than the cheaper price point) is that you can use the side as a print area since there is no seam. Side seams make side prints almost impossible because of the ink deposit that happens at the seam. Also not a good look. So if you're looking for a unique print location on the side of your tee, there's only one way to go: totally tubular.
What is a side-seamed T-shirt?
Side-seamed tees are exactly what you would think: they are constructed with seams running down the sleeve's underside and down the shirt's torso. They take longer to manufacture than tubular shirts, so the price point is slightly higher. Most T-shirts were produced this way until the technique of using tubular sheets of fabric came along.
The fit is superior to tubular and allows for a "fashion fit," essentially allowing for contoured tailoring that hugs the body better. Side seams also make it easier for printers because we can use them as guidelines when lining up the tees on a palate, leading to more consistent print placements throughout a run. So it's a win/win. So much winning.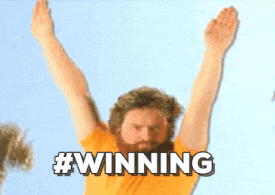 Side seams came back with the rise of American Apparel in the '90s when the innovative and infamous company pioneered the "fashion fit" look. Their tees were more tailored and flattering than the competition. Soon, American Apparel had set a new standard in T-shirt construction, with competing brands following their lead and many going side-seamed.
Still, side-seamed T-shirts are the minority compared to tubular (also called circular) construction, especially in the custom-printed world. Generally, when shopping for your own order of T-shirts to get printed, look for the words "side-seamed" in the product description. If it doesn't say those words, chances are it's a tubular construction. But not always.
RushOrderTees recommends…
Choosing the right T-shirt can be a daunting task with so many brands and styles to choose from, so I'm going to narrow it down to three recommendations (good, better, best) in each of three categories: standard fit tubular, fashion fit tubular, and fashion fit side-seamed. If you still can't decide, call us, and one of our product experts can guide you to the right choice.
Standard fit tubular tees
Good: Gildan UltraCotton® (G200)
One of our best-selling T-shirts, the Gildan G200 is the go-to choice for those who want a durable tee with a great print surface and an affordable price point. It's 6.1 oz, 100% cotton, and comes in various colors.

Better: Fruit of The Loom HD Cotton® (3930)
Another favorite, the FOTL 3930, is 100% cotton and slightly lighter than the Gildan at 5 oz. It has something called "high-density" fabric for exceptional print quality, a tear-away tag, and an assortment of color choices.

Best: Hanes Beefy-T® (5180)
One of the standard tees of the industry, the Hanes Beefy-T lives up to its name with 6.1 oz 100% cotton and high-quality construction, a tear-away tag, shoulder-to-shoulder taping, a lay-flat collar, and all the colors.

Fashion fit tubular tees
Good: Gildan Softstyle® (G640)
Mega-company Gildan has put its industry experience in making its own "semi-fitted" T-shirt. It's 4.5 oz, 100% ringspun cotton for an excellent print surface, with rolled shoulders and a 3/4″ neck.

Better: RushOrderTees Classic Tee
This one has become the RushOrderTees standard, and customers love them. Also, 4.5 oz ring spun cotton for great prints and a "contemporary" fit with a narrow collar, slightly rolled shoulders, and tear-away tag.
Best: American Apparel® Fine Jersey Tee (2001)
The pioneer of fashion fit tees with a tubular version of their insanely popular item. At 4.3 oz it's the lightest of the bunch, with combed ring spun cotton, 30 singles, shoulder-to-shoulder taping, and a satin tag.

Fashion fit side-seamed tees
Good: Next Level (3600)
An outstanding and well-made shirt, this is one of my favorites and one of our in-house go-to's. 4.3 oz 100% combed ring spun cotton, 32 singles, pre-laundered, tearaway tag, tons of colors.

Better: BELLA+CANVAS® Unisex Jersey Short Sleeve Tee (3001)
Hands down one of the best companies making T-shirts today and this one is top of the line. 4.2 oz 100% Airlume combed and ringspun cotton, shoulder taping, tearaway tag, and all the colors.

Best: Threadfast Apparel Unisex Tri-Blend Short-Sleeve T-Shirt (102A)
Throwing a tri-bend into the mix here. Great fit, super soft and lightweight at 4.1 oz w/ 50% cotton, 25% polyester, and 25% rayon, and made with recycled material.
If you have any T-shirts that don't fit anymore or never fit right in the first place, it's time to get some new tees! And don't throw away the old ones, there are plenty of other things you can do with your old clothing. Need to create a design for your order? Use our Design Studio to get started now!
About the Author
A graduate of the Multimedia program at the University of the Arts in Philadelphia, Imri Merritt is an industry veteran with over 20 years of graphic design and color separations experience in the screen printing industry.