APPAREL
Polyester vs. Cotton vs Blends: Choosing The Best T-shirt Fabric
Design Custom Gear
Personalize a custom t-shirt with our easy-to-use Design Studio
Start Designing
In search of the perfect T-shirt? The problem is there are a thousand different types to choose from (give or take). Between the dozens of major brands, hundreds of styles, a wide variety of fabric types, and new blends each year, it's a lot to sort through.
How did the humble T-shirt become so complicated? And how to find the best one? We're here to help. This article covers the different shirt fabrics, including their attributes, pros and cons, and specific recommendations in each category.
First, a short answer to the burning question.
Which T-shirt fabric is best for custom T-shirts?
Like the answer to most questions in the custom apparel business, it depends on a combination of your particular requirements. Cotton is the go-to fabric for most people because it's soft and non-irritant, polyester is the go-to for performance, and cotton/poly blends give you the best of both worlds.
Here are the factors to consider when deciding on what T-shirt fabric to choose:
The qualities you're looking for (softness, breathability, moisture-wicking, etc.)
The print method you want (direct-to-garment, screen printing, embroidery, etc.)
The price you're willing to pay (maximum budget for the order or per item)
The purpose (family reunion, work uniform, sporting event, merchandise, etc.)
The person who will wear it (age range, style, expectation)
Here's a simple breakdown of the pros and cons of each category of T-shirt fabric: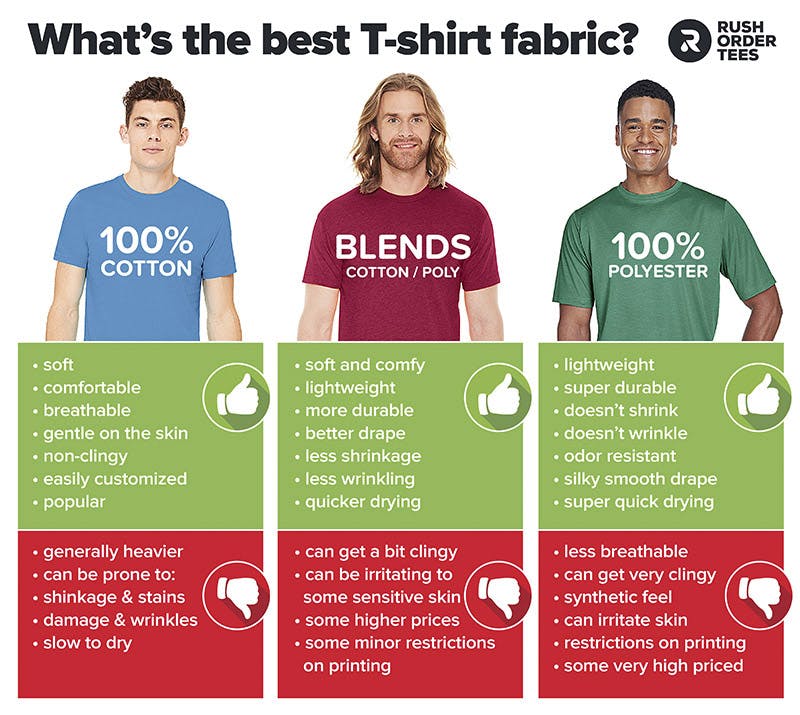 Which T-shirt material should you choose?
Go with 100% cotton if you want shirts that are soft, comfortable, breathable, gentle on the skin, non-clingy, and can be customized with any method. Cotton tees are popular with everyone, so it's a safe bet.
Keep in mind: they may shrink a bit, can stain, wrinkle, and tend to absorb moisture and hold it, rather than allow it to evaporate quickly.

Go with 100% polyester if you want shirts that are lightweight, durable, silky smooth, and resistant to wrinkles, shrinking, or fading, plus allows moisture to evaporate quickly.
Keep in mind: Polyester is less breathable, clingy, irritates the skin, and is restricted as far as printing methods. The price can be higher than other garments, depending on the brand.

Go with a blend if you want the best of both worlds. The poly-cotton 50/50 was the first major blend, but now we have the increasingly popular tri-blends, which add rayon for extra softness and drape, and are a big favorite among our customers. Then there's CVC, a predominantly cotton blend.
Keep in mind: They tend to be priced higher, but are still affordable.
The four T-shirt fabric categories
Wait, there are only four? Granted, people have made T-shirts out of everything from alligator leather to human hair– but I'm guessing you're not in the market for that. So here are the three main fabric categories you will need to know about to make an informed choice. Here's a brief description of each and a few of our favorites.
100% Cotton
By far the most common and popular fabric for T-shirts, cotton is a fluffy, natural vegetable fiber obtained from the seedpod of the cotton plant. The fiber is most often spun into yarn or thread and used to make the soft, breathable fabric everyone knows and loves.
Most of your T-shirts are probably cotton or partially cotton. After all, it's the fabric of our lives if you believe commercials. It also happens to be hypoallergenic, which is a huge plus for the itchy/rashy types. Cotton as a fabric dates back to prehistoric times.  Concert tees from 500 B.C. must be worth a fortune now.
Here are a few of our favorite cotton T-shirts:
Premium: Bella+Canavs Fine Jersey (3001C) – Fitted, soft, well-constructed, smooth print surface. One of the most popular tees for retail and merch.
Standard: Hanes Perfect-T (4980) – A classic, mid-range tee with solid construction by the famous Hanes brand. Most are tagless or tear-away tags.
Budget: Gildan Heavy Cotton (G500) – The best value for the price and one of our most popular T-shirts, especially for large bulk orders.
100% Polyester
Polyester is a durable, synthetic fabric with excellent resiliency. Low moisture absorbency allows the fabric to dry quickly, also known as "moisture-wicking". It's so scared of water they call it hydrophobic. This material always keeps its shape, so there's almost zero shrinking or stretching, regardless of what kind of extreme wash and dry cycle you put it through.
As a performance fabric, it's a favorite of athletes and adventurous outdoor types who subject themselves to extreme conditions. And although a trip to your local gym might tell you otherwise, polyester is also somewhat odor-resistant, because the stink departs with evaporating sweat. Plus it doesn't stain as easily as other fabrics. There's a lot to love with poly.
100% Polyester always keeps its shape, so there's almost zero shrinking or stretching, regardless of what kind of extreme wash and dry cycle you put it through.
Check out some of our popular 100% polyester T-shirts:
Premium: A4 Cooling Performance T-shirt (N3142) – High-quality construction, moisture-wicking, temperature regulating, ultra-tight knit for great printing.
Standard: Augusta Sportswear NexGen Wicking T-shirt (790) – Excellent moisture-wicking knit fabric, may run a bit small, so talk to a sales rep before ordering.
Budget: Team 365 Performance T-shirt (TT11) – Polyester interlock knit. Moisture-wicking and UV protection. The best value for the price and our most popular poly.
Blends
A blend– as you might guess– is a yarn or fabric that is made up of more than one type of fiber. Blends are huge right now, making up a massive percentage of the T-shirt market, and for good reason. Blended fabrics are the best of both worlds– or in the case of tri-blends, the best of three worlds.
In the category of blends, there are three types:
50/50: Also known as cotton/poly, this material is half cotton, half polyester.
CVC: (Chief Value Cotton) is typically 60% cotton, 40% polyester.
Tri-Blend: Made from cotton, polyester, and rayon. The ratio is 50/25/25.
Cotton-poly blends
Cotton-poly blends, including 50/50s and CVCs, combine the softness and natural feel of cotton with polyester's temperature-regulating and moisture-wicking properties. They also tend to shrink less, wrinkle less, and are more durable and stain-resistant than their cotton counterparts. It's a win/win for blends.
Here are our favorite cotton/poly blends:
Premium: Bella+Canvas Heather CVC T-shirt (3001CVC) – Lightweight, fitted, 52/48 mix, airloom combed ringspun cotton, quality construction, side-seamed.
Standard: Next Level CVC Crew T-shirt (N6210) – Fitted, 60/40 mix, ringspun cotton for smooth printing, and side-seamed for a perfect fit.
Budget: Gildan DryBlend 50/50 T-shirt (G800) – 50/50 mix, moisture-wicking, best value for the price, and our most popular cotton-poly blend.
Tri-Blend: The best of all three worlds
Tri-blends are head and shoulders above other T-shirts when it comes to softness. The combination of polyester, cotton, and rayon form a powerful alliance that will make you want to wear it every day. The combination of breathability, durability, flexibility, and drape makes it a winner in all categories.
Believe it or not, this fabric type has only been on the market for around 20 years. In that short time, it's become one of the most popular fabrics in the T-shirt business.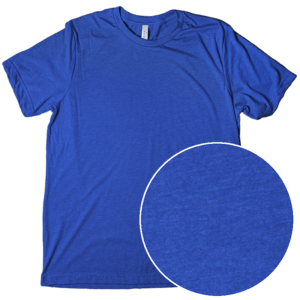 When people rave about their favorite T-shirt, it tends to be a tri-blend. There are very few downsides. But there are a few things to keep in mind:
They tend to be more fitted than their counterparts, also known as fashion fit, slim fit, or retail fit. This should not affect which size to order– because of the rayon and polyester they have more give (or stretch).
They are mostly all "heathered" with few exceptions, meaning they have a speckled pattern to the fabric (see image above). This is due to the mix of fabrics. Just something to be aware of.
They may be irritant to some people's skin. Only a small percentage of people are allergic to synthetic fabrics, but for others, it may be just the way the material feels on their skin that they don't like.
They are lightweight, so it's best not to print too much ink on them or it will weigh down the fabric. Use direct-to-garment printing (DTG), water-based, or regular screen printing with no underbase to give it a soft hand.
They are typically at a higher price point than their counterparts.
Here are some top picks among the tri-blends:
Premium: Threadfast Apparel Unisex Tri-Blend Short-Sleeve T-Shirt (102A) – Ultra-lightweight, fitted, high-quality construction that uses 50% cotton, 38% cotton and 12% rayon for a super-soft feel
Standard: Bella+Canvas TriBlend Crew T-shirt (3413C) – Ultra-lightweight, fitted, excellent fit, combed ringspun cotton, side-seamed, and retail-ready.
Watch: The T-shirt Test
Still not sure which kind to get? Check out these videos. We put four T-shirts to the test– one from each category of fabric type. We feel them, wear them, stretch them, wet them, wrinkle them, print on them, mess them, wash them, and damage them– all to see what happens. There's even some axe throwing for some reason. Enjoy!
About the Author
A graduate of the Multimedia program at the University of the Arts in Philadelphia, Imri Merritt is an industry veteran with over 20 years of graphic design and color separations experience in the screen printing industry.