Industry Leading Screen Printing Standards
Since 2002, we have been tirelessly perfecting our process and we take great pride in the simplicity and efficiency of our operation. There's a reason why we're an industry leader, and while much of it has to do with our high standards of work, our lightning-fast turnaround, and safe and secure shipping...  it all comes down to reliability.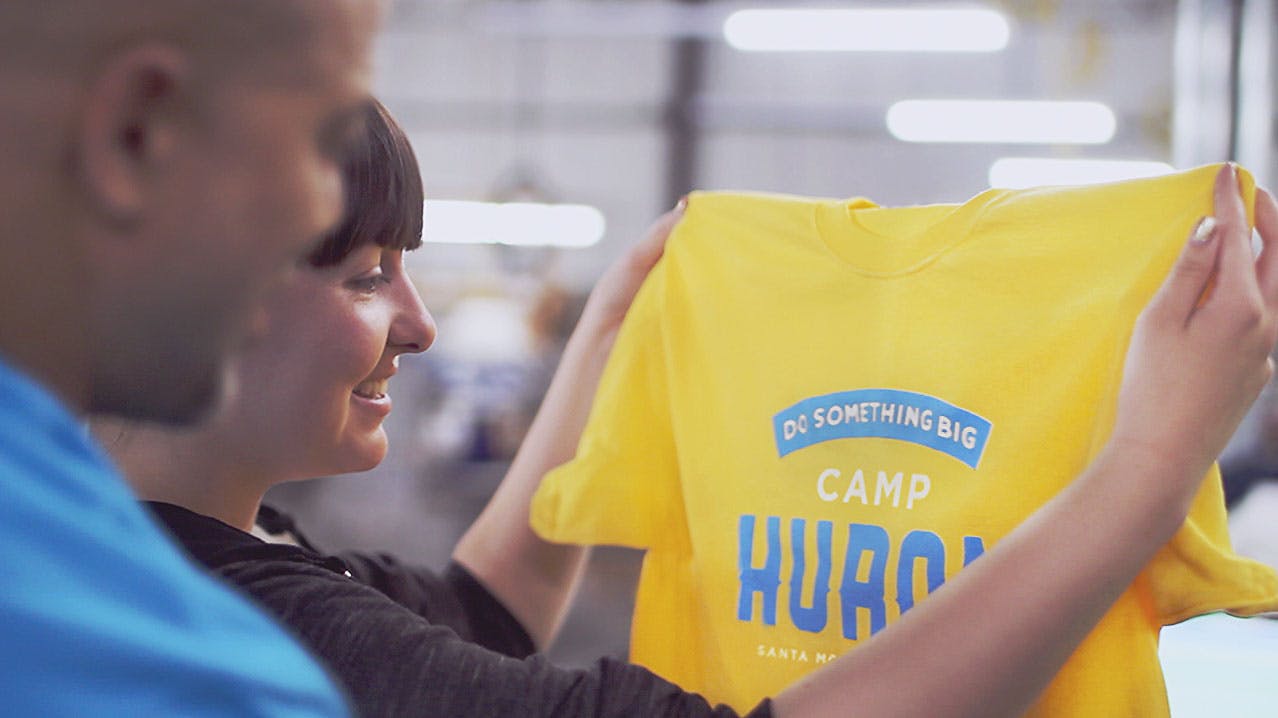 Our Silk Screen Printing Services Process
Step 1:
You give us a design. We've optimized this process to make it as simple as possible for all of our customers. You can either submit your own design to us, create one using our state-of-the-art Design Studio, or select from a variety of easy-to-customize pre-made templates and fonts in our expansive graphic library. This is where your job ends, and ours begins. 
Step 2: 
Next, our in-house designers analyze every single order to see what works and what doesn't. They separate every color into an individual screen, clean up your artwork, and prepare your design for for printing. If you're placing a new order for five or more pieces, we'll send you a digital copy of this updated work (a proof, for short) and ask that you approve it before printing begins. If you're placing a re-order of any quantity or a new order for 4 pieces or fewer, we won't send a proof unless the design is especially complex, or you request a proof during checkout or by emailing proofs@rushordertees.com.
Step 3: 
Each screen gets "inked up" with the approved color, and each shirt is then printed in correct color order. Our flash-drying process between each individual screen ensures crisp quality and prevents color bleeding. 
Step 4: 
The finished product is dried at 380 degrees Fahrenheit for 25 seconds on one of our conveyer dryers. This process makes for a thorough and even curing of the ink to the fabric, which ensures your design won't crack, fade, peel, or wash off.
Step 5:
Each t-shirt is undergoes a rigorous quality assurance inspection by one of our floor managers. After every t-shirt gains their approval, it's time to ship! 
Step 6:
We ship your order right to your door. Each customer is given a UPS tracking number, guaranteed delivery date, and email confirmation upon order completion. 
Step 7:
You get your beautiful t-shirts, fall in love with them, wear them often, and post nice things about us on Yelp, Facebook, Google, or just shout it from your rooftop!
Screen Printed Design Examples
From the beginning, our service was built with the customer in mind so that your ordering experience will be as easy and effortless as possible! Our online design studio makes it easy for you to customize apparel for your business, school, nonprofit organization, family reunion, and more!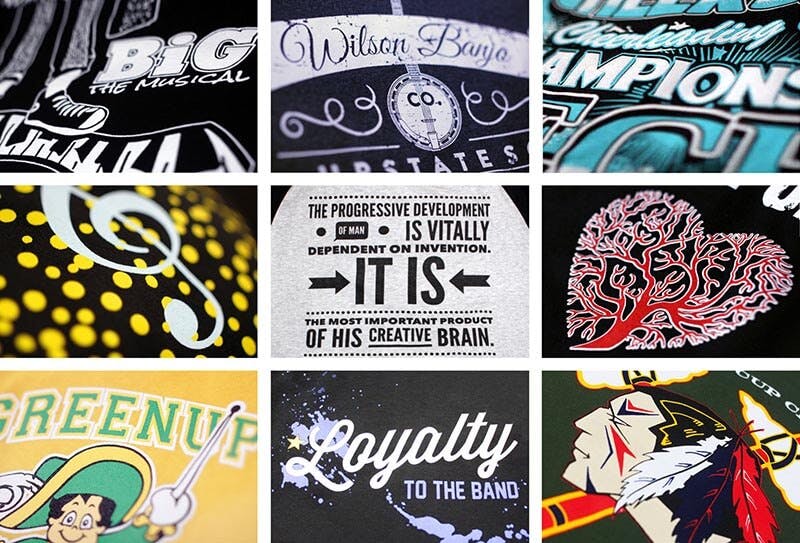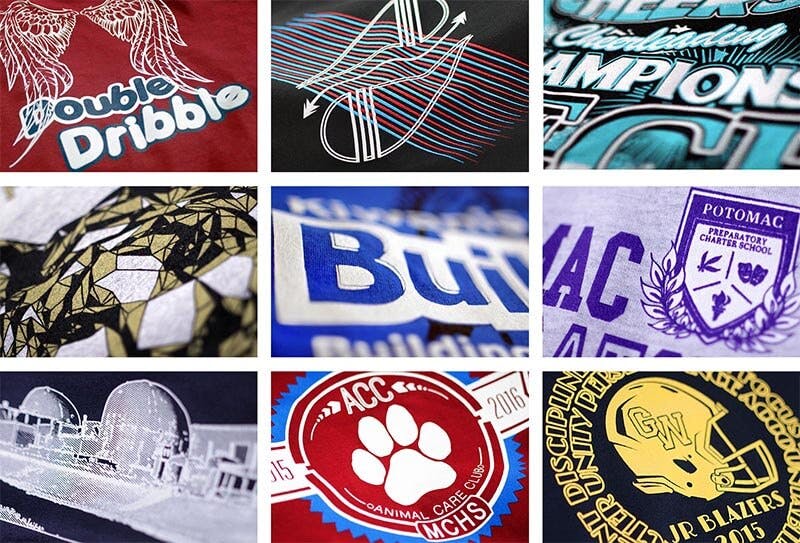 Screen Printing FAQ
You know what screen printing is, how it works, and how we do it. Now, let's tackle some of the most common questions we receive from our customers:
What kind of ink do you use?
We use the highest quality plastisol inks available. We prefer plastisol inks because they're exceptionally versatile and very rarely need any kind of adjustments, they do not dry unless properly cured, and they're very durable. Using plastisol ensures that your shirts will last for years of continued wear and wash.
Do you offer water-based inks?
Yes! We aim to please, and that means offering our customers the best of everything. Water-based inks are certainly available upon request. Please contact us to discuss options for water-based ink printing.
Will your screen printing come off in the wash?
Absolutely not! The high quality inks we use, mixed with our time-tested screen printing and drying processes, means your shirts will stand up to the tests of time.
Do you only print t-shirts?
No way! While t-shirts are definitely our top-selling product, we print on a multitude of products, including sweatshirts, hoodies, caps and hats, sweatpants, bags, towels, women's apparel, and more.
Will you flash your prints on dark color garments?
The answer to this question is yes – always. Our superior attention to detail and stringent quality standards are two of the most important components of our business. We'd be willing to bet we have a better eye than our competitors when it comes to overall quality because we staff some of the country's best screen printers. Every job is completed correctly and as efficiently as possible. But above all, we are confident the end product will be 100 percent satisfactory. And if it isn't, we have a competent, courteous, and trustworthy team of customer service representatives standing by, ready and waiting to help.
If you have anymore questions, check out our FAQ page or give us a call at (800) 620-1233 to speak with a customer service representative.