Design Custom Gear
Personalize a custom t-shirt with our easy-to-use Design Studio
Start Designing
Wearing the right custom gym shirts can make all the difference in achieving fitness goals. Anyone who regularly hits the gym knows that the ideal shirt should provide comfort and performance during your workout–and look great. It's the classic combination of form and function.
When creating branded workout gear for a company, team, to sell, or just for yourself, there's a lot to consider–but don't sweat it. We'll be your coach. Here are the 4 most important features of a great custom gym shirt, along with examples and expert tips to get you in shape.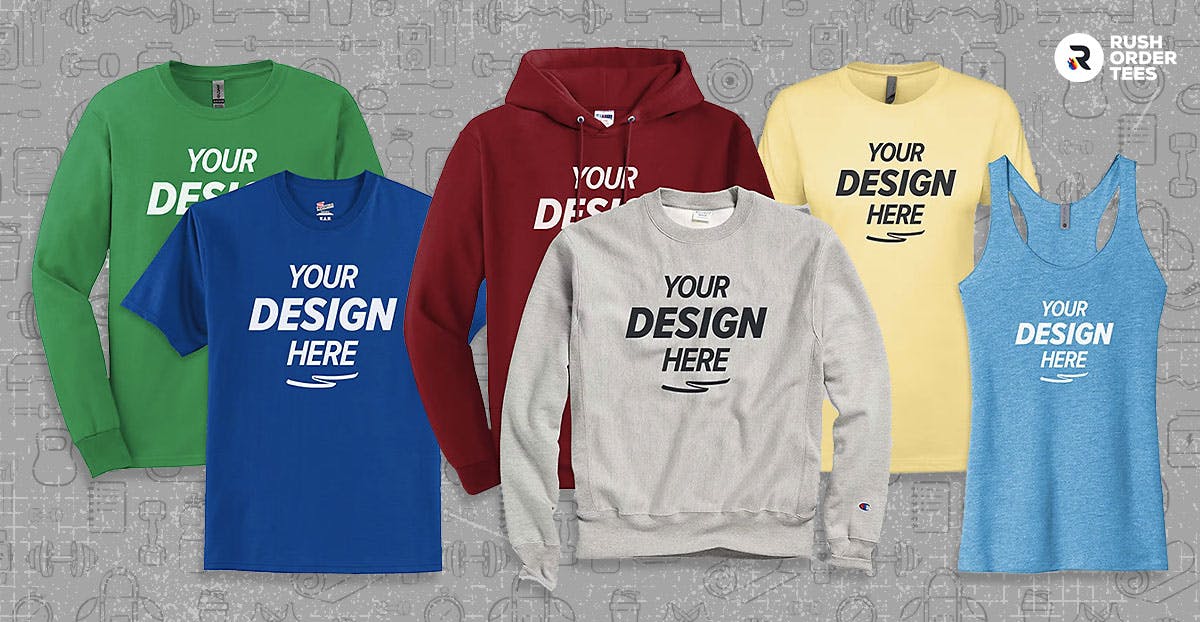 1. Style
The first thing to consider when choosing a gym shirt is the style. Athletic tops come in all shapes and sizes, but there are four main categories to choose from: short sleeve t-shirts, long sleeves, tank tops, and hoodies. Here's a quick look at each and what they're most popular for.
Short sleeve t-shirts
The famous American short-sleeve tee is by far the most common type of t-shirt for the gym and is great for most workouts. They provide good arm mobility and breathability, making them a popular choice for all types of people. This also makes them the perfect choice for retail sales of branded merch.
Long sleeve t-shirts
For those working out in colder weather, wanting a little extra coverage, or not quite ready to show off their guns, long sleeve t-shirts are a great option. They provide additional arm coverage while allowing for a full range of motion. Plus, it's a branding opportunity if you want to design custom sleeves.
Tank tops & sleeveless
For more breathability and flexibility during your workout, tank tops & sleeveless are the way to go. They allow for maximum airflow and provide excellent mobility for your arms. There are many styles to choose from, including classic tanks, "muscle shirts" (aka sleeveless), and a wide variety of women's styles.
Hoodies
Even better for cold weather, warming up before your workout, or wearing afterward are hoodies. Everyone loves hoodies, in or out of the gym. They're warm, soft, comfortable, and stylish. Wear them on a jog around the city to give you that "Rocky" energy.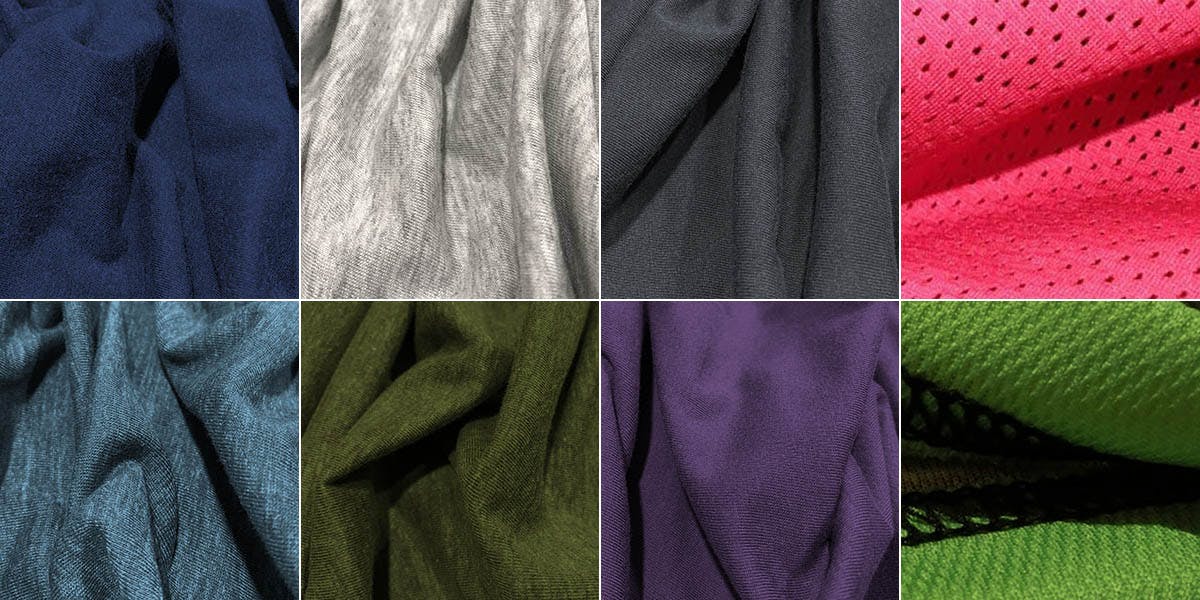 2. Fabric
When it comes to gym shirts, choosing the right fabric is crucial. You want a fabric that is breathable, moisture-wicking, and durable. We know all about fabrics. Performance fabrics are designed to wick away moisture, prevent odor, provide sun protection, and more. Here are a few of the qualities to look for.
Moisture-wicking
 One of the most important features of gym shirts is moisture-wicking. This fabric pulls sweat away from your body, keeping you dry and comfortable throughout your workout. It's especially important for high-intensity workouts or outdoor activities in hot weather. Most performance shirts are moisture-wicking.
Antimicrobial
Nobody wants to be the stinky person at the gym. Antimicrobial fabrics are designed to inhibit the growth of bacteria and other microorganisms. This helps prevent odors from building up in your shirt, keeping you smelling fresh even after a tough workout. Many premium synthetic performance fabrics are antimicrobial.
UPF sun protection
If you plan outdoor workouts or endurance activities, protecting your skin from the sun's harmful UV rays is important. Look for gym shirts with UPF sun protection (30 or higher) that help block most of the sun's rays while exercising. Science has shown that UPF protection works.
Stretch
Stretch is the degree of elasticity or "give" in the fabric. A gym shirt with stretch allows for a greater range of motion and flexibility. It also helps the shirt retain its shape. Stretch fabrics are typically blends of spandex or elastane and are sometimes added to cotton or polyester. Popular for yoga and fitness.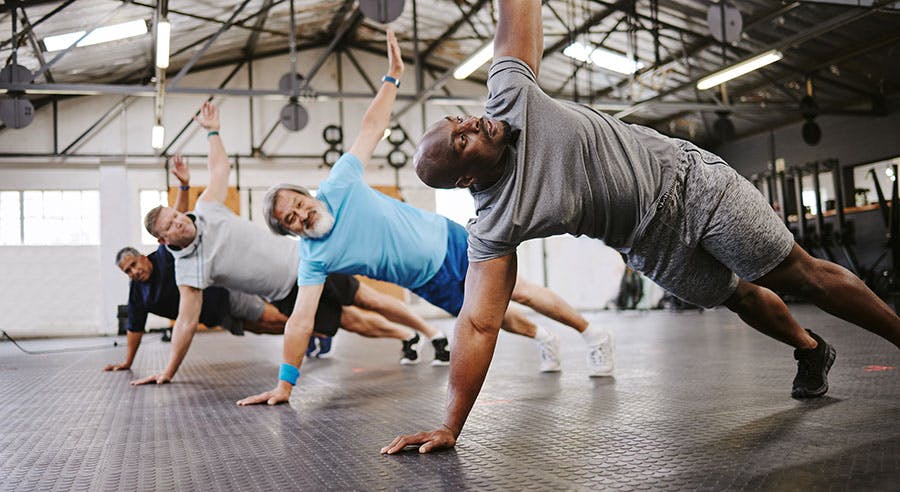 3. Comfort
A great gym shirt needs to be comfortable above all else. After all, it's harder to focus on your workout if you're not comfortable in your clothing. But comfort can mean a lot of different things. By comfort, we mean how it feels on the body. Here are a few factors to consider when it comes to comfort.
Fit
The right fit is essential when it comes to gym shirts. Some people prefer a slim fit or compression shirt that hugs their body, while others want something looser and more relaxed. Consider the type of workout you'll be doing and what shirt style will be most comfortable for you. Here's how a t-shirt should fit.
Softness
When it comes to softness and comfort, cotton is still king, even though it soaks up sweat like a sponge. However, other moisture-wicking fabrics, such as tri-blend, are very soft and comfortable. We recently pronounced tri-blend to be the softest t-shirt fabric.
Weight
Lightweight fabrics are a no-brainer when looking for the ideal gym shirt because they won't weigh you down during your workout. Most tri-blend fabrics are lightweight and provide a great balance between comfort and performance. Look for 4 oz or lighter.
Tagless
Little things can make a big difference. Tagless or tear-away tags on gym shirts can help prevent irritation and itching, making your workout more comfortable. Some shirts have silk tags, which are nice–but not quite as good as no tags. Many of the most popular brands now feature tear-away tags.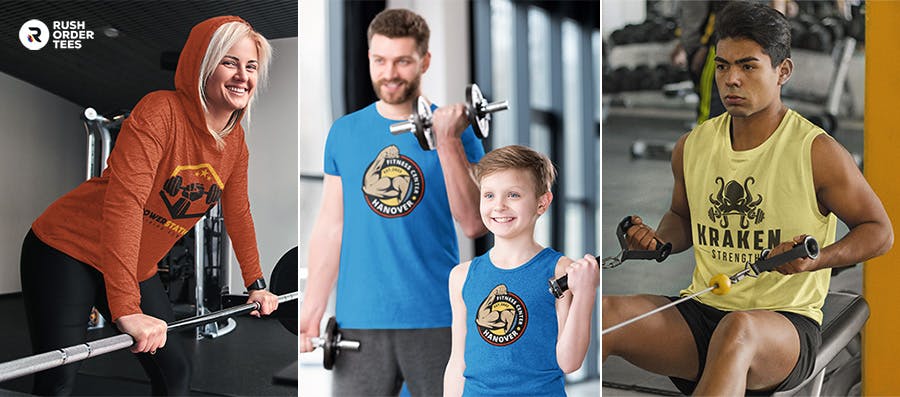 4. Branding
Last but not least, branding or creating a design is an essential part of a great custom gym shirt. Otherwise, it wouldn't be custom. Whether outfitting your team, running a promotion, or selling merch, it's important to consider these options to successfully brand gym shirts:
Logo
A well-branded shirt uses one or more elements that clearly communicate the company, event, or message, which may include:
Primary feature - Branding is large and prominent, such as a full-size print on the front, back, or sleeve
Secondary feature - Branding is small and minimal, such as left chest print, back collar, hem, or wrist area
Expert Tip: Use small logo embelishments, like embroidery logo or a custom patch
Design
Good design impacts the desirability of the shirt and the brand itself. Significant parts of a design can include:
Message - A statement shirt with a motivational message, affirmation, quote, or funny saying
Originality - The shirt has a unique design specific to an event, program, or reference
Styles - Options include a full-color image, brand colors, subtle tones, or distressed effects
Expert Tip: Minimize fabric coverage by reducing ink colors and print area to keep your gym shirt breathable
Colors
The use of color can have a dramatic impact on brand perception. Careful consideration should be given to:
Brand matching colors - Shirt colors, design, and logo should match the promotion or brand colors
Bright and bold - Strong, high-contrast colors grab attention
Tone on tone - Low contrast and similar colors create a more subtle appearance
Expert Tip: Use single solid colors and simplified logos to create a stronger design 

Gym shirts that work(out)
Now you know: the right style, fabric, and fit can make all the difference in how comfortable and effective your workout is. And if you're looking to create custom gym shirts for your business or organization, branding is key. Consider these four important features, and you'll create gym shirts that look great, feel great, and help you achieve your goals.
So go ahead and break a sweat–your gym shirt has got you covered.

Imri Merritt
About the Author
A graduate of the Multimedia program at the University of the Arts in Philadelphia, Imri Merritt is an industry veteran with over 20 years of graphic design and color separations experience in the screen printing industry.