Printing
Since our founding in 2002, RushOrderTees has customized millions of t-shirts and garments using a wide range of printing methods.
While we typically select the print method for an order based on a variety of factors including the product, quantity, and type of design, if you have a special request, feel free to reach out to our team.
Screen Printing
Screen printing is a process that uses a mesh screen to transfer ink onto an underlying garment. The basic operation starts with the creation of a stenciled screen that allows the selective application of ink to a piece of apparel. Every color applied requires a separate screen to place the ink exactly where needed within the design. Screen printing has become the standard customization for t-shirts and apparel.
This method is great for:
Larger, high-volume orders
Unique or oversized print areas
Single-color prints, such as text or logos
Specialty or special FX inks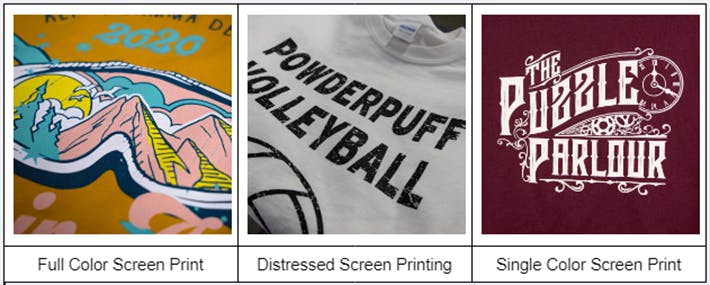 To learn more, check out our screen printing overview.
Direct to Garment (DTG) Printing
Direct to Garment printing applies ink to a garment using inkjet technology. This uses a process that applies fine droplets of different colors to render a full-color design. Think big & complicated inkjet printer. Also known as digital printing, DTG has become increasingly popular due to the simplicity of the printing process.
DTG is best for:
Smaller, simple orders
Standard print locations and sizing
Multi-color prints, like photos
When soft feel or lightweight print is important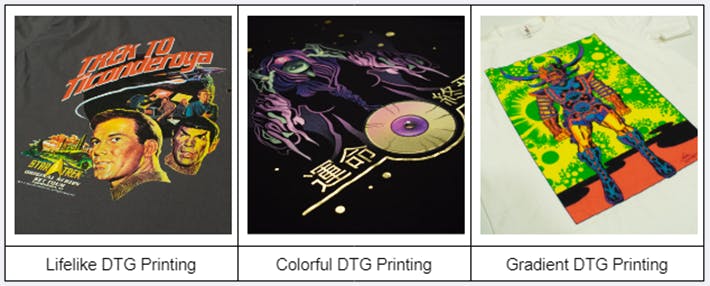 For more info about DTG, read our Direct to Garment overview.
HD Digital Printing
RushOrderTees is excited to be offering HD Digital printing. An emerging technology in the apparel customization industry, HD Digital produces vivid detail with much higher print quality.
HD Digital is great for:
Any size orders
Versatile print locations and sizing
Single & multi-color prints
More environmentally friendly
Heat-Applied Vinyl
Vinyl is applied to a garment using heat to create a durable bond.
We offer several types of vinyl depending on use:
Cut Vinyl - Commonly used for team names and numbers
Printed Vinyl - Offers full-color images, with greater detail
Foil Vinyl - Adds metallic bling to designs for special occasions