Embroidery vs. Screen Printing
Embroidery and screen printing are popular t-shirt customization methods that produce a distinctive appearance. Selecting the best technique for a project is partly personal preference but primarily determined by several other factors dependent on details surrounding your needs.
Examine these characteristics when comparing embroidery vs. screen printing for your next customization project.
What is Embroidery?
Embroidery is a customization technique that uses a needle and colored thread to decorate fabric. Initially performed by hand, embroidery is applied by computerized machines that can customize a wide range of products, including polo shirts, hats, hoodies, towels, t-shirts & more.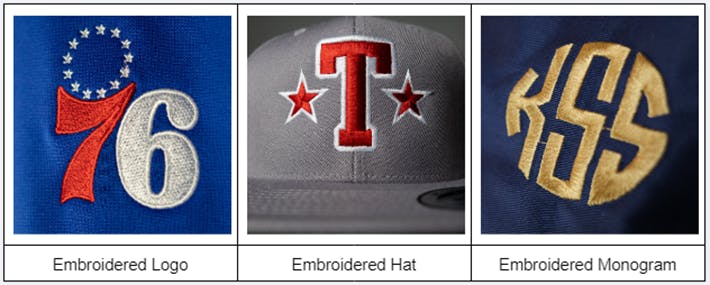 See more embroidery examples here.
What is Screen Printing?
Screen printing is a customization technique that uses a mesh screen to transfer ink onto fabric using a set of stencils. The process continues to be largely manual; however, modern equipment has helped printers improve speed while customizing a broader assortment of products like t-shirts, hoodies, hats, and others.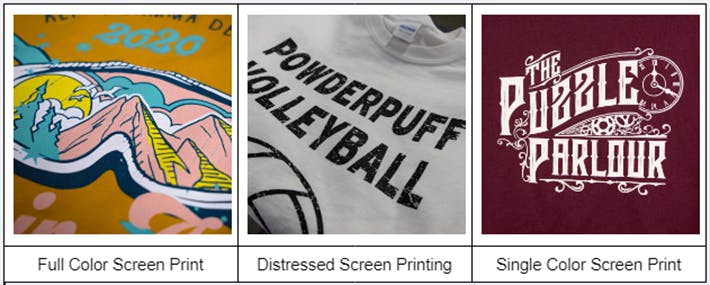 See more screen printing examples here.
Embroidery vs Screen Printing
Selecting embroidery or screen print customization will largely depend on the characteristics of your project. Consider these when selecting your customization method:

Size: Screen printing can be a better choice for larger designs since it will likely be more cost effective and there are size limitations for embroidery.
Complexity: Greater detail is more visible using screen printing versus embroidery.
Durability: Embroidery is most durable since the thread is woven into the garment.
Garment for Best Results: Embroidered elements look best when applied to thicker garments like polo shirts and jackets. Thinner garments like t-shirts excel in displaying screen-printed designs
Design Versatility: Screen printing offers more versatility in a larger number of applications.
Cost
Generally, embroidery tends to be more expensive, but it can vary based on the details of your project. Product type and order size will affect the cost equally, so the main difference is:

Need some additional help or guidance? Contact our team of experts at 1-800-620-1233 or sales@rushordertees.com