Simulated Process Printing
Simulated Process is a screen printing technique that produces photo-realistic, full-color images with fewer ink colors. Individual ink colors are combined using halftones to produce a much richer color palette than traditional CMYK Process printing.
Simulated Process printing requires substantial expertise and isn't offered by every screen printer. RushOrderTees has extensive experience in the technique and we offer it as a free service on request.
How Simulated Process Produces Color
Simulated Process produces color by applying Halftones of spot colors. A spot color is an individual color; it's not produced by mixing process colors (CMYK) and is much more consistent. The resulting print produces tiny dots that are blended into a continuous tone, full-color image by the human eye.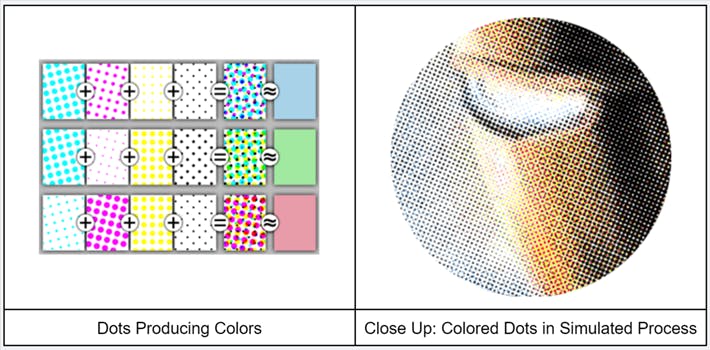 Simulated Process Printing Examples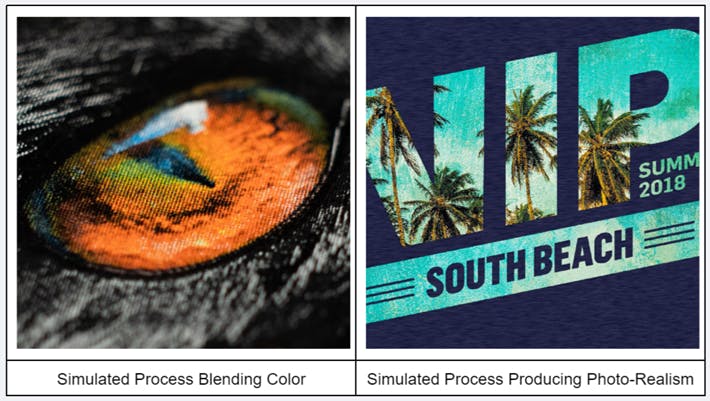 What's the Benefit of Simulated Process Printing?
The biggest strengths of Simulated Process Printing are:
Reduced Cost - The cost of screen printing is impacted by the number of colors used. Therefore, the fewer the colors, the lower the cost.
Improved Image Clarity - Simulated Process produces better image quality than the alternative CMYK Process.
Broader Range of Color - The use of individual (spot) colors increases the range of available colors.
Simulated Process: Greater Versatility for Screen Printing
Simulated Process is a technique that offers great benefits, but isn't appropriate for every project. For designs that possess fine text or sharp, vector-like edges, another printing technique should be considered.
Need some additional help or guidance? Contact us with your questions at 1-800-620-1233 or sales@rushordertees.com