DESIGN
In Loving Memory T-Shirt Design Ideas
Design Custom Gear
Personalize a custom t-shirt with our easy-to-use Design Studio
Start Designing
Losing a loved one is one of the hardest things we all have to go through. Here at Rush Order Tees, we strive to make it as easy as possible for you to create custom 'In Loving Memory' shirts to celebrate the life of the departed.
We've printed a countless number of personalized in memoriam shirts for thousands of customers. These include fundraising shirts for funeral costs, commemorative gifts for post-funeral receptions, family reunions, annual remembrances, memorial walks, and charity fundraisers.
This article provides the steps to create a memorial shirt design, including ideas and templates, plus expert design tips to guide you through creating your own personalized memorial shirts your family and friends will cherish for years to come.
Use a photograph
Most memorial T-shirts prominently feature a photograph or image of the departed. We recommend taking some time with this selection and its related decisions–including uploading a quality image file. Here are some expert tips for using photographs in memorial T-shirt designs.
Photo tips for In Loving Memory shirts
Including a picture of your loved one on a memorial shirt is the most meaningful way to connect with your family, friends, and community. Selecting the right one is of the utmost importance for visually communicating the positive aspects of that person's life.
Choose a flattering picture
Ideally, the photo should show them smiling, with a healthy appearance, dressed well, with good lighting, and nothing awkward-looking or distracting. A photograph from their younger days can work, but if it's too young, your loved one may not appear the way people remember them or be recognizable at all.
It's better to avoid a picture that includes other people because it takes some of the focus away from the subject. If your loved one had a distinctive hat or favorite clothing item, a photo of them wearing it can be a source of humor or warm remembrance.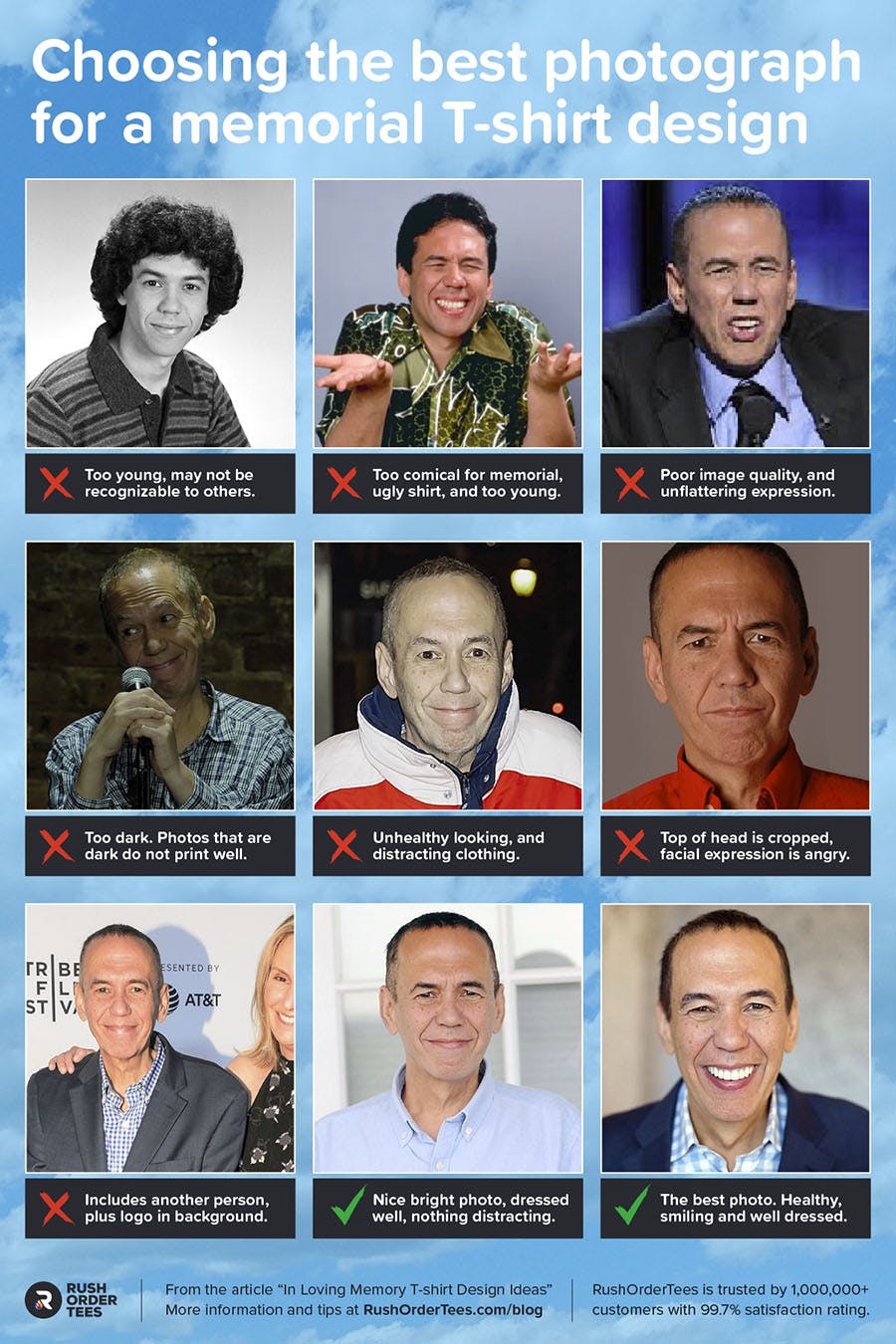 Once you have your photo selected, there are many ways to optimize it for printing. You can also count on our Art Department to optimize your photo for the best possible print. Just ask.
Cropping and borders
One of the most overlooked considerations regarding photos is making sure it's cropped well and adding a border or frame to the image. Crop the photo as close to the subject as possible, and think about adding a frame or outline to the picture from our clip art library.
If there are distracting elements or other people in the background, create a cutout of the subject so they truly stand out in the design. If you don't have a photo-editing program such as Photoshop, there are many free alternatives available, or you can request some free help from our Art Dept.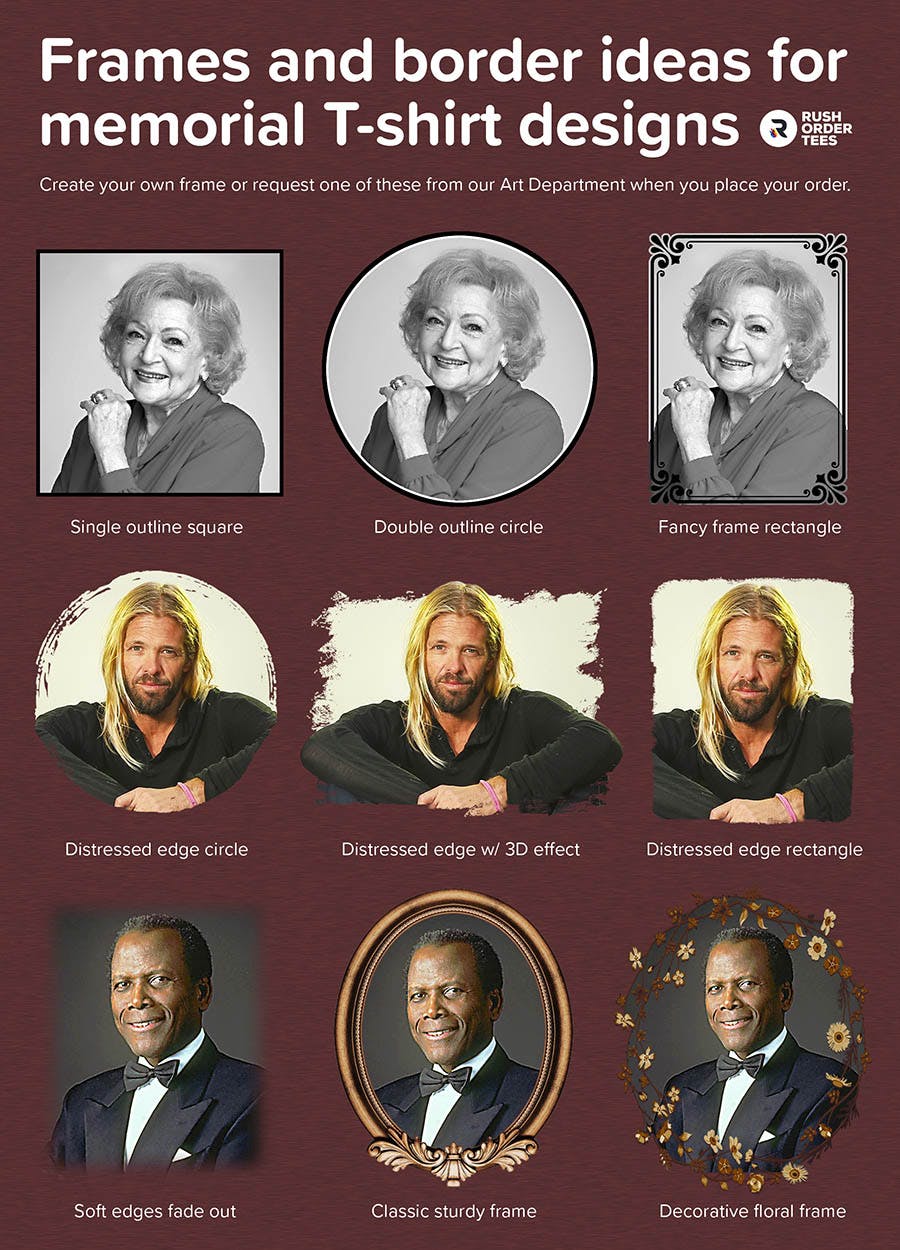 Use a high-resolution photo
This tip is technical, but it's one of the biggest mistakes we see. For printing photos, image quality is crucial. Even if you select the perfect picture of your loved one, a low-quality image file makes it challenging to create a high-quality print. Luckily, there are simple guidelines you can follow to ensure you have a quality file to upload.
For best print quality, photos should be at least 200 dpi (or ppi) at full size. Most modern smartphone cameras have a high resolution, so any recent photos should be fine.
For physical photographs, scan them at 300 dpi or higher. This will maintain a high resolution when enlarging the photo. Most modern home printers have a decent built-in scanner.
Most photos from the web are low resolution. If possible, find the original that was uploaded.
Full color vs grayscale
Full-color designs can work well, and really pop off the shirt, but there are some drawbacks to consider. For one, it may increase the overall price of your order. Two, it can look tacky if you're not careful. And three, the shirt might get worn less because it overpowers people's outfits.
Gray-scale images are more subtle and tasteful, have a classic look, and will save you some money on the order (so you can get more shirts). They hide some blemishes in color photos and will get worn more often, as they blend better with the T-shirt color and the wearer's outfit.
You can change the colors of your uploaded image in our Design Studio.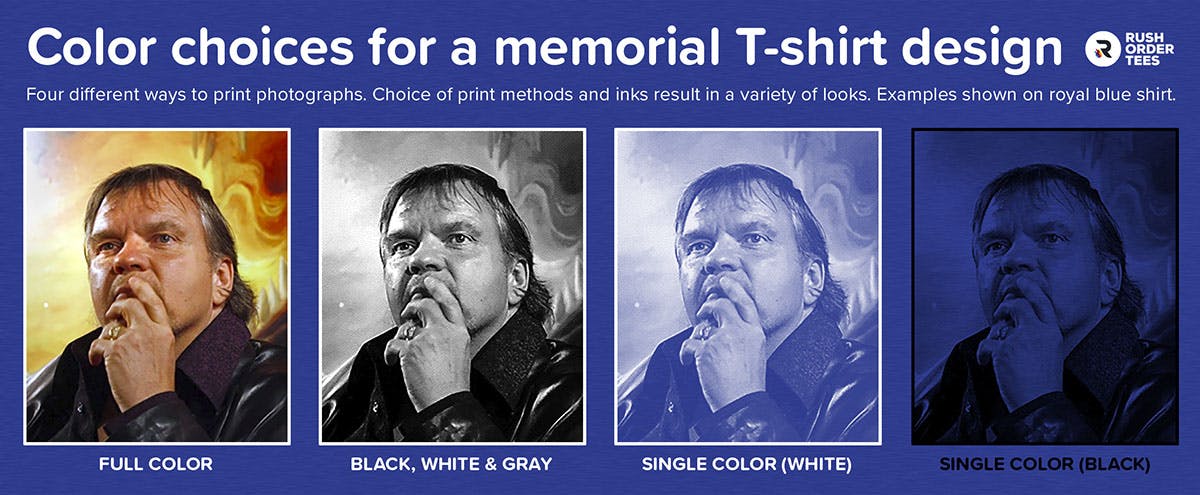 Pro tip: Make a collage
This may require a professional or someone with Photoshop skills, but a lovingly assembled collage of photos is a fantastic idea and makes for an impressive design. And it's a perfect solution if you have lots of photos and can't decide which one to use. There are some free online tools that allow you to create collages, such as PicMonkey.

Add design elements
Once you have your photos chosen and optimized, it's time to upload them and begin the design process. We have many design elements in our clip art library that can be useful for a memorial shirt design.
You can search for these under the keyword "RIP" or "memorial" in our Design Studio.
Here's a list of the clip art items that are most often used:
Wings
Clouds
Flowers
Wreaths
Frames
Banners
Doves
Roses
Candles
Hearts
Crosses
Angels
Halo
Stairway
Crown
Tips for using design elements
Including design elements adds a unique touch to any design, but there are a couple of considerations that will make the shirt a tasteful representation of the person you loved.
Make it personal and relevant. Select elements that directly relate either to your loved one or to the way you feel about them. Standard images work well, but personal is always better. Perhaps there was something everyone knew them for, such as a particular hobby or a deeply held personal interest. For example, were they an author? Use an image of a book or a pen.
Keep it simple. There is power in simplicity, and keeping the design simple can often be the best approach. Too many "rest in peace" shirt designs have way too much going on, which can be distracting. While it can be tempting to add lots of bells and whistles, simple designs have the broadest appeal.
Pre-made design ideas
Short on time? Start with one of these basic memorial shirt templates: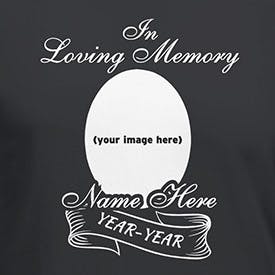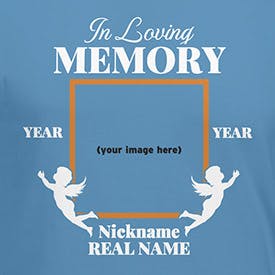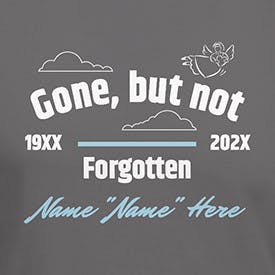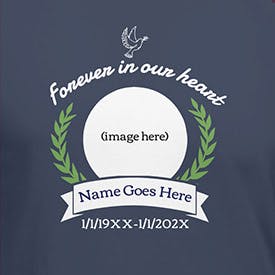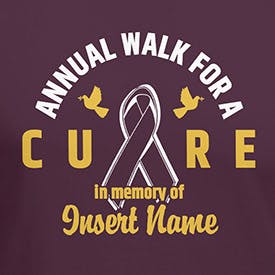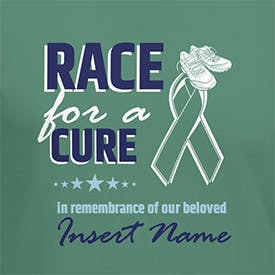 What about religious elements?
Be careful with using too many religious elements or an overtly religious design, especially if your loved one was not a very religious person. Consider what they would have wanted, as well as the rest of the family, and what is appropriate. This is especially important if you're using the T-shirts for a fundraiser where you would want the broadest appeal possible.

Add a memorial shirt saying
There are a variety of ways to include a title, saying, or slogan on a memorial shirt. This will often be the most prominent lettering in the design. Below is a list of the common shirt sayings you can use, rephrase, or come up with your own personalized In Loving Memory shirt saying.
In Loving Memory
Rest In Peace
R.I.P. (Name Here)
In Memoriam
Always In Our Hearts
Long Live (Name Here)
Your Star Shines On
Forever in our Hearts
Gone But Never Forgotten
Only The Good Die Young
Rest in Heaven
Our Beloved
Too Great To Be Forgotten
Always With Us
Gone Too Soon
Rest in Power
Love Is Eternal
Life is not Forever, Love Is
Too Well-Loved Ever To Be Forgotten
Include life details
For most commemorative shirts, the amount of information presented on the design is minimal, with some key pieces of information that are always present. Here are the key details to include, along with some ideas for additional messages to include.
Name – Their name should be prominent, usually just below the photo. Include their complete full name, and any well-known nickname.
Years alive – Their birthday and death date go just under their name, in smaller-sized type. You can abbreviate it, but it's more tasteful to spell it out.
Known for – This can include their credentials, accomplishments, or their most important roles, as seen on tombstones (Father, Husband, Brother).
Favorite quote – A phrase people knew them for, or perhaps their favorite famous quote. You could also choose a quote that relates to their life.
Children and family – This is less often used, but if your loved one had a tight family or circle of friends, consider including them somehow. Don't forget: you can use the back of the shirt too.
Select appropriate fonts
Font choices are a crucial part of designing memorial T-shirts because they convey so much meaning. Ideally, your font choice should strive to be meaningful and look good while being tasteful and appropriate.
Avoid any fonts that are cartoony, novel, weird, too aggressive, or too bold.
Script fonts are a superb choice, especially when combined with a plain font.
Carefully choose two or three different fonts, but no more than that.
Arching type across the top is an excellent way to add a structure to the design.
Read our 5 Simple Rules for Using The Best Fonts for more on this topic.
Order thoughtfully
Once your design is ready, it's time to place the perfect order. Carefully considering the decisions listed below will ensure you produce a quality product that everyone will love for years to come.
T-shirt style -Order "standard fit" shirts to ensure they will fit everyone well and the accurate sizing. Consider if you should buy all unisex, or get both men's and ladies' styles.
T-shirt color – While black signifies respectful grief, white symbolizes purity, heaven, hope, and light. It's a safe bet to avoid colored shirts, but choose muted tones or natural colors if you must.
Print locations – Standard full front works best for most memorial shirts, but you may use the back for additional customization. The classic combination of left chest with full back is always a good choice.
Sizing for group orders – Get everyone's sizes before ordering, if possible. Consider kids and toddlers as well. For average distribution, read more about sizing for large group orders.
That's all there is to it. Hopefully, these tips will help guide you on the way to making your own custom In Loving Memory shirts. If you have questions or need some design help, give us a call or chat. Our team makes ordering custom T-shirts fast and easy. Get started now.
About the Author
A graduate of the Multimedia program at the University of the Arts in Philadelphia, Imri Merritt is an industry veteran with over 20 years of graphic design and color separations experience in the screen printing industry.