Design Custom Gear
Personalize a custom t-shirt with our easy-to-use Design Studio
Start Designing
"Is that Photoshopped?"
It's clear that a company has cemented itself in history when its name is used as a verb. (Just ask Google.) Adobe Photoshop has long dominated the market for image editing applications, transcending photography to encompass graphic design, illustration, digital painting, marketing, website building, and animation. And that's just Photoshop.
The Adobe company is a behemoth in the industry and its Creative Suite of products are relied upon by millions around the world. With state-of-the-art digital tools, a massive support team, constant improvements, a deep knowledge base (not to mention a committed fan base), and endless tutorials, it's no wonder that they are the number one choice for creative professionals.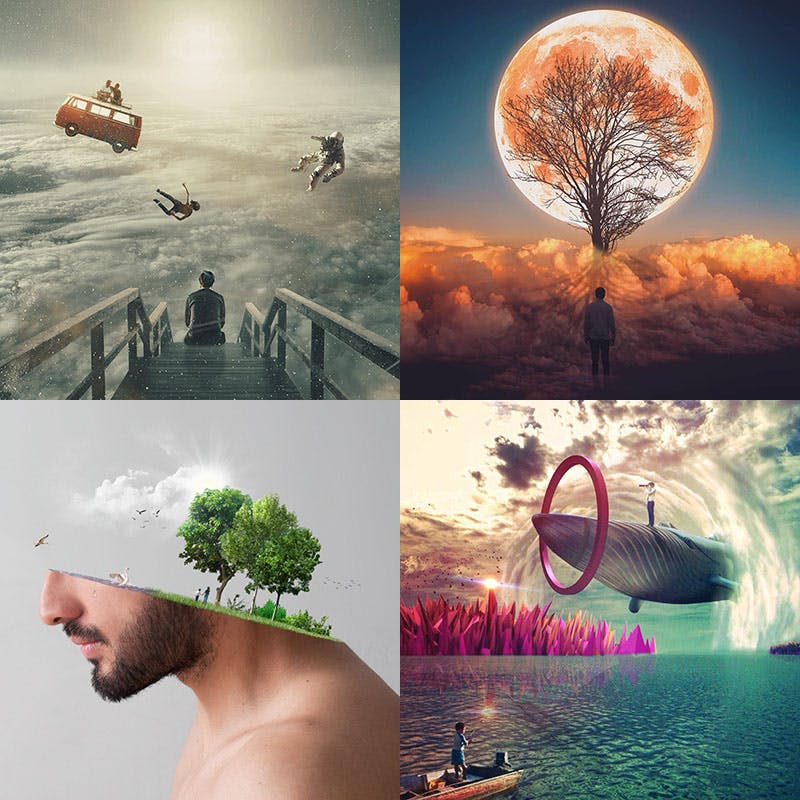 But their applications work on a fairly pricey subscription model: Photoshop alone will run you at least 0 per month. If you want access to the other applications in the suite that's about 2 per month. And not everyone is willing or able to pay that.
This leaves room for competing (and less expensive) options. And there are a lot.
We've done the work for you and looked at the latest and greatest competing apps out there. We tested them, compared them, and picked out the best so you can forget the rest. This post will tell you what they can do (and can't do), and why we chose them. Here are the top 8 free Photoshop alternatives:
GIMP
Krita
Photopea
Sumopaint
Photo Pos Pro
Pixlr
Colorcinch
Paint.NET
Note: Your decision of what to use should be based entirely on your specific needs.  Look for the blue boxes like this after each review, which will list the important bullet points, suggest the best use cases and supported platforms, plus the pros and cons of each app.

1.  GIMP
GIMP (GNU Image Manipulation Program) is the OG of Photoshop alternatives and is celebrating its 25th year as of this writing. It's well-rounded, works on all platforms, is open-source, and has a wealth of advanced features that have been added by dedicated developers over the years.
If you're looking for a one-stop-shopping app that will get you closest to the functionality of Photoshop without costing you a dime, Gimp is still the one. While it has dozens of competitors in this space, none of them come particularly close to the depth and breadth of what Gimp offers.
The trade-off is the learning curve. It's not nearly as intuitive as some of the other apps and takes some time getting used to and learning where all the tools are. If you want an idea of what you're getting into, take a sneak peek at their tutorials. On top of that, the interface may look and feel a bit clunky, especially for those used to Photoshop.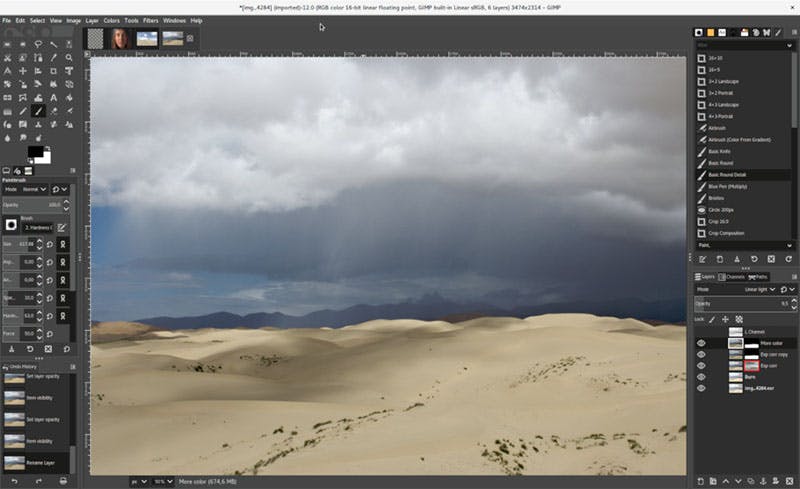 That being said, you can't beat it for being completely free. No subscriptions, no features to unlock. They give you everything upfront to use as you like, a throwback to the early days of the internet and the open-source movement.
GIMP is useful for those who want to try their hand at an advanced graphics program without any strings attached, and for artists and designers who don't want to cough up a chunk of their hard-earned money to Adobe every month.
Application: GIMP
Price: free
Devices: desktop & laptopPlatforms: macOS, Linux, WindowsBest used for: photo editing, image manipulation, graphic design, digital artPros:
• Freeware (no trials, subscriptions, etc)
• Lots of powerful features
• Lots of add-on and plug-ins
• Long-time support community
• Lots of brushes, and presets
• Works with Photoshop files and brushes
• Advanced filters and effects
• Open source for developersCons:
• Complicated functionality
• Cluttered interface
• Learning curve; non-intuative
• No support for RAW files (except w/ plugins)
• Some compatibility issues
• Requires downloading additional features

2. Krita
Krita is a powerful image editing application and has become one of the most popular Photoshop alternatives out there. Krita describes itself as a digital painting program, in contrast to GIMP, which is more general-purpose. And compared to Photoshop, Krita offers many more painting tools and digital art-centered functionality. Yes, it's hipster Photoshop.
The interface is much cleaner and more initiative than GIMP, with tools out of the way to let your creative work take center stage. But a robust selection of tools is always just a click or two away. Plus, the interface is customizable, so you can set things up the way you like and they stay put. You can even create your own shortcuts for your most often used actions.


As is the case with all of the alternatives, there are some features lacking when compared to Photoshop. But Krita makes up for that with its own set of artist-centered functionality, such as its brush engines, multi-brush, brush stabilizers, non-destructive transformations, and much more. Over 70 blending modes? Well alright then.
All the features are too numerous to mention here, but Krita has extensive documentation and tutorials. And their user base is made up of creative professionals who are happy to help and share knowledge. Keep in mind that although the software is focused on digital painting and art, it handles almost all the normal photo editing jobs.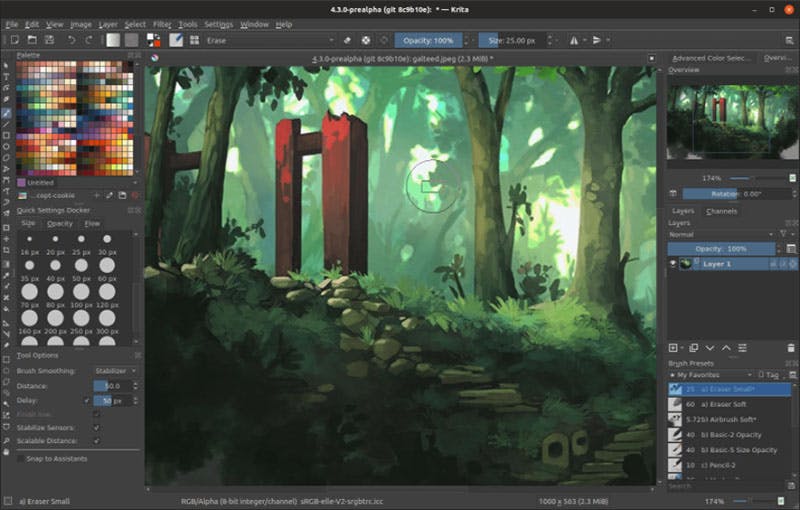 Krita is especially useful for someone who comes from an art background and wishes to use the program for getting creative with digital painting, illustration, concept art, and comics. It's also a good choice for anyone who finds GIMP too clunky and complicated and doesn't require as many of the advanced functions. Just start painting.
Application: Krita
Price: free
Devices: desktop/laptopPlatforms: macOS, Linux, WindowsBest used for: artwork, image manipulation, digital painting, illustration, photo editingPros:
• Supportive community & knowledge base
• Freeware (no trials, subscriptions, etc)
• Intuitive, clean and customizable interface
• Easily create seamless patterns
• Resource manager to collect, store & share bundles
• Brush engines you can tag & settings curve
• Conveinient pop-up color palette
• Color-to-alpha channel
• Animation functionality
• Full color management
• Supports PSD files
• HDR paintingCons:
• Text tool is rudimentary and limited
• No healing tools
• No history function
• No RAW filter
• Less filters than Photoshop and others
• No gif export, slicing, web images
• Some issues with tablets (pressure pen/driver issues)
• Can be laggy

3. Photopea
Photopea tops our list of web-based apps, and for good reason. Of all the free options out there, it's probably the closest you're going to get to Photoshop's interface and functionality. Many of the tools and features (even hotkeys) will be familiar to anyone used to Photoshop, making it an excellent choice for experienced designers.
Its feature set is impressive and includes masks and layer styles, smart objects, smart selection tools, vector tools, text effects, actions, and scripts. The team who made this set out to become the affordable, online version of Photoshop– and they come very close. And their step-by-step guide makes it easy to learn.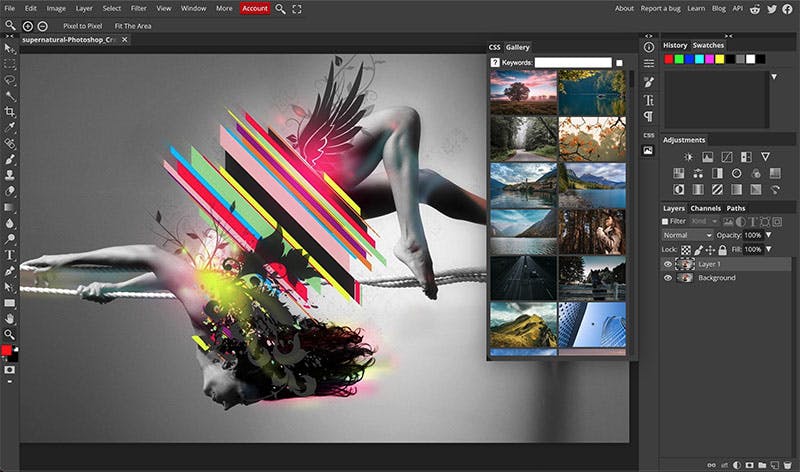 That being said, it lacks the power and responsiveness of Photoshop, as well as falling short as far as professional functionality (although only devoted Photoshop users will notice). But what Photopea does, it does well. And is especially useful for anyone who needs to make a design from anywhere, with any computer.
We recommend Photopea as one of the best free Photoshop alternatives out there. Professional designers, photographers, digital artists, and beginners alike can make use of its powerful, Photoshop-like functionality. The premium version eliminates ads and gives you twice the amount of history steps for just over a month.
Application: Photopea
Devices: desktop, laptop, tablet, smartphone (web-based)Platforms: macOS, Linux, WindowsPrice: free version + premium versionBest used for: image manipulation, photo editing, graphic design, digital artPros:
• Powerful, Photoshop-like image editing
• Clean, organized interface mimics Photoshop
• Free version includes all features
• Supports a variety of file formats, including PSD
• Supports export of various file formats
• Works in offline mode
• Templates designed for specific use cases
• No browser plug-ins required
• Excellent pen and brush toolsCons:
• Ads on free version can be distracting
• Lag time / delay with some of the tools
• Learning curve for those without Photoshop experience
• Support for common fonts is lacking

4. Sumopaint
Sumopaint is not just a fantastic image editing and digital art application that runs smoothly on all browsers, it's a whole suite of web-based applications for creatives to use for free. They have grown by leaps and bounds in their 12 years of existence, along with a following of devotees who help support and build the platform.
Thie goal with Sumopaint was to serve as an alternative for the 90% of users who only utilize 10% of Photoshop's tools and features. With their streamlined interface and powerful functionality under the hood, they achieved this goal with flying colors and branched off to include a set of other easy-to-use apps.
Sumopaint was soon joined by Sumotunes, Sumo3D, Sumocode, Sumophoto, Sumpaudio, Sumovideo, and Sumopixel. You can probably infer the use of those apps. They are well-designed and what's nice is you can switch between them seamlessly. You will need to upgrade to the pro version (/mo) to unlock all the features.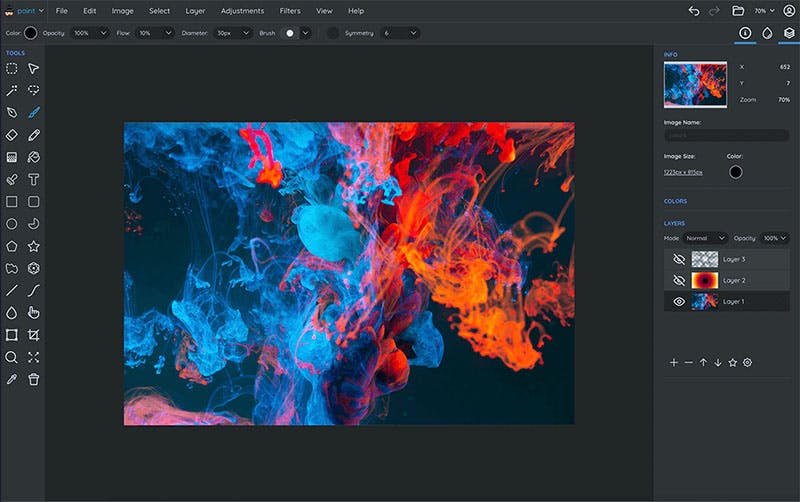 In fact, the free version of Sumopaint is limited. But you can take advantage of the intuitive interface and test out most of the features to see if how you like it. If so, we recommend upgrading to pro. For a sneak peek at the full features of Sumopaint, you can read through their support documents.
This program was clearly designed for artists in mind. With over 300 brushes, 20 drawing tools, layers, and layer effects, and plenty of unique graphic tools and effects, they put robust creative power in your hands. It's smooth and stable and optimized for getting to work and making beautiful artwork.
We recommend this app for digital artists and graphic designers as well as those who just need some basic photo editing capabilities. Oddly enough, this app is overlooked in many of the online reviews of Photoshop alternatives, but it's head and shoulders over much of its competition. You heard it here first.
Application: Sumopaint
Devices: desktop, laptop, tablet, smartphone (web-based)Platforms: macOS, Linux, WindowsPrice: free version + premium versionBest used for: digital art, graphic design, photo editing, image manipulationPros:
• Photoshop-like interface
• Regularly updated
• Symmetry tools with points, gravity, modes
• Gradient editor and lots of presets
• Supports export of various file formats
• Supports offline mode
• Layers, layer effects, and blending modes
• Active and helpful online communityCons:
• Free version has limited features + ads
• Requires Flash pug-in
• No rulers or guides
• No pen tool

5. Photo Pos Pro
Photo Pos Pro is a versatile and robust photo editing program, and probably the best free Photoshop alternative for photographers using a PC. It has all the expected tools for enhancing, restoring, and getting creative with all kinds of images and file formats. The interface is intuitive and can be switched between novice and professional.
Beyond the basics, it has an impressive set of tools for smart selection, color correction, background eraser, creating collages, and templates for business cards, even web pages. You can make custom brushes and healing tools, it has something called a Magic Recovery Brush and a Facial Recovery Brush, among other unique tools.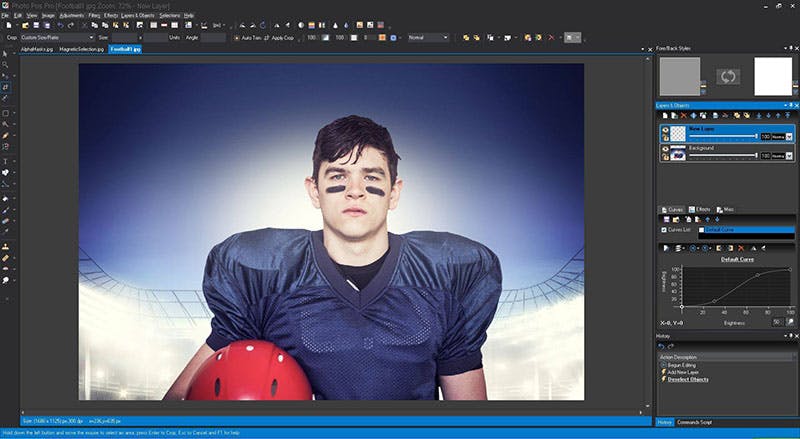 It also has some decent functionality for adding vector objects, along with text and text effects that go a little farther than some of the other apps we're covering here. So you can go straight from image editing to layers and layer effects, masks, vector shapes, and type to complete a design that's ready to go on a T-shirt or a website.
The one major drawback is that the free version is limited and you'll need to upgrade to the "pro" version (0 one-time payment) if you want access to the full array of tools. Make use of their 21-day free trial of the pro version to see how you like it. We recommend it for people who prefer to work on PCs with Windows-based apps.
Application: Photo Pos Pro
Devices: desktop/laptopPlatforms: Windows onlyPrice: free version + premium versionBest used for: photo editing, enhancement, image manipulation, digital artPros:
• Intuitive interface
• Advanced image editing tools
• Supports RAW files
• Supports most file formats
• Advanced image enhancement features
• Extensive help system & tutorials
• Supports cameras and scanners (pro version)Cons:
• Can be laggy with complex processes
• Some tools need improvement
• Limited features in the free version
• Limited filters and effects
• Learning curve

6. Pixlr
Pixlr is one of the most popular and widely-used online photo editors on the planet. Their combination of an easy-to-use interface, one-click adjustments, and effects, powerful AI tools, and loads of extras including templates and smart photo collages make designing easy and enjoyable for beginners and experts alike.
The software comes in two modes: Pixlr X for quick and easy graphic design with simplified features, and Pixlr E, an advanced photo editor with all the bells and whistles. What really sets this app apart is its integration of AI (artificial intelligence) by way of Autodesk, which acquired the platform in 2017.
The AI background eraser tool is especially impressive and easy to use, but AI plays a role in many of the other advanced features, including coming up with custom design layouts and elements. Users looking for other one-click features will enjoy the many filters and effects that can be easily applied.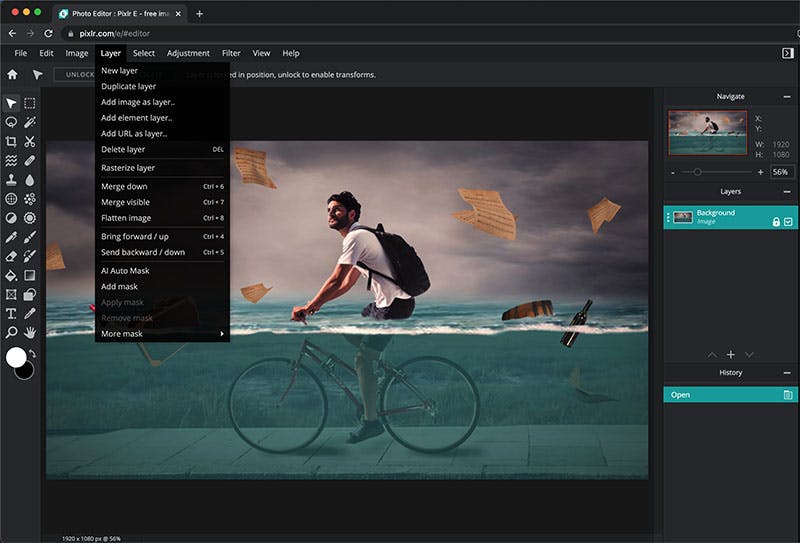 Subscribing to the platform will give you access to a wealth of stock photos and graphics, as well as Pixlr for desktop (Windows only) and other products. But for quick and simple photo editing and marketing materials, the free version gives you everything you need to make your images pop.
We'd recommend this to artists and designers who want to try some of the AI-assisted effects and features, as well as beginners who want something easy and fun to do basic image editing and design. And their extensive library of templates provides a great starting point for creating quick but professional-looking graphics.
Application: Pixlr
Devices: desktop, laptop, tablet, smartphone (web-based)Platforms: macOS, Linux, WindowsPrice: free + premium versionBest used for: photo enhancement, graphic design, image manipulation, marketingPros:
• Intuitive and customizable interface
• Many one-click tools to streamline workflow
• AI-assisted features including background eraser
• Healing & history tools
• Works on tablets and smartphones too
• Support for Dropbox and Google Drive
• Wide selection of filters and effects
• Smart tools help with basic actionsCons:
• Less file types supported than others
• Limited raster editing tools
• No guides or rulers
• Free version has limited features + ads
• Can be laggy for some actions

7. Colorcinch
Colorcinch, a rebrand of "Cartoonizer" is now an easy-to-use, all-in-one image editing and graphic design platform with unique, customizable filters and effects, and powerful photo enhancement tools, including some AI-driven features to save time and avoid guesswork.
With thousands of stock photos, templates, fonts, and designs at the ready, beginners can get professional-looking results with ease. They were previously known for their "cartoonizer" filter which produces some cool results, and have since added many more. Users will need the premium plan to unlock most of the better ones.
Colorcinch, like others, provides a place for you to store and share your designs, that can be accessed from wherever you are in the world. Other features round out the all-in-one theme, like overlays to create "scenes", frames to stylize edges, and freehand drawing tools. Everything is easy to find, without much clutter.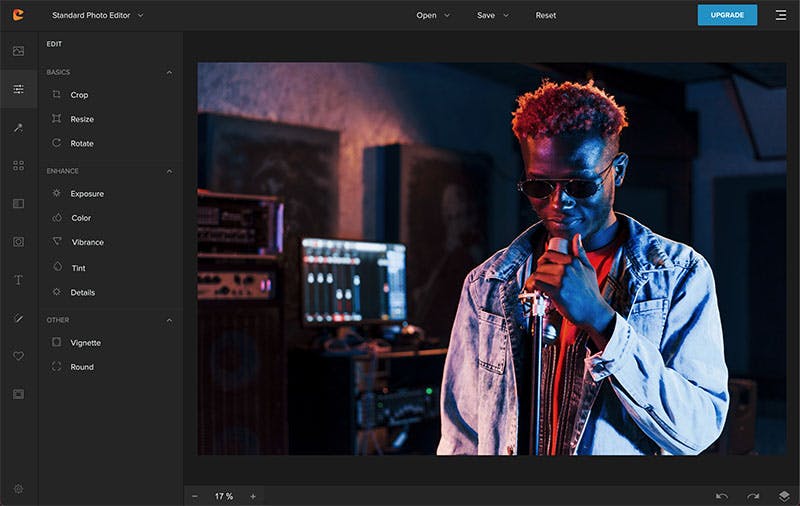 Photoshop users may find the interface rudimentary but this program is not designed for advanced users (although you can get those kinds of results). With print export maxed out at 400 dpi, they are clearly sending a signal to professional users. The pro version has a 30-day free trial, and it's about /mo after that.
We'd recommend this for anyone looking for an easy, all-in-one platform that can generate unique-looking images, professional-looking marketing material, and be used from anywhere you can get online.
Application: Colorcinch
Devices: desktop, laptop, tablet, smartphone (web-based)Platforms: macOS, Linux, WindowsPrice: free version + premium versionBest used for: photo editing, image manipulation, graphic design, digital artPros:
• Simple and clean interface
• One-click effects proprietary filters
• Huge image resolution support for big print files
• Extensive video tutorial library
• Powerful AI-driven tools
• Insane number of digital assets to choose from
• Overlays, frames, and other effects
• Advanced editing tools
• All-in-one solutionCons:
• Free version has limited features + ads
• Some automated features may limit creative control
• Some restrictions on file types
• Can lag on more complex actions
• No batch processing

8. Paint.NET
No free Photoshop alternatives list would be complete without Paint.NET, an image and photo editing software for PCs that runs on Windows. Originally intended to be an enhanced version of the classic MS Paint tool that came with all Microsoft computers, it grew to become the go-to graphics program for many users.
While not nearly as powerful as Photoshop, it has a lot of the basic features needed and is an ideal alternative for beginners. The interface is dated, but this might appeal to many people who want a simple layout that they are familiar with. The tools are easy to find and the functionality is more intuitive than its counterparts.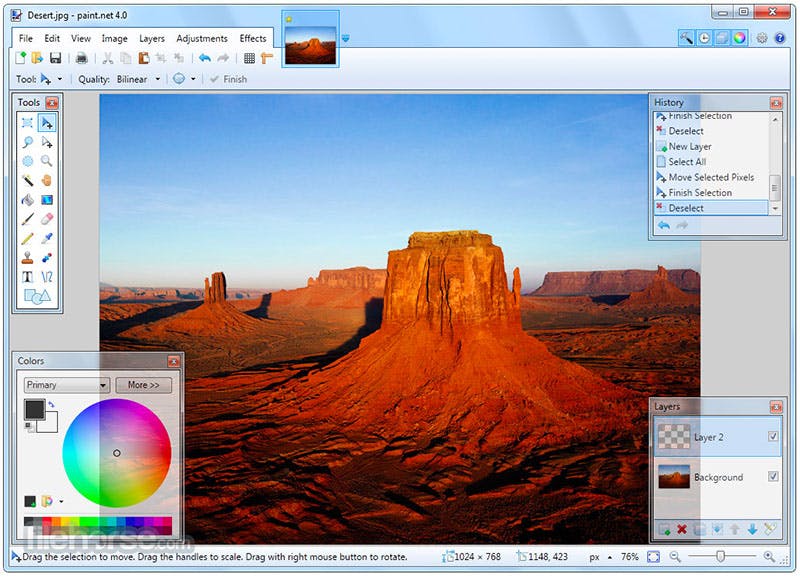 For anyone who gets needs help, they do offer a decent amount of tutorials to get you started. To find more expanded documentation or to get specific help, you can visit the forums and browse the existing posts or ask the active community.
We recommend Paint.NET for anyone new to graphic programs and who is used to using Windows-based applications. The simplicity allows users to get started right away and take advantage of the basic features. This may also appeal to people who want to peruse the multitudes of unique plug-ins.
Spending more time working with it will lead to unlocking its more powerful functionality, but users who are looking for a more advanced image editing application may want to skip this one.
Application: Paint.NET
Devices: desktop/laptopPlatforms: Windows onlyPrice: freeBest used for: photo editing, image manipulation, basic graphic designPros:
• Freeware, no trials or upgrades
• Simple and familiar interface
• Easy access to most basic tools
• Layers and blending modes
• Unlimited undos
• Supports a variety of file types
• Huge number of plug-ins available
• Some unique special effectsCons:
• Text tools are hard to control
• Minimal layer effects
• Minimal brush options
• Learning curve for advanced functions
• No patch or spot healing tools
• No RAW compatibility
Browser-based vs hard-drive-based Photoshop alternatives
Photoshop was built to be used on a desktop computer, with plenty of screen area to arrange your tools and move things around. If you prefer a more stable and reliable program that doesn't rely on being connected to the internet, and you're always working from the same computer, then a hard-drive-based (or native) app is for you.
Browser-based applications are an increasingly viable option in our always-connected modern world. As internet speeds have increased, so has the power and capabilities of online tools. With web-based applications, you can access your work from any computer, anywhere. Well, anywhere that you can get online.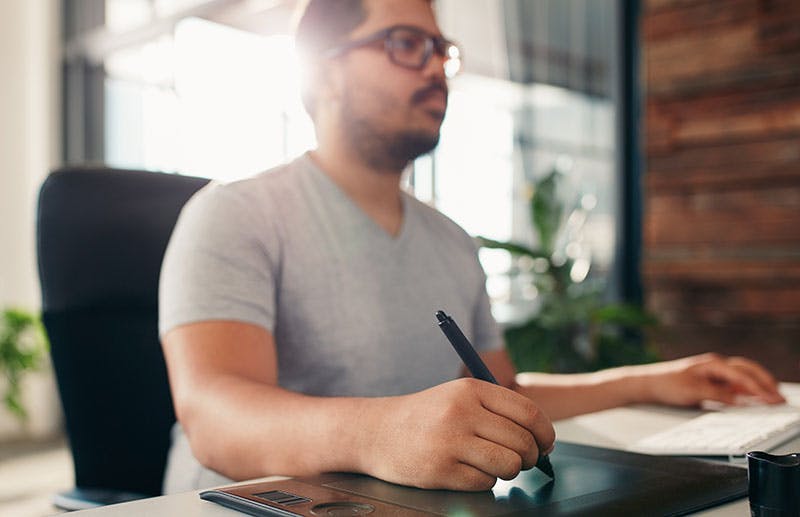 The trade-off is obvious: if you can't connect to the internet, you can't work. And the performance of the program will depend, in some part, on your internet speed. The lag time on the tools of browser-based apps can become frustrating with a slow connection. Everything is frustrating with a slow internet connection.
If that's a risk you're willing to take and you like the idea of jumping into an app without worrying about compatibility– and not having to download and install an application to your computer hard drive– then the web-based applications are a good fit for you.
Photoshop vs alternatives: Which is best for you?
If you're a graphic designer or creative, there's no denying that Photoshop is always the best bet for delivering professional, optimized, and compelling images, animations, and marketing materials. While the various alternatives can stack up in certain ways, none of them quite rise to the level of what Photoshop can achieve.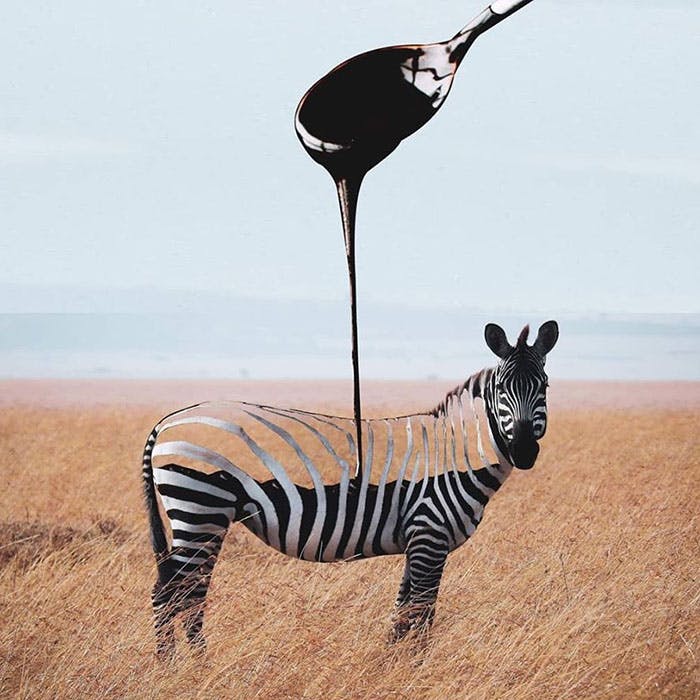 For businesses and brands, it's more essential than ever to make sure your photographs and images are not just optimized, but they pop off the screen. Most (if not all) of the alternatives listed here can dramatically enhance your images and also provide tools for adding the basic design elements and your branding.
If you're still not sure, you can always try a full version of Photoshop free for seven days, and then compare it to the free versions listed here. It all comes down to your own specific needs and your budget.
And don't forget you can always use our Design Studio for basic layout and design for your custom apparel.
Happy designing!
About the Author
A graduate of the Multimedia program at the University of the Arts in Philadelphia, Imri Merritt is an industry veteran with over 20 years of graphic design and color separations experience in the screen printing industry.