Design Custom Gear
Personalize a custom t-shirt with our easy-to-use Design Studio
Start Designing
"What shirt sizes should I get?"
It's the question every customer asks themselves when placing larger orders that include a range of sizes. Whether you're buying bulk for branded merch, outfitting staff with company logo shirts, planning a promotional giveaway, or organizing an event, you can be at a loss when deciding on sizes.
This article answers that question and more, giving you the facts you need to know about average sizes and other market data, plus our expert advice–including an easy formula for choosing the exact size breakdown for your group order should be. We even made a handy calculator you can use. (Yes, we're T-shirt nerds.)
First, what exactly is the problem?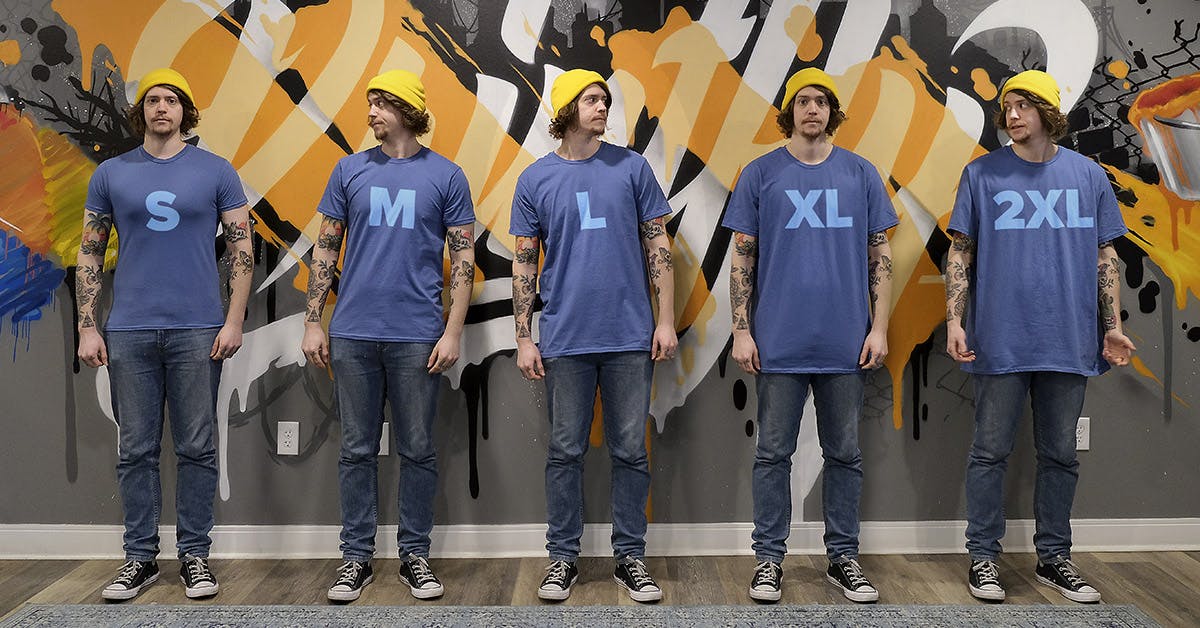 Recommended distribution of sizes for large orders
Our recommendation takes the numbers per size of T-shirts purchased in the US– which matches exactly with our internal sales data– then skews the numbers slightly towards the larger sizes to be more correct to the true percentage per size. Here it is:
XS = 1 %
SM = 10 %
M = 23 %
L = 31 %
XL = 23 %
2XL = 9 %
3XL = 3 %
How we arrived at this formula: We tapped into our internal sales data– a massive sample size– and divided the numbers for the past year (millions of T-shirts) into two different types of orders:
Larger orders of 25 or more (including bulk orders that can be in the thousands of pieces)
Smaller orders of up to 24 pieces (including individual orders)
The size breakdown of all the larger orders reflects people's best guess at sizes (and matches US survey data), while the average breakdown of smaller orders comes from people who know their sizes. In other words, the data from smaller orders gives us our formula, and the difference between the two sets of numberstell us exactly where customers who order in bulk tend to miss the mark:
Generally, for larger orders, people buy 3% too many smalls, 3% too few larges, and 1% too few XLs.
They're not off by much, but for large orders, small numbers are a big deal. A small sizing difference could be the difference between a profit or loss. It can decide if everyone gets a T-shirt– or not. Our recommendation fixes this gap.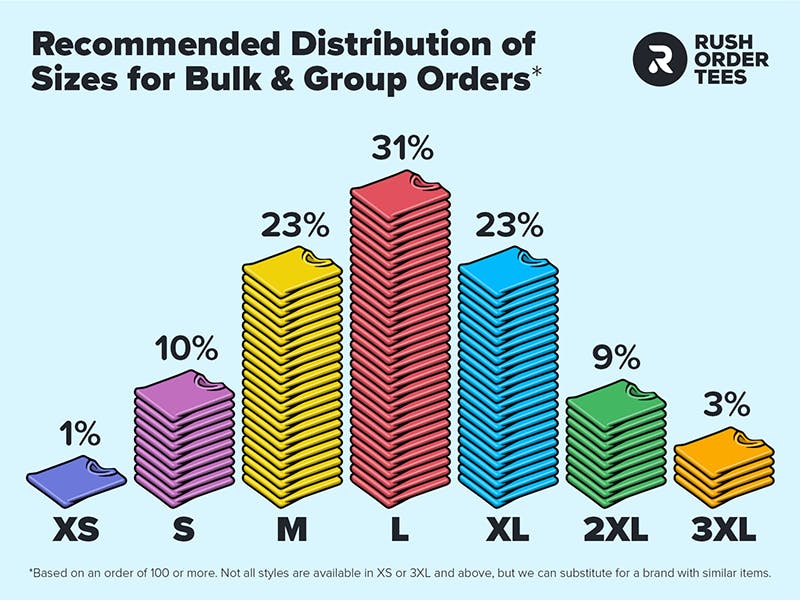 How to calculate sizes for your T-shirt order
To figure out sizes for a particular order, just do the math: Take the total number of items you will be ordering and multiply it by our recommended percentages for each size (put a decimal point in front of the number) to determine the exact number of pieces of each size to order.
For example, let's say your total number of items is 850. Here's the breakdown:
850 x .01 = 8 XS
850 x .10 = 85 S
850 x .23 = 195 M
850 x .31 = 264 L
850 x .23 = 196 XL
850 x .09 = 77 2XL
850 x .03 = 25 3XL
<dyk>Half shirts? You might end up with a .5 in some your answers. Just round up or down at your discretion. If you round up for one size, round down for another. In the example above, we rounded up for L and XL, and rounded down for M and 2XL, keeping the total number of shirts the same.</dyk>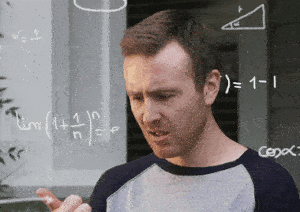 Not great at math? Not a problem. We made a custom calculator just for this purpose.
T-shirt Size Breakdown Calculator
This calculator applies our recommended ratio to determine how many of each size to order, based on your total number of items. It even rounds up and down for you. Just enter a number and hit return.
T-Shirt size breakdowns for smaller group orders
If your order is less than 100 pieces, you may want to omit XS and 3XL sizes (on the farthest sides of the bell curve), and redistribute those percentages across the other sizes, like this:
SM = 10 %
M = 24 %
L = 32 %
XL = 24 %
2XL = 10 %
So for an order of 50 shirts, you get:
50 x .10 = 5 S
50 x .24 = 12 M
50 x .32 = 16 L
50 x .24 = 12 XL
50 x .10 = 5 2XL
The super-simple formula for calculating T-Shirt size breakdowns
A simplified ratio makes it easy to do the math in your head. It's not as accurate, but it's easy to remember and provides a basic starting point. The super-simple formula is  1 – 2 – 3 – 3 – 1
Or, in percentages:
SM = 10 %
M = 20 %
L = 30 %
XL = 30 %
2XL = 10 %
So for an order of 50, the super-simple breakdown would be:
50 x .1 = 5 S
50 x .2 = 10 M
50 x .3 = 15 L
50 x .3 = 15 XL
50 x .1= 5 2XL
And so on. Then, if you like, you can add a few pieces to sizes on the far ends of the spectrum (XS and 3XL).
Pro tip: It's better to err on the size of larger. Even if the shirt is a little too big, people like having T-shirts they can wear for dirty work (working on the car, mowing the lawn, etc), or for sleeping in. "A shirt that's too small stays in the drawer, a shirt that's too big can still be worn." – Mike Callahan, sales manager

T-shirt size purchasing data
To prepare for this article, we looked at survey data, our own customer data and discussed the topic with our lead sales managers to determine the size distribution breakdown that can work for any large order. Let's take a look at those numbers so you can get a better understanding of our recommendation.
The average distribution of T-shirt sizes worldwide
As you would expect, it's a bell curve. According to data from around the world, most T-shirt sizes purchased are mediums (33%) and larges (34%). Next is extra-larges ( 18%), then the slope of the curve drops down even more on each side: smalls (8%) and extra-extra-larges (7%).
It's no secret that people in the US are larger but also prefer larger sizes. It's quite the bell curve– you could call it a belly curve. We are second only to Germany in XL sizes and lead the world in 2XL. If this data considered 3XL and above, there's no doubt we'd be #1 there as well. USA, USA!
The most common T-shirt sizes purchased in the U.S.
To get the latest numbers, we took a look at our own internal data. After all, nothing is more up-to-date or accurate; considering millions of items, including T-shirts, sweatshirts, hoodies, polos, and tank tops: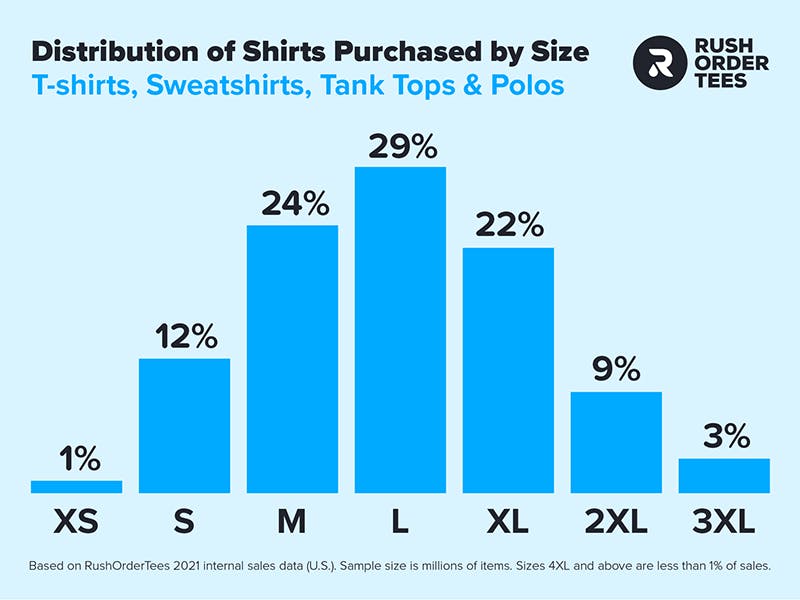 This data provided a starting point for our recommended breakdown, and from there we applied two decades of experience with thousands of customers and industry knowledge from our trusted suppliers. By separating out the bulk orders (that involve guesswork), and looking only at small orders and individuals, we could determine the actual size breakdown that should be used for bulk orders.
Of course, every order is different. Other considerations are particular to your needs. The important thing is to give it some thought. Here are the other things you should think about.
Why it's important to avoid guesswork when ordering T-shirt sizes
What not to do: "Just split the order between larges and extra-larges" or "Let's get 100 of each size."

This kind of guess is a big mistake. You could call it an extra-large mistake.

One problem is you end up with a bunch of extra shirts. Excess inventory has been the Achilles heel of the T-shirt business. It cuts directly into margins and takes up space in the basement. (If you have extra tees to get rid of, check out these tips on what to do with old T-shirts.)

Another problem is you could run out of the sizes you need. If you're selling merch, some of your fans could leave empty-handed because you don't have their size (you have lots of mediums, larges, and extra-larges, but forgot about the little ladies who want a small, or the big guys who need a 2XL).

Or, the worst of both: missing the sizes needed, and leftover inventory that nobody wanted. In both cases, there's wasted money and people are unhappy. No one wants that.
Sizing considerations before placing an order of custom T-shirts
Our recommended ratio is your starting point. Then you can factor in the other things: fabric shrinkage, the fit (or cut), your demographic, and the decision to order both men's and women's styles. Consider these other things to ensure your customers, employees, family, followers, and fans are happy.
Fabric shrinkage
If your T-shirts are all 100% cotton, skew your order slightly farther towards the larger sizes. Although keep in mind: if washed properly, cotton T-shirts shouldn't shrink over 2%, and many T-shirts are pre-shrunk (look for that in the product description).
If your shirts are 50/50 poly-cotton blend or a tri-blend, you don't have to worry as much, and if your shirts are 100% polyester, you don't have to worry about shrinkage. You can read more about this in our article on choosing the best fabric.
Fit (or cut)
Another thing to consider is that many of today's "fashion fit" styles run slightly smaller than their standard counterparts. For example, certain styles from American Apparel, Anvil, Next Level, and District have tapered sleeves and side seams for a slimmer fit.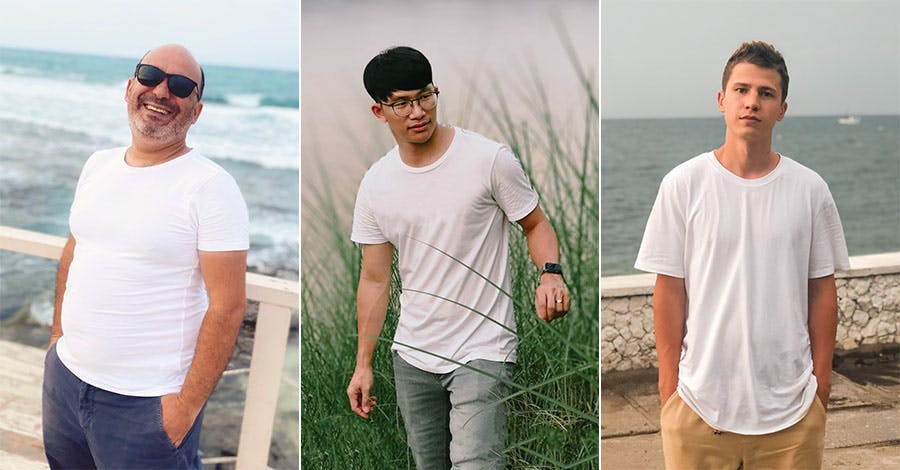 This slimmer fit may be enough to make someone used to a certain size wonder why it's tighter than they're used to. People used to slim fit might consider standard fit too baggy for their taste.
If you need more info, read our article about how a T-shirt should fit.
Purpose and demographic
Finally, whether you're selling T-shirts or giving them away, think about your market or demographic. Is it a BBQ festival? Skew the sizes larger. Is it a yoga retreat? Skew the sizes smaller. Is it band merch for people in their 20's? Go with the fashion fit or semi-fitted.
Did you know? Merch is about way more than T-shirts. Fans love having a selection of items to choose from, and you'd be surprised how many of them want more than just the classic T-shirt. Read about more proven merch ideas and let your imagination do the rest.

Men's vs. unisex vs. women's sizes
This article is based on buying unisex T-shirts for everyone. Depending on your market or end-user, you may want to split the order between men's and women's styles. Here are the important differences you need to know.
Men's and unisex cuts are basically the same, with slight variations between brands and individual products. Women's cuts are much different: narrower shoulders, contoured torso, shorter and tighter sleeves, tapered waist, flared hips, and relatively longer at the bottom than their men's/unisex counterparts.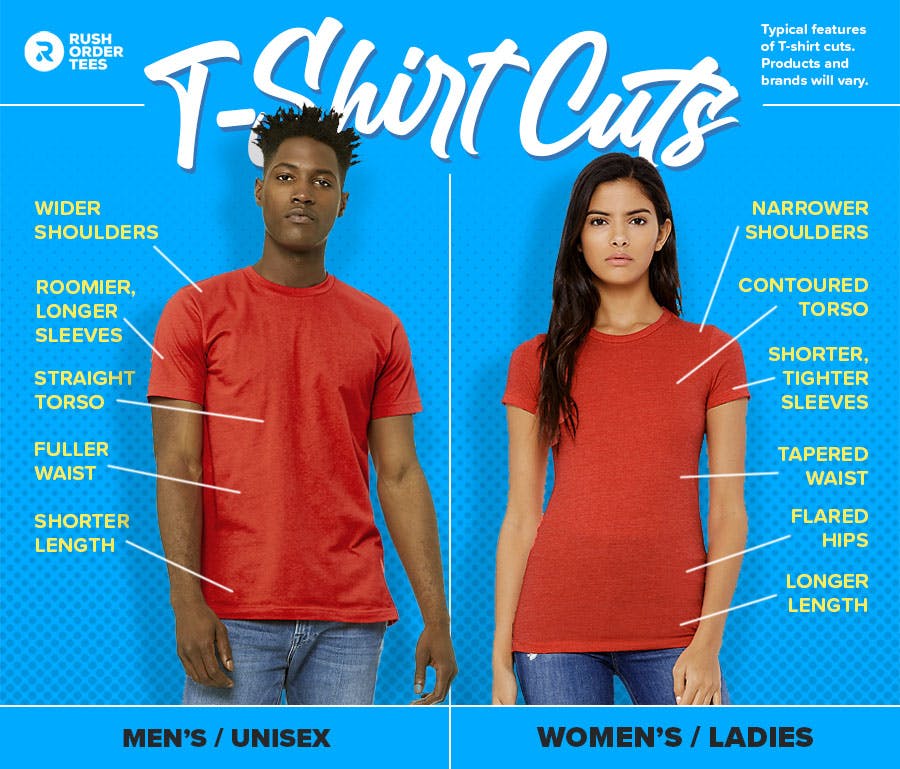 You can learn much more by reading our women's T-shirt sizing and fit guide.
The next thing to ask yourself: Is my target demographic split evenly between men and women? If so, one way to go about it is to apply the breakdown formula to both halves of the order and hope it all shakes out.
Based on our experience, some women prefer the unisex cut to the more form-fitting women's cut. But how many of them? Depends on your demographic. Are they younger or older? More fit or not? More fashion-conscious or not? etc. Consider this: the "boyfriend tee" is a popular item, and it's essentially a men's cut marketed to women.
It also depends on the cut of the particular item. Some women's styles are baggier, or "relaxed fit", while maintaining some of the qualities of a women's cut, such as a wider collar. Check the item's product description, and look at the sizing chart, and photos of models to get a better idea.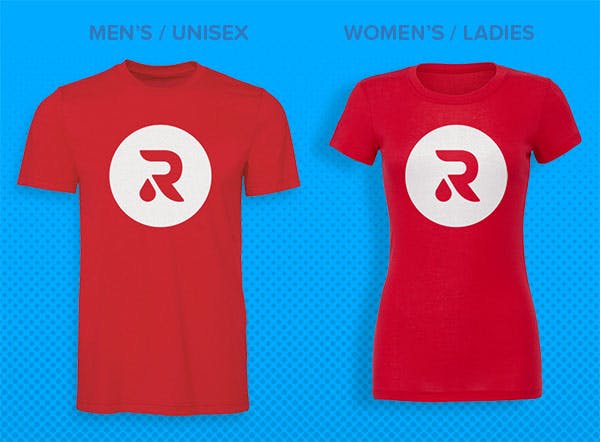 Another thing to consider is how the same print looks on the two different cuts. As you can see in the graphic above, the same size logo looks noticeably bigger on the women's T-shirt.
If you are printing a large order that includes women's cuts or a wide range of sizes overall, it makes sense to either reduce the size of your print. Or print two different sizes: one for the larger shirts (men's L-2XL) and one size for the smaller shirts (men's S-M, and all the women's).
The best T-shirts for large group orders
Generally, when ordering for a large group, the idea is to choose something that will work for everyone. That usually means standard fit (rather than fashion/slim fit) and 100% cotton (rather than polyester or blends that may irritate some people's skin).
Beyond that, you want a balance of quality and price and a reliable brand with the colors and sizes you need. With those things in mind, here are three great options for group orders:
Don't forget to checkout out our coupons page for the latest RushOrderTees promo codes.
The best T-shirts for merch
When it comes to selling merch or starting your own clothing brand, you want high quality. That means soft ringspun cotton, fashion/slim fit (also called retail fit for this exact reason), and features like tear-away tags and side seams. Our premium offerings are popular– and surprisingly affordable. You'll be selling out in no time.
Here are three of our top premium T-shirts your fans and followers will love:
The best T-shirts for promotional giveaways and events
Promotional giveaways are a mixed bag, no pun intended. On the one hand, you want to minimize your budget expenditure. You want people to actually wear the shirts. Luckily, our budget tees are of excellent quality for a low price, making them among our top sellers.
These recommendations also apply to one-time-use events, where premium quality is not the highest priority. In fact, use the money you're saving to round up the order, ensuring you have enough tees for everyone– and the right sizes they need.
Each of these three would be great for promotional tees and events:
We hope all this information is helpful, and if you have questions, call, email or chat.
About the Author
A graduate of the Multimedia program at the University of the Arts in Philadelphia, Imri Merritt is an industry veteran with over 20 years of graphic design and color separations experience in the screen printing industry.