Design Custom Gear
Personalize a custom t-shirt with our easy-to-use Design Studio
Start Designing
How much custom t-shirts cost is one of the most common questions we get, and there is no single answer because it depends.
Knowing the variables involved will help get you the best bang for your budget. This article briefly explains each factor that goes into the cost of custom tees so that you can apply that information to your needs. Let's break it down.
The average cost of a custom T-shirt
The cost of a custom t-shirt can vary widely, depending on the number of shirts ordered, the type of shirt, the printing method, additional features, and how soon you need it. Generally, you can expect to pay anywhere from $10 to $50 for a custom t-shirt, with an average price of around $20 per shirt.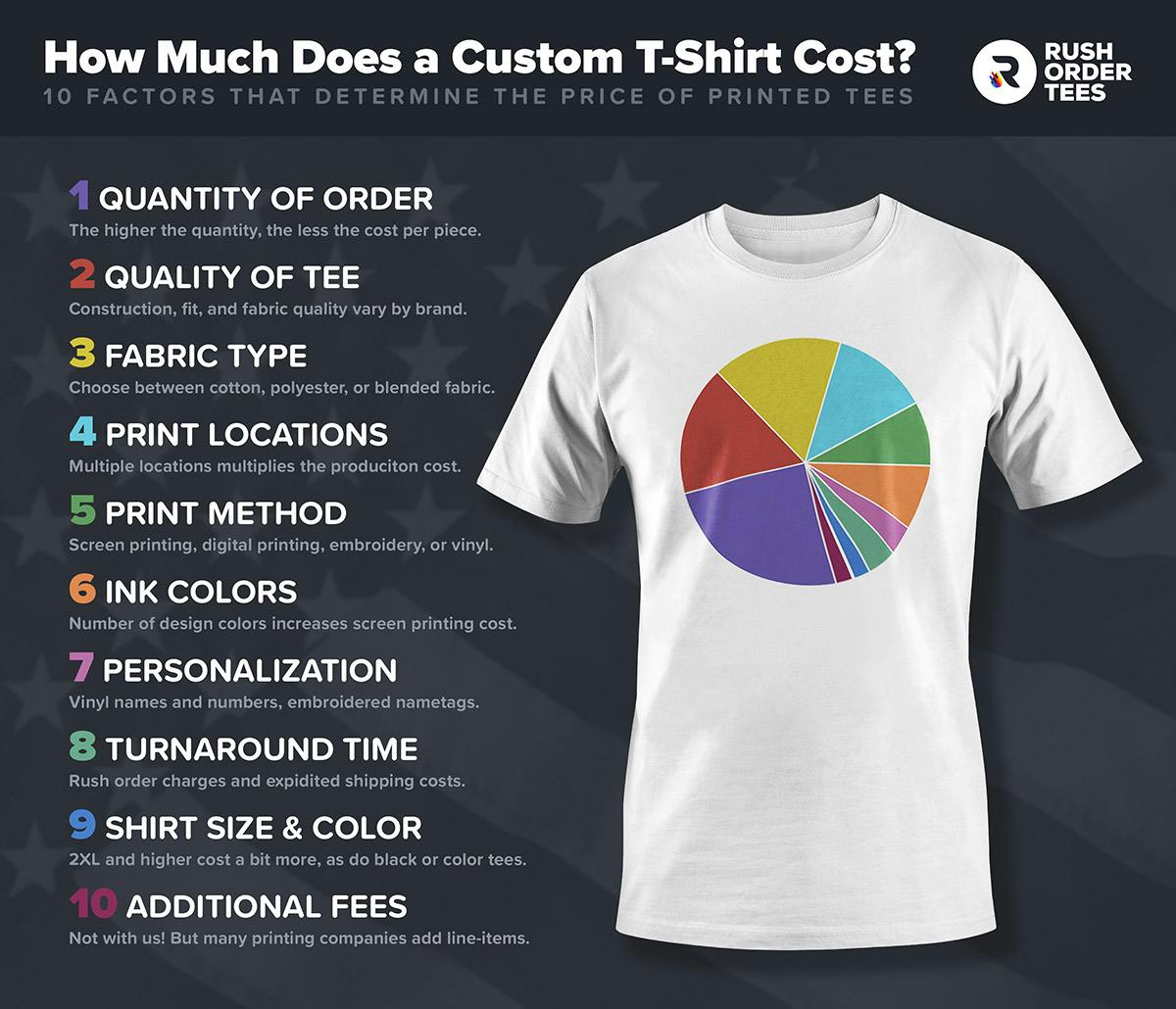 The 10 factors that impact custom t-shirt cost
Several key variables affect the cost of making custom shirts. Although there are some variations in pricing models between competing printing companies, the vast majority of the major players in the industry factor the following variables into calculating the cost of custom t-shirts.
1. Quantity of order
The size of your order, or the total number of pieces, is one of the most significant factors in determining your cost per item. All print companies have volume discounts built into their pricing, but how much of a discount and how that discount gets applied (where the price breaks are) varies.
The rare exception is print-on-demand, usually single-piece orders or small quantities. These orders are printed digitally (to avoid screen printing's setup cost) and priced similarly to retail. In other words, the same price you might pay when ordering a single printed tee from an online storefront.
The majority of printing companies have volume price breaks set at certain tiers. For example, increasing discounts happen at quantities 12, 36, 72, 144, and so on. This system can seem arbitrary to the average customer, pushing them to order more than they need just to get a better price-per-piece.
RushOrderTees, unlike competitors using the tiered pricing model, offers rolling volume pricing. Our discounts are incremental rather than tiered, so your cost-per-piece decreases with each additional item ordered. Use the quote calculator on each product page to price the exact quantity you need.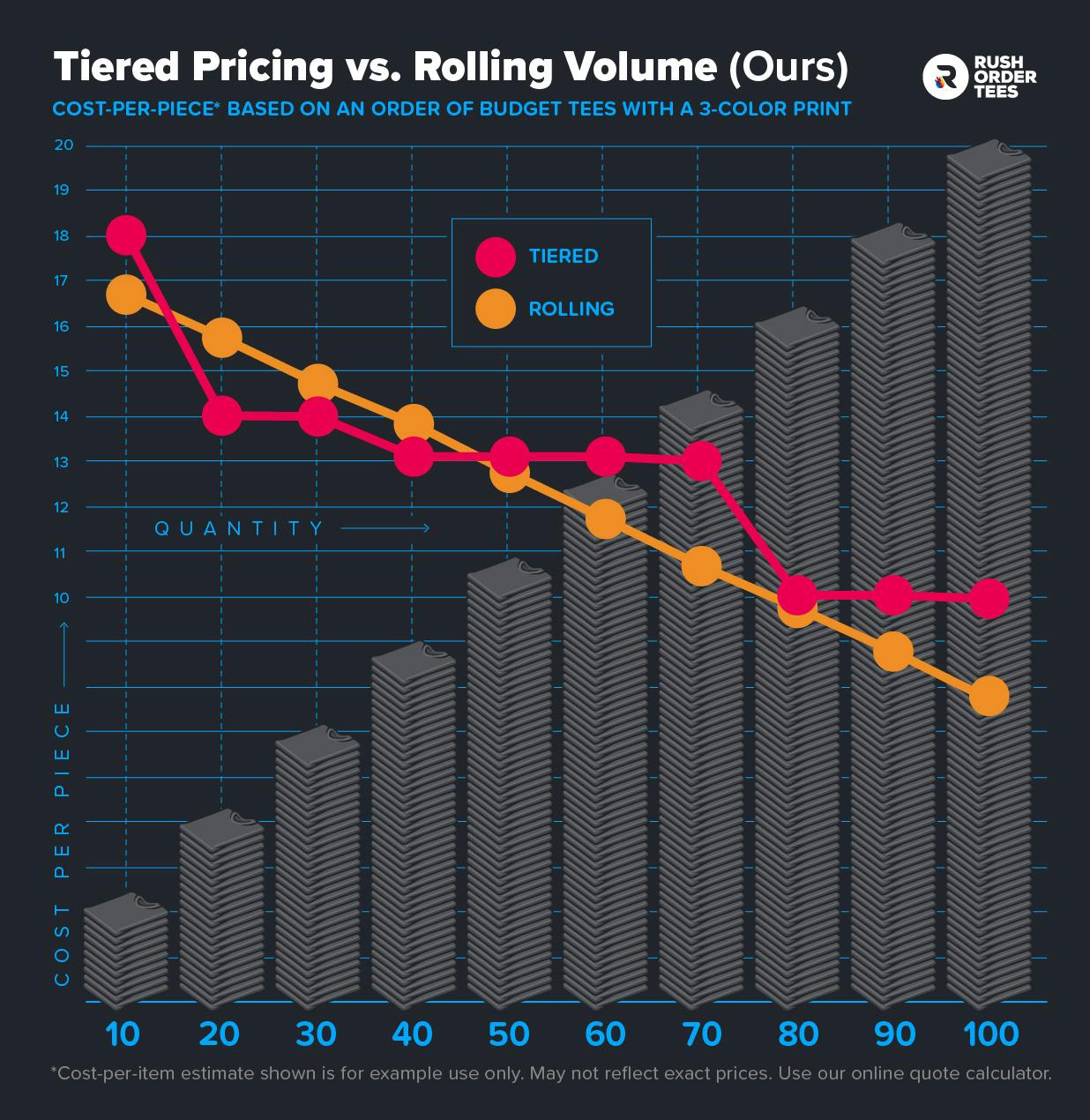 2. Quality of shirts
All t-shirts are not created equal. If you've ever tried on a coarse and ill-fitting tee, you know this to be the case. There is a wide range of quality levels regarding t-shirts, typically reflected in the price.
We sort products into three categories: budget, standard, and premium. When browsing our catalog, you can refine your search by these categories, which are general indications of the product price in relation to other similar items.
Construction
All t-shirts, including budget tees, have a sufficient construction quality; the seams are well-stiched, and the shirt will hold up for years with regular use and washing. However, premium tees (and some in the standard category) have additional reinforcements and details, giving them outstanding durability and fit.
For example, Bella+Canvas, American Apparel, and Next Level are three top brands that manufacture premium tees, and their construction is notably superior. With features like side seams, shoulder-to-shoulder taping, and double-needle stitching, they take t-shirt construction to another level.
Name brands
Certain brands have established themselves over the years as being known for high quality and favorites among customers, with some becoming household names. Examples of the top brands we carry include Addidas, Nike, Carhartt, Champion, New Era, North Face, Comfort Colors, and Under Armor.
It's important to note that although you can count on them for being excellent quality, some of the higher cost is name recognition, and competing lesser-known brands can have similar quality without the higher price point. But when you want the best, including their logo displayed, go with the name brands. To compare our top shirts, check out our look at Bella Canvas vs. Next Level.
3. Fabric type
Cotton tees are by far the most popular and generally the most affordable. Premium cotton shirts tend to be 'ring-spun' (softer and smoother for printing), while budget tees are typically 'carded-open-ended' with a rougher print surface. Higher-end premium shirts are made with Pima or Egyptian cotton.
Cotton/poly tees are a blend of cotton and polyester, with a slightly higher price point than cotton, aside from some budget outliers. This combination of materials provides the softness of cotton with some moisture-wicking properties and the durability of polyester. Most cotton/poly fabric is a 50/50 blend.
Polyester tees, also known as performance, can range from premium to budget-priced. Generally, polyester is a cheaper material than cotton. Still, many performance shirts are manufactured with high-tech methods and treatments to provide features like moisture-wicking, anti-wrinkle, stain resistance, and so on.
Tri-blend tees are a newer fabric type combining cotton, polyester, and rayon for a best-of-three-worlds, soft, lightweight, and durable material with a nice drape. No wonder these shirts are in high demand and have the highest price point of the various other kinds of tees.
CVC tees are an excellent choice for those who want the feel of tri-blends without the higher price. They are cotton/poly blends with a higher percentage of cotton. Many of our top-selling cotton tees have a CVC version, so look for that. For more on t-shirt fabrics, read our guide to cotton vs. polyester vs. 50/50 blends.
4. The number of print locations
Multiple print locations increase the cost of each shirt significantly. For example, a t-shirt with prints on the front, back, and both sleeves can be as much as 2x or more the price of a shirt with a single print location, depending on the number of colors for each location (more on the number of colors later).
5. Customization method
There are several different ways to customize a t-shirt, from printing to embroidery to heat transfers and more. Each has its own pricing model that will determine your cost based on certain factors. 
Digital
Digital printing is more cost-effective for lower-quantity orders and designs with many colors. Digital printing uses 4-color process (CMYK) to create full-color prints. Most on-demand storefronts use digital printing, and the cost for a single shirt can range from $25 to $50 or more. There are typically fewer volume discounts on digital print orders.
Screen
Screen printing is ideal for larger quantities because the cost per shirt will drop significantly with volume orders. The reason is that screen printing requires initial set-up costs (screens, press, etc.) based on the number of colors on the print. This is why screen printing is rarely used for small orders, especially those with many colors.
Embroidery
Embroidery uses a different pricing model based on the thread count, which is based on the number of stitches required, determined by the embellishment size and complexity. This is why embroidery is typically used for smaller customizations, such as a logo on the left chest area.
6. The number of ink colors
For screen-printed tees, the higher the number of colors in the design, the higher the cost per piece. This is because a different screen needs to be "burned" and set up on the press for each color. This increases production time and costs for the process, screens, ink, etc.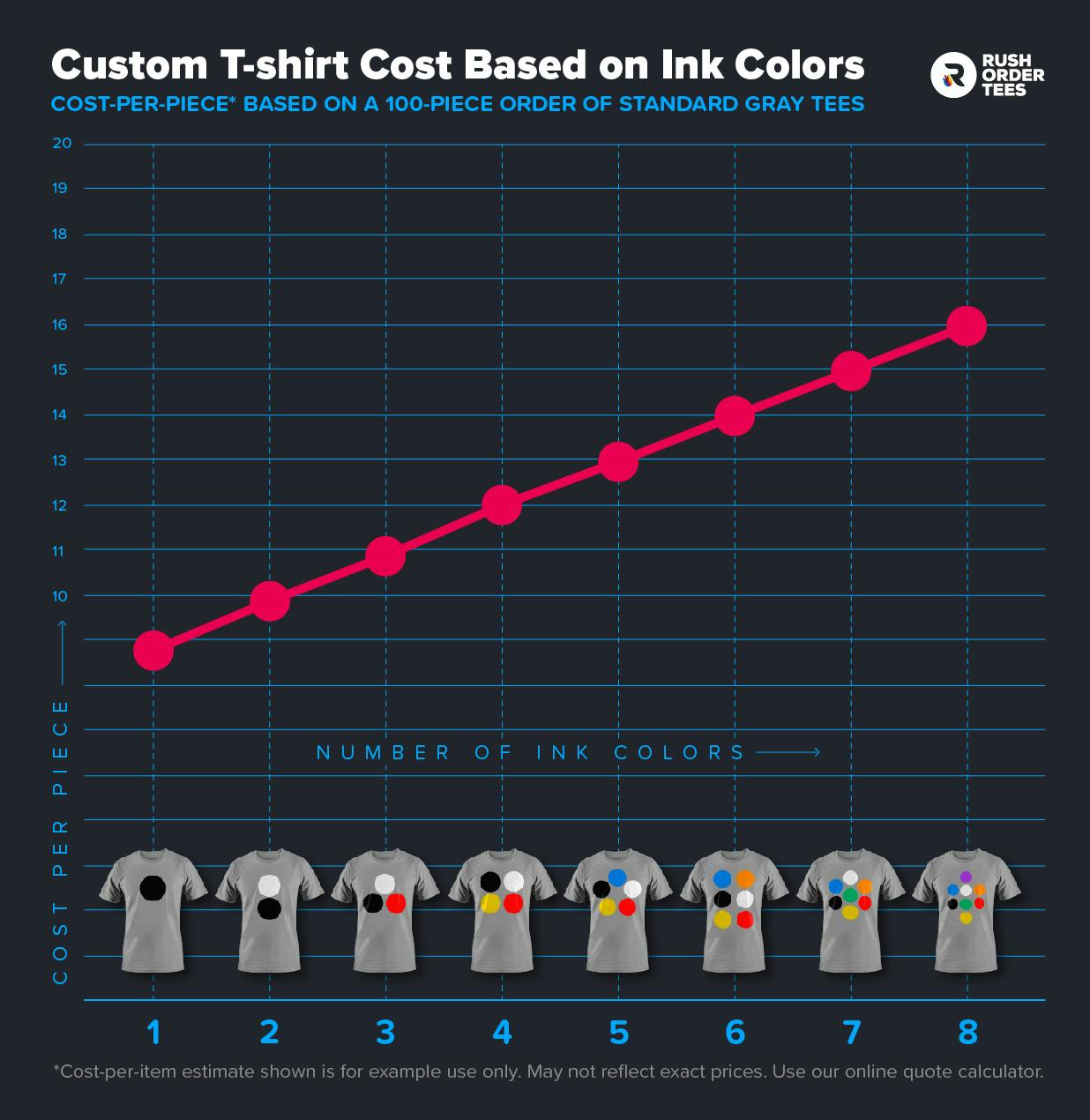 7. Additional personalization
We might be stating the obvious here, but adding additional custom personalizations will increase the cost of your custom tees. For example, shirts for a softball team with a screen printed front and vinyl names and numbers on the back will cost significantly more than just the screen printing alone.
8. Turnaround time / in-hand date
We'd be remiss not to mention the turnaround time regarding custom t-shirt costs. Most printing companies have a standard turnaround time and charge extra if you need it sooner. Some have tiered pricing for different turnaround times. At RushOrderTees, we offer the following:
Free Standard Shipping - Delivery expected within 9-12 business days
Priority Shipping - Delivery within 6 business days
Rush Shipping - Delivery within 3 business days
Super Rush Shipping - Delivery within 2 business days
9. Shirt sizes
Many people are unaware of this, but 2XL and above t-shirt sizes cost more than standard sizes due to the additional material and production costs. While small, medium, large, and XL shirts tend to be the exact same price, 2XL can cost upwards of 25% more, 3XL can cost 35% more, and 4XL can be 50% more! 
This is something not often taken into account with retail pricing, but maybe it should be. If you're interested in what sizes you should get for your bulk order, read about our recommended size breakdowns.
10. Fees and set-up charges
Finally, the fees. Many smaller print shops will include various fees as line items in their invoices, such as screen setups, inks, special handling, delivery, packaging, and more, which may or may not have been included in the quote. At RushOrderTees, we roll everything into the same quote and give you the cost-per-piece, so you never see any hidden fees as line items in your bill. What you see is what you get.
Getting the best price for custom tees
Now that you know all the factors that go into the cost of custom t-shirts, we invite you to use RushOrderTees for your printing needs. Our pricing is primarily based on the selected product, quantity, and the number of colors in your design. Our rolling volume discounts give you a better price with each additional item ordered. We're also proud to offer free shipping on every order to help you save.
When you're ready to create your custom tees, jump into our easy-to-use Design Studio to get started.
If you're on a tight budget, check out our top 8 tips for saving money on your t-shirt order.

Imri Merritt
About the Author
A graduate of the Multimedia program at the University of the Arts in Philadelphia, Imri Merritt is an industry veteran with over 20 years of graphic design and color separations experience in the screen printing industry.