APPAREL
Bella+Canvas vs. Next Level: Comparing Their Top 5 Tees
Design Custom Gear
Personalize a custom t-shirt with our easy-to-use Design Studio
Start Designing
Bella+Canvas vs. Next Level is the ultimate battle of the fitted tees. These are two top companies in the blank apparel space and favorites among our customers and staff. We looked closely at five of their top t-shirts and put them together in head-to-head matchups to compare the differences and determine which ones are the best.
We compared their most popular t-shirts in 5 categories. Each of these tees is unisex, side-seamed, and in the semi-fitted category (as opposed to standard fit or relaxed fit). They are also considered premium (as opposed to standard or budget).
T-shirt comparison results
Both brands are excellent and make some of the best premium t-shirts for custom printing. Their products are evenly matched and very close in price point, so we based our recommendations on the slightest differences.
Overall, Bella+Canvas tees get high marks for the softness and printability of their fabric and the exceptional quality of construction. Next Level tees share those same qualities while having a better fit.
In particular, the cut of Next Level tees features a more tapered sleeve, which hugs the arm, while the Bella+Canvas sleeves flare out slightly. The Next Level tees have a somewhat roomier torso area than the Bella+Canvas.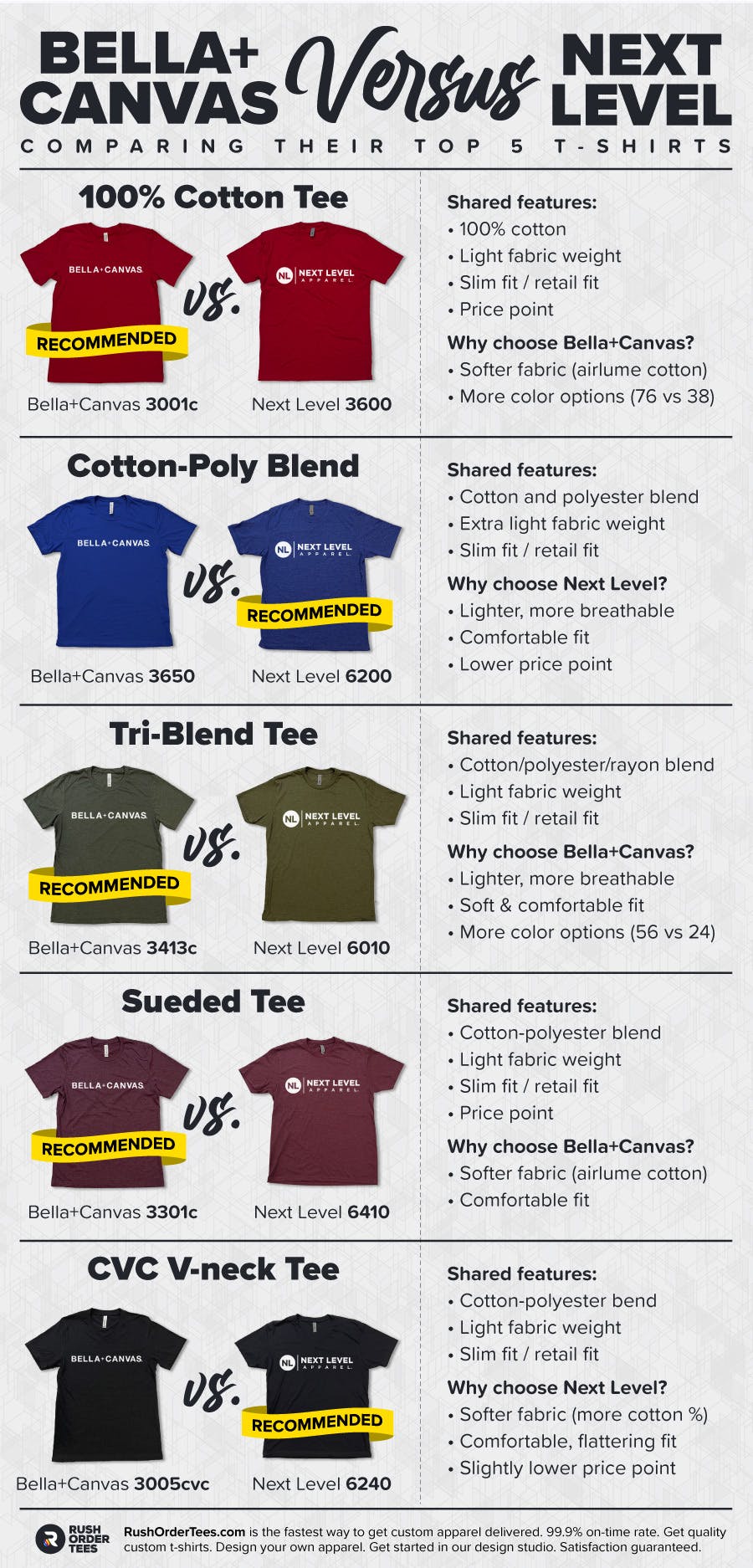 Bella+Canvas vs. Next Level: The brands
These two brands directly compete in the blank apparel market, vying to be favorites among discerning customers who love high-quality, stylish, great-fitting shirts ideal for retail sales, company shirts, and everyday wear.
Both companies emerged in the wake of American Apparel setting the trend of premium, fashionable t-shirt styles for custom printing, fulfilling the market need for more affordable alternatives when ordering in bulk.
Bella+Canvas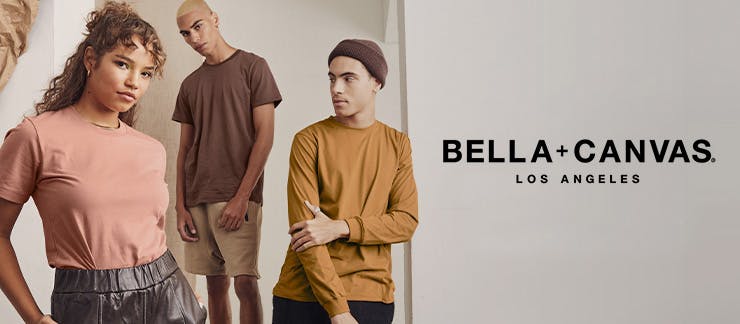 Bella+Canvas is the leader in high-quality, fashion-forward blank apparel. Their exclusive use of airlume cotton (cleaner, less stray fibers, eco-friendly) is a testament to their commitment to quality and innovation. Bella+Canvas is known for stiving to perfect their shirt material, and their instance on side-seamed garments make for a superior fit. Every year, they release fresh products and distinctive fabrics.
Started by two guys printing T-shirts in their garage in 1992, they soon recognized the need for more women's garments and the market, establishing Bella first and then adding men's styles, becoming Bella+Canvas in 2002. Since then, they have become one of the most successful and pioneering companies in the blank apparel space.
Next Level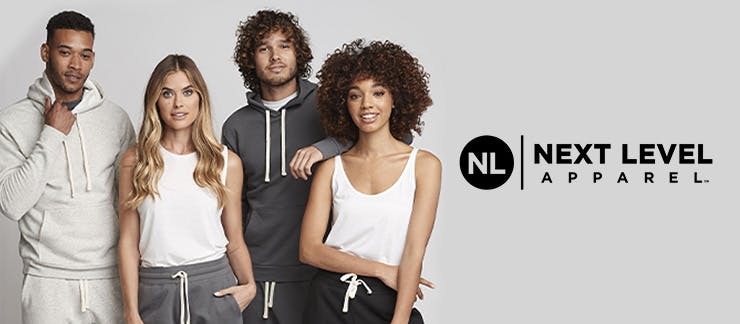 Next Level is the number one wholesaler of premium blank apparel, specializing in t-shirts while offering 100+ quality and stylish products. Los Angeles-based and started in 2003, their first product was a pioneering blend of 65% polyester and 35% combed ring-spun cotton: the 6200 Unisex Festival Tee (reviewed below).
By 2010 they had introduced the first CVC tees in wholesale, along with the original "sueded" tee (also reviewed below). They now have many popular collections, including Inspired Dye, Fleece, Eco, and Festival. In 2020 during the pandemic, they pivoted and became the biggest wholesaler of face masks.
Bella+Canvas vs. Next Level tees comparisons
We judged these t-shirts based on fit, quality of construction, softness, I cut, and overall comfort when worn. Here are the side-by-side comparisons, our recommendations, and the reasons.
100% Cotton: Bella+Canvas 3001c vs. Next Level 3600
Our first comparison is the classic 100% cotton category. Everyone's favorite fabric is soft, natural, breathable, and hypoallergenic. The surface is excellent for any kind of printing. You can't go wrong with a 100% cotton tee.
Shared features: These shirts are lightweight (4.2 oz and 4.3 oz), and feature combed ring-spun cotton (32 singles) for exceptional softness and a smooth surface. Both are pre-shrunk and have shoulder-to-shoulder taping.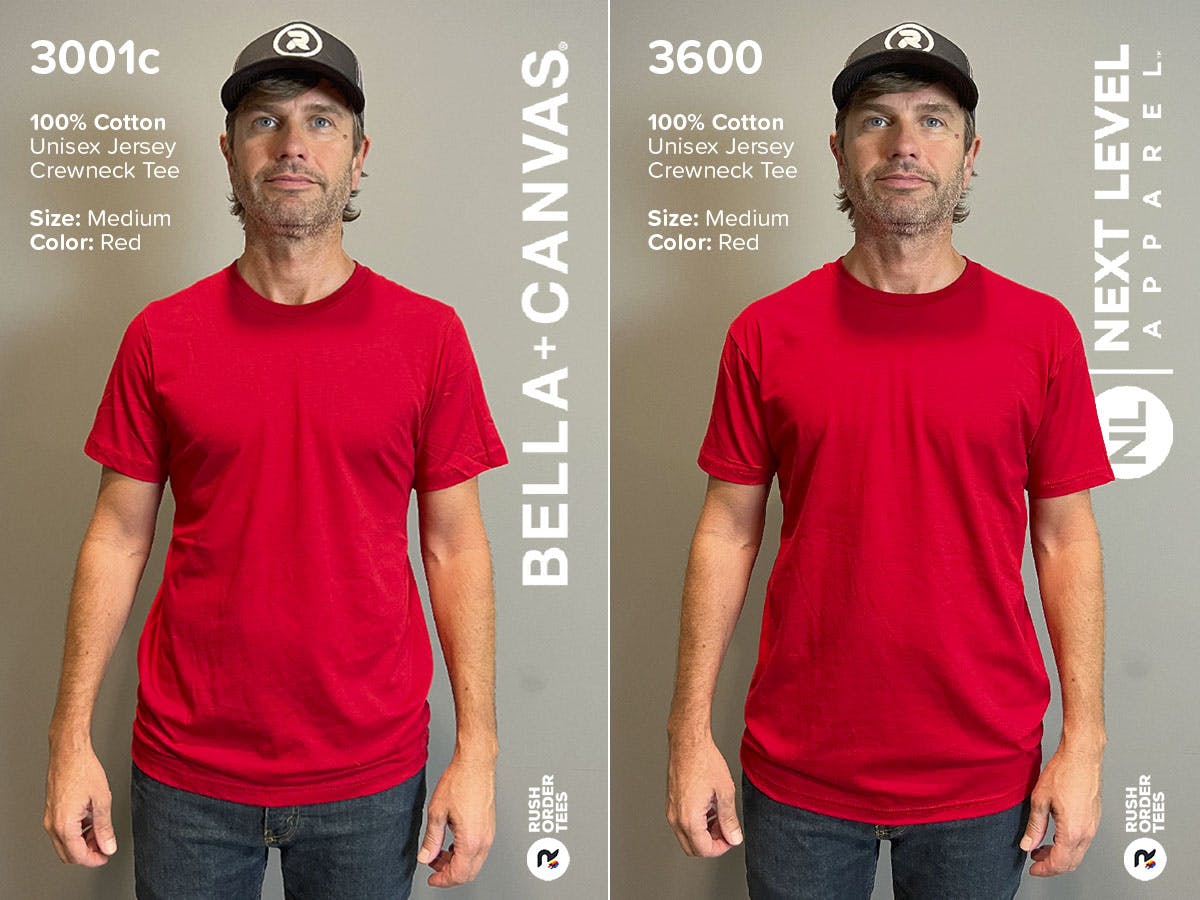 Which is better?
We recommend the Bella+Canvas 3001c. The fabric is fabulously soft, due to their use of airlume cotton. They also offer 76 color options (compared to 38 for the Next Level).The Next Level 3600 comes in a very close second place, with its slightly roomier fit in the torso, and tapered sleeves for a more flattering profile.

Poly/Cotton Blend: Bella+Canvas 3650 vs. Next Level 6200
Our second comparison is the cotton/poly blend category. This fabric adds more breathability and lighter weight, with moisture-wicking properties, making it the perfect shirt for a hot summer day.
Shared features: Both shirts are extra lightweight (3.6 oz and 3.5 oz), with 40 singles for extreme softness, shoulder-to-shoulder taping, tear-away tags, and pre-laundered for reduced shrinkage.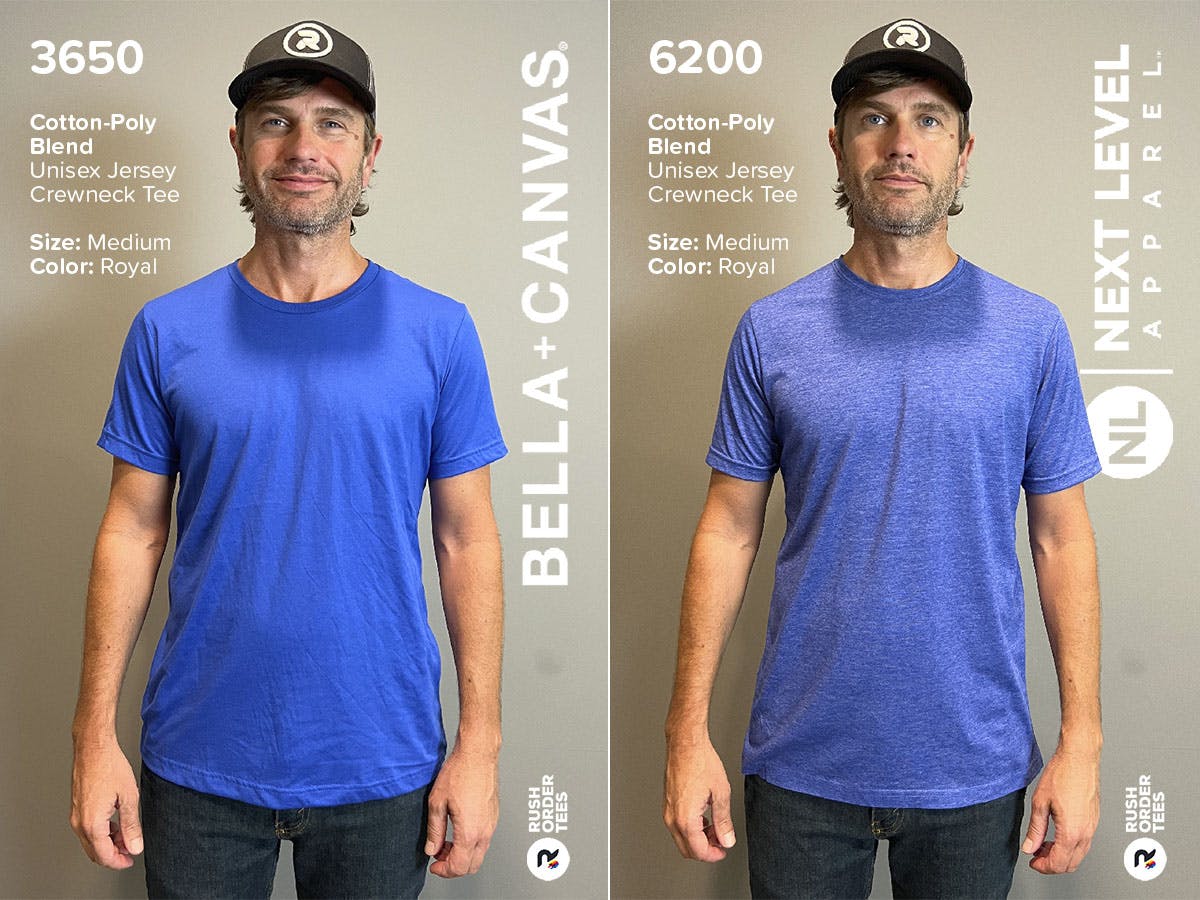 Which is better?
We recommend the Next Level 6200. It's 65/35 poly-to-cotton ratio and slightly lighter weight gives it better breathability and comfort. This shirt feels great to wear. It's also priced lower.The Bella+Canvas 3650 also feels great, and comes in just slightly heavier, with a 52% cotton to 48% poly ratio. This shirt has many more colors to choose from, including some creative use of heathered looks.

Tri-Blend: Bella+Canvas 3413c vs. Next Level 6010
Our third comparison is the battle of the tri-blends, which has become one of the most popular choices in t-shirt material. Tri-blends combine cotton, polyester, and rayon (usually 50/25/25) to create a soft, relaxed, breathable fabric with a nice drape that is less prone to stretching and wrinkles.
Shared features: Both shirts have the same fabric ratio, with ring-spun cotton, and are pre-shrunk. They also have shoulder-to-shoulder taping and tear-away tags.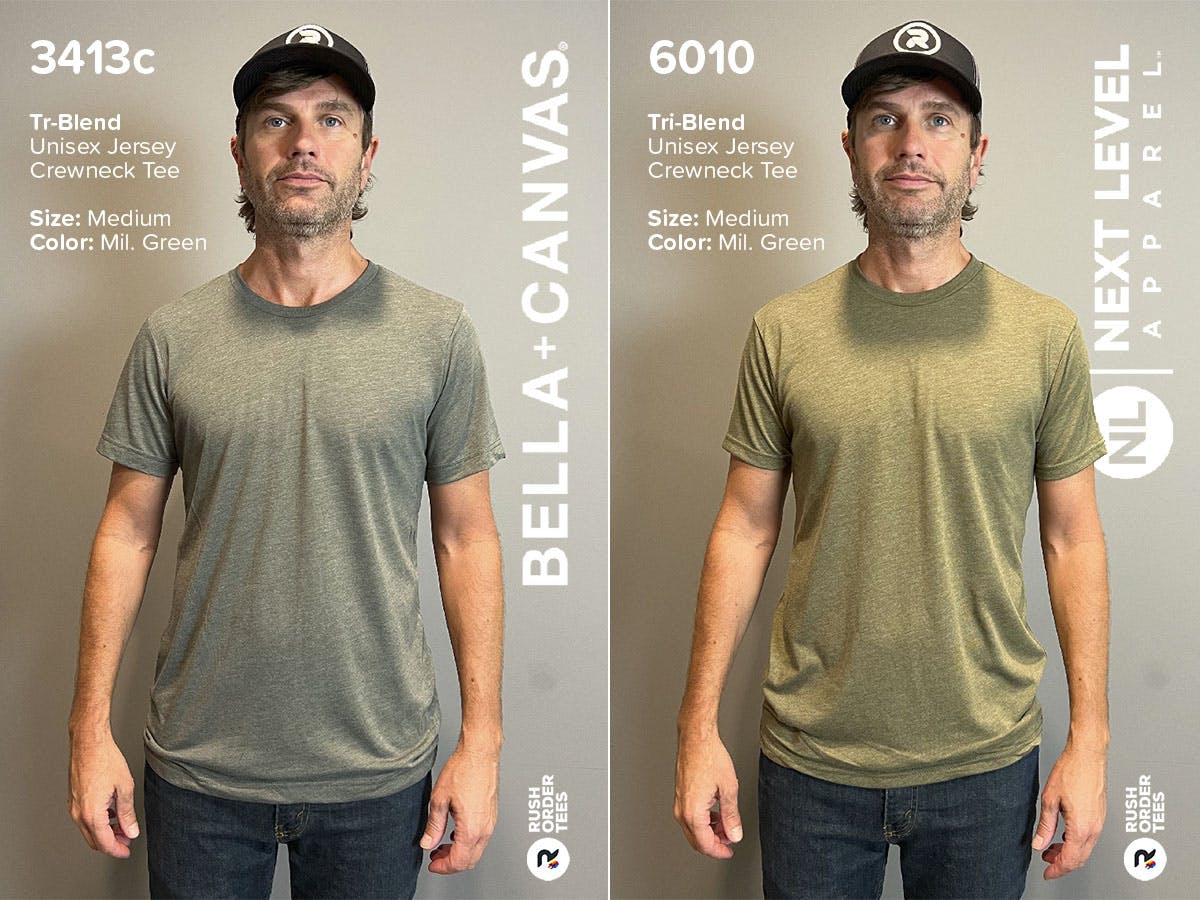 Which is better?
We recommend the Bella+Canvas 3413c, a clear winner. This shirt is lighter (3.8 oz vs 4.3 oz), is softer (40 singles vs 32 singles), and has more color options (56 vs 24). It even has a lower price point. It's the perfect tri-blend.The Next Level 6010 is also a great tri-blend. Super soft and comfortable, with a slightly better fit.

Sueded: Bella+Canvas 3301c vs. Next Level 6410
Our fourth comparison is the "sueded" tee category. This cotton/poly blend is brushed during manufacturing to create a soft, plush hand feel. Many customers who experience this fabric tell us it's the softest of the softest.
Shared features: Both shirts are similarly-priced, are cotton/poly blends with a similar fabric weight (4.3 oz vs. 4.2 oz), and 32 singles. They are pre-shrunk and have shoulder-to-shoulder taping and tear-away tags.
Which is better?
We recommend the Bella+Canvas 3301c. This contest is just about a tie, but the 3301 is a bit lighter and slightly softer because of the use of airlume cotton.The Next Level 6410 is a very close second, with a slightly more comfortable and flattering fit.

CVC V-neck: Bella+Canvas 3005c vs. Next Level 6240
CVC stands for "chief-value cotton." That means the fabric is a cotton-poly blend, but the higher percentage is cotton. The standard ratio is 60/40 but ranges anywhere from 51/49 to 99/1. CVC tees are known for being more affordable than tri-blends and the 50/50 cotton-poly blends while having some of the same features.
Shared features: Both shirts are slightly heathered cotton/poly blend, using combed, ring-spun cotton (32 singles), with shoulder-to-shoulder taping and tear-away tags. They are both pre-laundered for reduced shrinkage.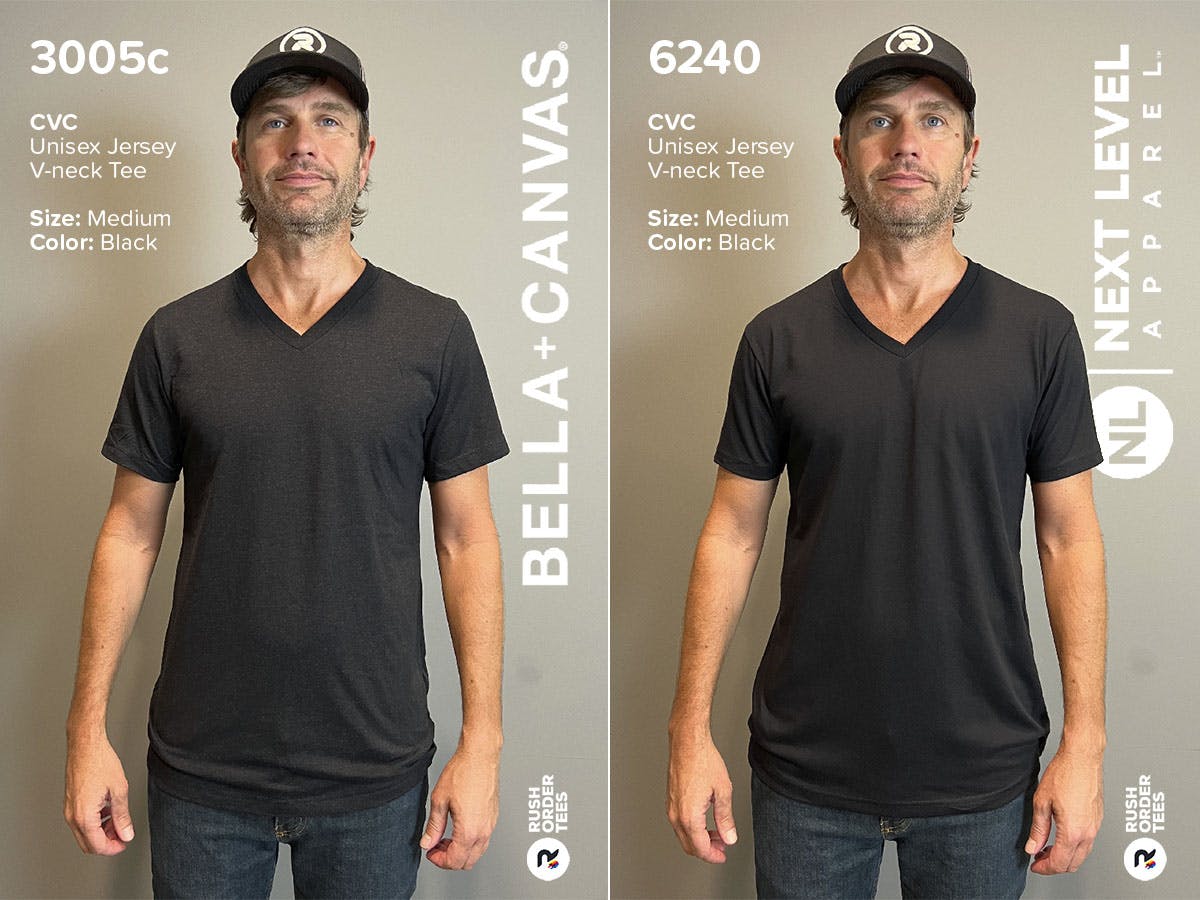 Which is better?
We recommend the Next Level 6240. It's 60/40 ratio of cotton-to-poly and slightly heavier fabric weight gives it a supremely comfortable and flattering fit. Plus a lower price point.The Bella+Canvas 3005cvc is also a great shirt, coming in slightly lighter and more heathered, with a 52/48 cotton/poly ratio and airlume cotton for a smooth print surface.

Summary of t-shirt comparisons
These two brands are at the top of the premium blank apparel game and are highly competitive. Their products match up so closely that you can't go wrong choosing either. We hope that this in-depth look at the details of their particular products helps you make the best-informed choice for your own custom tees.
If you're looking for a more budget-minded alternative, check out our comparison of the top 5 tees from Hanes vs. Gildan.
About the Author
A graduate of the Multimedia program at the University of the Arts in Philadelphia, Imri Merritt is an industry veteran with over 20 years of graphic design and color separations experience in the screen printing industry.