APPAREL
Comparing The Top 3 Gildan T-Shirts: Ultra Cotton vs. DryBlend 50/50 vs. Heavy Cotton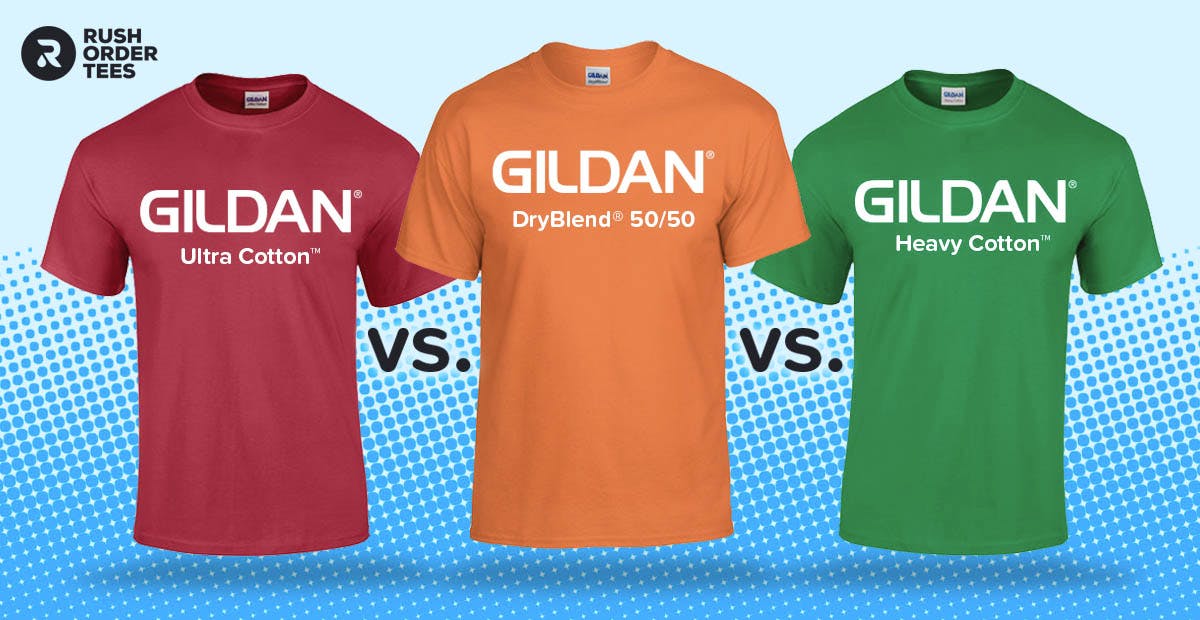 Design Custom Gear
Personalize a custom t-shirt with our easy-to-use Design Studio
Start Designing
Looking for the best budget Gildan T-shirt? Ultra Cotton, DryBlend, and Heavy Cotton are among our top-selling T-shirts, but unless you know them as we do, they might seem like similar versions of the same classic T-shirt.
So what's the difference that makes the difference?
We've infused our expertise into this handy chart showing a side-by-side comparison of the tees, along with the pros and cons of each. Scroll down for a closer look at each product, including full descriptions and sizing charts.
Comparing Gildan tees: Ultra Cotton vs. DryBlend 50/50 vs. Heavy Cotton
Ready to customize one of these classic tees? Browse more budget tees in our catalog to find the one that's right for you, or read about how Hanes and Gildan T-shirts compare to each other.
Now let's take a closer look at each of these Gildan classic tees. Click your choice below to begin designing! 
Gildan Ultra Cotton T-Shirt (G200)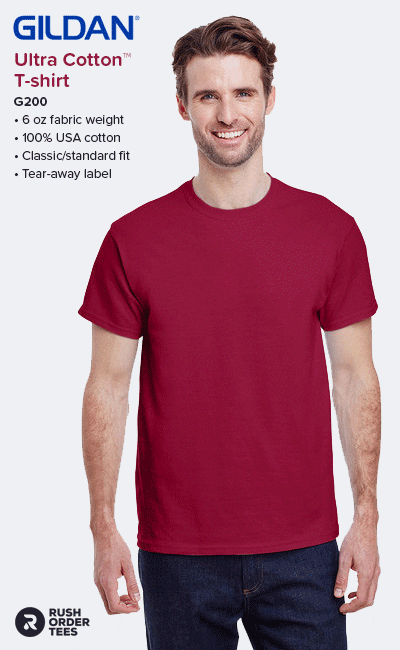 Material: 100% pre-shrunk, USA ringspun cotton. Heather and safety colors are a 50/50 blend.
Weight: 6 oz (heavyweight).  If you are going for that light and airy feel, this may not be the best option.
Colors: 62 colors in unisex, including safety. 24 color options in women's (G200L).
Price: 6.69 each, based on 100 white tees with a 1-color print. Additional price breaks on larger orders.
The G200 is one of our most popular T-shirts, with its classic fit, durable construction, and ringspun cotton for a smooth print surface. All in all, a great value for the price.
Its wide range of colors and sizes makes this the perfect shirt for group orders. And the consistent colors across sizes mean everyone in your group can truly match for the ultimate social media photo.
Compared to the G500, it's a higher quality knit with only a slightly higher price point. Compared to the G800, it's 100% cotton rather than a 50/50 blend at the same price point.
G200 product page | G200 sizing chart
Did you know? Gildan is one of the most popular choices for custom apparel, known for its reliability and huge selection. If you need standard tees, athletic wear, or business casual, chances are Gildan will have your items in stock with the colors and sizes you need.

Gildan DryBlend® 50/50 T-Shirt (G800)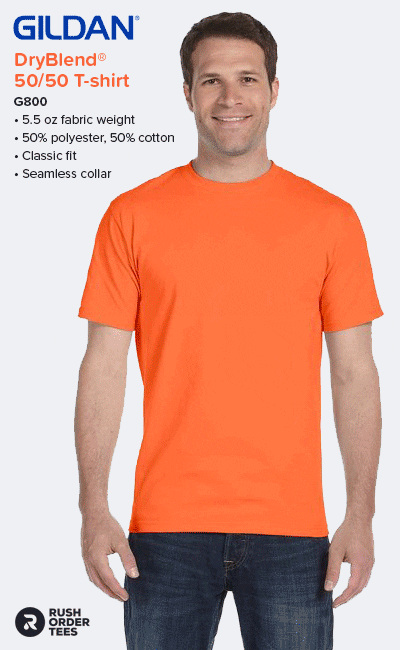 Material: 50% polyester, 50% USA cotton. "Sport" (heathered) variations are 65% polyester and 35% cotton.
Weight: 5.5 oz. (midweight)
Colors: 41 colors to choose from.
Sizes: S-5XL in unisex sizes. Kids' sizes available (G800B)
Price: 6.82 each, based on 100 white tees with a 1-color print. Additional price breaks on larger orders.
The G800 is a similar style and price point to the G200, but its DryBlend® fabric is moisture-wicking for comfort and temperature control in hot conditions, making it ideal for sports activities, outdoor work, or food service.
Because it is half polyester, it won't shrink much (if at all) and is more wrinkle-resistant, stain-resistant, and durable than the G200.
The trade-off is the feel of the fabric on the skin. Most people generally prefer 100% cotton to polyester and blends.
This shirt and the G200 are both good for printing and group orders. The main difference between them is the material.
G800 product page | G800 sizing chart
Did you know? Polyester is the most ubiquitous fabric in the world, and blending it with cotton gives you the best of both worlds. If you need more reasons to choose a poly blend, read more about the benefits of polyester shirts.

Gildan Heavy Cotton T-Shirt (G500)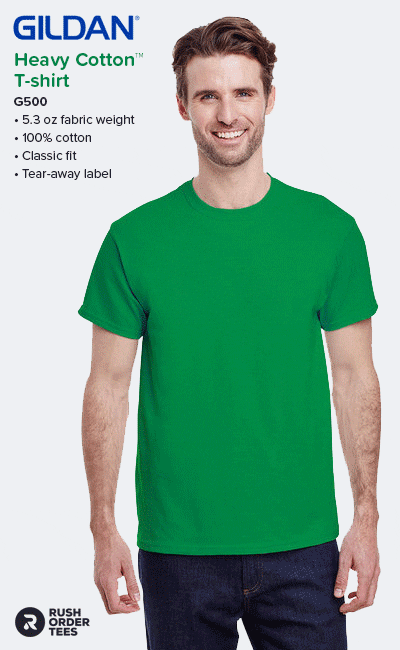 Material: 100% pre-shrunk, USA ringspun cotton. "Antique" colors are 90% cotton and 10% polyester. Certain other colors (including heathers) are a 50/50 blend.
Colors: 70 colors are available in unisex, if you can believe that. 48 colors available in women's (G500L).
Sizes: S-5XL in unisex and women's. There are also kid's sizes available.
Price: 6.06 each, based on 100 white tees with a 1-color print. Additional price breaks on larger orders.
The G500 is 100% cotton like the G200, but it is lighter weight (don't let the name fool you), and the knit is "carded open-ended" rather than ringspun, which is a slightly less-smooth surface for printing.
This is the true budget T-shirt, coming in at one of the lowest price points in our catalog. It's recommended for large group orders, especially for giveaways and one-time-use events, when quality is not the highest concern.
That being said, Gildan is one of the biggest names in blank apparel, and they know how to make a T-shirt, which is why we don't often hear complaints–and especially not about the price.
G500 product page | G500 sizing chart
Did you know? We have many other budget-priced T-shirts in our catalog–and there are more ways to reduce your cost. Learn them all by reading our recent article about How To Save Money on Your Next T-shirt Order.

Gildan Sizing: Ultra Cotton vs. DryBlend 50/50 vs. Heavy Cotton
Gildan G200 size chart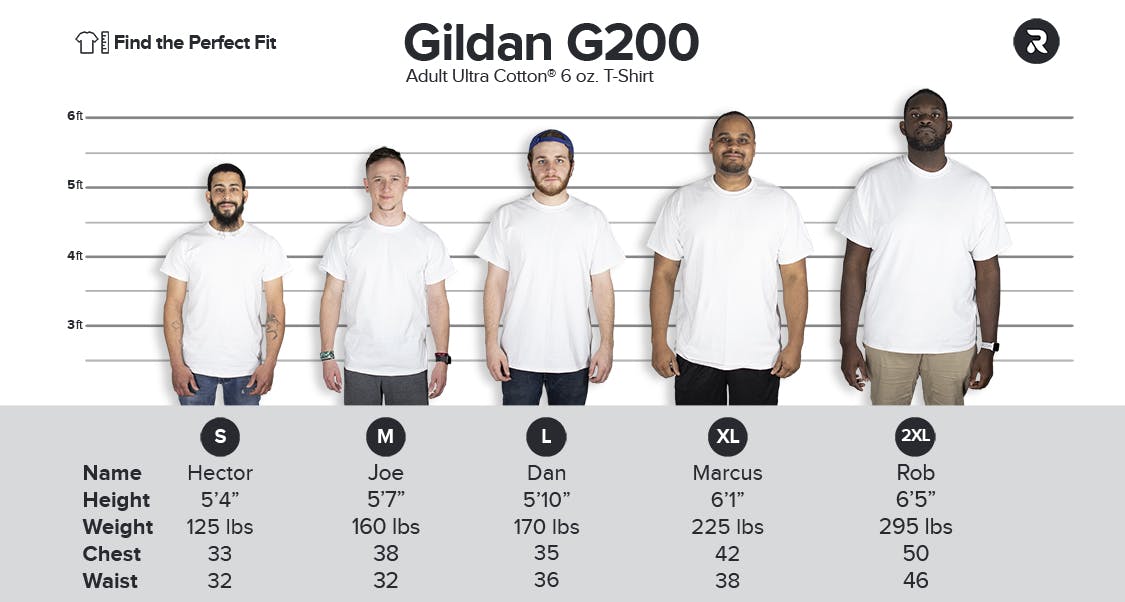 Gildan G800 size chart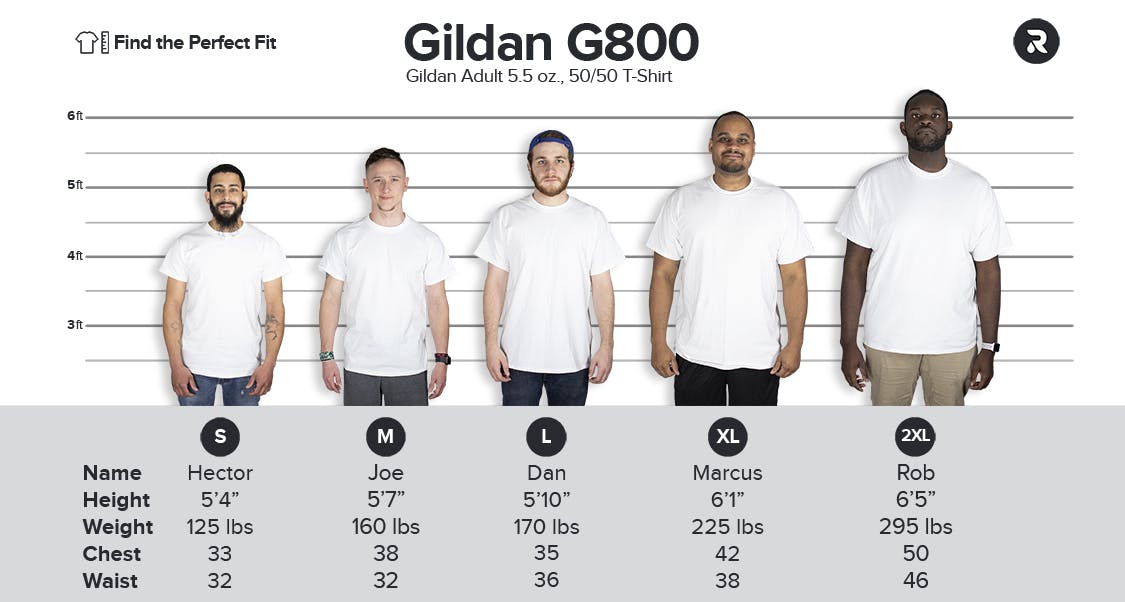 Gildan G500 size chart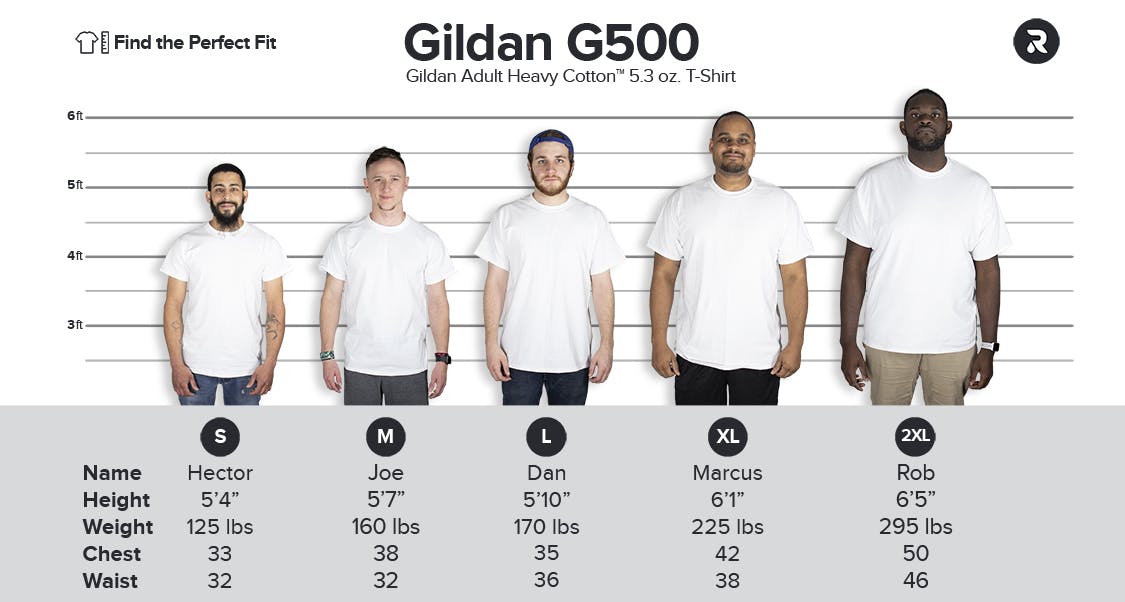 Gildan G200L size chart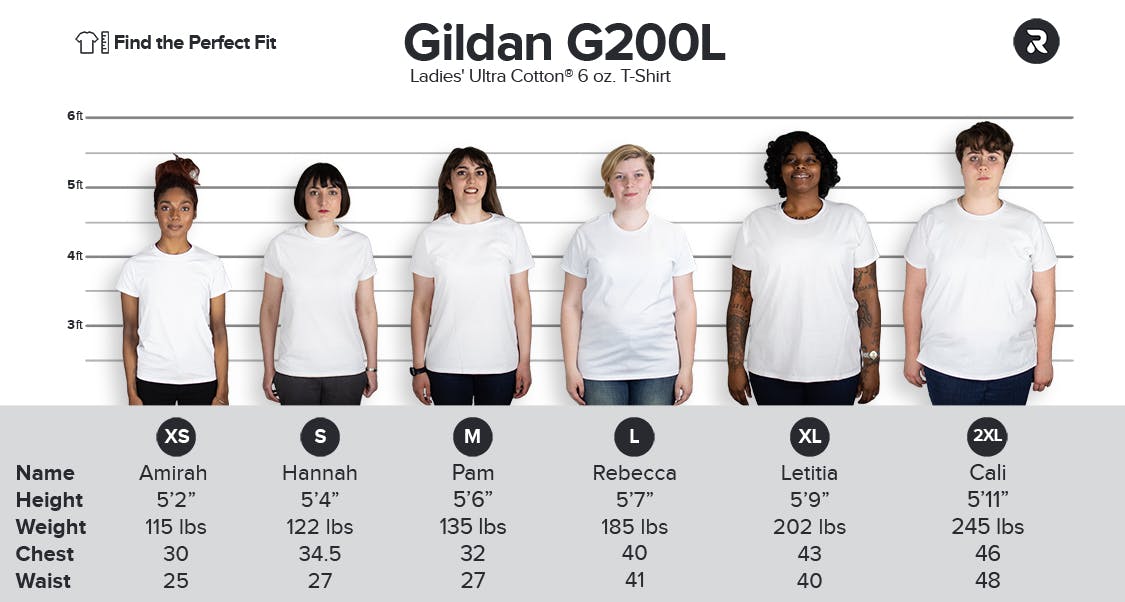 Gildan G500L size chart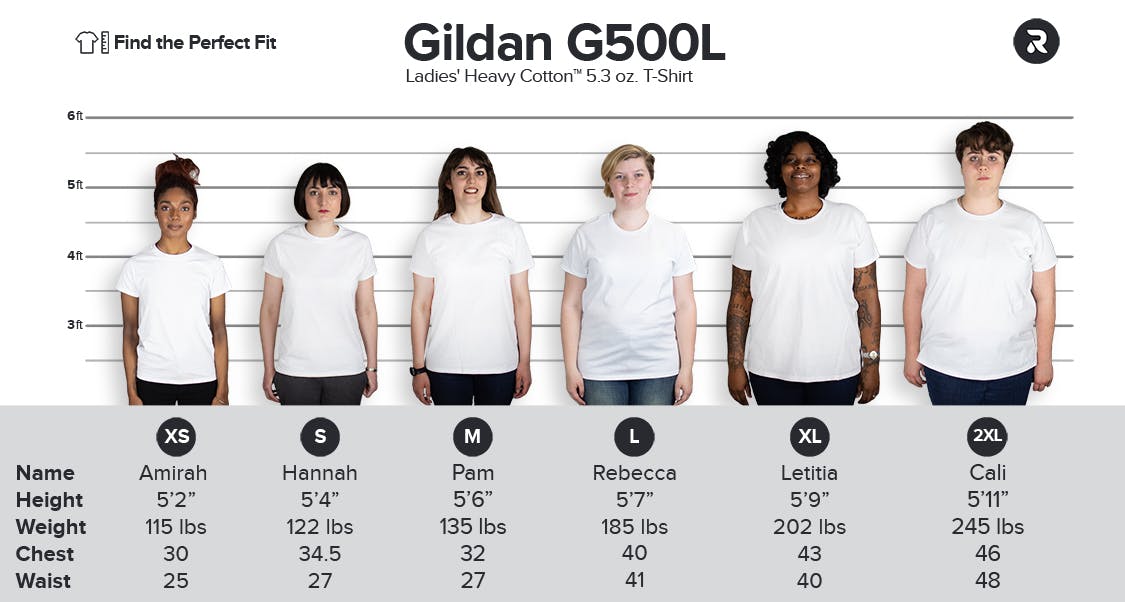 Now that you know all about these Gildan tees, choose one below to start your order, or check out more T-shirts to find the one that's perfect for you.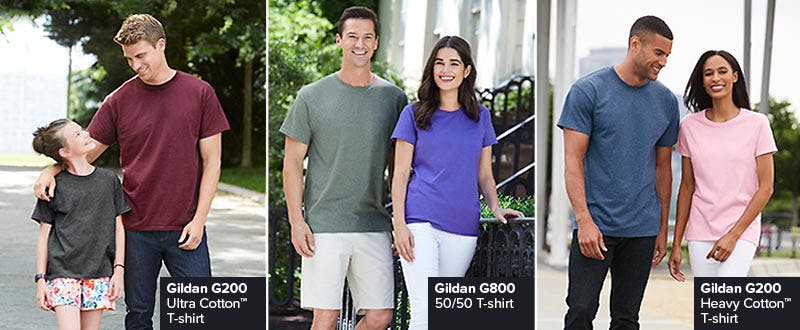 If you have questions, don't hesitate to contact our customer care team through chat, phone, or email. We're here to help!

Imri Merritt
About the Author
A graduate of the Multimedia program at the University of the Arts in Philadelphia, Imri Merritt is an industry veteran with over 20 years of graphic design and color separations experience in the screen printing industry.