Custom Marching Band T-Shirts
Create your own marching band t shirts with our easy-to-use Design Studio.
Free Shipping
As soon as Wed Dec 20
Rush Shipping
Guaranteed by Mon Dec 11
Marching Band T-Shirt Templates
Get started with one of our professionally designed templates!
Customer Created Marching Band T-Shirts
#teamjenks boston marathon shirts
Loved every part of this experience- you had the colors I wanted, the quality of shirt, and I was thrilled to be able to make my own design. I also needed the shirts in a short amount of time, and you came through there as well. I'm a high school band director and do shirts all the time- you are my new favorite!!
Margaret R.
Verified Review on Yotpo
Wonderful Service & Awesome Finished Product!
My daughter wanted to design the Percussion "Pit Crew" section shirt for her marching band this year. I looked at all kinds of different sites, but they were all super expensive for an order as small as ours (there are only twelve people in the pit - and I didn't want them to have to spend a fortune on a shirt). I was happy to find that not only was this site affordable (their shirts came to $16.46/each with free shipping), but super easy to use for the design process. We were able to upload the school logo within minutes, create a cool one-color design on both the front and back, and get everything centered and lined up by their design team. When I went to check out, I was having trouble with my card - the site wouldn't accept it. So I called the contact number and was hooked up with an extraordinarily helpful young man named Graham. He checked to make sure I was happy with the entire design and then took care of the payment process. I received a prompt confirmation email followed soon after by my "design team confirmation" email. It was all extremely smooth and the shirts arrived on the exact day they were scheduled to come. Now we're collecting payments from all the members of my daughter's section and handing out the shirts. The kids all LOVE them!! The burgundy shirt color exactly matches our school color and the kids love having a shirt with all their names in such a cool font!! I HIGHLY recommend working with Rush Order Tees, especially if you have the time to wait for the free shipping. Compared to other sites, their prices are more reasonable and their design studio is much easier to navigate. Plus, their design team double checks EVERYTHING and had you give the final 'okay", thereby - hopefully! - eliminating spelling errors or other mistakes.
Stacie M.
Verified Review on Yotpo
Senior Marching Band, Covid Season t-shirts
The t-shirts turned out great & we appreciated they were able to incorporate some of our background logo and put it on a mask with our info - We know our Senior Marching Band/Color Guard members will love this end of the year thank you gift!
Margie T.
Verified Review on Yotpo
Marching Band T-Shirt FAQs
Unify the Band with Custom Marching Band T-Shirts
Promote band spirit and develop camaraderie with custom marching band t-shirts from RushOrderTees. Teamwork is a critical component to success, and a unique marching band shirt design can bring everyone together. Great for rehearsal or when playing in full uniform isn't required, personalized marching band tees demonstrate band spirit wherever members may be.
Shirts for All Occasions
Marching bands can use custom band shirts in many different ways, and RushOrderTees is ready to help.  Ideal for beneath formal uniforms or for use in more casual settings, marching band t-shirts branded with a logo is a popular option. Alternatively, fundraisers and tour shirts with a unique marching band design are another application. Needless to say, there are many different ways to promote your brand with custom tees.
March Towards Your New Band Shirts at RushOrderTees
Getting a set of personalized tees for your marching band is easy at RushOrderTees. Start by selecting one of the professionally designed marching band shirt designs and customize it, or create your own from scratch. Free shipping is available for every order, and our experienced support staff is here to help if you have any questions!
Start Designing Now
It's easy to add clip art, a logo and your message to create a custom marching band t-shirt that everyone will enjoy.
Get Started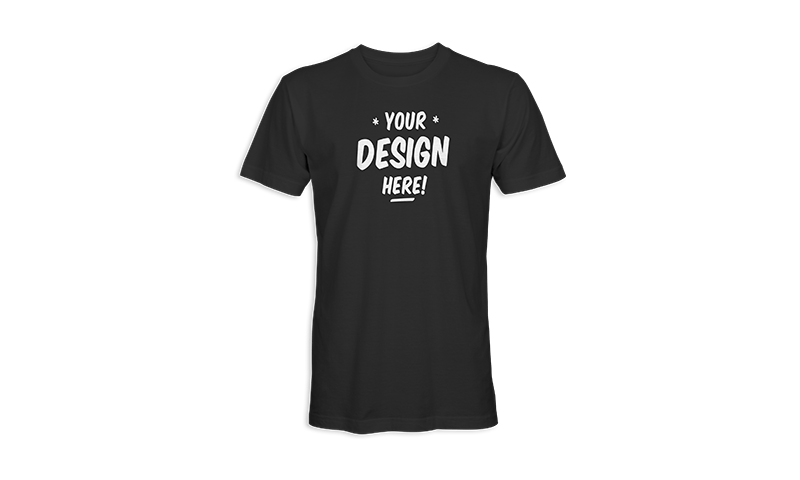 Custom Shirts for Teachers & Students