Design Custom Gear
Personalize a custom t-shirt with our easy-to-use Design Studio
Start Designing
So you want to make custom tote bags–but first, you need some ideas. We've compiled sixteen of them you can use to promote your brand, gift to your staff, or sell as merch. Plus, you can use some tote bag design tips, answers to the most common questions, and templates to get you started.
What is a tote bag?
A tote bag is a simple, medium-to-large bag made of fabric with parallel handles. A typical tote bag is unfastened, although some have zippers, pockets, and compartments. They are typically made of cotton, canvas, hemp, synthetic bends, and recycled materials.
Tote bags are top sellers in the retail market and one of the most popular promotional items for brands. It's no wonder: they are inexpensive, lightweight, and easy to customize. People love them!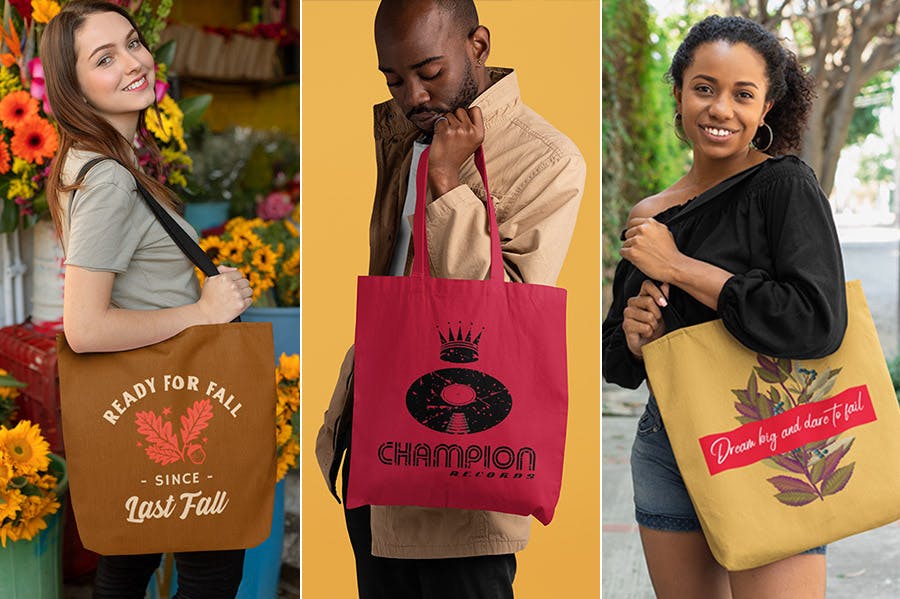 Why people love tote bags
Let's face it, we're all carrying around more stuff than ever, and with the worldwide effort to reduce single-use plastics, tote bags are not just practical–but essential for daily life.
From grocery shopping to the library, from the gym to the beach, tote bags are a dependable and stylish way to carry your stuff. Plus, they don't make that annoying crinkly sound.
Advertising your brand on a tote is a solid investment. A recent study revealed that 73% of consumers own at least one promotional bag. More importantly, 50% said they are likelier to do business with a company that gave them a promo bag.
So whether it's company swag, free giveaways, or the merch table, these custom bags are totes the way to go.
Tote Bag Design Ideas
These ideas are sorted into branded bags, tote bag themes, and graphic styles. Although there are many different bags, our example ideas are shown on the most common and popular kinds. The linked templates are fully customizable to create your own.
Branded tote bags
The most common custom tote is the promo bag, branded with a logo. There are infinite ways to design a tote bag, but the following ideas are the most effective for promoting your brand.
One-color screenprint logo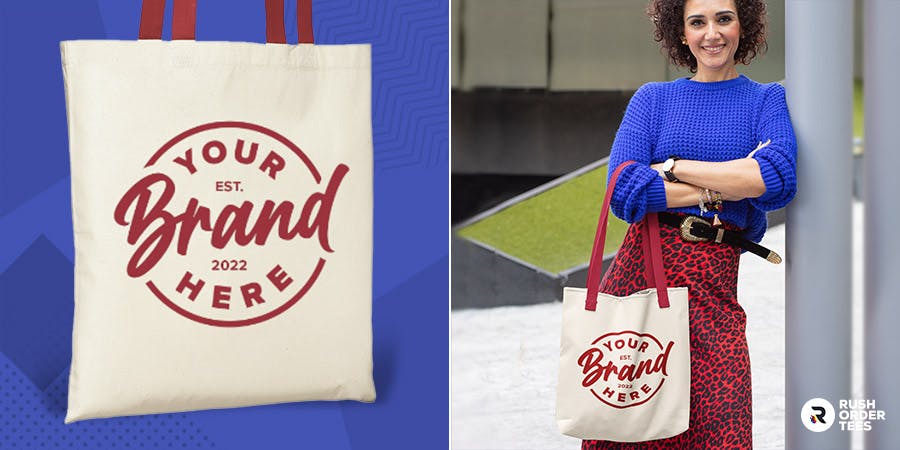 The classic, single-color screen-printed logo is never out of style. Keep it simple, straightforward, and bold. Match the handle color for an extra touch.
Start with this template: One-color screen-printed logo tote
Pro tip: Print should be modestly sized. If your logo has a large solid area, adjust it to show more of the fabric through the design and avoid a large deposit of ink on the surface.
Embroidered logo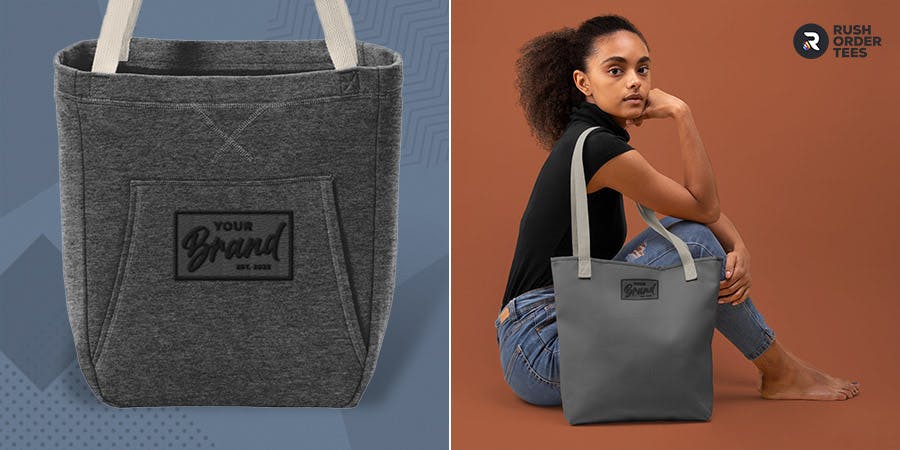 When you want to elevate your brand, the top choice is embroidery. Ideal for softer, thicker, premium tote bags, an embroidered logo is durable and looks legit.
Start with this template: Embroidered logo tote
Pro tip: Keep the embroidery small and position it on a pocket or centered near the top edge of the bag. Consider matching or complimenting the bag's colors for a refined, fashionable look.
Full-color logo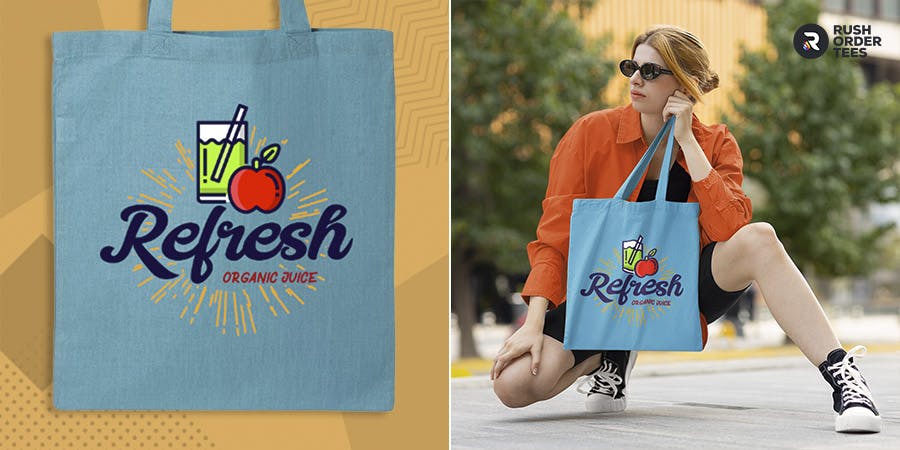 If you want your colorful logo to pop, go with a full-color digital print. Use this method if you have a lot of details or smooth gradients in your design.
Start with this template: Full-color logo tote
Pro tip: Make sure to choose a 100% cotton tote bag for digital printing, including canvas or denim. Blends (especially synthetic fabrics) are not ideal for digital printing and can produce mixed results.
Leather patch logo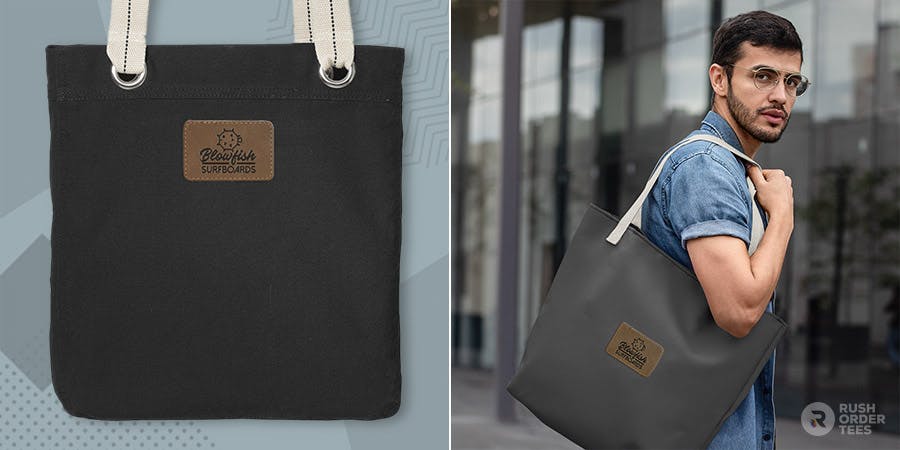 When you really want to elevate your custom tote bags, genuine leather patches do the job better than almost anything else. Choose one of our premium bags and make it look like your own.
Start with this template: Leather patch logo tote
Pro tip: You can order additional patches as stand-alone items. They have a self-adhesive backing and can be ironed onto almost any garment at home, such as a jacket or hat.
Rubber patch logo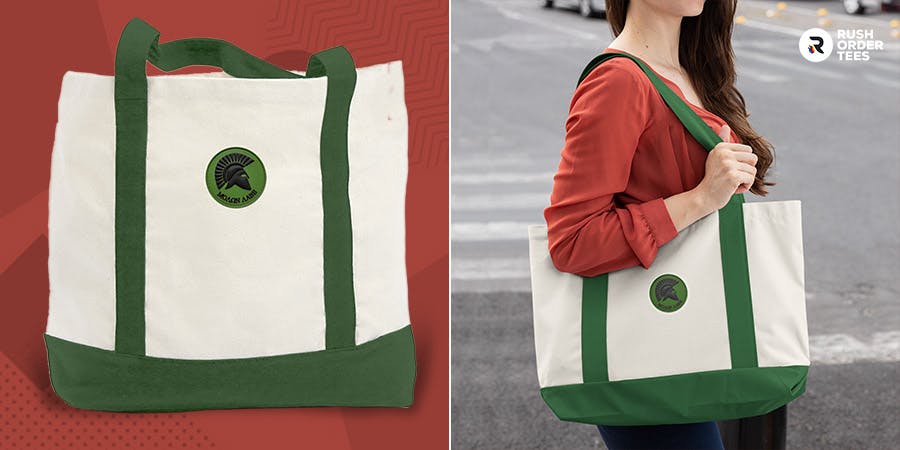 Similar to leather patches, custom rubber patches make any promotional bag look like it was purchased retail. Flexible, durable, and eye-catching, your logo becomes a seal of approval.
Start with this template: Rubber patch logo tote
Pro tip: Similar to leather patches, these can be ordered as additional stand-alone items. The self-adhesive backing can even be applied to hard surfaces like laptops or phone cases.
Tote bag design themes
When you want to create a tote bag design that is more than just branded with your logo, you may want to think about a theme. Here are some of the most popular design themes.
Books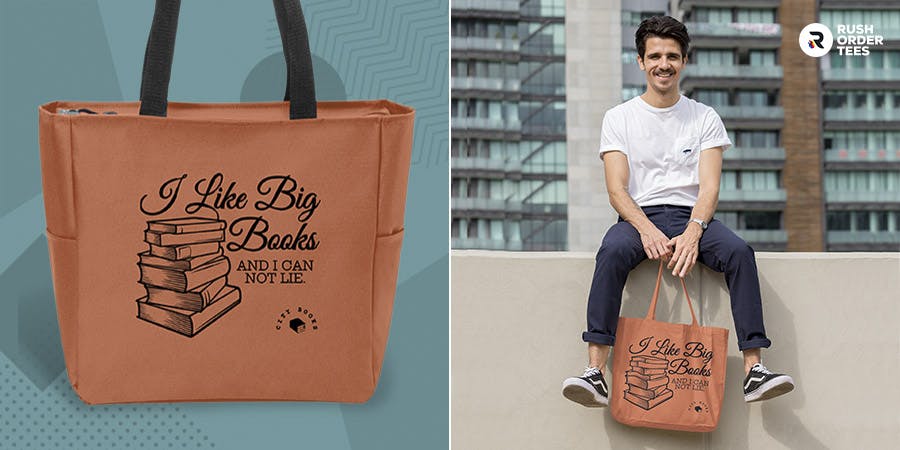 Tote bags are sturdy and, therefore, great for carrying books to the library, to school, or the local coffee shop. This design is for big brains who like big books.
Start with this template: Book-themed tote
Pro tip: We have many book-related graphics in our clip art library. Pair with a clever pun or reference to your favorite books that may be related to your brand. Add a logo that is small and subtle.
Shopping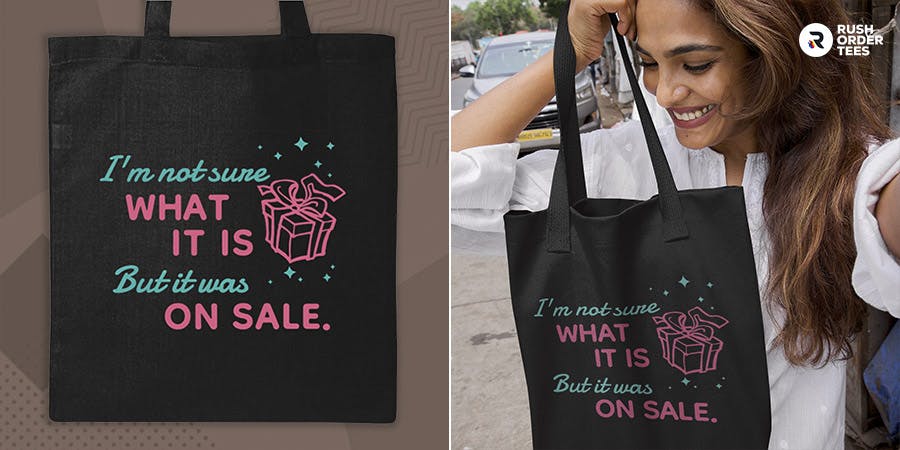 Shopping is one of the quintessential uses for a tote bag, and a shopping-themed design can add to the fun. Look for shopping phrases online and add your own twist.
Start with this template: Shopping-themed tote
Pro tip: If you have a retail store, giving away branded tote bags with a purchase is a great way to increase repeat customers and avoid single-use plastic bags at the same time.
Food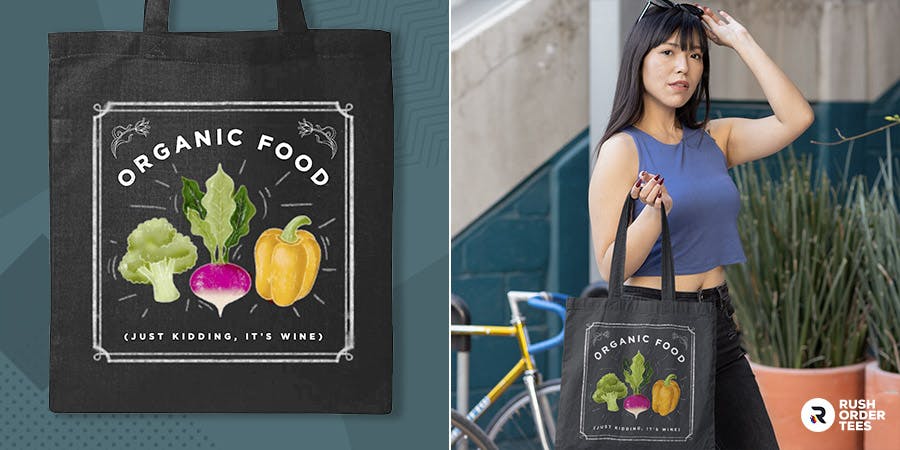 Tote bags are perfect for food shopping, especially a trip to the local grocery for just a few items. There is plenty of food-related items in our clip art library. Bon appetit!
Start with this template: Food-themed tote
Pro tip: Choose a darker-colored tote bag (rather than the standard off-white natural color) if you think it will be mostly used for food or groceries. This way, you avoid any future stains (like wine).
Beach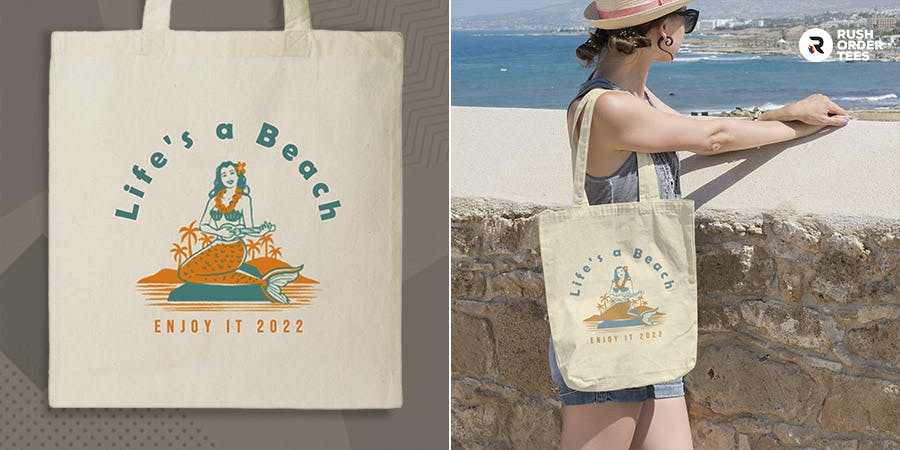 If you're headed to the beach, you will need a bag to carry your towel, book, sunglasses, charger, change of clothes, etc. Tote bags are perfect for the beach and vice versa.
Start with this template: Beach-themed tote
Pro tip: Choose a lighter-colored tote bag, such as the standard off-white natural color. Under the hot sun, lighter shades will keep items cooler. Also, look for a tote with a zipper closure to keep out the sand.
Animals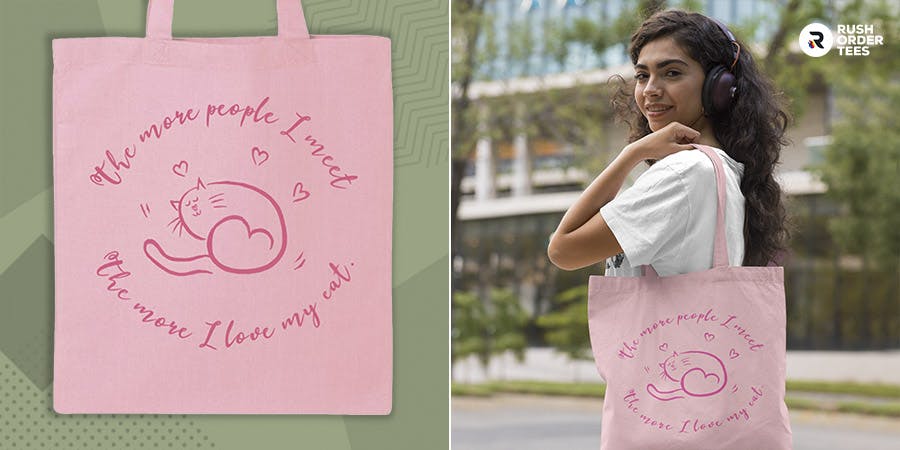 Everyone loves animals, especially cats and dogs, so you can't go wrong with this theme. We have many animal items in our clip art library, from cute to funny to cool.
Start with this template: Animal-themed tote
Pro tip: There are many clever animal puns and sayings online if you search. If your target audience is dog or cat people, avoid using black tote bags as the pet hair will show easily.
Parody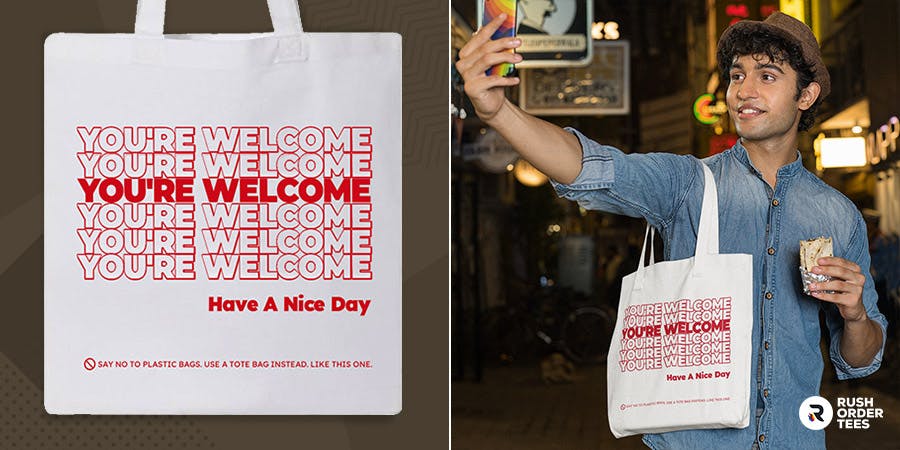 A parody theme is any design that plays on a well-known design or established product. This particular design mimics the famous "Thank You" design that graces plastic bags worldwide.
Start with this template: Parody-themed tote
Pro tip: Some of the most famous designs are great candidates for parody, such as the famous "I Heart NY." Famous brand logos are also great for manipulating to convey your own message or twist.
Tote bag design styles
Graphic styles are the different ways you can approach your tote bag design. Here are five top styles that can apply to any custom tote.
Typography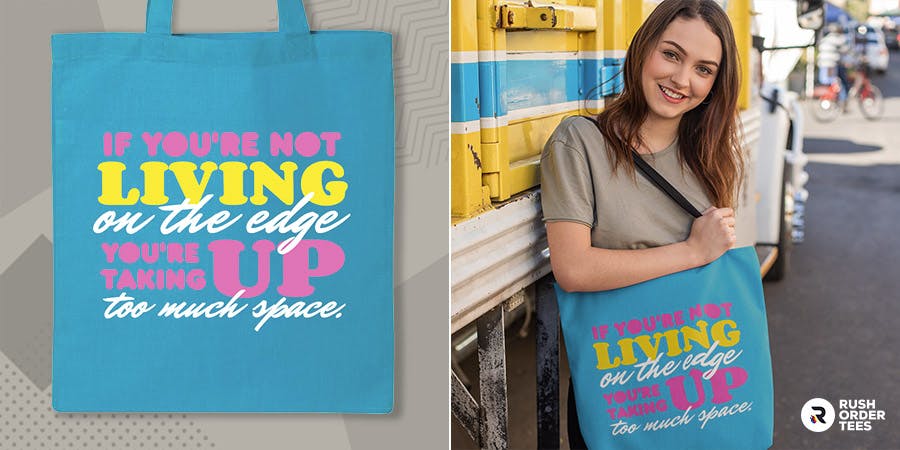 Many tote bag designs are just lettering, whether it's a funny saying, famous phrase, or motivational quote. Typography is about choosing complimentary fonts that convey your message with style.
Start with this template: Typography-style tote
Pro tip: Play around with combinations of fonts, and don't be afraid to mix different font styles. Sometimes that contrast can add a lot of visual appeal. Avoid using complex or intricate type styles.
Floral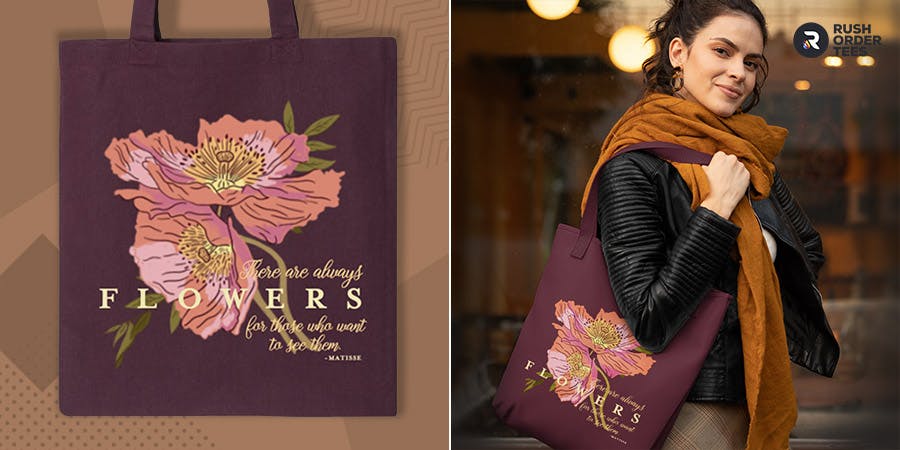 A floral design is always a good look for tote bags, especially for appealing to women. We have plenty of flowers and nature-themed graphic elements in our clip art library.
Start with this template: Floral-style tote
Pro tip: For floral or nature-themed designs, choosing the right color tote to go with the graphic is essential. The better your color combinations look, the more the tote bag will be used.

Abstract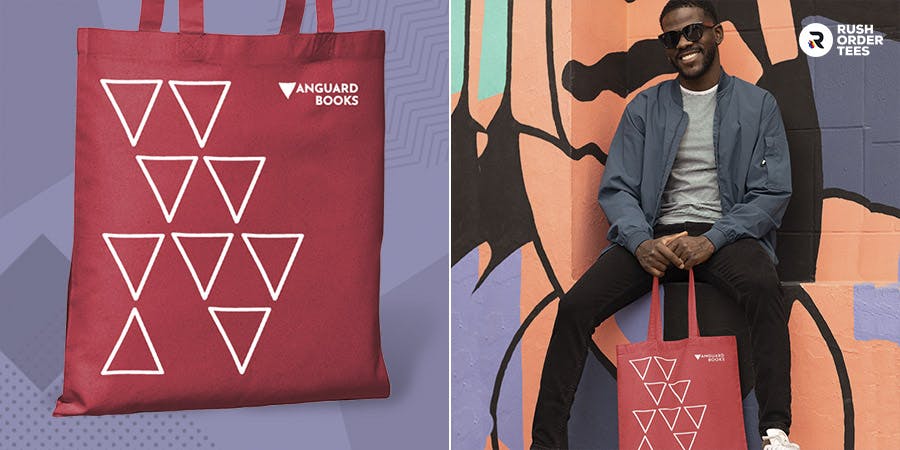 From geometric objects to patterns, lines, and solid shapes, an abstract design is often a great look for tote bags. The square print area lends itself to eye-catching compositions.
Start with this template: Abstract-style tote
Pro tip: Start with a simple shape and duplicate it repeatedly, arranging it as you go, as we did with this triangle. Before you know it, you have a stylish and appealing design layout.
Retro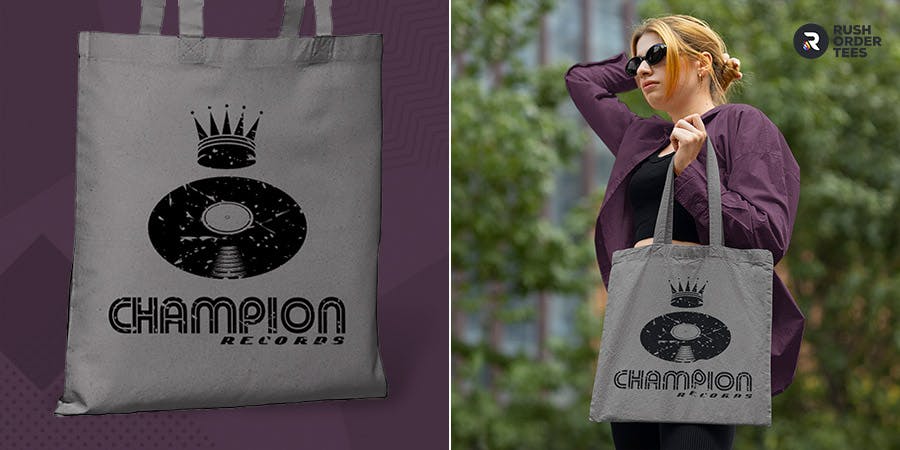 A retro or vintage design is an excellent approach to custom tote bags, with simple, solid graphics that print well on textured material. Search for "retro" in our clip art library for inspiration.
Start with this template: Retro-style tote bag
Pro tip: Complete the retro look using tone-on-tone color or a low-contrast combination, and achieve the vintage look by using a "distressed" effect. Learn more about creating a custom distress effect.
Artistic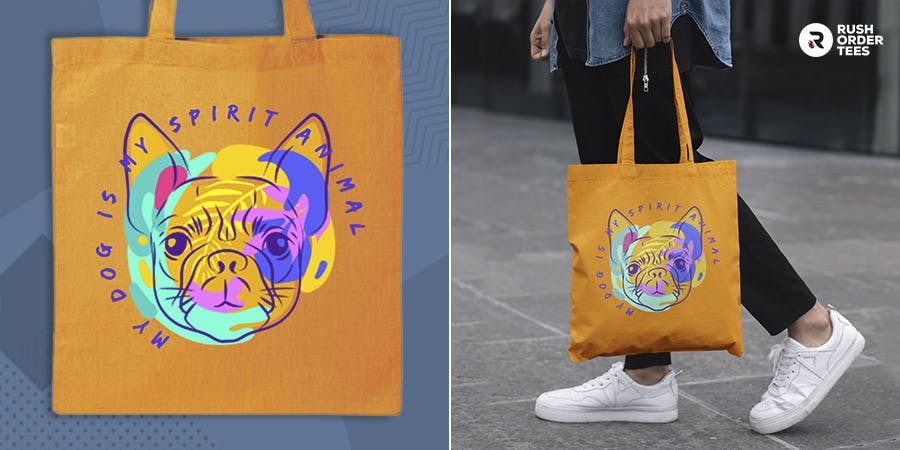 Finally, let your creativity flow with an artistic tote bag design. There are no strict rules; it's all about colors, style, and personal expression. The only limit is your imagination.
Start with this template: Artistic-style tote
Pro tip: If you're using lots of colors, make sure to choose a 100% cotton tote bag because the print method will be digital. Screen printing multiple colors on totes is not typically recommended.
Top 4 tote bag design tips
Follow these general tips to ensure your tote bag is more often used–and seen.
Keep it simple - Simplified artwork works best. Avoid complex, overly-detailed designs.
Limit the colors - Fewer colors look better and decrease your overall cost.
Choose the right bag - Pick one with the broadest appeal and the best price point.
Use a high-quality art file - Vector files work the best. Learn more about file types.
Design your own tote bag
Now that you have some ideas, it's time to design your custom tote bag. Jump into our easy-to-use Design Studio, choose your bag, upload your logo or create your design, and we'll take care of the rest.
Tote bag FAQs
Quick answers to some of the most common questions about custom tote bags:
What are tote bags made from?
Typically, cotton or cotton canvas. The less expensive tote bags are made from synthetic fabric blends and recycled materials. Tote bags made from hemp are becoming more popular, although pricier.
How much do tote bags cost?
Custom tote bags can cost anywhere from $80 each (for a small order of high-end tote bags with embroidery) all the way down to $5 each (for a large order of budget totes with a single ink color).
Do tote bags shrink in the wash?
Cotton tote bags will have normal shrinkage, but this can be avoided by using cold water wash and low temperature dry. Synthetic tote bags can be damaged with a high-temperature dryer setting.
What are the most popular kinds of tote bags?
The most popular tote is a simple, medium-sized single-color canvas bag. It's also the least expensive and easiest to print on. Next would be slightly larger and sturdier bags with color handles.

Imri Merritt
About the Author
A graduate of the Multimedia program at the University of the Arts in Philadelphia, Imri Merritt is an industry veteran with over 20 years of graphic design and color separations experience in the screen printing industry.