MARKETING
12 Company Swag Ideas That Staff and Clients Love
Design Custom Gear
Personalize a custom t-shirt with our easy-to-use Design Studio
Start Designing
Everyone appreciates receiving a gift, which is why company-branded swag is an effective marketing technique. Creating a gift that appeals to a broad range of people requires a bit of knowledge and some good advice. This guide combines recent market research and our 20+ years of experience to offer 12 company swag ideas that will appeal to everyone.
What is swag?
Swag, also known as promotional products, stands for "stuff we all get." Typically branded with a business logo, tagline, or color scheme, swag products range from inexpensive pens to branded apparel to pricier electronic items. They are used by companies for giveaways or gifts to customers and staff.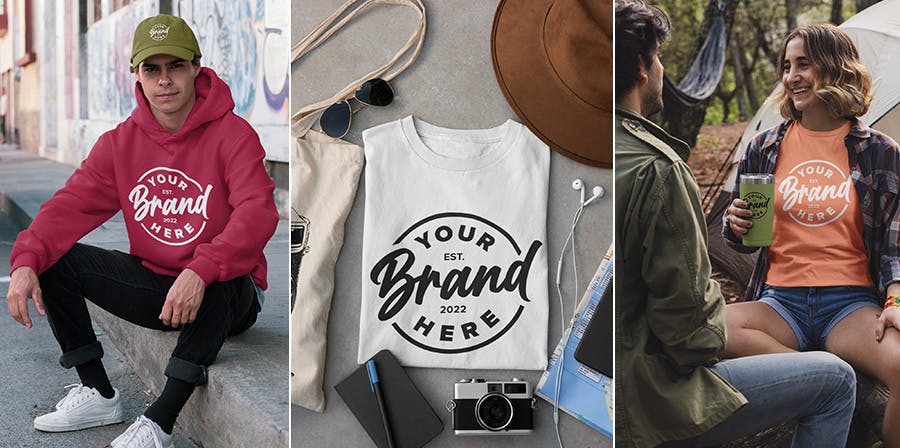 The appeal of branded swag
Company-branded swag is shown to be very well-received and one of the most effective forms of advertising. In recent years, the promotional products market has seen massive growth. According to a recent ASI study, 9 out of 10 consumers own at least one of the top 12 categories below. Most households, on average, own 30 swag items!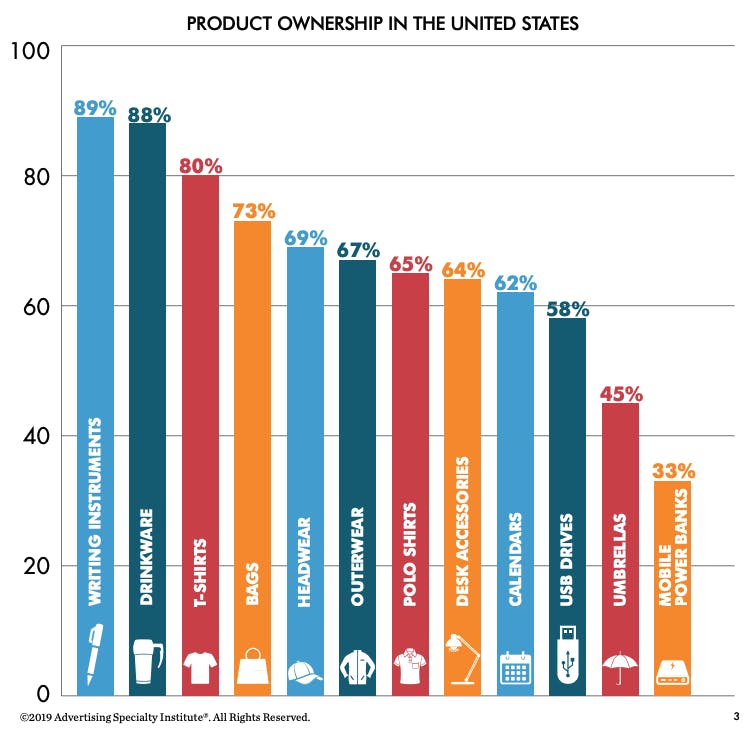 Branded swag benefits everyone. For employees, swag boosts morale and builds team cohesion. Customers build a positive association and familiarity with the brand after receiving swag. Companies that give away promotional gifts build loyalty and cost-effectively expand their brand's visibility. Who doesn't love a freebie?
What makes a great company swag idea?
There are many different types of branded giveaways, but those with the greatest impact have three things in common:
Wide appeal. "Something We All Get" should be something most people love to get.
High value. Quality items are kept, worn, and/or passed on for maximum exposure.
Modestly branded. Minimal designs work best (avoid large logos and crazy colors).
Our list of company swag ideas is based on the most popular items among consumers, combined with our expertise and experience. We split our picks into two categories: branded apparel and branded accessories.
Branded apparel swag ideas
Custom-printed apparel dominates the top positions as America's favorite swag item. Things we wear are among the most coveted of stuff we all get, from tees and caps to hoodies and jackets. We've carefully selected six of the best apparel items for promotional giveaways for any budget and listed them below.
1. Printed t-shirts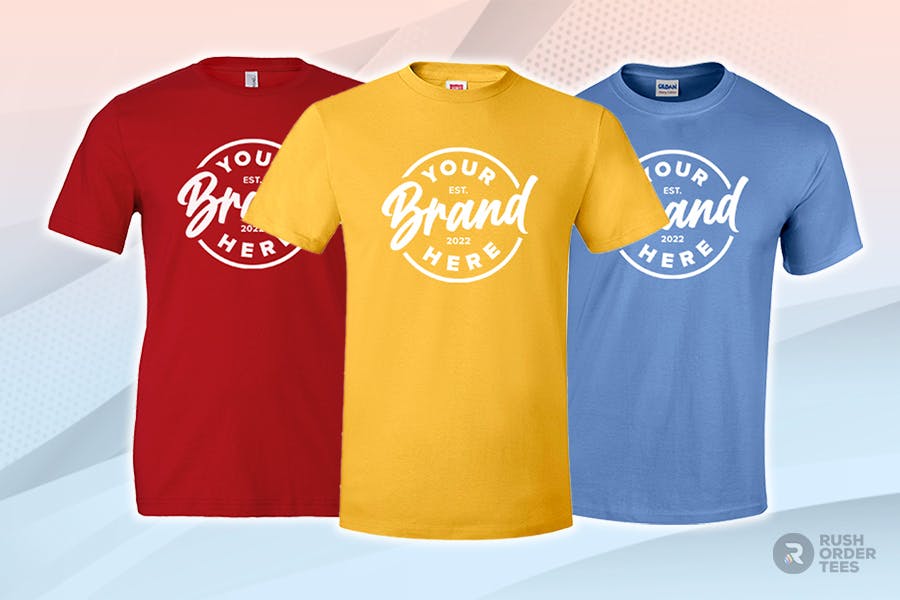 We start the list with everybody's favorite: t-shirts. From sea to shining sea, the t-shirt is one thing all of America can agree on. Even people who don't wear t-shirts out still love them for sleeping or wearing around the house and dancing without pants.
The average promotional t-shirt gets kept for over a year and racks up 3,400 impressions in its lifetime. Now that's a bang for your buck. Whatever the size of your business, custom-printed tees are always a sure shot.
Best tees for company swag
Good: Gildan Heavy Cotton (G500) – The best value for the price and one of our most popular T-shirts, especially for large bulk orders.
Better: Hanes Perfect-T (4980) – A classic mid-range tee with solid construction by the famous Hanes brand. Most are tagless or tear-away tags.
Best: Bella+Canavs Fine Jersey (3001C) – Fitted, soft, well-constructed, smooth print surface. One of the most popular tees for retail and merch.
Branded apparel pro tip
Get your employees' exact sizes. It will reduce any excess inventory and make everyone happy. A simple form emailed out can do the trick and save that spreadsheet. If you have a big company with many employees and are ordering bulk, you can use our size breakdown formula for group orders to get it right.
2. Embroidered baseball hats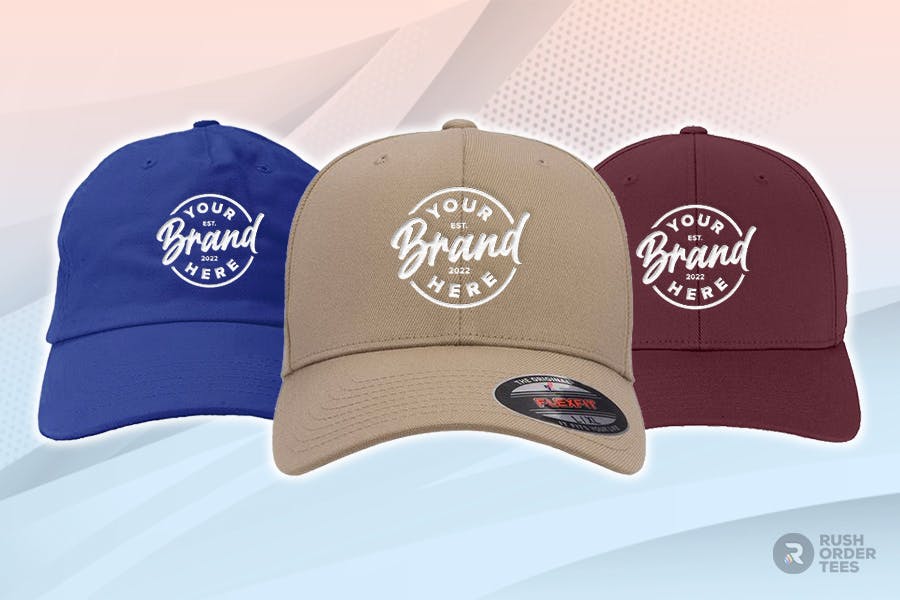 Coming in strong at number two is embroidered caps. A great-looking cap will get worn more often than a T-shirt. Among consumers, 63% say they keep promo hats because they are attractive. One-third of men say they wear a promo hat weekly or more.
And when it comes to caps, you can screen print, but embroidery is the way to go. Durable, classic, and three-dimensional embroidered hats are also affordable. With an average of 3,400-lifetime impressions, a 0 hat costs about 1/3 cent per impression.
Best caps for company swag
3. Printed hoodies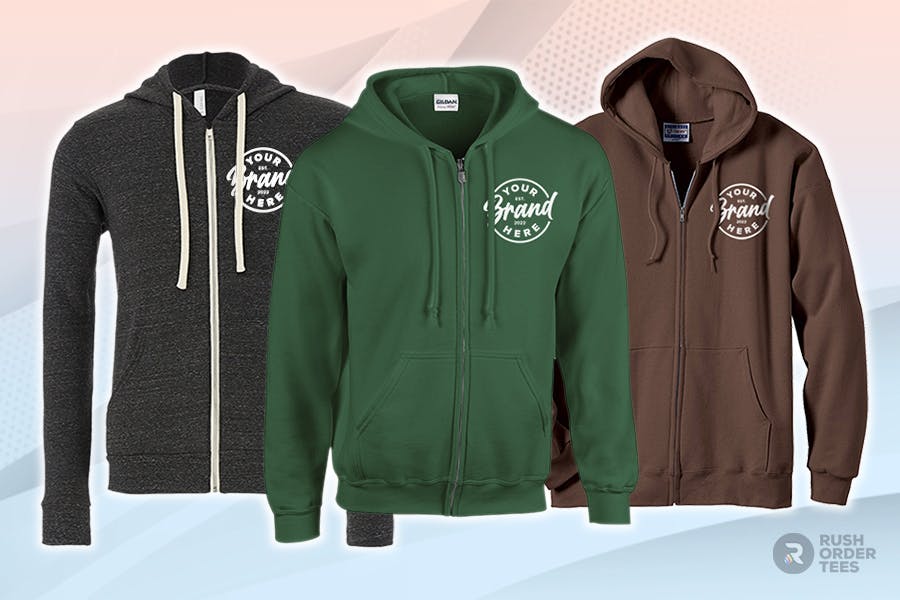 People love hoodies. They are so popular they have their own season, making them one of the best swag ideas. And you can add them to the list of things worn more often than a T-shirt, especially during hoodie season.
Promotional outerwear is kept for an average of 16 months, and women report wearing one of these items weekly.
Giving your employees a soft new hoodie is like giving them a hug. Nothing beats that comfortable, snug feeling of a fresh new hoodie, whether it's a pullover or zip-up style.
Best hoodies for company swag
Good: The Gildan Heavy Blend Zip-Up Hoodie (G186) is budget-priced, durable, and offers a wide selection of colors and just about any size you need.
Better: The Hanes Ultimate Cotton Zip-up Hoodie (F280) is moderately priced, thick, comfortable, and standard fit, with a wide selection.
Best: The Bella+Canvas Tri-blend Fleece Pullover (3909) is premium-quality, super-soft, and slim-fitted, with some limitations on colors and sizes.
4. Embroidered beanies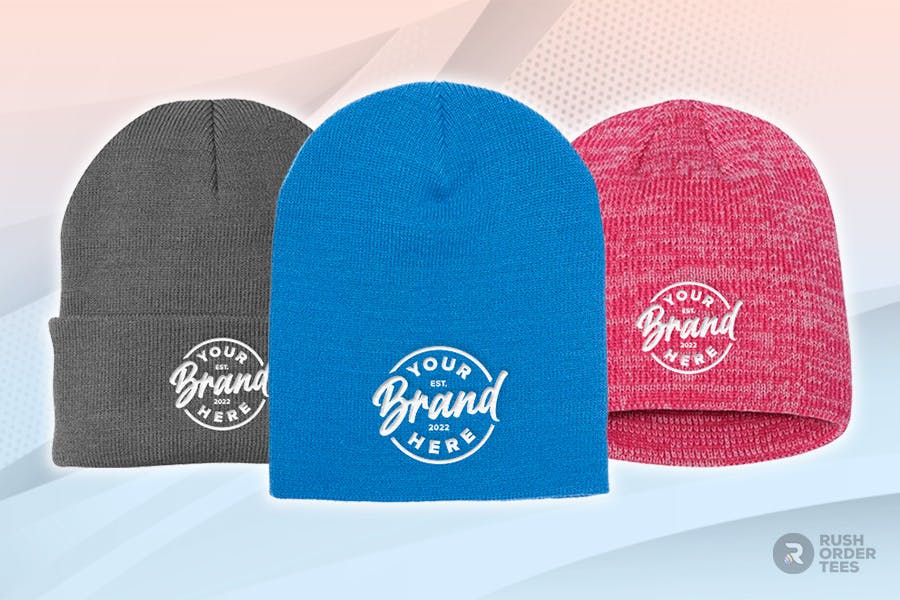 Headwear is one of the top swag items overall, and knit beanies have been growing in popularity, with many styles and colors to choose from. 69% of consumers own promotional headwear, and most keep it for over 10 months.
Embroidery is the way to go for beanies. We don't recommend screen printing, and it can't be done in most cases. An embroidered logo on a knit cap is durable and always looks legit.
Best beanies for company swag
Good: Port & Company Knit Beanie (CP90) – The classic, basic knit beanie with comfortable, snug fit, and moisture-wicking properties. Can be pulled well over the ears and comes in 24 colors.
Better: Yupoong Adult Knit Beanie (1500) – Classic beanie that can be worn as is or with folded edge, this one is made with "turbo-spun acrylic knit." Comes in 12 bright colors.
Best: Sportsman Marled Knit Beanie (SP03) – Thick and textured premium beanie made with 100% marled acrylic and high-quality stitching for a unique, contemporary look.
5. Printed polo shirts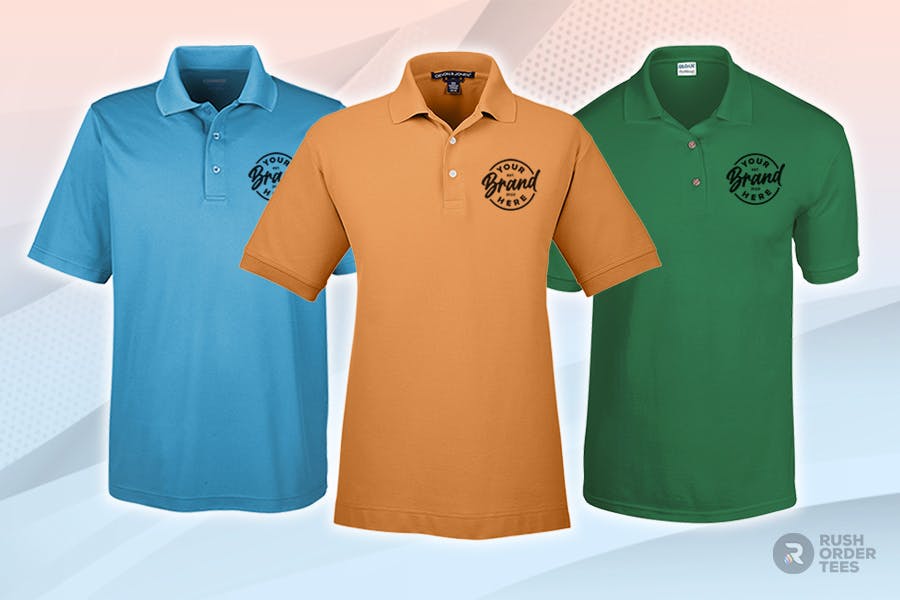 Branded polo shirts provide a professional yet casual look and are a favorite branded swag idea for most businesses. Typically, embroidery is the method of choice for polos, but screen printing can be just as nice, especially on smoother fabrics.
Polos look great on everyone. Not sure how that works, it just does. Add your logo on the left chest, and you have the easiest uniform possible. And polos are back in style, so your employees can look hip and professional simultaneously.
Best polos for company swag
6. Embroidered jackets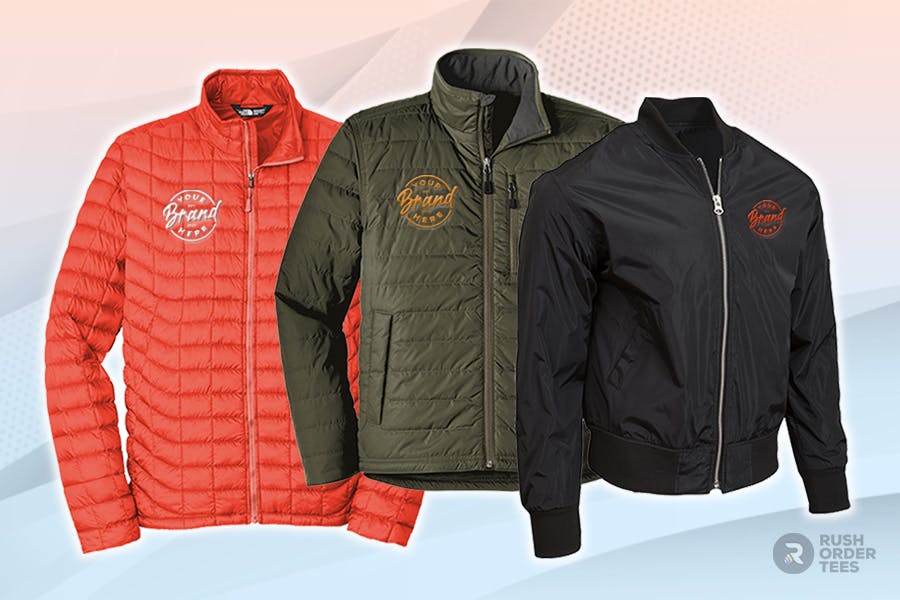 The most premium of all branded apparel, jackets are the ultimate company swag idea. They are also among the highest in brand exposure. Each jacket will provide a whopping 6,100 logo impressions throughout its lifetime, and 70% of consumers keep outerwear for over a year.
Jackets, unlike other apparel, can be worn every day. For consumers, this creates a lasting familiarity and even identity with your brand. For employees, it means being part of the team.
Best jackets for company swag
Good: Threadfast Apparel Unisex Bomber JacketStyl (395J) -Stylish "bomber" jacket with 100% polyester shell. PVC coating with a slight sheen and lined with polyester satin. Medium insulation fill for year-round wear. Utility pocket on sleeve. Retail fit, unisex sizing, and a premium zipper.
Better: Carhartt Gilliam Jacket (CT102208) – Lightweight yet warm, wind and water repellant. It has a front zipper up through the collar, a left chest map pocket, two interior pockets, and a drawcord adjustable drop tail hem. Your embroidered logo goes on the right chest area or sleeve.
Best: The North Face ThermoBall Trekker Jacket (NF0A3LH2) -Designed with baffles contoured to the body, with streamlined, lightweight, highly-compressible synthetic insulation. Retains loft and warmth even when wet, made for all conditions. Your logo goes on the right chest or sleeve.
Branded accessories
High-quality accessories are wildly popular and among the most coveted swag items. These days, you can get just about anything branded with your logo. Once again, the trick is picking the things that most people like. You can't go wrong with the six choices below.
1. Printed drinkware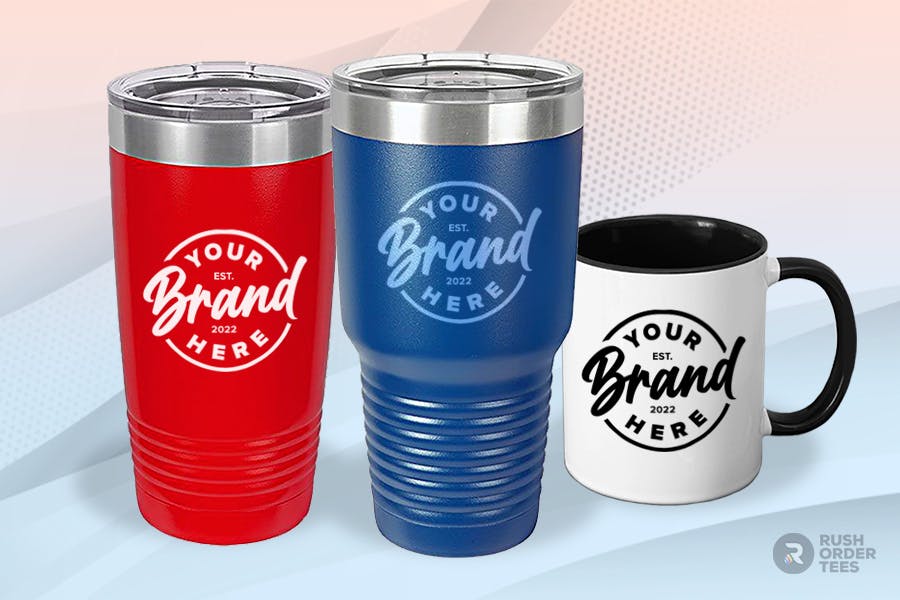 Custom drinkware is an excellent swag idea for your employees. Everyone has their drink, even if it's just plain ol' water. No offense to water. These items provide a useful daily utility, keeping coffee hot or soft drinks cold.
From the classic coffee mug to modern tumblers, cups are a place to put a logo. Fully 78% of consumers report owning promotional drinkware.
Best mugs for company swag
Good: 11 oz White coffee mug (SM11W) – Basic ceramic mug with hard poly coating, maximized imprint area, design printed on both sides. Microwave and dishwasher safe.
Better: 11 oz Accent Color Ceramic Mug (SFSAMUG) – Ceramic mug with an accented color combination, hard poly coating, maximized imprint area, and design printed on both sides. Microwave and dishwasher safe.
Best tumblers for company swag
Good: 20 oz ringneck tumbler (T20) – Vacuum-sealed lid insulates cold drinks for 24 hours and hot drinks for 12 hours. The double wall eliminates condensation. Stainless steel with a powder coat finish. The narrow mouth opening prevents spilling, and the narrow bottom fits standard cupholders. Hand wash only.
Better: 30 oz ringneck tumbler (T30) – Bigger and better, with a vacuum-sealed lid, this tumbler insulates cold drinks for 24 hours and hot drinks for 12 hours. The double wall eliminates condensation. Stainless steel with a powder coat finish provides maximum durability against damage. A narrow mouth opening is perfect for drinking without spilling; the narrow bottom fits standard cupholders. Hand wash only.
2. Printed tote bags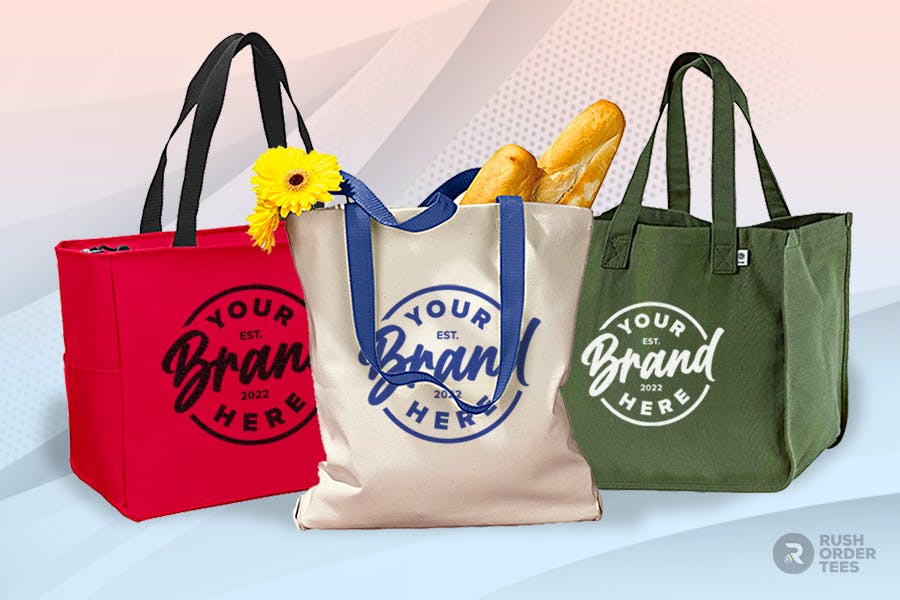 One of the most popular swag ideas, tote bags take an important place on this list. Tote bags are affordable, offer great utility, and have a large print area. Now more than ever, with plastic bags falling out of favor, everyone needs or good tote bag or two.
The best part is tote bags make great swag bags. In other words, it's the perfect place to load up all the other swag items and give them out all at once, with an easy way to take them home.
Best tote bags for company swag
3. Embossed notebook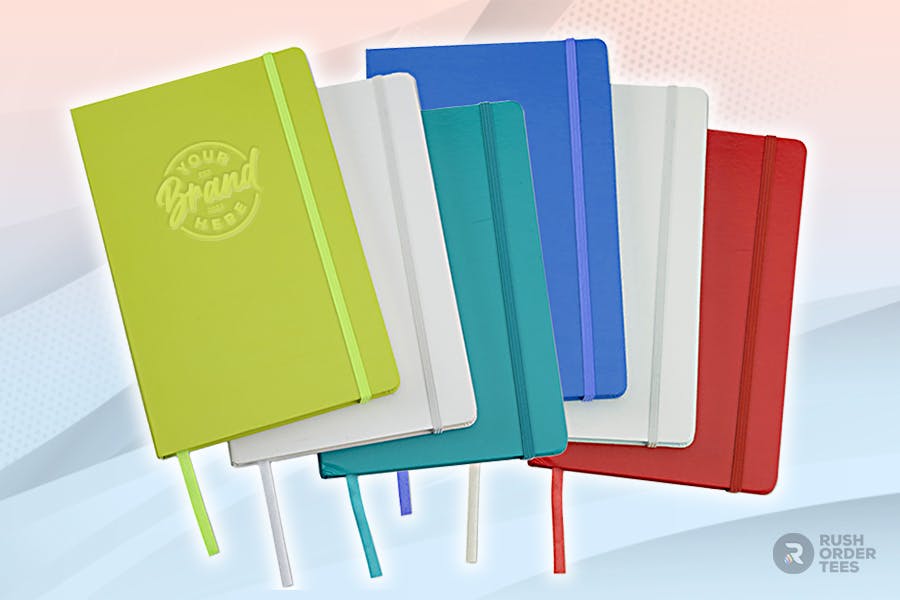 Although we all walk around with computers in our pockets these days, people still love notebooks. Whether for taking notes in meetings, keeping a journal of your work, or just jotting down ideas, notebooks provide the satisfaction of putting pen to paper.
Best notebook for company swag
Ambassador Bound JournalBook (1921-09) – Sturdy, elegant notebook. 5.5″ x 8.5″ with 80 sheets of cream-lined paper, elastic closure, ribbon page marker, and an expandable accordion pocket.
4. Printed Bluetooth speaker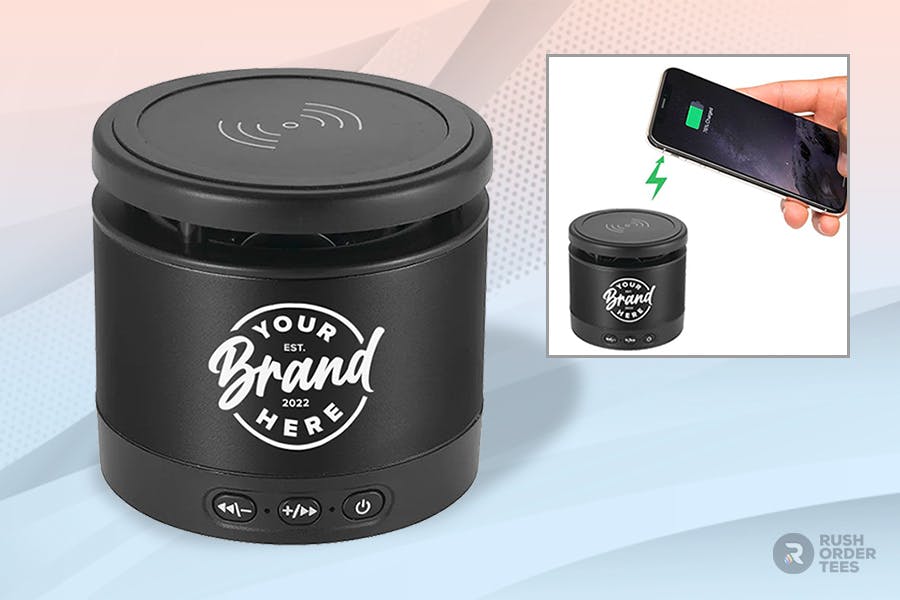 Speaker technology has come a long way in recent years. Many of the compact, portable speakers on the market can provide the sound quality previously only found in larger devices. With endless music playlists on everyone's phones, a branded Bluetooth speaker makes an excellent company swag idea.
Best Bluetooth speaker for company swag
Metal Bluetooth Speaker and Wireless Charging Pad (7198-64) – Sturdy little device with an aluminum body that produces crystal-clear sound with a powerful 3W speaker output. Two hours of music playback time, a working range of 33 feet, and the charging pad works with any mobile device that supports wireless charging, including the iPhone X. Full-color decoration is available.
5. Embroidered backpacks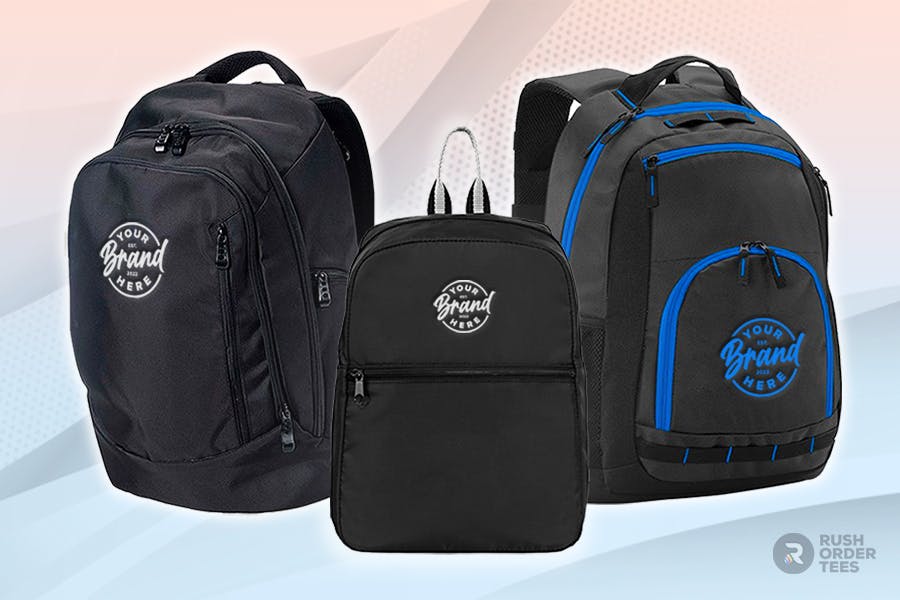 Backpacks are another great swag idea that blends promotion with functionality. Branded with an embroidered logo, they get used daily and build company awareness wherever they're taken. Our picks below can fit a laptop, notebooks, a change of clothes, and more. The minimum order is six.
Best backpacks for company swag
Good: Gemline Moto Mini Backpack (100066) – If you are looking for a small, fashionable backpack, look no further. This compact and minimal bag is kid friendly with adjustable shoulder straps for a perfect fit and a large print area. Comes in white or black.
Better: Port Authority Xtreme Backpack (BG207) – Excellent general backpack for commuting, hiking, or traveling. Features hydration port, padded laptop sleeve, zippered pockets, mesh side pockets, ergonomic shoulder straps, and chest strap. Comes in black or blue.
Best: BAGedge Tech Backpack (BE044) – This premium backpack features high-quality construction, a streamlined design, and multiple zippered pockets. Its checkpoint-friendly compartment fits up to a 15″ laptop, making it perfect for work or travel.
6. Patches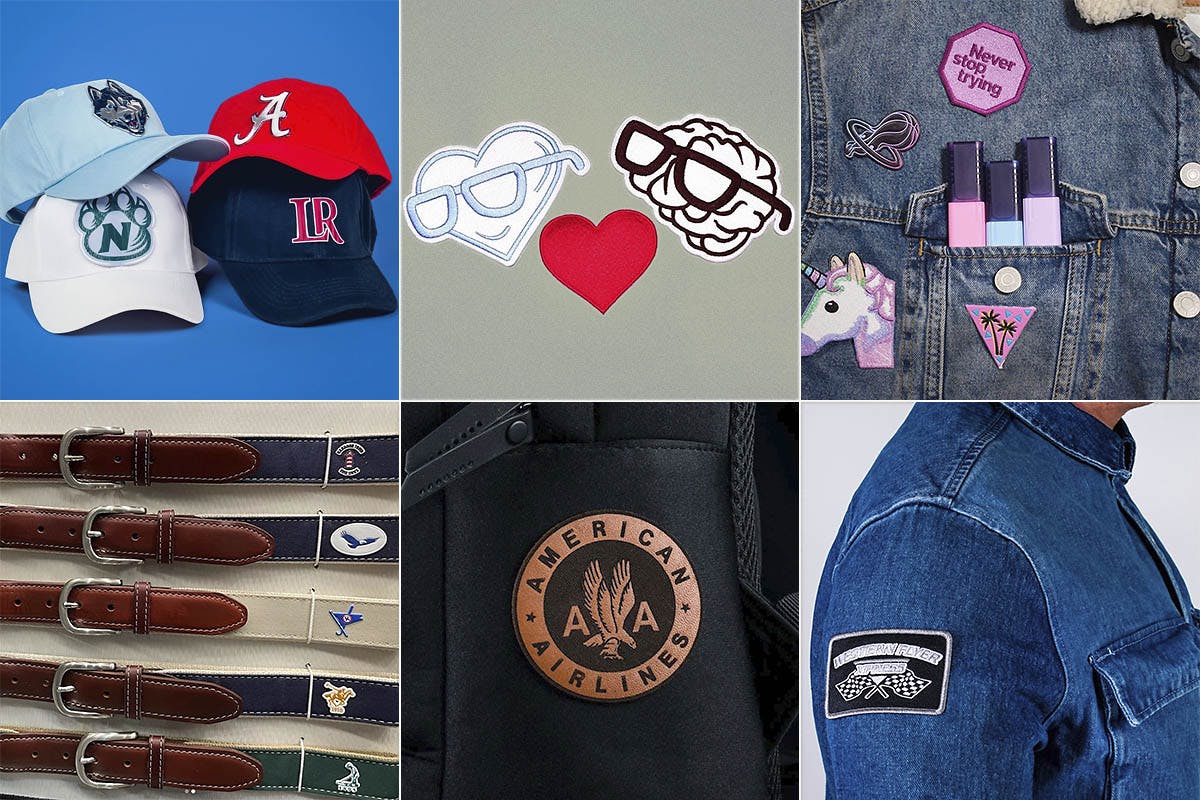 Our last pick on the list for top company swag might be unexpected, but patches are a solid giveaway option. What's fun is you can give them out by themselves for people to put on anything or use them for branding any other swag items. They're especially great for products that are difficult to customize, such as bags, hats, and other structured materials.
Best patches for company swag
Flexstyle patches – The newest style and undeniably attention-grabbing. Soft and flexible with textures, these patches bring dimensionality and dramatic finishes, making for an impressive-looking emblem. These are not only applied to garments but also to flat surfaces of all types. They're like stickers on steroids.
Rubber patches – The latest trend and newest technology for customized emblems. The uniquely flexible, smooth surface and three-dimensional look. A patch like this can elevate any item with its clean, modern, branded look.
Leather patches – The way to go if you want a simple, classic, rugged, or rustic look. These patches are laser engraved (available in both genuine and faux) to create a distinctive, monochromatic look. And they match almost any style.
Create your own branded swag

We hope this list gave you plenty of ideas for your company swag. We have many more options for customizing promotional products–just ask! If you're ready to go with a t-shirt idea, jump into our easy-to-use Design Studio and get your order started.
Company swag FAQs
Short answers to a few of the most common questions about company swag:
How much money should I spend on company swag?
What you spend on swag depends on your overall budget, the number of items to give away, and your intended purpose. Generally, promotional items can range from just a couple of bucks (branded pens) to 0 per item (nice embroidered bags). The average spend is around 0 (custom t-shirts or hats).
What are the best ways to distribute swag?
An event is the best way to distribute swag because there's no shipping cost. Set up a merch table, great at the door, or place swag bags on people's seats. For employees, the best way is to put it in a central area and have them come get it. For remote employees, shipping is the only option.
Employee vs. customer swag: what's the difference?
Employee swag is like a recognition gift that everyone gets. Branded apparel is popular with employees and companies alike. Customer swag tends to be more useful items (pens), novelty items (magnets), or accessories (drinkware). In both cases, the same principles outlined in this article apply.
About the Author
A graduate of the Multimedia program at the University of the Arts in Philadelphia, Imri Merritt is an industry veteran with over 20 years of graphic design and color separations experience in the screen printing industry.