Design Custom Gear
Personalize a custom t-shirt with our easy-to-use Design Studio
Start Designing
Matching shirts are one of the best ways to commemorate a family gathering. They bring everyone together–literally, for the group shot. T-shirts are prized souvenirs that become cherished keepsakes, holding memories and loved ones in their soft fibers.
A thoughtful design turns an ordinary shirt into a crowd pleaser–and we know what works. We print reunion shirts for thousands of customers each year, so if you're making custom tees for a family event, you have come to the right place.
We've compiled the top family reunion shirt ideas and dozens of slogans, inspirational quotes, and funny sayings. Best of all, we present 15 new and exclusive design templates you can start with to create your own custom family reunion shirts.
Family reunion shirt designs
Here are fifteen of the most common family reunion design themes, with a template designed by our in-house team exemplifying the style. Use these as inspiration or a jumping-off point for your unique creation.
1. Family tree and roots
One of the most popular themes for family reunion designs. It's the quintessential family metaphor, hence the term family tree. Designs using this theme usually ‌have a tree at the center of the design and sometimes add family members' names in or around it.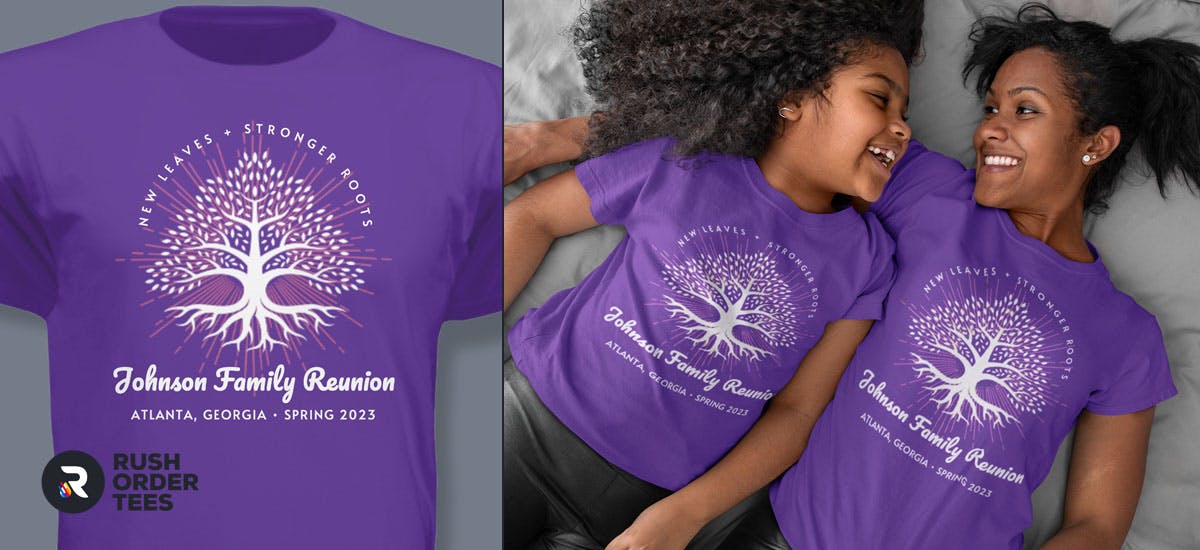 2. Family gathering
This category refers to events that are not necessarily reunions, such as a family picnic, an annual run, a softball game, a bowling night, a birthday celebration, etc. Get different color shirts for different families, and you have fun team uniforms.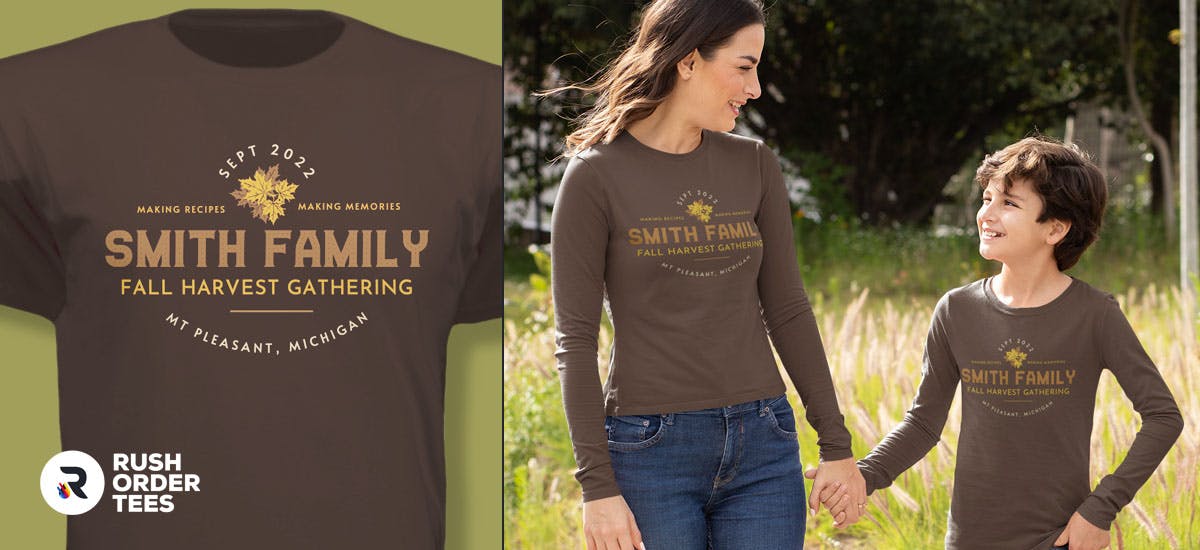 3. Funny
Probably the most popular theme of all is funny. Nothing is better for setting a fun mood and having a laugh together. These shirts are characterized by a funny phrase, family joke, silly photo, or graphic design. We listed 50 funny sayings and quotes below that you can use!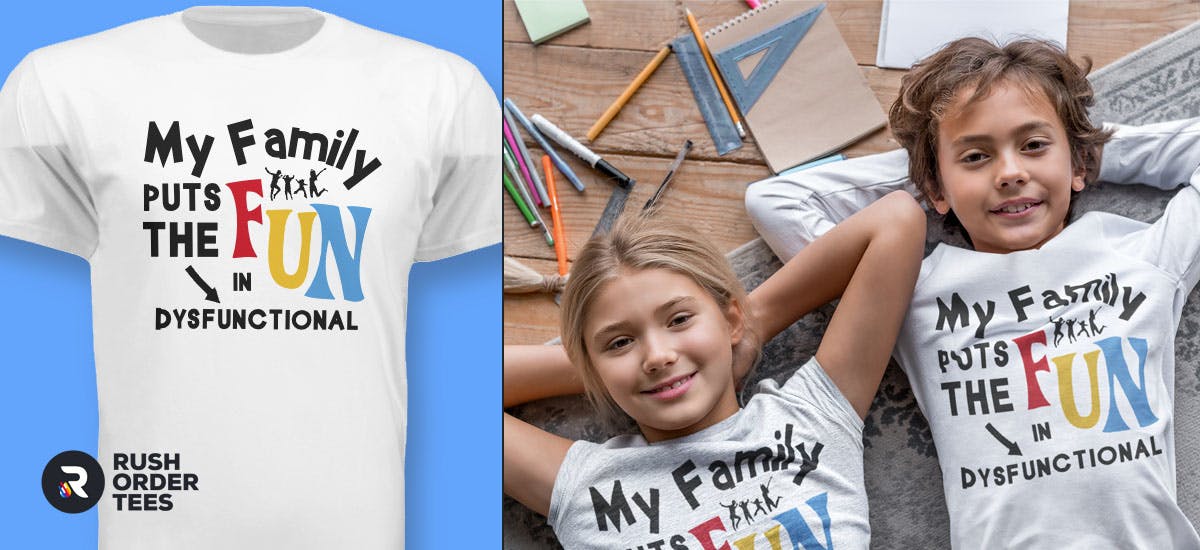 4. Fancy
A fancy shirt design can be elegant, classic, tasteful, or all of the above and will have a broad appeal among family members. Fancy designs can be especially appropriate for milestone reunions, like the 10th annual, 20th, etc. Consider using metallic ink, as shown in the example.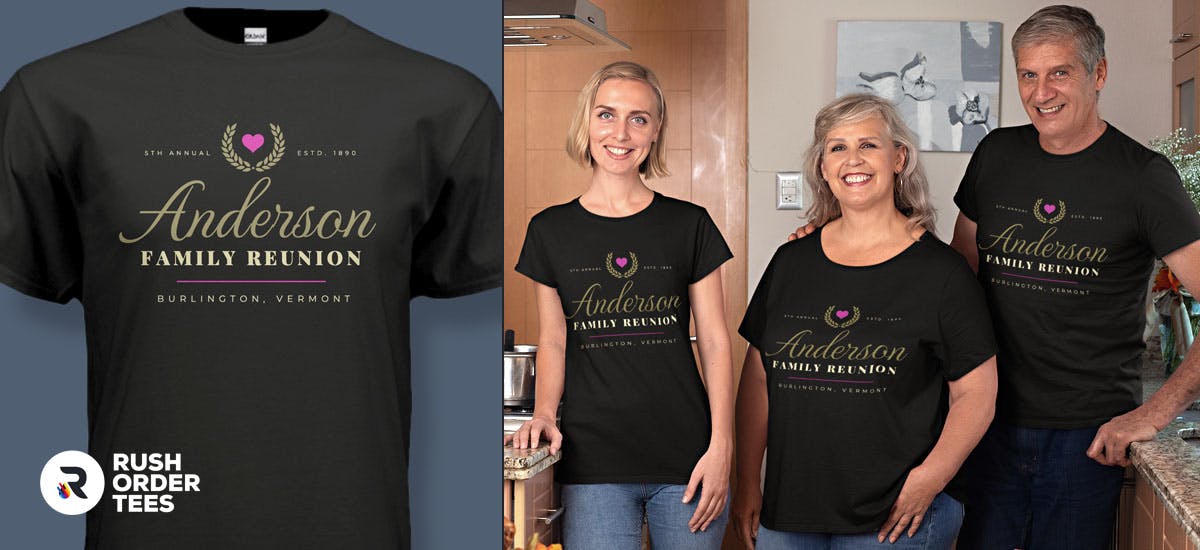 5. Simple
When in doubt, keep it simple. Minimal design themes say a lot with a little. Typically, they are text-only and modestly sized, with just two or three fonts chosen and arranged clearly to communicate the message. A minimal design gets worn more often.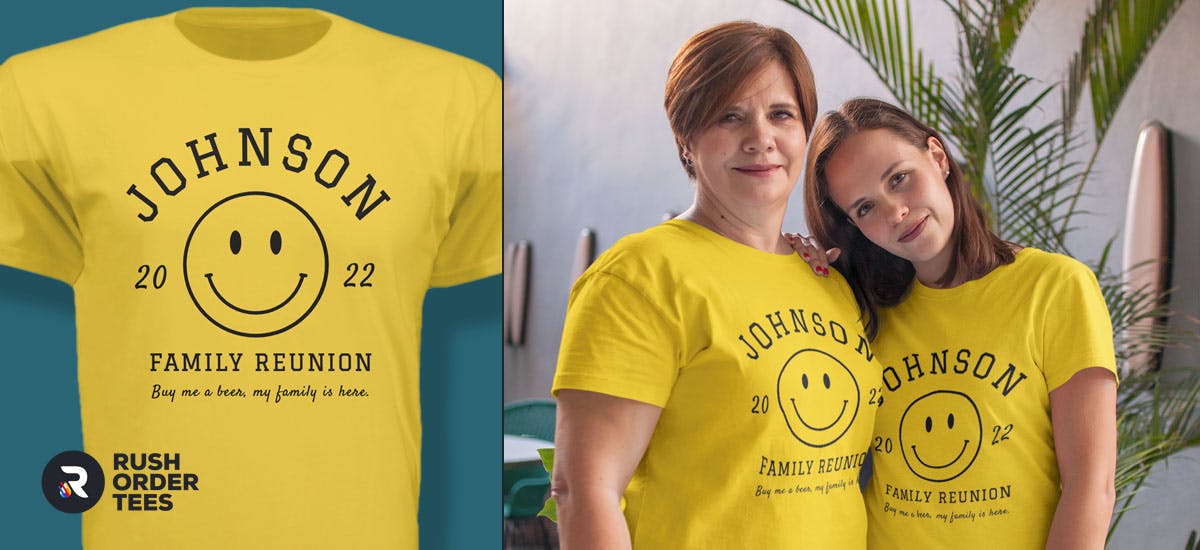 6. Disney
The Magic Kingdom is a popular destination for family reunions. It makes the kids happy and the adults nostalgic. The main thing to be aware of with Disney-themed shirts is copyright issues. Most of the official Disney graphics are off-limits. But with some imagination (and advice from our Art Dept), you can achieve a Disney-related T-shirt design without issue.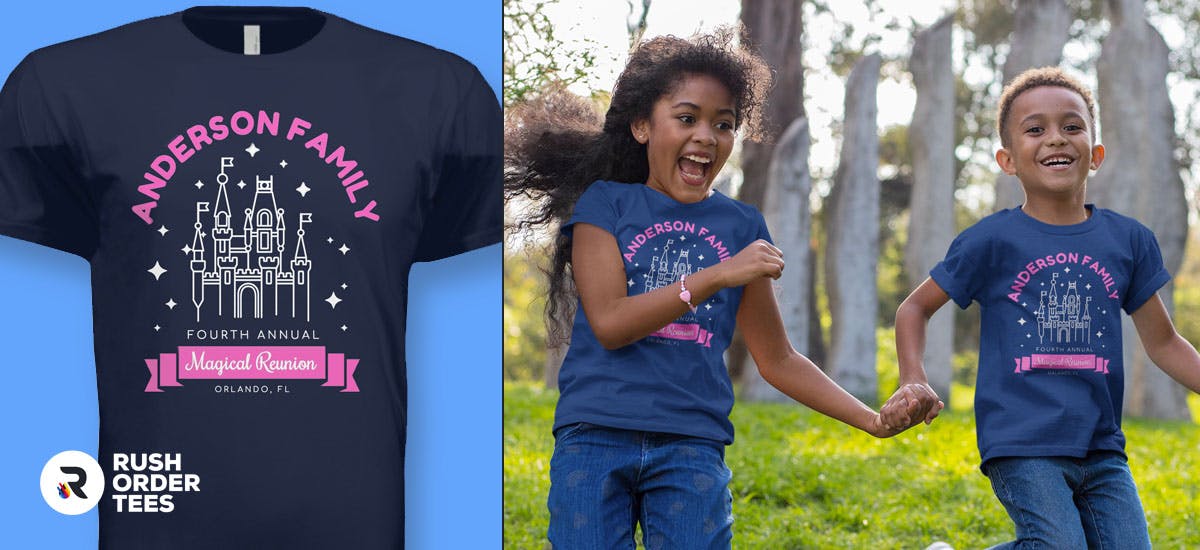 7. Parody
A parody design involves taking a well-known image, logo, or phrase and giving it a unique or humorous spin. Movie titles are ripe for parody, as well as established brands, famous characters, or even well-known T-shirt designs. Parody designs are brilliant because you don't need to worry about copyright issues, as long as you significantly change it from the original.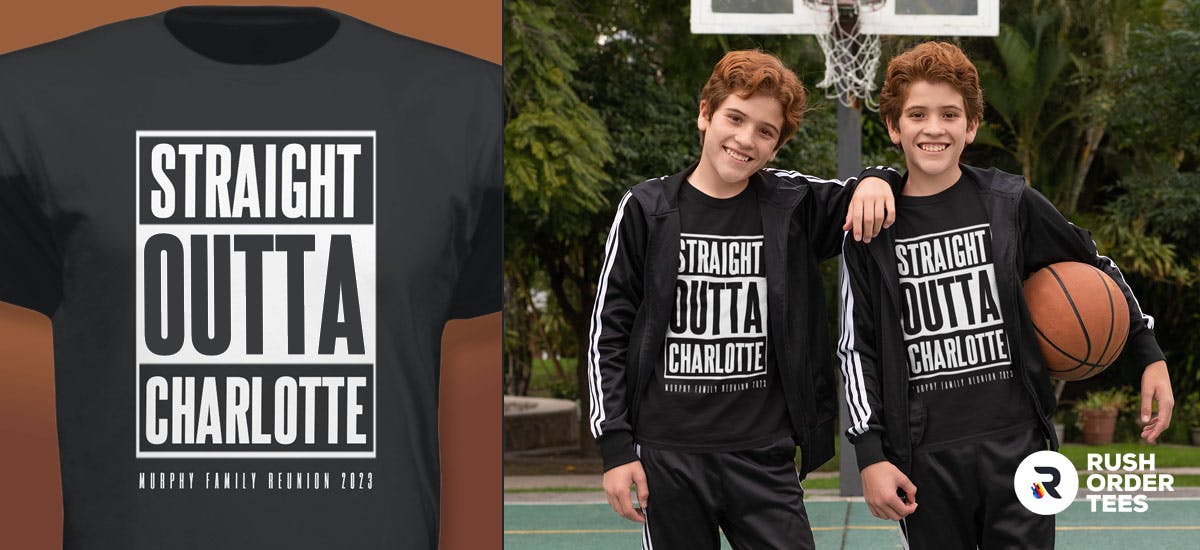 8. Beach
If you make everyone go to a destination, make it the beach. Everyone loves warm sunshine, the ocean, and tropical drinks. Elements for a beach-themed shirt can include sunglasses, towels, seashells, sand, beach balls, the sun, surfboards, and snorkels.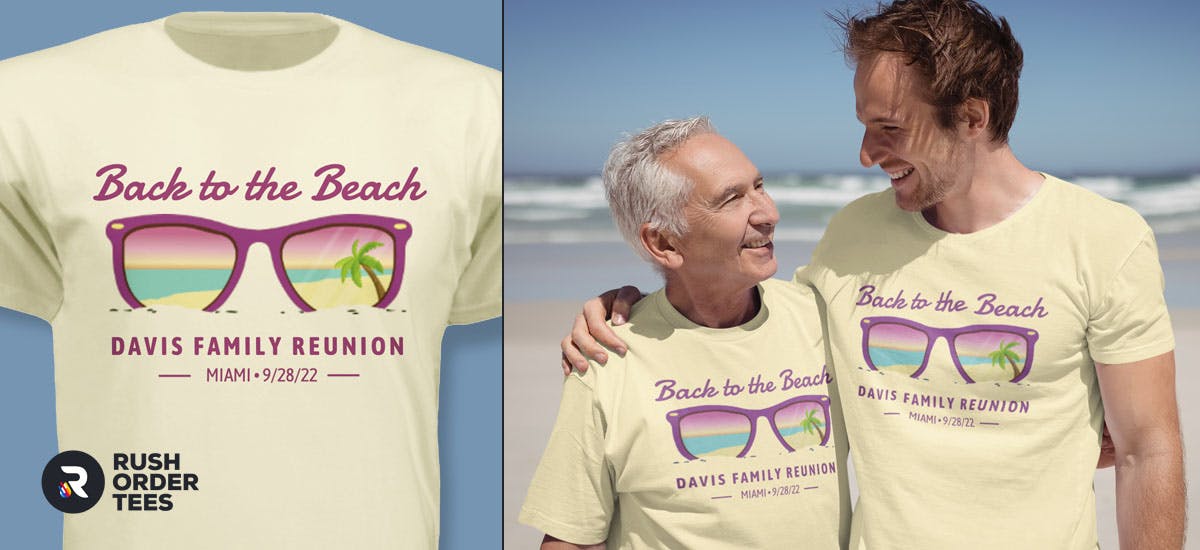 9. Camping
The great outdoors is the setting for many family reunions because why wouldn't you want to get stuck with your family for days on end with no chance of escape? For nature lovers, nothing beats it. Camping-themed shirt designs include tents, trees, mountains, rivers, and s'mores.
10. Travel
The travel theme is ideal for a destination reunion when just about everyone in the family has to fly or drive. Think about a map with dotted lines and "X" marks the spot, an airplane graphic, cars loaded with luggage for a road trip, famous landmarks, or the city skyline.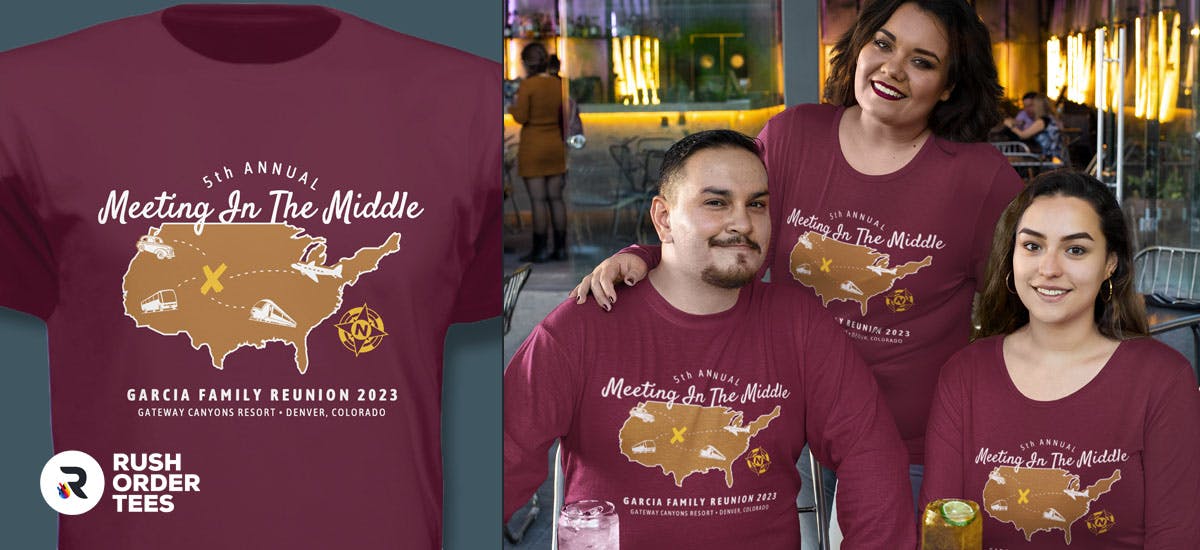 11. Vacation
What makes a family reunion even better? Having a vacation at the same time. Matching shirts are also a great way to keep the family in a group while at a crowded vacation spot. This theme should involve the place where you will cement the glorious memories forever.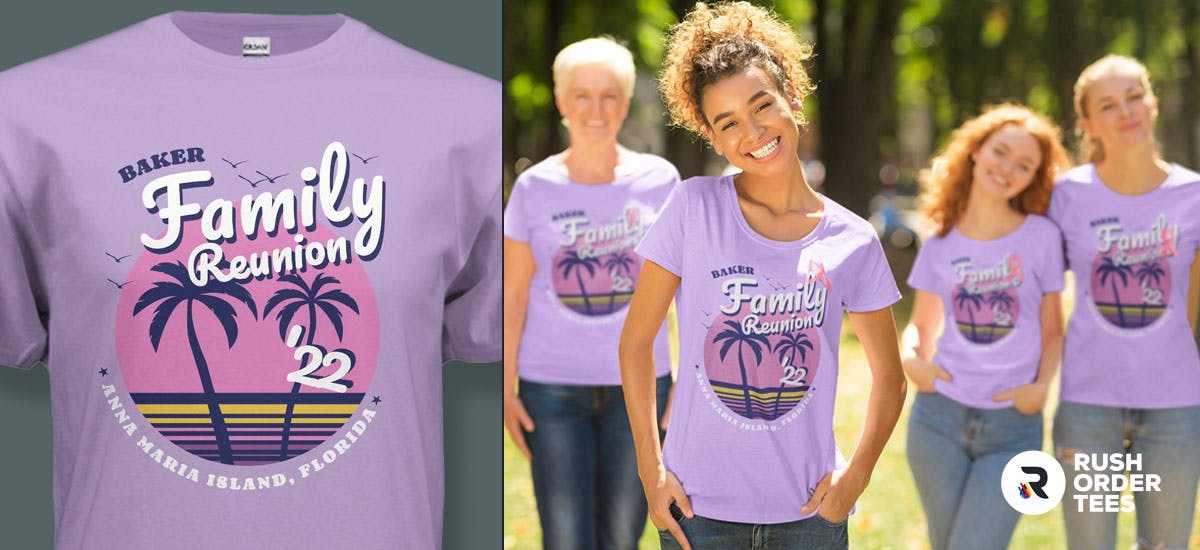 12. Cookout / BBQ
The classic event for a reunion is the cookout. Everyone loves food, giving everyone a chance to contribute their dishes, throw some BBQ on the grill, and enjoy family recipes handed down. Typical elements of a cookout design include a grill, a crossed fork and spatula, flames, and of course, food.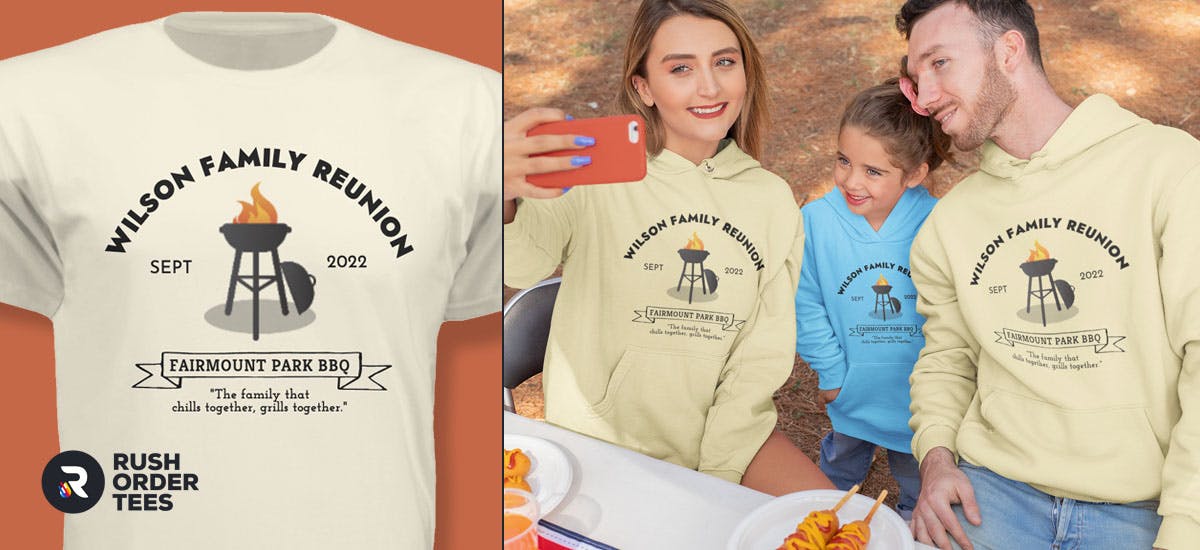 13. Floral
Floral designs are popular and usually feature (you guessed it) flowers, giving the design a natural and pleasant look. Choose a script to font to go along with it and small block type to give some contrast. Don't overdo the floral elements if you want the men in the family to wear it more than once.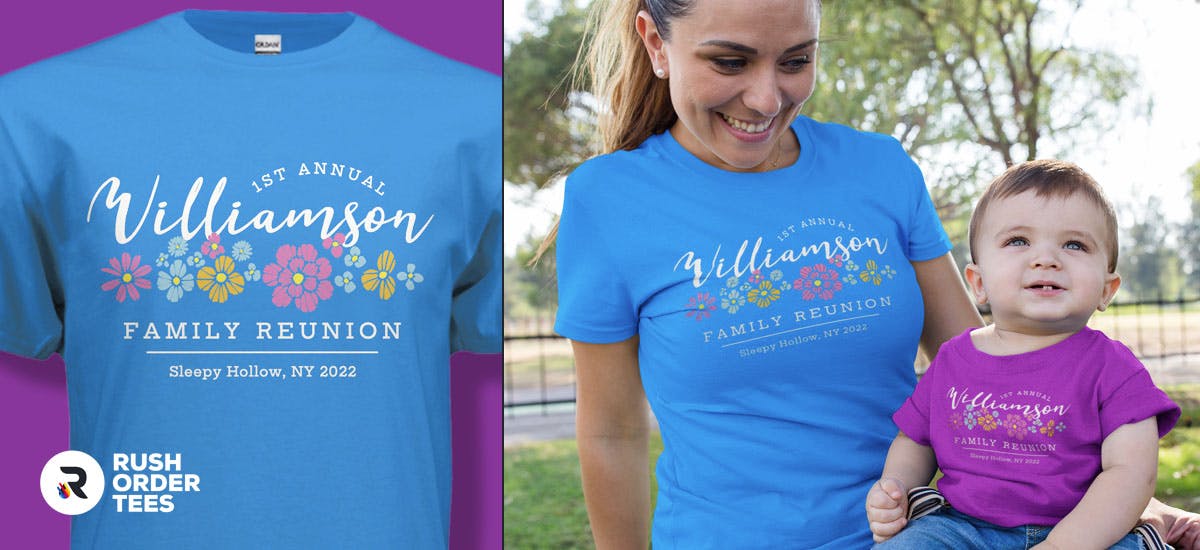 14. Patriotic
Somewhat self-explanatory, patriotic designs are a popular theme for reunions, especially for military families and other proud Americans. They usually feature the United States flag prominently, or a map of the country with a star placed where the reunion is.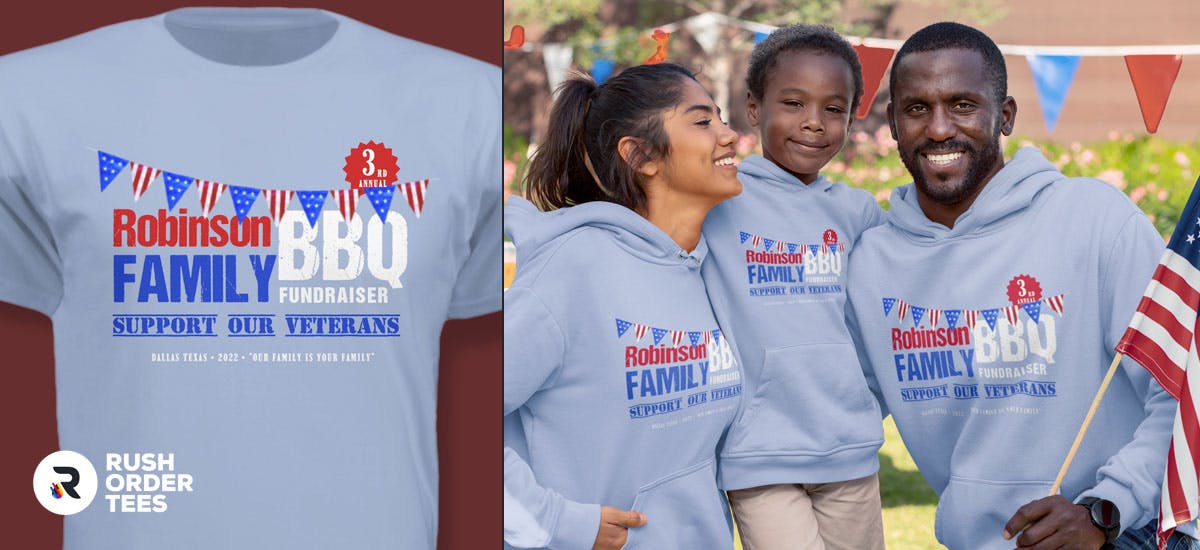 15. Sentimental
Finally, a sentimental theme can create a powerful and deeply moving experience, especially if you personalize the design with family history, a remembrance of loved ones, or a heartfelt message of love and unity. We've listed 50 sentimental slogans and quotes below that you can use.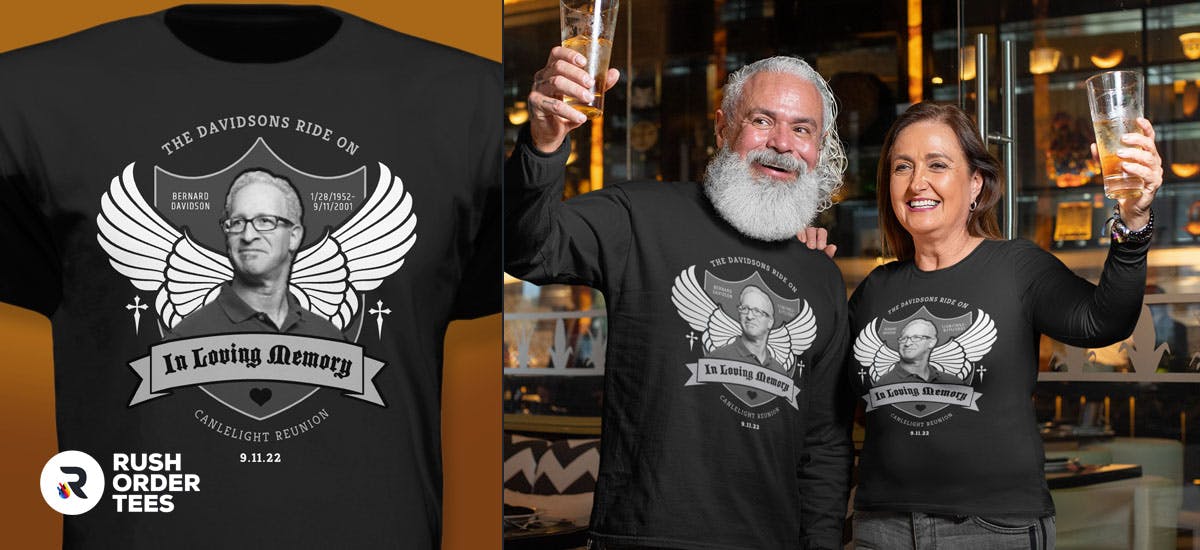 For more ideas, check out the rest of our Family Reunion templates.
More family reunion T-shirt ideas
Designing a T-shirt is more than just putting some text and graphics on the front. The most creative and memorable designs involve thinking about print methods and location. Here are some expert tips and great ideas for your family reunion T-shirt design.
Put vinyl numbers on the back
This is perfect for athletic families and big sports fans, but it can work for everyone. Each person's birth year can be their number. Or you can number all the kids in their birth order and let the sibling rivalries begin. Custom vinyl names and numbers make each shirt unique.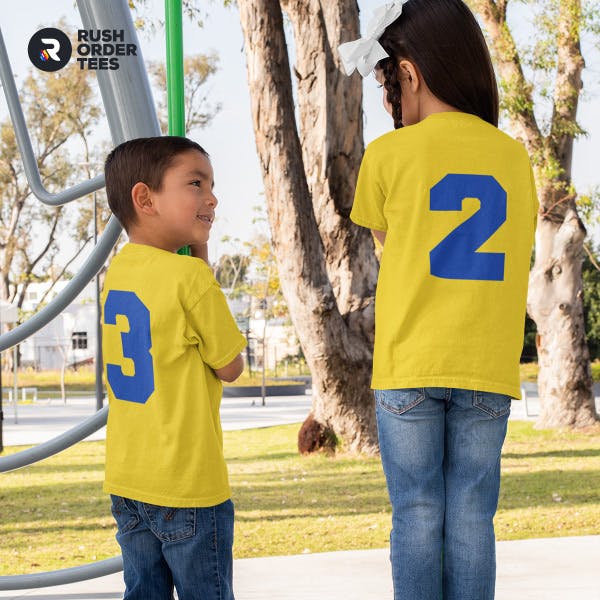 Put vinyl names on the back
If you're getting the vinyl numbers, why not get names, too? Put your family's last name across the shoulders of everyone's shirt or each person's nickname, and you're set up to play yard games after the cookout. Hopefully, the team spirit will continue when it's time to clean up.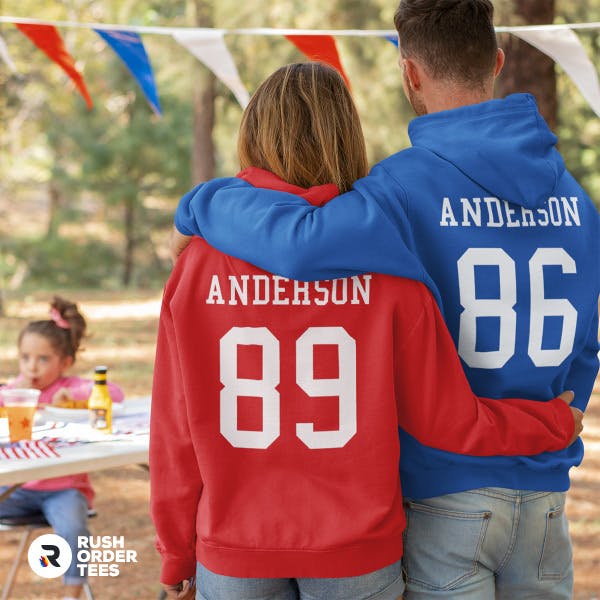 Highlight a shared interest
Does your family have a particular shared interest, business, or hobby? Perhaps fishing, muscle cars, or horses? Make your shirts personal by using shared interests as a theme for your reunion shirts. This can work especially well for an inside joke or upcoming project.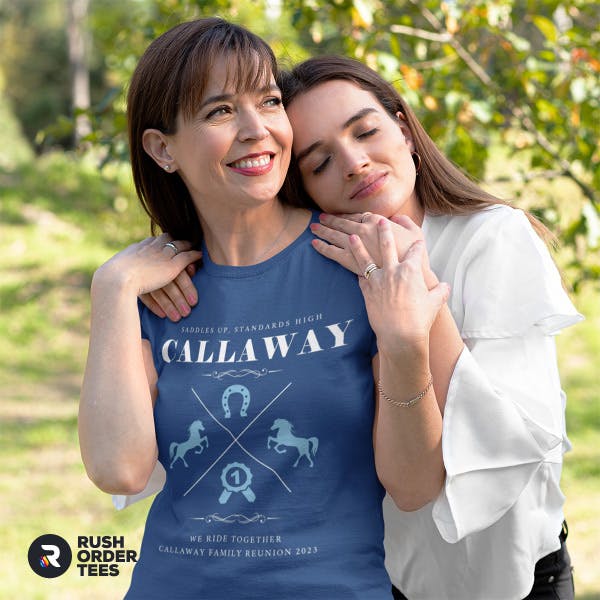 Use multiple print areas
Two print locations are better than one. Put a modest print on the left chest (such as the family crest or a logo for the reunion) and a larger design on the back, where you have more room for information and graphics. Consider the top eight print locations.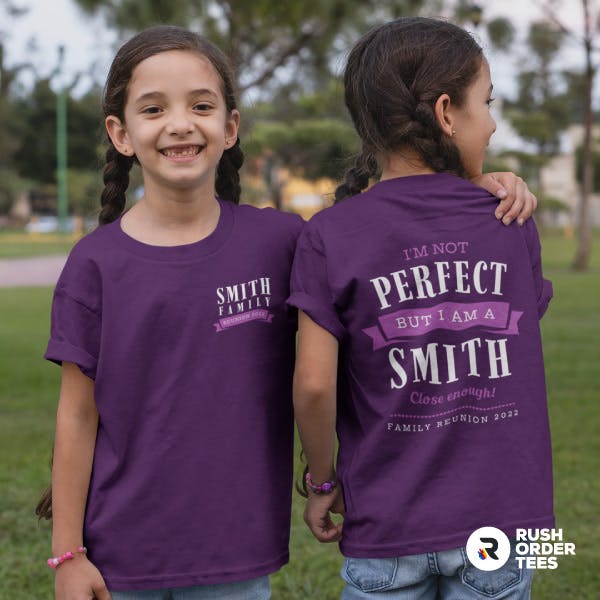 Use a regional theme
Is everyone from the same area? Or are you meeting at a particular place that can work as a theme for your shirt design, like a notable city or town? Maybe the whole family are fans of the same sports team. This can create a perfect opportunity to spark design ideas.
Choose colors and styles meaningfully
It's easy to print the same thing on different color shirts or even different apparel. If you have different family groups coming together, why not get each family their own shirt color? If you're playing softball or some other game, identify the teams with shirt colors.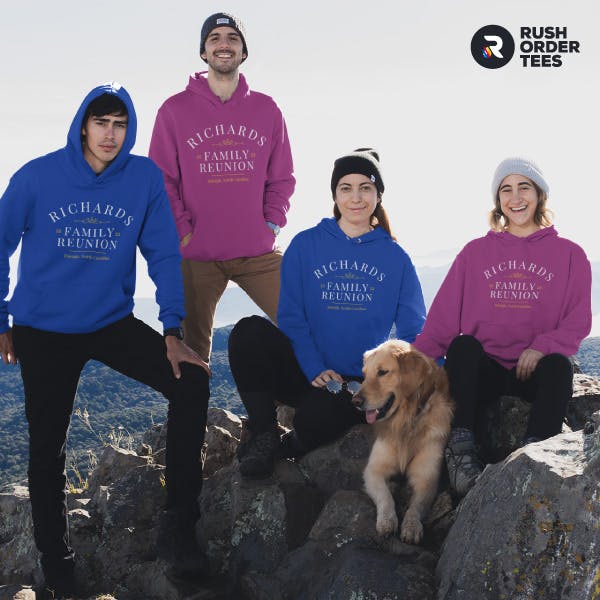 Use a family photograph
A group photo of the family is one of the best ways to make your reunion shirt special. Alternatively, create a collage with several photos or use the opportunity to memorialize and recently departed loved one. Learn more about designing an 'In Loving Memory' shirt.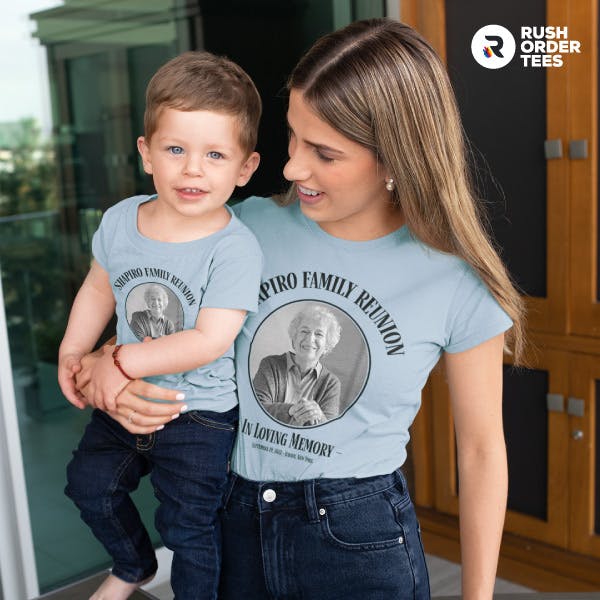 Family reunion sayings, slogans, and quotes
Although words can never fully convey the bond shared by families, a thoughtfully chosen statement, phrase, or funny saying printed on a shirt can add a unifying sense of humor, meaning, and significance to the festivities, reminding everyone what unites them.
Top 25 family sayings and slogans
Family is forever.
Without roots, there can be no tree.
Together is our favorite place to be.
Fam-i-ly (n): the perfect mix of chaos and love.
The greatest gift is family.
Blood is thicker than water.
You can always return to your roots.
You can't break this chain.
It's a _______ thing.
Nothing is more important than family.
Kinship is life's greatest blessing.
New leaves, stronger roots.
Family is where life begins, and love never ends.
Making memories, breaking the distance.
Family ties are precious threads.
Family is a little bit crazy, a little bit loud, and a whole lot of love.
Reunited, and it feels so good.
Family is the love you bring and the memories you share.
Related by blood, bonded by love.
Family anchors us through the storms of life.
Family is the perfect balance between love and chaos.
We may not have it all together, but together we have it all.
Grown-up, but not apart.
Eat, drink, and be a ______.
We're more than a family–we're a legacy.
Top 25 funny family sayings and slogans
Why be normal when you can be a ______?
Crazy doesn't skip a generation.
Watch out. Here comes the ______ family.
Crazy is our maiden name.
Some of us were born into this family; others were crazy enough to join by choice.
We put the 'fun' in 'dysfunctional.
As far as everyone knows, we are a nice, normal family.
Crazy is a relative term in my family.
Just trying to relate to the people I'm related to.
Families are like fudge: mostly sweet, sometimes salty, and there's always a few nuts!
Home is where my favorite crazies are!
My family is temperamental. Half temper. Half mental.
Our family is one tent away from being a circus.
I smile because you're my family. I laugh because you can't do anything about it.
A family reunion is an effective form of birth control.
One reunion, many paths: Psychopaths, sociopaths, and more psychopaths.
We are like a Payday candy bar: a bunch of nuts stuck together.
We are the people our mom warned us about.
Buy me a beer, my family is here.
Accept it: my family is probably better than yours.
Official Survivor of the ______ Family Reunion.
Nine out of ten monkeys insist we're not their descendants.
There is no such thing as fun for the whole family.
We're family. Deal with it.
WTF: With the Family.
Top 25 inspirational family quotes
"Rejoice with your family in the beautiful land of life!" -Albert Einstein
"There is no doubt that it is around the family and the home that all the greatest virtues, the most dominating virtues of human, are created, strengthened and maintained." -Winston Churchill
"A family is a risky venture because the greater the love, the greater the loss. That's the trade-off. But I'll take it all." -Brad Pitt
"Other things may change us, but we start and end with the family." -Anthony Brandt
"You are born into your family, and your family is born into you. No returns. No exchanges." -Elizabeth Berg
"In family life, love is the oil that eases friction, the cement that binds closer together, and the music that brings harmony." -Friedrich Nietzsche
"The greatest moments in life are not concerned with selfish achievements, but rather with the things we do for the people we love and esteem." -Walt Disney
"Call it a clan, call it a network, call it a tribe, call it a family: Whatever you call it, whoever you are, you need one." -Jane Howard
"Family is the most important thing in the world." -Princess Diana
"You don't choose your family; they are God's gift to you, as you are to them." -Desmond Tutu
"Family is not an important thing. It's everything." -Michael J. Fox
"The family is one of nature's masterpieces." -George Santayana
"The only rock I know that stays steady, the only institution I know that works, is the family." -Lee Iacocca
"I sustain myself with the love of family." – Maya Angelou
"The strength of a family, like the strength of an army, is in its loyalty to each other." -Mario Puzo
"The memories we make with our family are everything." -Candace Cameron Bure
"When everything goes to hell, the people who stand by you without flinching–they are your family." -Jim Butcher
"Sticking with your family is what makes it a family." -Mitch Albom
"Life is beautiful. It's about giving. It's about family." -Walt Disney
"No family is sane, is it?" -Rebecca Hall
"Never forget where you came from, lest you lose sight of where you're going." -Melissa Joy
"It doesn't matter how great your house is, it matters that there's love in it."
"Family faces are magic mirrors. Looking at people who belong to us, we see the past, present, and future." -Gail Lumet Buckley
"In every conceivable manner, the family is link to our past, bridge to our future." – Alex Haley
"Call it a clan, call it a network, call it a tribe, call it a family. Whatever you call it, whoever you are, you need one."
Top 25 funny family quotes
"After a good dinner one can forgive anybody, even one's own relations." -Oscar Wilde
"Happiness is having a large, loving, caring, close-knit family in another city." -George Burns
"If you don't believe in ghosts, you've never been to a family reunion." -Ashleigh Brilliant
"If you cannot get rid of the family skeleton, you may as well make it dance." -George Bernard Shaw
"I keep telling myself that my relatives have redeeming qualities. Now I just need to find them."
"The reason grandparents and grandchildren get along so well is a common enemy."
"A dysfunctional family is any family with more than one person."
"Blood is thicker than water, but booze tastes a whole lot better than both."
"One of us has to be the mature one. We just haven't figured out who that is yet."
"The family is the nucleus of civilization. Looking at us, that's probably where we went wrong."
"Family reunions would be great if they weren't crawling with aunts."
"The other night I ate at a real nice family restaurant. Every table had an argument going." -George Carlin
"There is no such thing as fun for the whole family." -Jerry Seinfeld
"Insanity runs in my family. It practically gallops." -Cary Grant
"Family: A social unit where the father is concerned with parking space, the children with outer space, and the mother with closet space." -Evan Esar
"Maybe there is no actual place called hell. Maybe hell is just having to listen to our grandparents breathe through their noses when they're eating sandwiches." -Jim Carrey
"Obviously, if I was serious about having a relationship with someone long-term, the last people I would introduce him to would be my family." -Chelsea Handler
"I don't have to look up my family tree because I know that I'm the sap." -Fred Allen
"I realized my family was funny, because nobody ever wanted to leave our house." -Anthony Anderson
"Some family trees bear and an enormous crop of nuts." -Wayne Huizenga
"As a child my family's menu consisted of two choices: take it or leave it." -Buddy Hackett
"Family ties mean that no matter how much you might want to run from your family, you can't."
"In some families, 'please' is described as the magic word. In our house, however, it was 'sorry.'" – Margaret Laurence
"A family is a unit composed not only of children but of men, women, an occasional animal, and the common cold." -Ogden Nash
"Always be nice to your children because they are the ones who will choose your rest home." -Phyllis Diller
Design yours today
Now that your mind is full of ideas, it's time to design your own family reunion shirt that everyone will love. Start from scratch, or start from a template. Our Design Studio makes it easy to choose your product, create your design, and place your order. All we ask is you invite us to the cookout.

Imri Merritt
About the Author
A graduate of the Multimedia program at the University of the Arts in Philadelphia, Imri Merritt is an industry veteran with over 20 years of graphic design and color separations experience in the screen printing industry.