APPAREL
The Complete Guide to Comfort Colors Shirts
Design Custom Gear
Personalize a custom t-shirt with our easy-to-use Design Studio
Start Designing
Do you have a favorite T-shirt with a worn-in softness, a faded natural color, and a relaxed fit that's familiar like an old friend? Imagine those same qualities in a fresh new shirt. That's the essential idea of Comfort Colors.
This article gives you everything you need to know about the brand that pioneered garment dyeing and the comfort/soft-washed style. Plus, we answer the FAQs and give you our product recommendations for creating custom Comfort Color shirts.
What is Comfort Colors?
Comfort Colors is one of the top T-shirt brands and has been an industry leader in blank apparel for over four decades. Their high-quality clothing items are garment-dyed with colors inspired by nature, with a relaxed fit and a soft, lived-in feel from the first time you wear them.
The style vs. the brand
The distinctive look and feel of Comfort Colors have become so popular over the years–especially among college students–that it's become an established style, with a handful of imitators adopting their manufacturing techniques and color palate.
Since Comfort Colors is a trademarked name, competing T-shirt brands must use their own language to describe the style. You might see the term "wash" combined with comfort, beach, soft, etc. For loyal fans, nothing beats the original, and they turn to the company that almost single-handedly perfected the garment-dyeing process.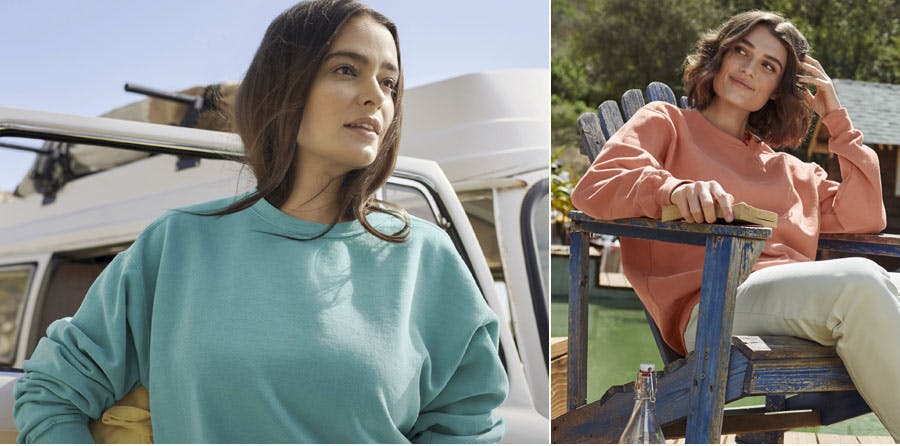 The company
Since its foundation, Comfort Colors has spearheaded the development of industry-leading dyeing techniques to produce their distinctive line of T-shirts, tank tops, hoodies, and more.
Beyond their innovative dyeing process, Comfort Colors design their garments for comfort and build them to last. Their clothing is known for exceptional construction, softness, and durability, using only high-quality, USA-grown ring-spun cotton.
The history
It was the late 70s in rural Vermont when Barry T. Chouinard launched his first collection of dyed garments with 75 and an old washing machine. By 1980, revenue had reached million, and he knew he was onto something.
In 1995, he began marketing products under the Comfort Colors name, introducing the industry's first garment-dyed, ring-spun cotton T-shirts and establishing the brand as a major player in the growing custom apparel market.
After overseeing 40 years of innovation and growth, Mr. Chouinard sold his company to Gildan in 2015 for a whopping 00 million. Now that's living in comfort.
Gildan & Comfort Colors
The Gildan Company's acquisition of Comfort Colors only strengthened the brand; today, it's one of the premier brands in the Gildan family.
By leveraging its technology, facilities, and massive distribution network while retaining the quality of the manufacturing and dyeing techniques, Gildan has positioned Comfort Colors for continued growth and popularity.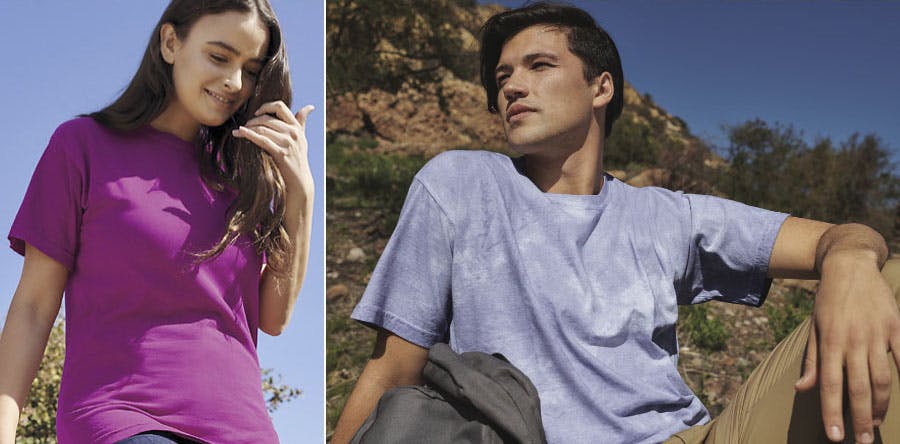 The Comfort Colors look and feel
The combination of garment dyeing and washing creates the distinctive soft and weathered look and feel of Comfort Colors apparel. Variations in these techniques provide a variety of unique characteristics that make this clothing so beloved. Here's how it works.
Garment dyeing
Dyeing the fabric after the item has been constructed is called garment dyeing. This method produces slight variations in color that are unique to the item, as opposed to traditional piece-dyeing, in which the fabric is pre-dyed, resulting in uniform color.
There are three primary dyeing techniques pioneered by Comfort Colors:
Pigment dyeing
Also called pigment washing, this process uses pigments rather than standard dyes for a distinctive vintage, washed-out look that slowly fades over time. Rather than a dye that soaks deep into the fibers, pigments attach to the fabric's surface with a binding agent.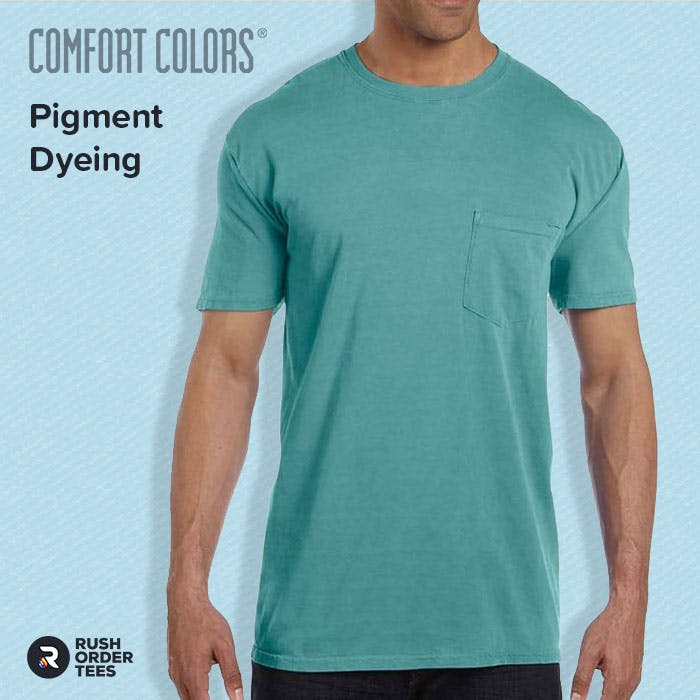 Comfort Colors calls itself the original pigment dye company and has developed a method to be more eco-friendly.
Example product: Comfort Colors Heavyweight T-Shirt - Style: C1717
Direct/reactive colors
This technique uses soluble organic dyes that absorb deep into the fabric, using a soaking or chemical reaction process that produces vibrant hues and reliable color-fastness. The result is a more saturated, consistent color that will last throughout the life of the garment.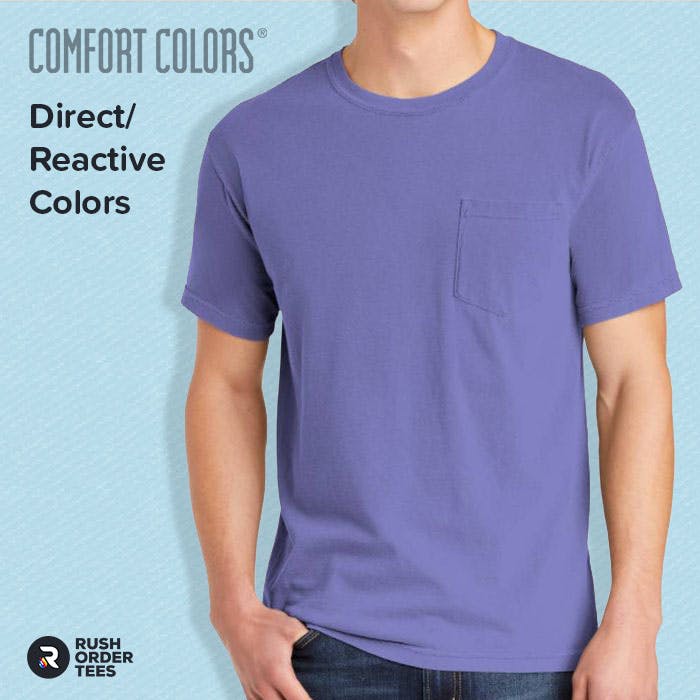 Comfort Colors use this technique to produce a variety of bright, rich, and pastel colors that stay consistent through future washes.
Example product: Comfort Colors Crewneck Sweatshirt - Style: 1566
Pigment spraying
The newest technique involves spraying dye onto a garment instead of immersing it in a dye bath. Every garment has unique patterns and textures because of the wide range of color concentrations. The results are a randomized tie-dye look, like a hippy accident.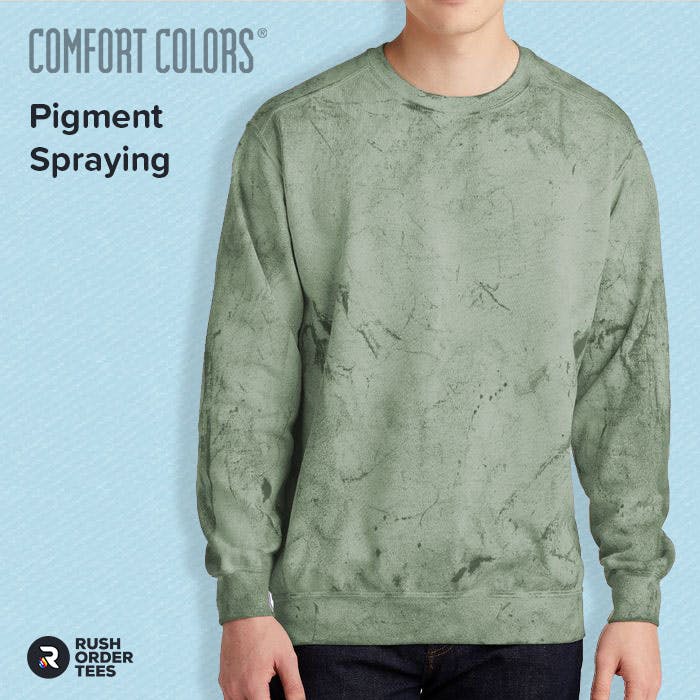 Comfort Colors call their proprietary technique "Color Blast." Currently offered in six colors, with more on the way as the style gains popularity. Example product: Comfort Colors Color-Blast T-Shirt - Style: 1745
What is garment-washed?
Garment washed means that it's been pre-washed after construction. Often multiple times to give it a relaxed, lived-in look and feel. Typically, it's garment-washed cotton items, but it also works for cotton/polyester blends.
There is an array of different techniques for garment washing, and the most popular include using enzymes (enzyme-washed), pigments (pigment-washed), chloride (acid wash), and even volcano rocks (stone wash).
Comfort Colors product spotlights
Below are four of the most popular Comfort Colors products we recommend, including photos modeled by actual employees to show each item's fit and special features.
Adult Heavyweight T-shirt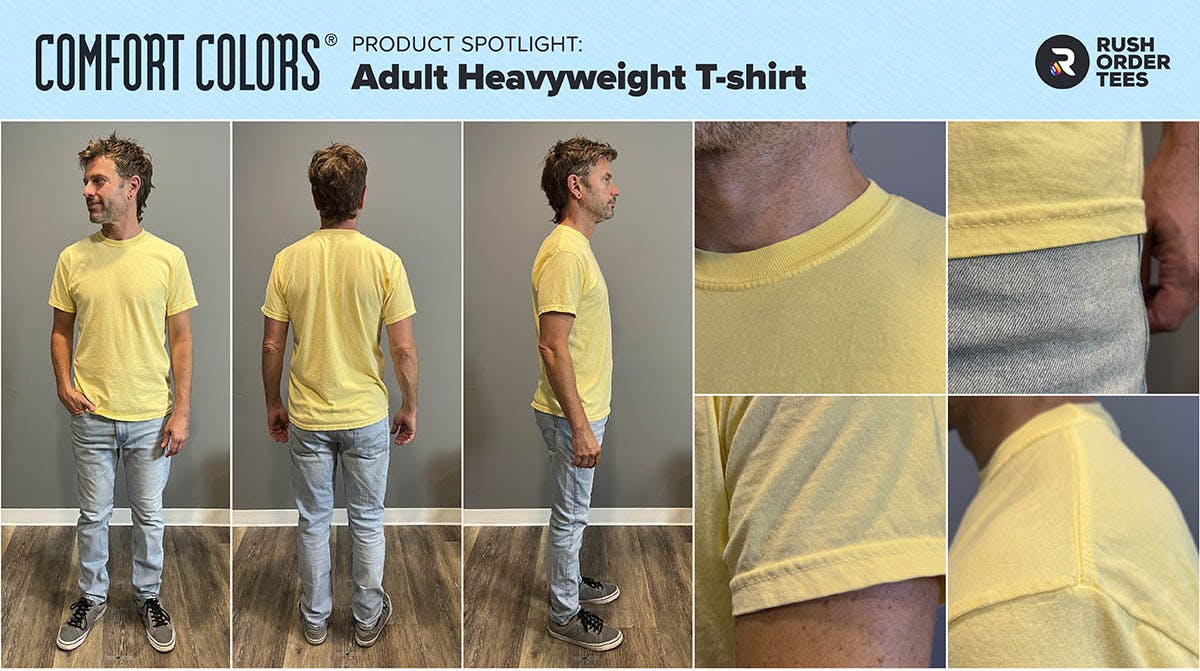 Style# 1717   |   Colors available: 81   |   Color shown: Butter   |   Dye: Pigment   
Sizing: Unisex adult S-4XL   |   Size shown: Medium   |   Model height: 6′
Fabric: 6.1 oz., 100% ringspun cotton, pre-shrunk, soft-washed, garment-dyed.
Features: Twill taped shoulder-to-shoulder, set-in sleeves, double-needle stitched sleeves and bottom hem, 1″ ribbed collar with a double-fold and double-needle top-stitched neckline.
Heavyweight Long-Sleeve T-shirt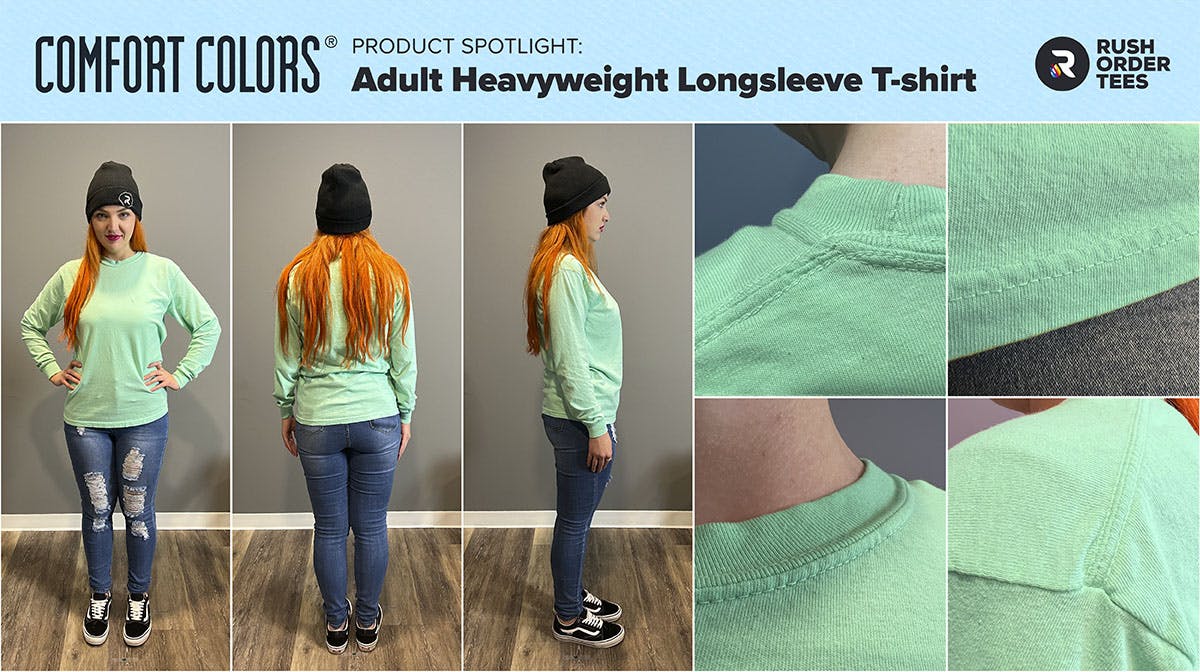 Style# 6014   |    Colors available: 55   |   Color shown: Island Reef   |   Dye: Direct/Reactive
Sizing: Unisex adult S-3XL   |   Size shown: Medium   |   Model height: 5'11'
Fabric: 6.1 oz., 100% ringspun cotton, Preshrunk, soft-washed, garment-dyed.
Features: Twill taped shoulder-to-shoulder, double-fold and double-needle stitched neck, armholes and bottom hem, ribbed collar, and cuffs. Made with sustainably and fairly grown USA cotton and sewn with USA cotton thread.
Heavyweight Tank Top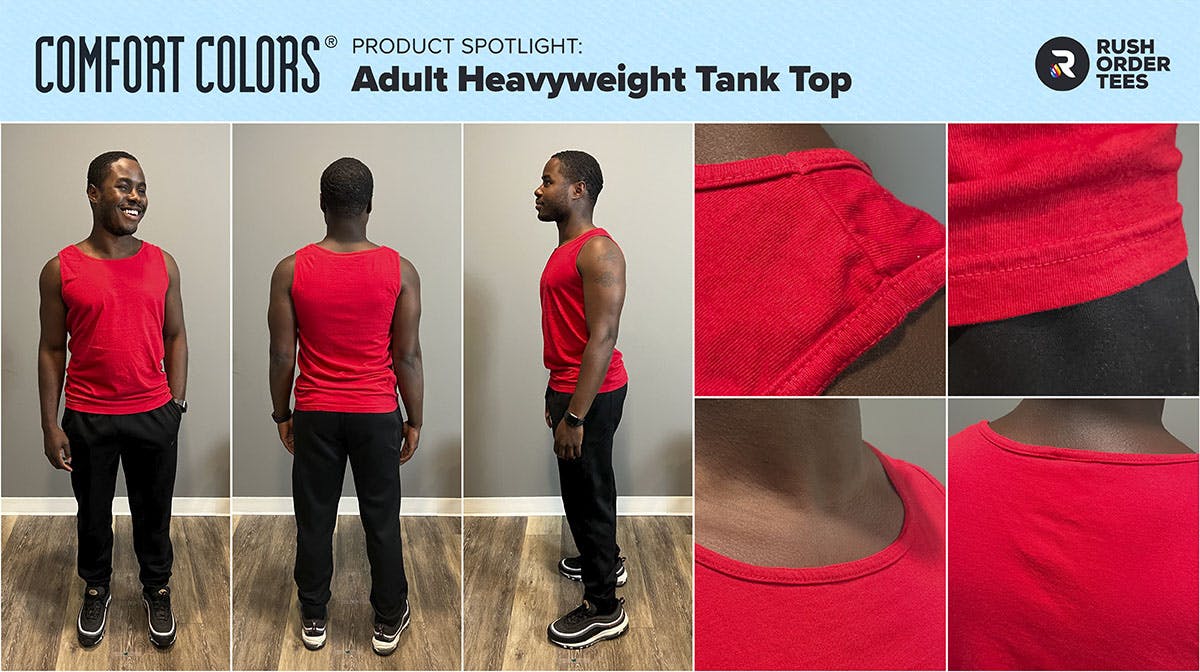 Style# 9360   |   Colors available: 47   |   Color shown: Red   |   Dye: Direct/Reactive
Sizing: Unisex adult S-3XL   |   Size shown: Small   |   Model height: 5'8″
Fabric: 6.1 oz., 100% ringspun cotton, pre-shrunk, soft-washed, garment-dyed.
Features: Double-needle stitched bottom hem, self-bound neck, and armhole trim. Made with sustainably and fairly grown USA cotton and sewn with USA cotton thread.
Adult Crewneck Sweatshirt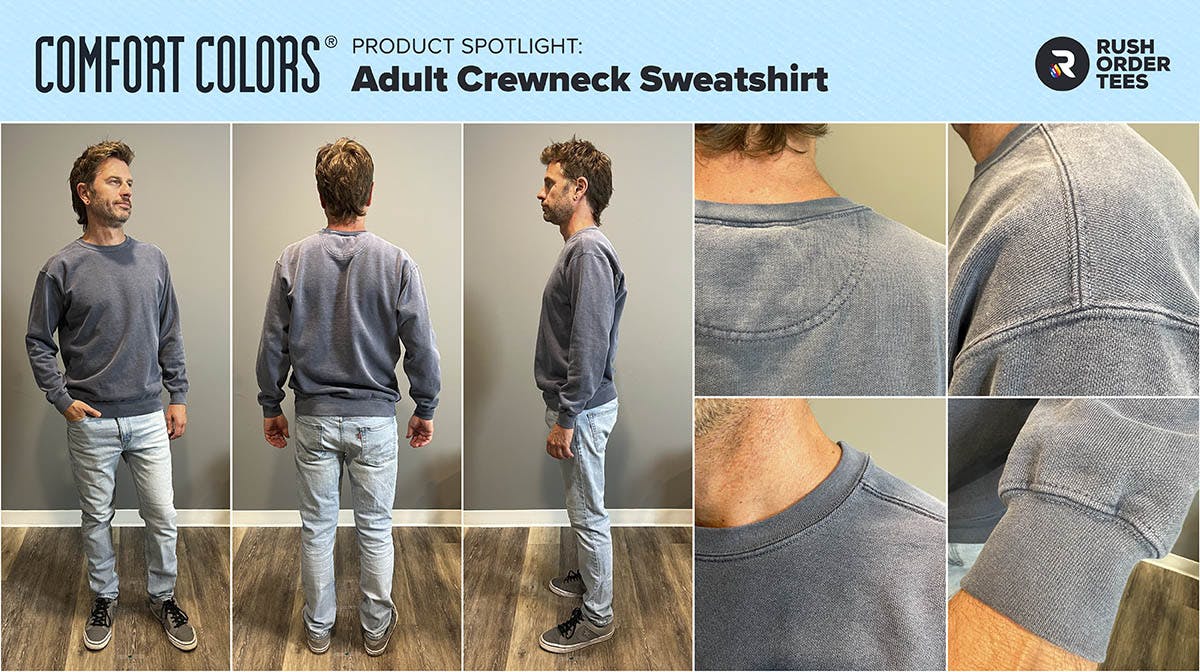 Style# 1566   |   Colors available: 35    |   Color shown: Denim   |   Dye: Pigment
Sizing: Unisex adult S-2XL   |   Size shown: Medium   |   Model height: 6′
Fabric: 9.5 oz., 80% ringspun cotton, 20% polyester, pre-shrunk, soft-washed, garment-dyed.
Features: Set-in sleeves, side-seamed body, forward rolled shoulder, double-fold neckline, 1×1 rib on collar, cuffs, relaxed waistband, double-needle stitched. Made with 80% sustainably and fairly grown USA cotton and sewn with USA cotton thread.
Comfort Colors Fit
Comfort Colors apparel has a relaxed fit compared to other brands. That means slightly oversized, especially compared to fashion fit/slim fit T-shirts.
They offer some "semi-fitted" items (mostly in the ladies' styles) and some "classic fit" items, which are even roomier than "relaxed fit." Check the product description for each garment.

Comfort Colors size chart
This sizing chart shows the exact dimension for each of the various Comfort Colors products.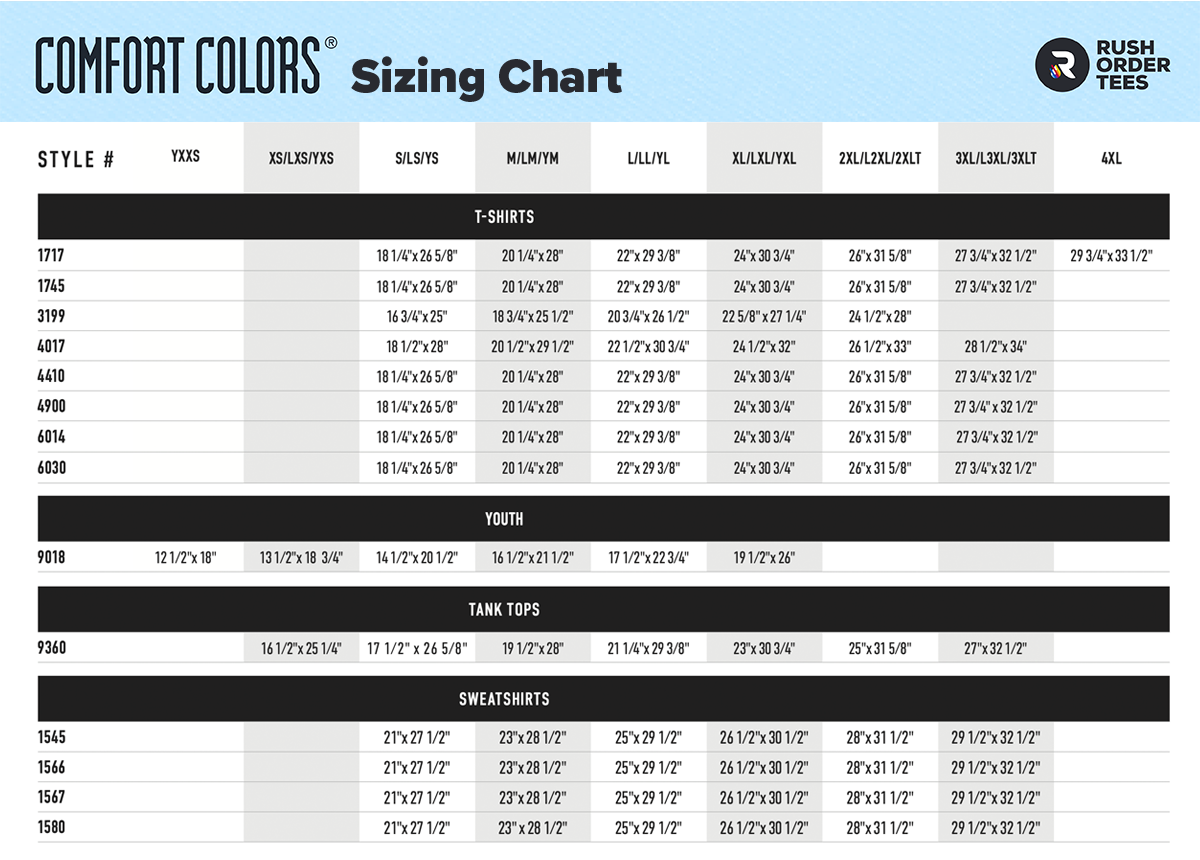 Comfort Colors color chart
This chart shows the full palate of the Comfort Colors brand, totaling 82 colors. Each of the swatches is a close-up photo of the dyed garment.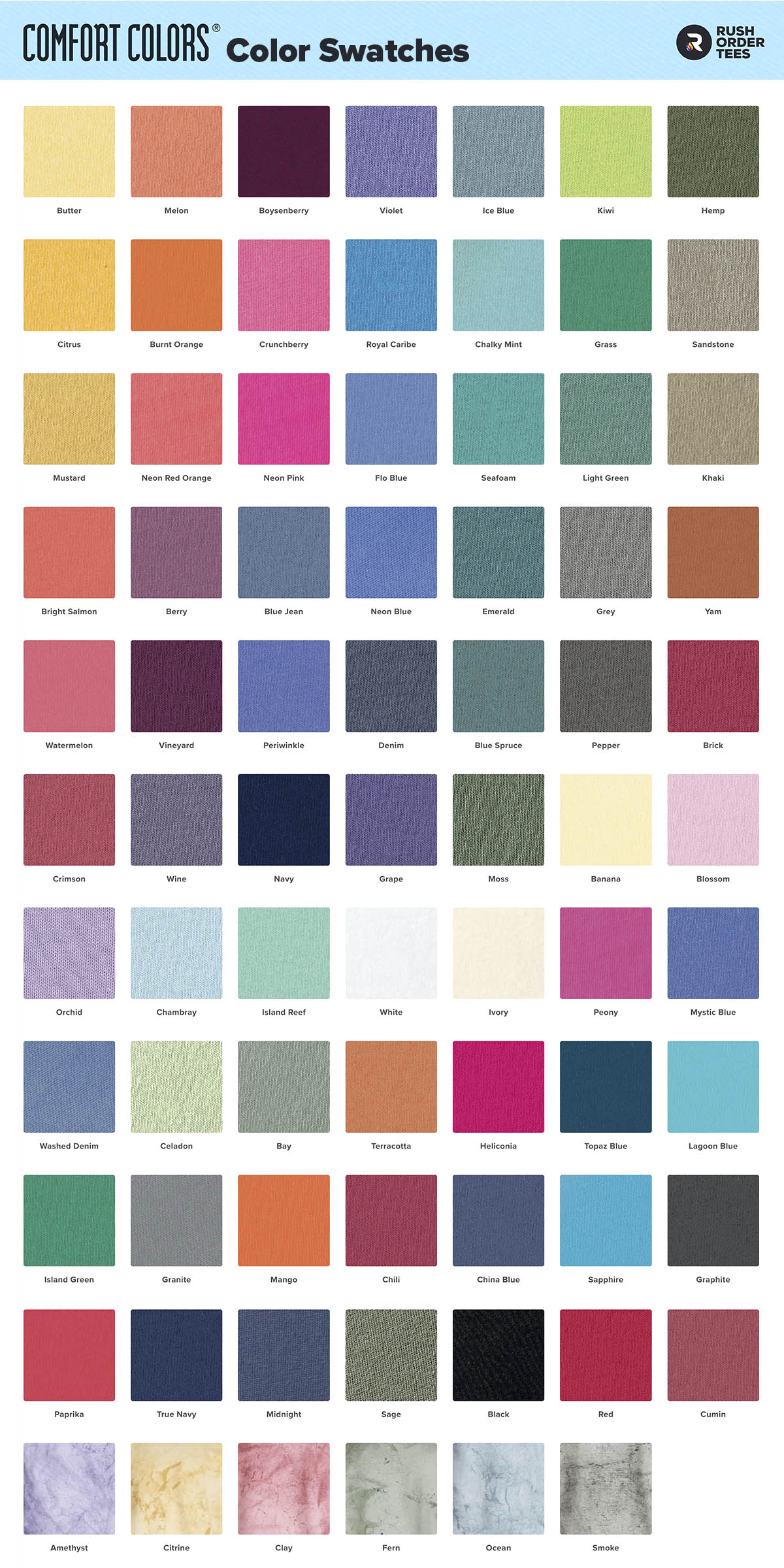 View pigment dye colors only   |   View direct/reactive colors only
Comfort Colors product color chart
This chart shows exactly which colors are available for each of the various Comfort Colors products.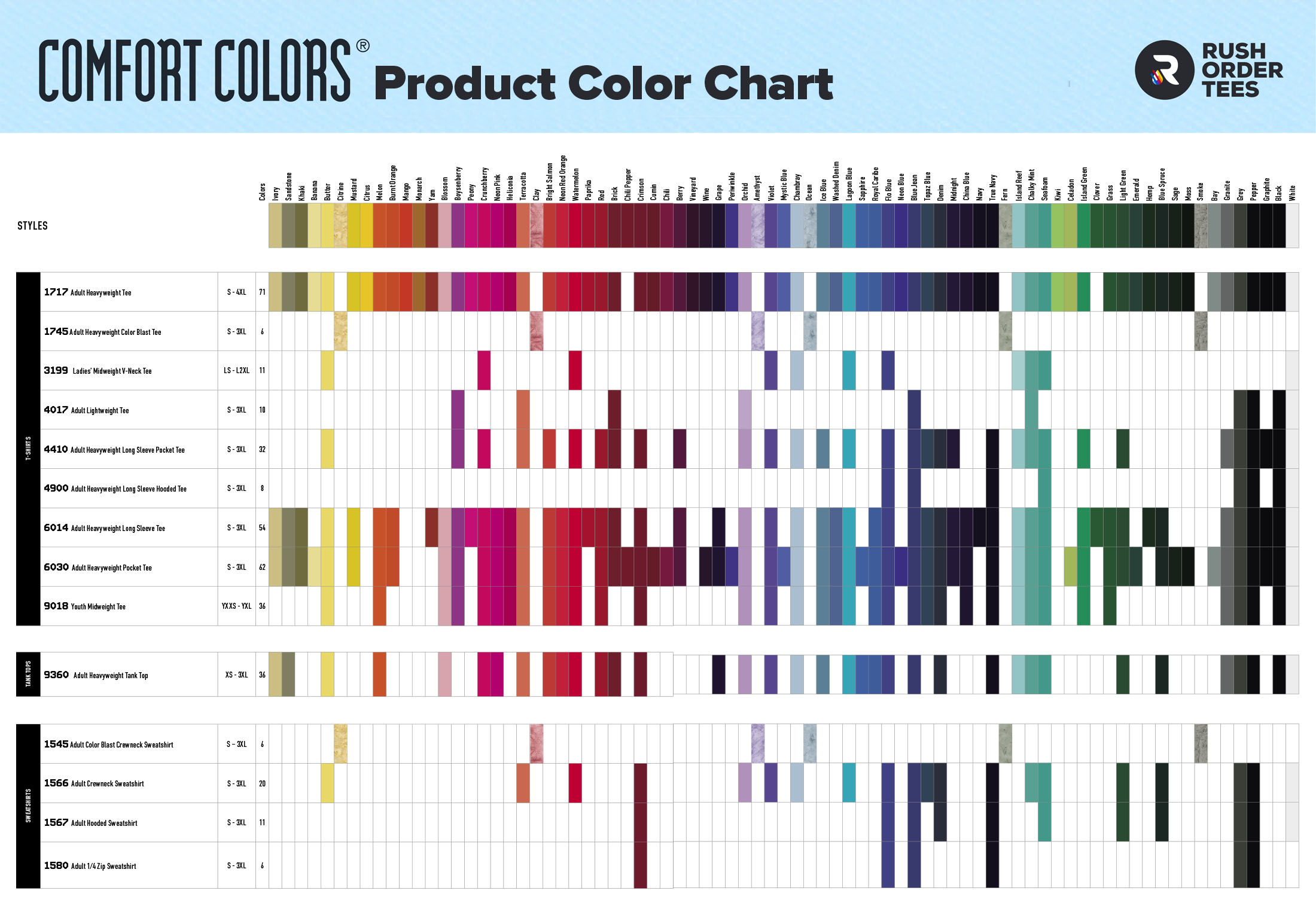 How to wash Custom Colors shirts
The important thing to know is that direct/reactive dyed items will be more colorfast than their pigment-dyed counterparts. They are more resilient to harsh detergents and hot water washes.
The colors of pigment-dyed apparel will fade slightly over ‌multiple washes, which is one quality people like. You could say it's more wishy-washy. But both styles will become even softer‌.
Avoid using bleach, harsh detergents, and hot water. Turn the garment inside-out for best results, and use cold water wash with mild detergent. Read more about washing and drying tips and stain removal hacks.
Customized Comfort Colors t-shirts made easy
Now that you better understand the brand and the products, it's time to create your own customized super-soft, garment-dyed apparel. They make these shirts to last, so your printed shirts can bring you joy and memories for years to come.
Just like Comfort Colors has perfected its process, here at RushOrderTees, we have as well, with 20 years of experience, making it easy as possible for you to create your own custom apparel. Jump into our Design Studio and start now.
Comfort Colors FAQs
Are Custom Colors high quality?
Yes. Comfort Colors is recognized for durable, high-quality clothing and features extras like multi-needle waistbands, durable double-needle seams, and double-fold collars. Although considered a premium brand, Comfort Colors apparel is affordable for customizing.
What material are Comfort Colors made from?
Most garments are made with USA-grown, ring-spun cotton, but some Comfort Colors products are fabricated in a cotton/polyester blend. Most fabric weight is heavy, with some products being mid-weight.
How many colors are available?
Comfort Colors offers over 82 nature-inspired fabric colors to choose from. But not all garments have every color available (see color chart graphic).
What brands are similar?
ComfortWash by Hanes, Inspired Dye by Next Level, Beach Wash by Port & Company, and Garment Dyed by Champion are the closest competitors. Still, no other company making clothing in this category rivals Comfort Colors apparel's craftsmanship and fabric quality.
Is Comfort Colors apparel made in the USA?
Most of Comfort Colors' manufacturing process occurs in the United States, but some are performed overseas. All of their cotton fabric is USA-grown, including the thread; however, most items are constructed overseas and then dyed in the USA.
Is Custom Colors environmentally friendly?
Yes. Comfort Colors and their parent company, Gildan, are industry leaders in developing environmentally friendly manufacturing techniques. Their proprietary Clean Pigment Dyeing process (CPD) improves efficiency and sustainability by eliminating waste and reducing environmental impact. CPD uses 3x less water and 4x less energy.
Does Comfort Colors apparel run big or small?
Most garments run slightly larger/roomier than a typical T-shirt and especially larger than anything "fashion fit" or "slim fit," but should not be considered "oversized." Some ladies' Comfort Colors styles are semi-fitted, but all other items are "relaxed fit" or "classic fit."
Does Comfort Colors apparel shrink?
No. At least not any more than comparable cotton apparel. Comfort Colors are pre-shrunk, so if machine washing cool and drying at low-temp, the shirts should not shrink at all.
Do you have any Comfort Colors items not found in your catalog?
Yes, we can order many other Comfort Colors styles. The items featured in our catalog are the most popular and readily available. There may be limited stock in certain products because of supply chain issues, in which case we will work with you to make the closest substitution.
About the Author
A graduate of the Multimedia program at the University of the Arts in Philadelphia, Imri Merritt is an industry veteran with over 20 years of graphic design and color separations experience in the screen printing industry.