Design Custom Gear
Personalize a custom t-shirt with our easy-to-use Design Studio
Start Designing
6 Logo Placement Options for Safety Vests
Safety is the most important factor in workwear, but there's also a great branding opportunity. Customizing safety vests can be more challenging than other types of apparel. This article covers six common logo placement options for various types of safety vests, along with design tips and examples.
Features of an effective custom safety vest
Safety vests with a company logo convey professionalism, build team spirit, and promote your brand. Some basic knowledge and thoughtful design will help you overcome challenges like odd print locations, visibility on bright colors, and OSHA requirements Here are the keys to an effective custom safety vest:
Simple, clean logo - No details or small type that can get lost
Strategic print placement - Logo sized and positioned for its location
Large, bold text - Plain font that is legible from a distance
High-contrast colors - Black on bright colors, white on dark colors
Minimal coverage - Allows high-vis materials to show through
Safety wear standards - Adheres to all regulations
Bonus points - Labeled with custom employee names
Logo placement options
Safety vests come in a variety of styles and safety classes. Each kind is designed differently, with advantages and limitations regarding print size and location, so be strategic when designing your customization. Below are examples of the six top logo placement options and secondary locations.
1. Left chest
The left chest is the standard print area for a logo. Positioned in the front at eye level, it conveys professionalism and authority. The one drawback is the small print size. It's easy to lose detail. On safety vests, the print area can be smaller than normal and obstructed by striping or a pocket.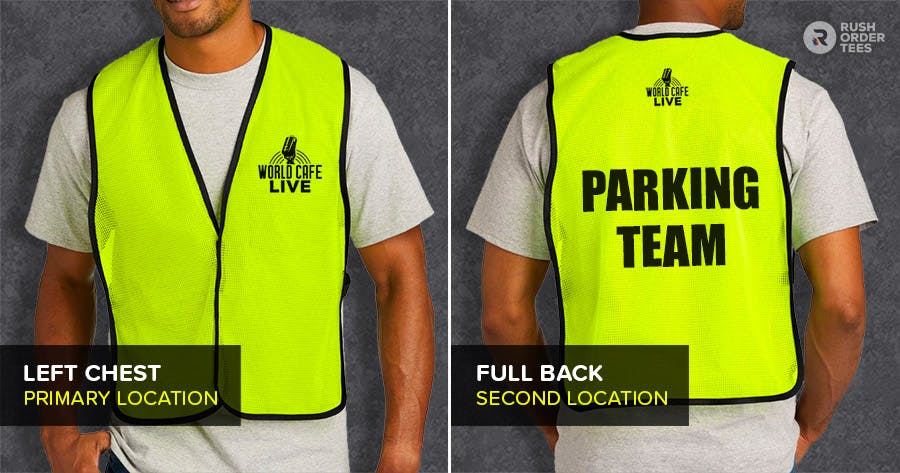 Product featured: CornerStone Enhanced Visibility Mesh Safety Vest - Style CSV01
2. Lower left hip
The lower left waist area is an alternative to a left chest placement when reflective striping or a pocket is in the way. A standard center chest or full front print is rare on vests because of the front zipper, and we don't recommend it. This is the second-best option when you require a front print on a safety vest.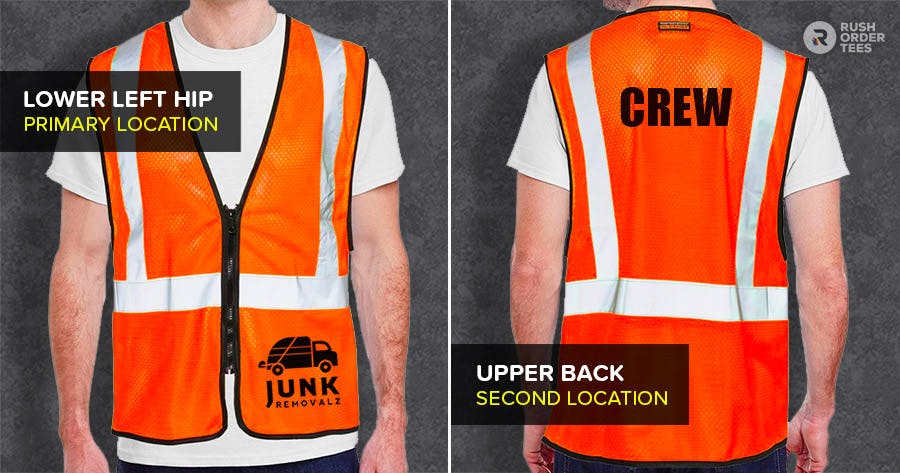 Product featured: Kishigo Enhanced Visibility 3 Pocket Mesh Vest - Style: B150-156
3. On pocket
The pocket is a common placement option for safety vests, as many have multiple pockets. This can work well for a simple, bold logo. Certain pocketed vests can be challenging to customize because of complications dealing with materials and construction. For those cases, we recommend custom patches.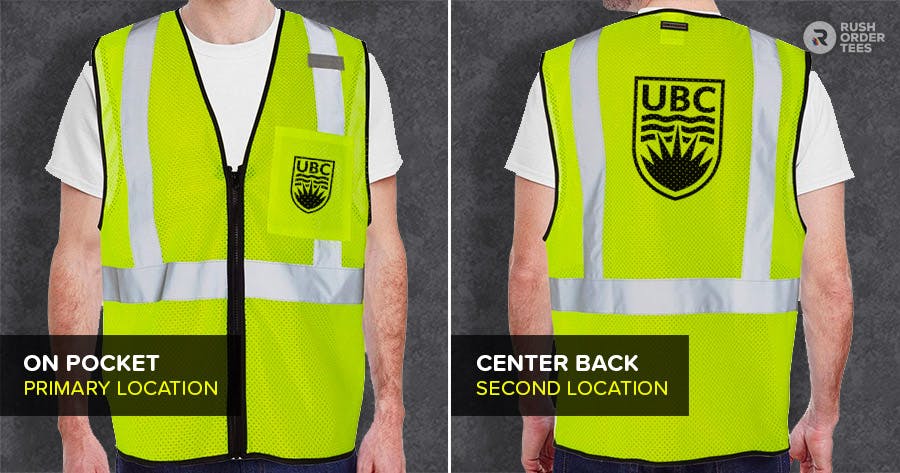 Product featured: Kishigo Class 2 Single Pocket Safety Vest  - Style 1519-1520
4. Upper back
The upper back is another standard placement option for logos, although it's often used for large text. For vests, that could be the name of the work crew, team member, or a safety message. The print area may be reduced due to reflective striping, so modify your logo or message to fit in the space easily.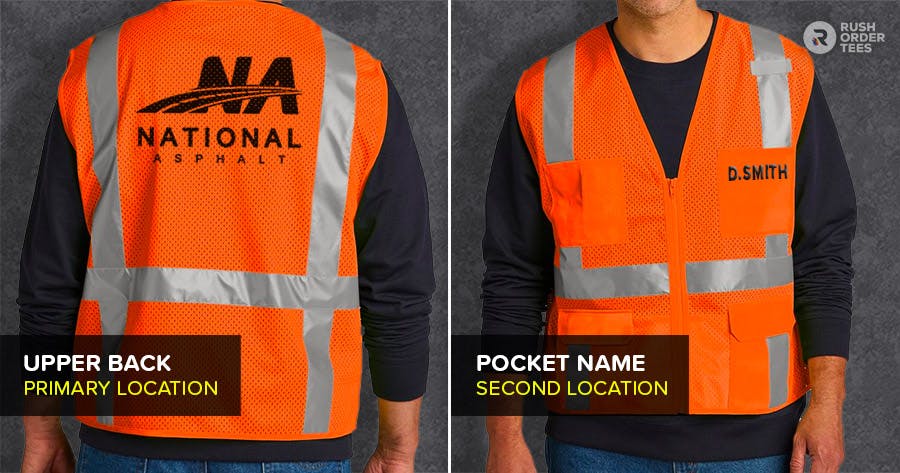 Product featured: CornerStone Class 2 Mesh Six-Pocket Zippered Safety Vest - Style CSV104
5. Lower back
The lower back is an alternative to the upper back when there is a reduced print area due to the construction of the safety vest. Although it has slightly less visibility due to being lower than eye level, this area is usually large enough to accommodate a logo or a message in bold text.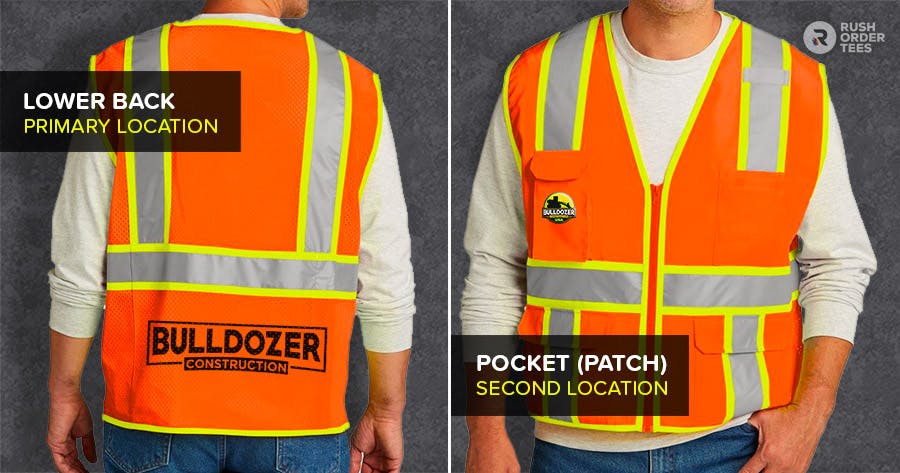 Product featured: CornerStone Class 2 Surveyor Zippered Two-Tone Safety Vest - Style CSV105
6. Sleeve
The sleeve is a less common logo placement for safety vests since most do not have sleeves. However, all Class 3 vests must have sleeves, which is a great option for this type. Again, simple and bold logos work best. You can also use it for your team name or any additional information. More about sleeve design.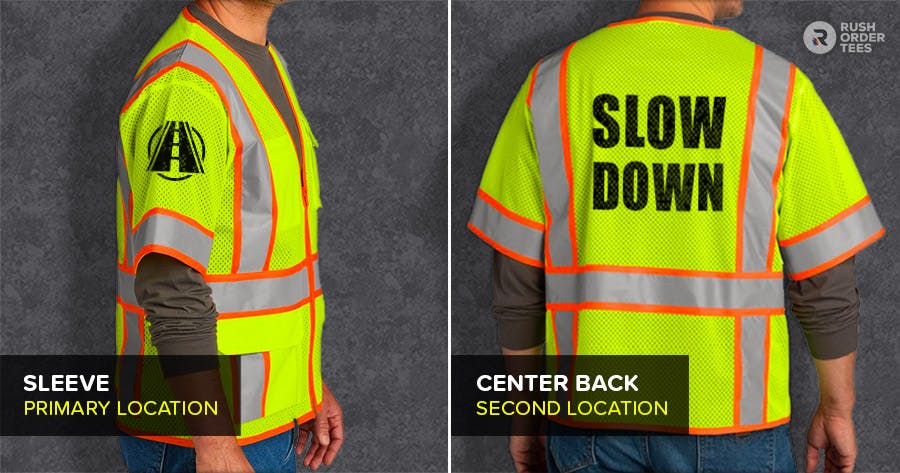 Product featured: CornerStone Class 3 Surveyor Mesh Zippered Two-Tone Safety Vest - Style CSV106
Safety vest design tips
All safety gear has particular considerations when it comes to customizing, and vests are no exception. Follow these general tips below to ensure your design is outstanding and effective.
Simplify your logo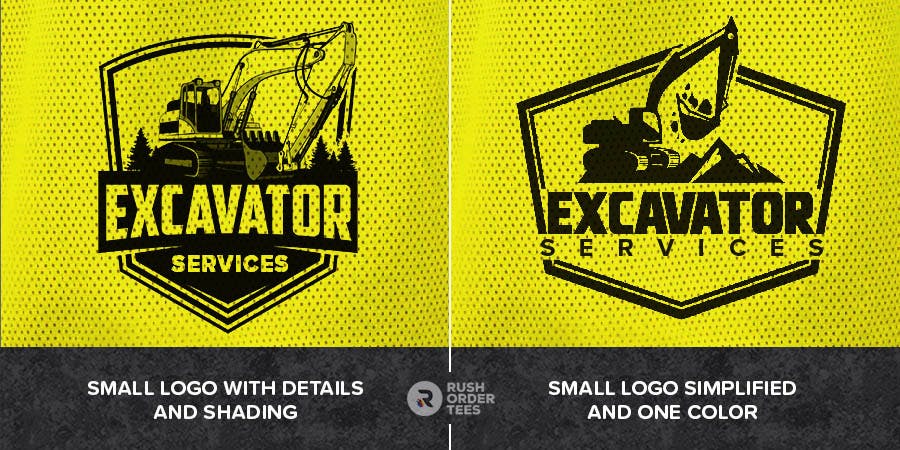 Most logos need to be simplified for printing, and that's especially true for safety vests. You want it to be clean and clear as possible, so reduce or remove details and fine lines and omit any unnecessary small type. It can also make sense to have the logo dimensions reconfigured to fit into the print area.
Choose the right fonts
Certain fonts work much better than others, especially when printed on safety workwear. Generally, you want to stick with "san-serif" or "block" fonts that are clean, simple, and bold– especially for large text across the upper back that needs to be read from a distance. Use uppercase for extra impact.
Consider the material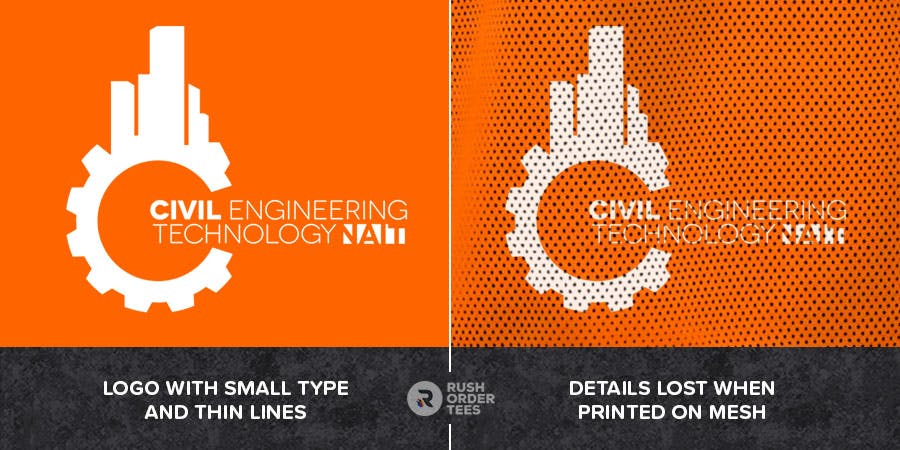 Most safety vests are made with 100% synthetic material of different kinds. They are often a mesh weave or athletic jersey-type material with holes to keep workers cool. The holes in the fabric can sometimes cause detail loss in smaller logos–another good reason to keep your design simple or use patches.
Follow OSHA requirements
It's important to know the ANSI guidelines for safety wear as enforced by OSHA. These regulations cover everything from colors to coverage and the percentage of reflective material. For example, safety vests compliance requires the entire printed area to be no more than 72 inches and both the front and back of the vests to have at least 40% of the required hi-vis material showing.
Use one high-contrast color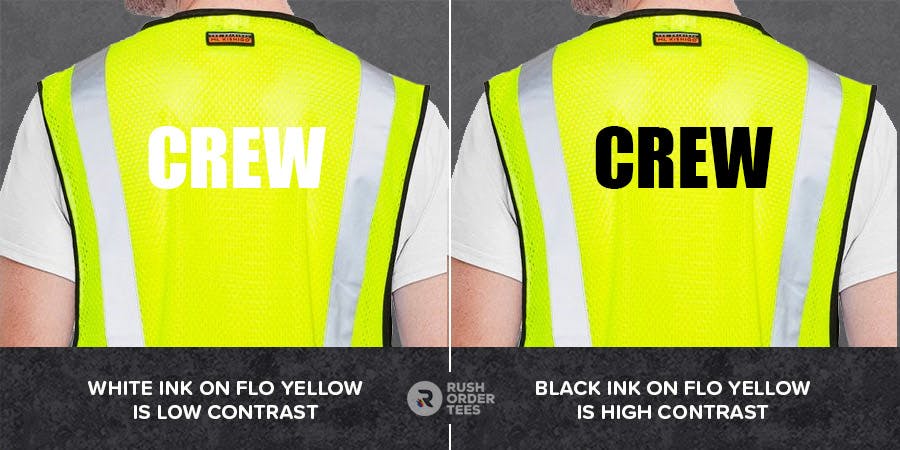 Most safety vests are printed with a single color, usually black for safety colors (yellow, orange, or green). Some vests are black or dark blue, and in those cases, use white ink. The idea is to achieve the highest contrast possible for visibility. Reflective vinyl is also an option.
Keep it professional - no nonsense
Worker safety is serious business. While it doesn't hurt to have a sense of humor on the job, for printed safety vests, we recommend being straightforward and non-nonsense with your design. It's best to avoid whimsical fonts or silly graphics and messages that could set the wrong tone for a work area.
Upload a quality graphic file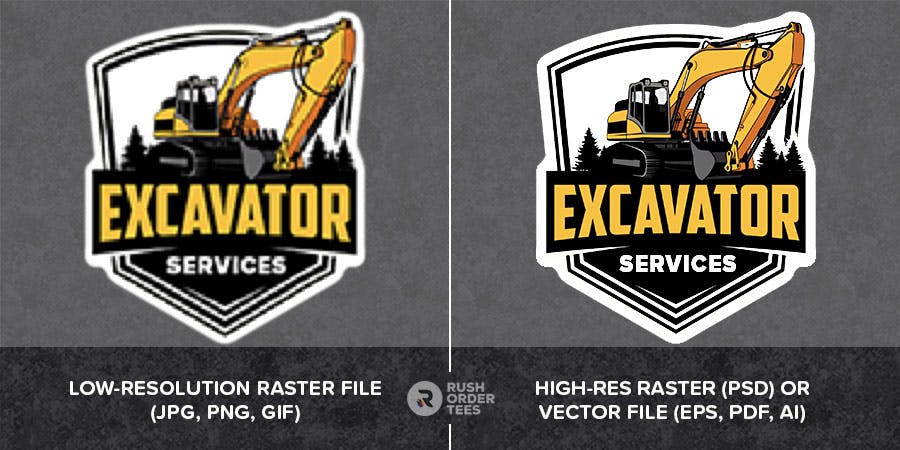 Vector graphics (AI, EPS, PDF) are the highest quality for printing, followed by high-resolution raster images (PSD, PNG, JPG). For the reasons already mentioned, it's important to provide the best quality file to your printer to achieve the best results. Read more about the best file types to submit.
Success with branded safety vests
Safety vests offer a great branding opportunity for companies; just be aware of the unique design challenges. Consider these logo placement options and design tips we covered to help create branded safety wear that promotes your company while keeping your workers safe.
About the Author
A graduate of the Multimedia program at the University of the Arts in Philadelphia, Imri Merritt is an industry veteran with over 20 years of graphic design and color separations experience in the screen printing industry.