Design Custom Gear
Personalize a custom t-shirt with our easy-to-use Design Studio
Start Designing
The baseball hat is the most popular hat type in the world. From its humble beginnings as part of traditional baseball uniforms, the baseball hat has become a cultural mainstay and has grown to become a popular fashion accessory. With an almost unlimited number of style choices, it's tough to decide which type of baseball cap is the best for you.
That's where we come in. We've assembled this guide to summarize the top 5 types of baseball hats, explain the characteristics of each and make recommendations on how to best customize them. Let's… play ball!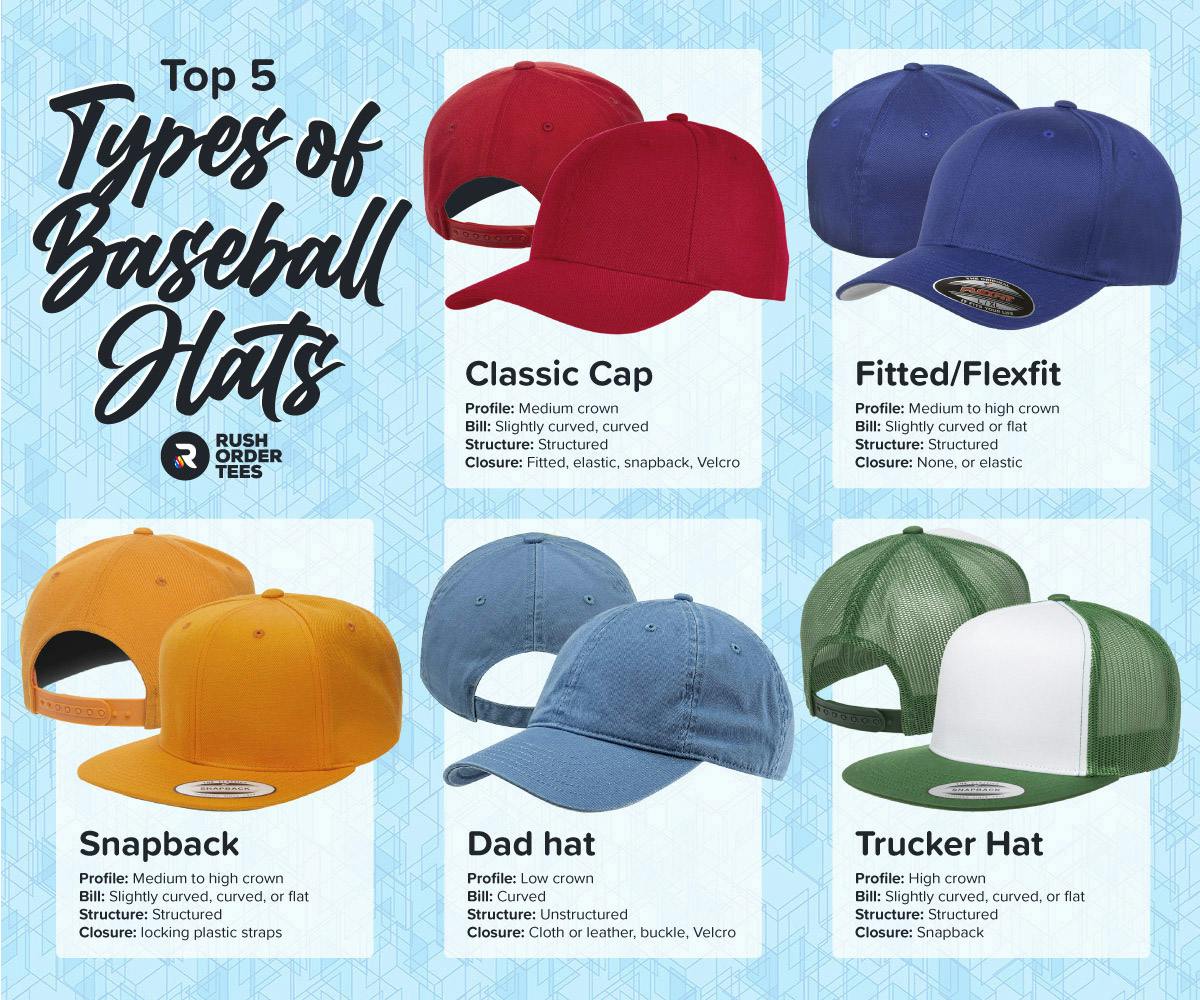 Types of baseball hats
There are almost unlimited baseball hat styles, but they generally fall into five broad categories. Each category has a combination of common characteristics based on style and construction. Below is a closer look at the top five types of baseball hats, organized by their defining trait and common characteristics listed, along with recommendations from our catalog.
Modern classic baseball cap
This category is a catch-all for the vast majority of baseball hats sold. Although a "dad hat" is closer to the true classic (the old-timey baseball cap, before they were structured), when people today picture a baseball hat, this is what they think of.
Profile: Medium crown
Bill: Slightly curved
Structure: Structured
Closure: Fitted, elastic (Flexfit), snapback, Velcro
Fitted/Flexfit hat
Fitted baseball hats have no closure, come in various sizes, and you will need your head measurement (use a tape measure or string around the circumference, just above the brow). Flexfit changed the game with a patented elastic band sewn in the back of the cap, making it a ]one size fits most' although they typically come in S/M or L/XL.
Profile: Medium to high crown
Bill: slightly curved or flat
Structure: Structured
Closure: none or elastic
Snapback hat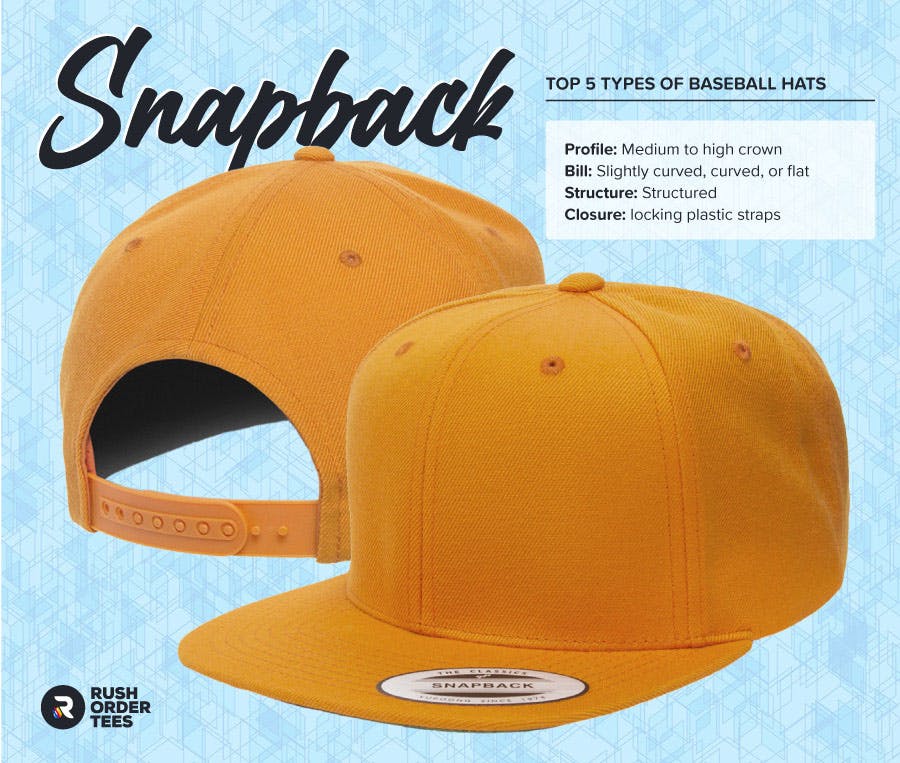 Snapback baseball caps are hugely popular and refer to just about any hat with the classic plastic closure that snaps into place, creating an adjustable fit for any size head. So within this category, there can be many styles and other characteristics, with the common denominator being this closure.
Profile: medium to high
Bill: curved, slightly curved, flat
Structure: structured
Closure: plastic
Dad hat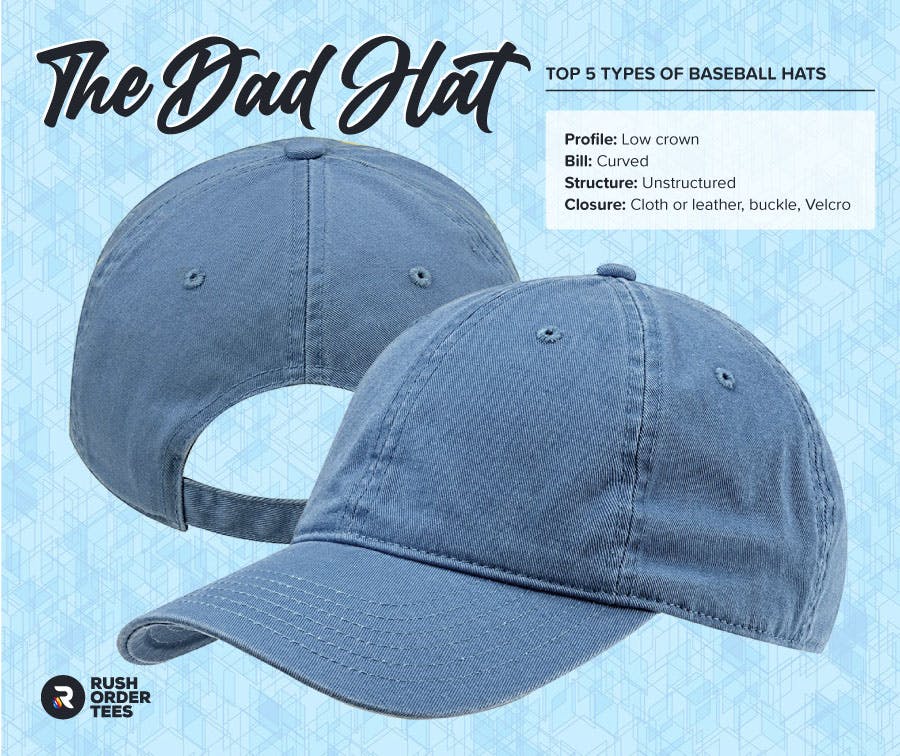 Dad hats have been all the rage for a few years now. People love the soft, casual feel, low-profile shape, and vintage look. The typical dad hat is made of cotton, denim, or twill and often comes in natural or faded, garment-washed colors. A distressed effect adds to the worn-in appearance, like your favorite cap you've had for years.
Profile: Low crown
Bill: Curved
Structure: Unstructured
Closure: Cloth or leather w/ buckle, Velcro, plastic clip
Trucker hat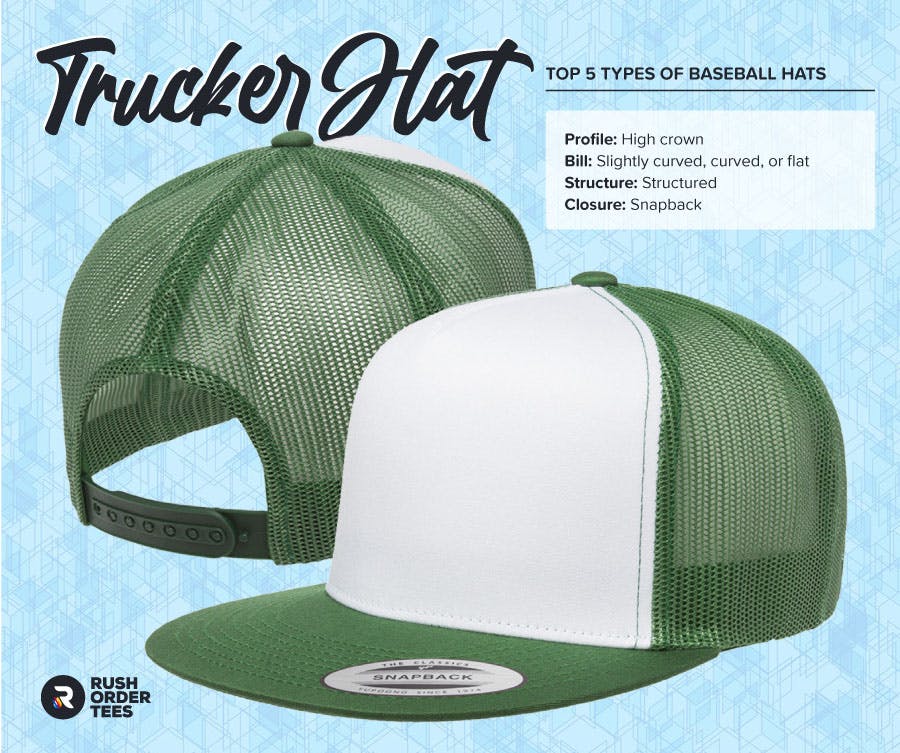 It's hard to believe that trucker hats are still popular 20 years after being called a passing fad, but the style appears here to stay. This baseball cap is defined mostly by its large front panel, contrasted back panels made of mesh (for extra breathability), and snapback closure. The classic truck stop kind uses foam material for the crown and bill.
Profile: High crown
Bill: Curved, slightly curved, or flat
Structure: Structured
Closure: Snapback
Characteristics of baseball caps
Some hat characteristics define their category, while others combine to make a unique style. The nice thing about this cross-breeding is it gives customers an array to choose from. Here are the key characteristics to look for when deciding which type of baseball hat is right for you.
Fits
The fit of a baseball hat simply means the approach used to make sure it fits snugly on your head and doesn't blow off with the slightest gust of wind or when you're cruising down the highway with the top down. There are three primary approaches to ensuring fit.
Adjustable fit – These hats have a mechanism on the backside allowing the wearer to adjust it to their head size. This includes snapbacks, elastic, leather straps, and plastic clips.
Fitted – Fitted hats have no adjustment mechanism and come in various sizes. Before shopping for this hat,  measure the circumference of your head, just above the brow, with a tape measure or string.
Flexfit – Flexfit is a type of closure with elastic built into the construction, allowing for a snug fit without having to have the exact size needed for a fitted hat.
Closures
The back of an adjustable baseball cap will have a certain type of closure or strap, allowing for a snug fit on any size noggin. Here are six of the main kinds of closures.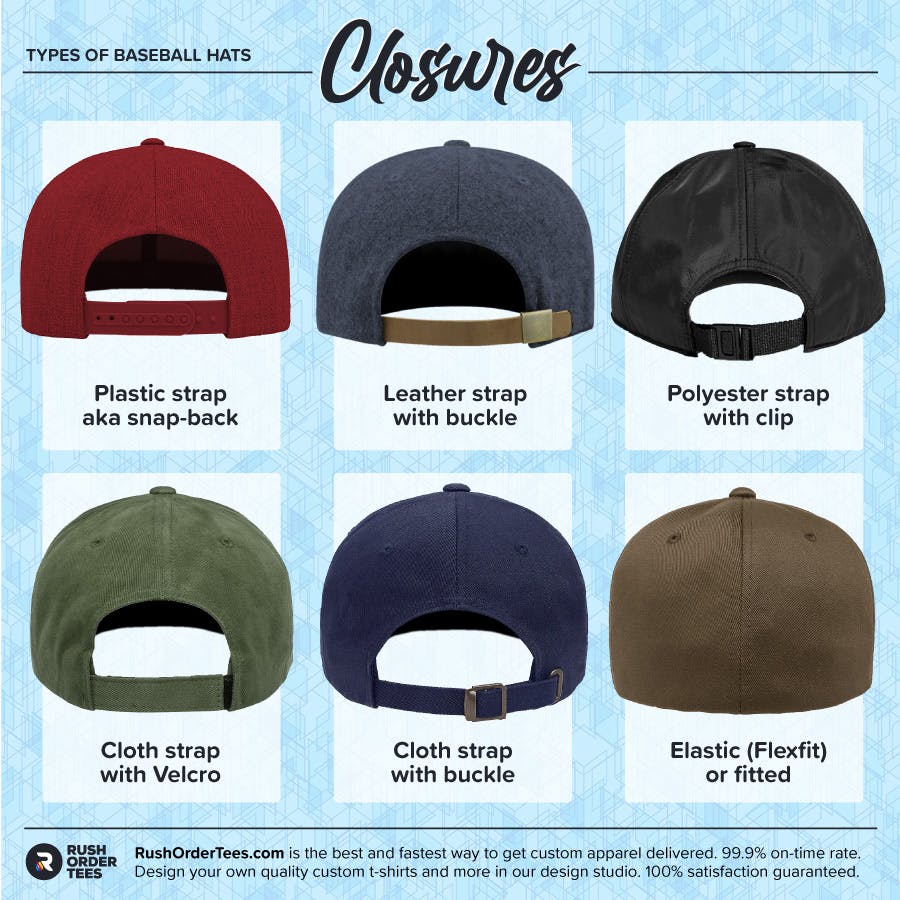 Plastic (snapback) – Two plastic straps that overlap with a set of teeth and corresponding holes that "snap" together. One of the most popular closures, especially on trucker hats.
Leather strap w/ buckle – A simple metal push-down/pull-up buckle mechanism holds the leather strap in place, often with a slot to tuck the extra length back into the hat.
Nylon strap w/ plastic clip – An adjustable strap (polyester or nylon) with a small plastic clip mechanism that snaps the two ends together.
Cloth strap w/ Velcro – Two straps and the outer one soft cloth (usually in matching material to the hat) that overlap and bind with "hook-and-loop" self-fasteners, also known as Velcro.
Cloth strap w/ buckle – A single, soft-cloth strap with a classic metal buckle and tuck-in slot.
Stretch (FlexFit) – A band of elastic sewn into the underside of the back of the sweatband.
Structure
This refers to the overall shape of the hat. It's structured or not.
Structured hats have a "buckram," a liner on the inside of the hat, typically beneath the crown, that allows it to keep its form and mid to high-profile.
Unstructured hats don't have this piece, giving them a more casual, low-profile shape.
Crown/Profile
Technically, the crown is the entire part covering the head, but typically it refers to the front portion of the hat above the brim. The height of the crown will dictate the profile. A classic baseball cap has a medium profile, trucker hats tend to have high profiles, and dad hats have low profiles.
High-profile – High-profile hats are structured, with the crown portion tall and wide above the head.
Medium-profile – Most medium-profile hats are structured, with the crown raising slightly above the head.
Low-profile – Most low-profile hats are unstructured, so the front is soft and contours the head.
Panels
Panels are pieces of fabric or material sewn together to make the full crown of the hat. The number of panels is a major characteristic of baseball caps, usually five or six, with some hats having seven. Panels don't define their own category since various types of hats can have five or six panels, as shown below.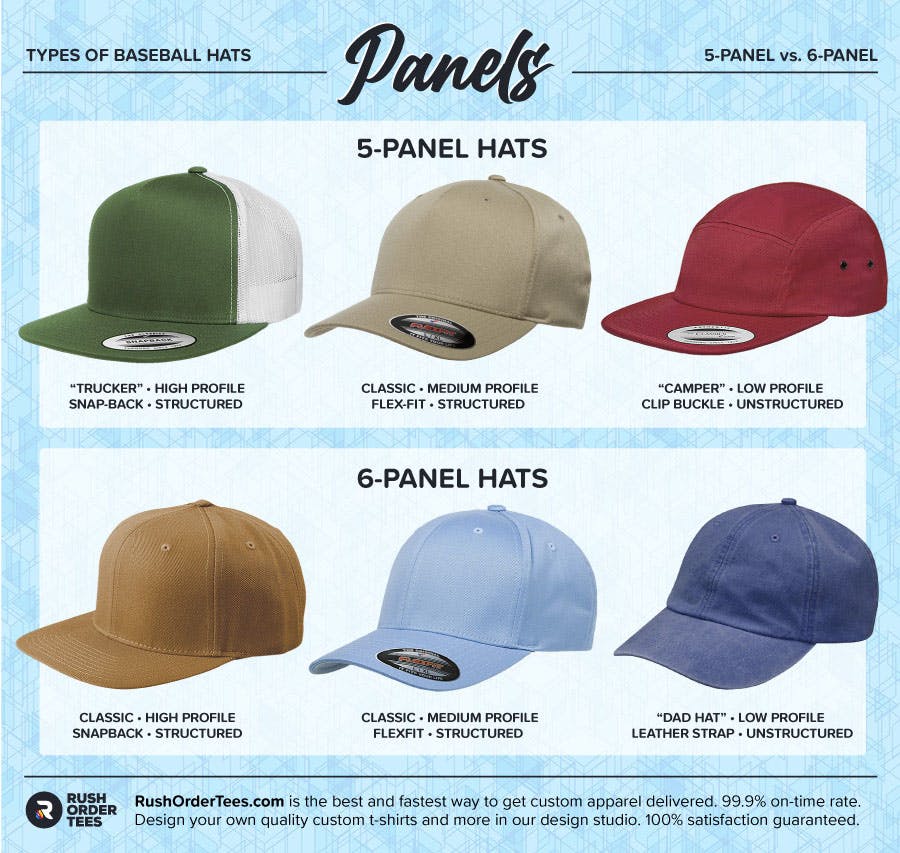 5-panel – The front part, or crown, is a single panel, allowing a relatively flat surface for screen printing or embroidery.
6-panel – The front of the crown is divided by a seam going down the middle. Not recommended for screen printing.
Bills/Visors
The bill of the hat, also known as the visor, is the stiff portion that protrudes from the bottom of the crown and provides shade from the sun. Bills are typically made of cardboard covered with fabric (be careful when washing!), but many modern hats use plastic. Most people will apply pressure to the bill until it curves (or flattens) to their taste.
Curved bill – The sides are pre-curved downward to create a rounded visor shape that blocks more sunlight.
Slightly curved bill – The most common shape for baseball hats, it has more of a casual, arched visor.
Flat bill round – A trending style, this visor shape is almost perfectly flat, with rounded front edges.
Flat bill squared – Also almost perfectly flat, but with a slightly more square shape on the front edges.
Peaks/Brims
The peak, or brim, is the front edge of the bill or visor. There are various styles as manufacturers get creative with materials and construction. Most people prefer regular or contrasting underside. Years ago, when there was less variety, most undersides were green for some reason. Nowadays, you have many colors to choose from.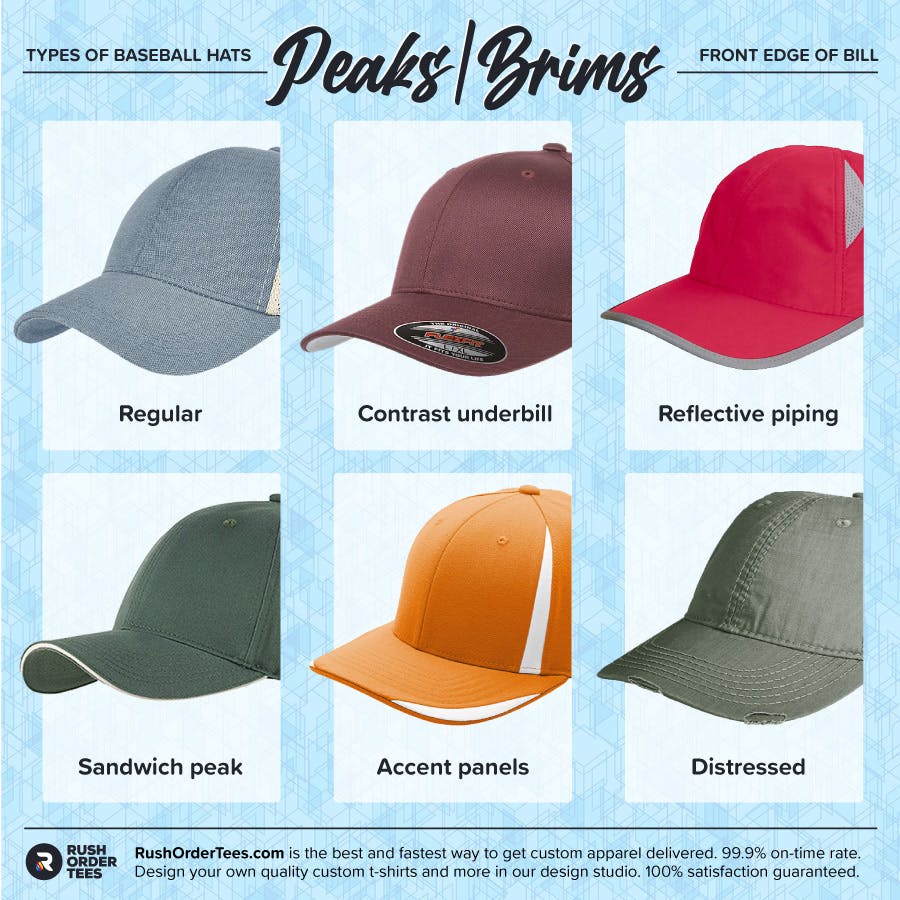 Regular – The underside of the brim is the same color and material as the rest of the hat.
Contrast underbill – The underside of the brim is a different color and sometimes different material.
Piping – An extra line of cloth or other material is sewn along the edge of the brim.
Sandwich – Three fabric parts are layered and sewn together at the edges.
Accent – Extra pieces of fabric are sewn into or alongside the edge of the brim.
Distressed – The edge of the brim is roughened to give the look of wear and tear.
Materials
Baseball hats are typically made from cotton, cotton blends, canvas, jersey mesh, wool, acrylic, polyester, and other fast-wicking fabrics. If that sounds like all the materials, it is. As manufacturing technology advances, companies are constantly improving the process and using softer, more durable, lightweight, and stylish materials.
Brushed cotton – Exactly what it sounds like: the cotton is brushed repeatedly, giving it a soft and fuzzy texture.
Cotton twill – Common material for hats with a slight sheen and durable texture. Lighter weight than brushed cotton.
Brushed canvas – This material is increasingly popular and has a great combination of durability and soft texture.
Wool blend – Wool is the classic moisture-wicking material, and modern blends add durability.
Color dyed/fabric dyed – This manufacturing process gives textiles a soft, faded, lived-in look and feel.
Polyester mesh – The back panels of most trucker hats are made with this synthetic mesh for breathability.
Best customizing options for baseball hats
Choosing the right print method is just as important as choosing the right hat. With over 20 years of experience, we know what works best. Listed below are the top three ways to customize hats.
Embroidery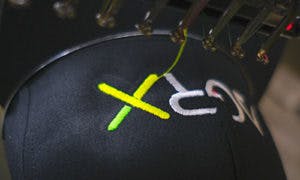 By far and away, embroidery is the way to go for hats. It can work on just about any kind of hat, structured or unstructured, 5 panels or 6, and on any type of material. Embroidery is bold, durable, and professional looking. Whether branding your merch, making company hats for your staff, or creating a winning team uniform, embroidery is a home run.
Patches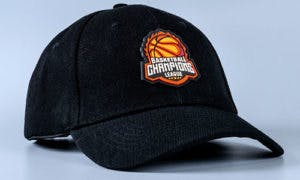 Yes, patches! Many people don't know this, but custom patches are an outstanding and affordable choice for customizing hats. Like embroidery, they can work for just about any type of baseball cap. Unlike embroidery, though, they come in a wide assortment of styles and materials. We can even press patches onto unique locations that embroidery can't go.
Screen printing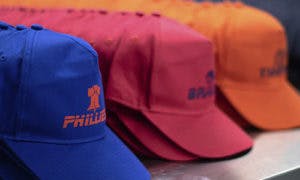 Screen printing is the most affordable, but it runs into some issues on baseball hats. For example, we don't recommend screen printing on 6-panel hats because of the seam going down the middle of the print area. Likewise, on unstructured dad hats. It works for trucker hats or anything with a large front panel and high crown.
Customize your own
Now that you know the various characteristics of baseball hats, the top five types, and the best ways to customize them, you should have all the knowledge to choose the right ones. Once your design is ready, jump into our easy-to-use Design Studio, select your product, and get started on your order today.

Imri Merritt
About the Author
A graduate of the Multimedia program at the University of the Arts in Philadelphia, Imri Merritt is an industry veteran with over 20 years of graphic design and color separations experience in the screen printing industry.