MARKETING
Inktober NYC Event Recap: Artwork, Photos, and Exclusive Monster T-shirts from RushOrderTees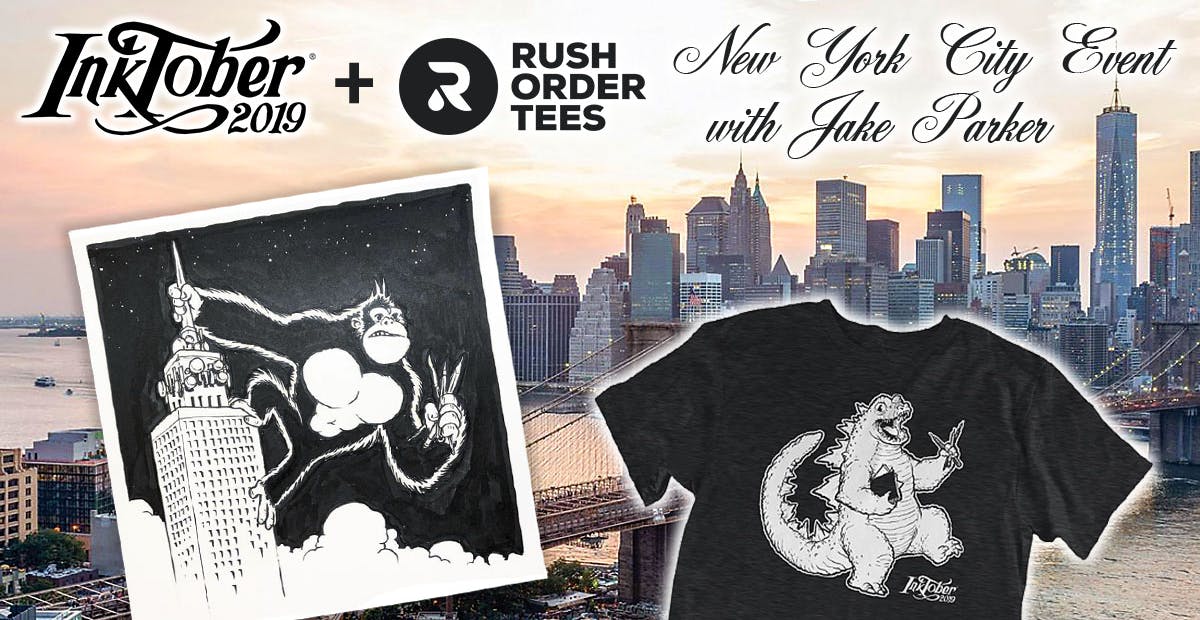 Design Custom Gear
Personalize a custom t-shirt with our easy-to-use Design Studio
Start Designing
Inktober is an annual event that takes place all around the world as people post their ink drawings on Instagram for the entire month if October. It was started by the talented artist Jake Parker, a comics short-story creator, concept artist, illustrator, and animator. Back in 2009, he challenged himself to make one drawing every day throughout October, and it quickly caught on, with other artists using it as an opportunity to challenge themselves and support each other.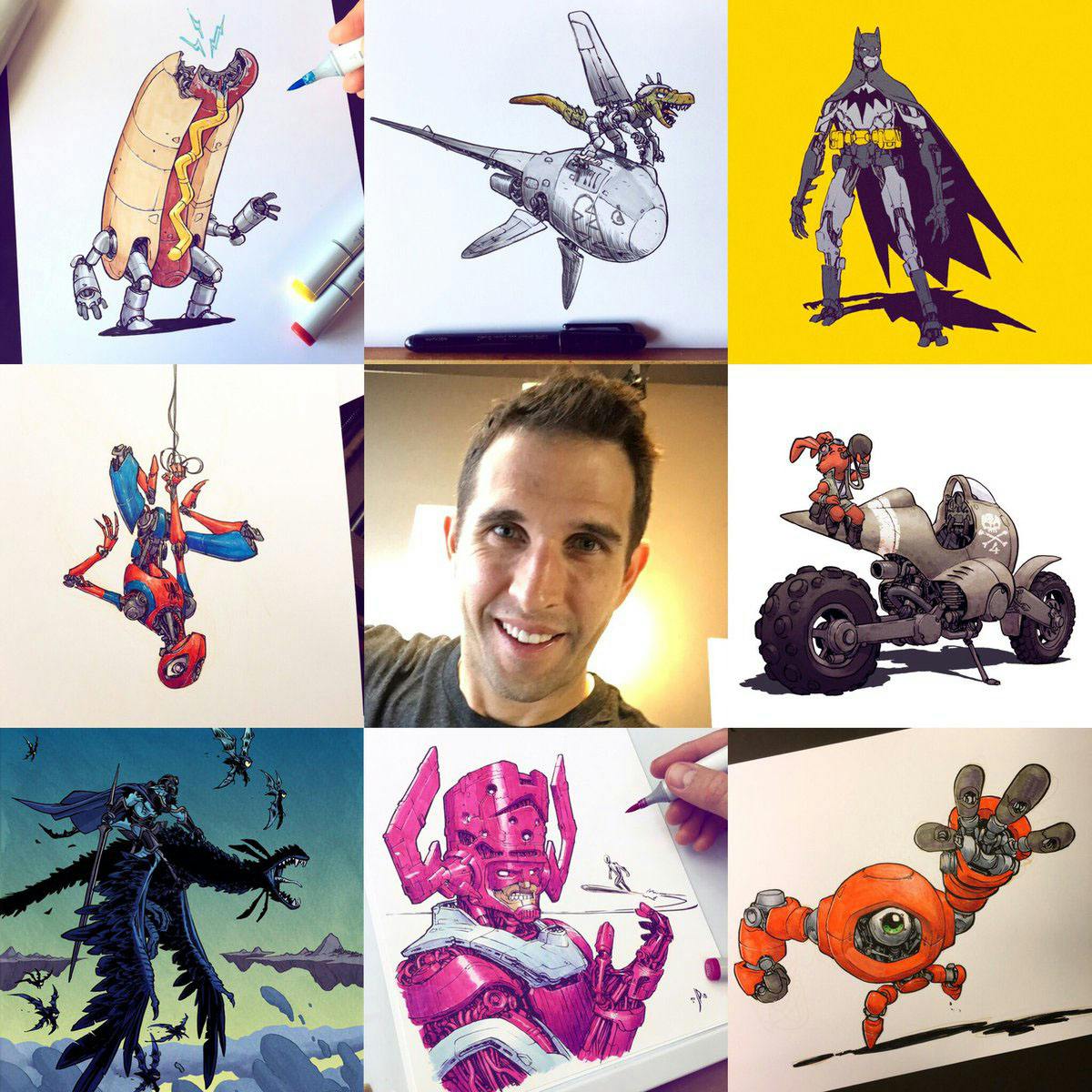 Fast forward ten years, and it's an international phenomenon. And something artists and their fans look forward to every October. At the time of this writing, there are over 4 million posts (and counting) tagged with #Inktober2019. Each day has a new "prompt" which is a single word that acts as a jumping-off point for artists to let their creativity fly. You can get more information on the Inktober website, and follow their main page on Instagram.
RushOrderTees sponsorship
This year, RushOrderTees sponsored Inktober with a run of tees featuring an exclusive "Monster" design by Jake Paker himself. For these special T-shirts, I chose the antique black tri-blend by Next Level Apparel. Super soft, lightweight and fitted, with a slight heathered pattern, these would be perfect for a one-color print of Jake's coveted Monster design.
My colleague Dan Leer and I made a short promo video for Inktober, showing the process of printing these T-shirts and to get fans hyped up for the event. You can see the journey this job takes, from my desktop computer to the screening department, to the printing, curing, and finally drying. You can watch the video here.
To give you an idea of just how popular Inktober is, within 24 hours of being posted on Instagram, the video was viewed over 50,000 times. People commenting were so excited to get their own Monster tee, Inktober decided to sell them to the public through our print-on-demand platform DSGN TREE. You can now order one for yourself [NOTE: we are now sold out! Thank you!] . We have hoodies too. Use the promo code INKTOBER15 and get 15% off all orders throughout the month.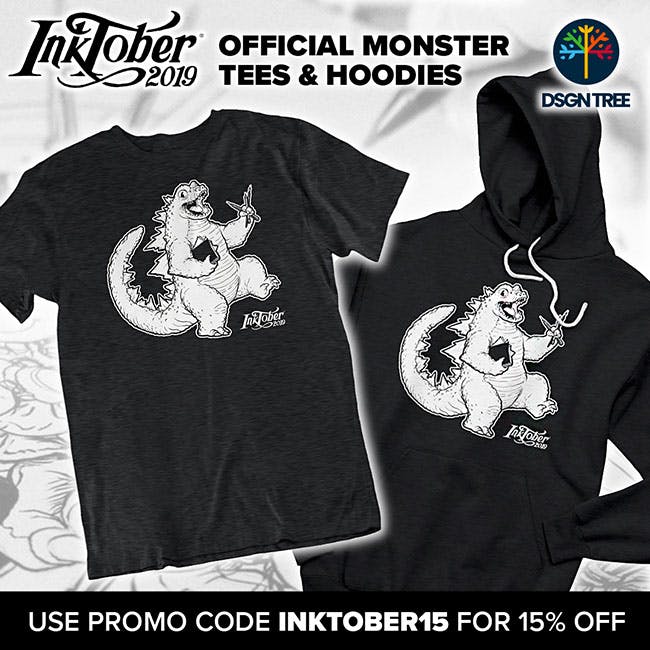 Inktober NYC event
The shirts would first be needed as giveaways for the attendees of a special Inktober event in NYC on October 5th. This event was a chance for artists to meet Jake, get some professional feedback from him about their work, network with other artists, and of course, get some amazing swag in their gift bags. Fun fact: S.W.A.G. stands for "Stuff We All Get".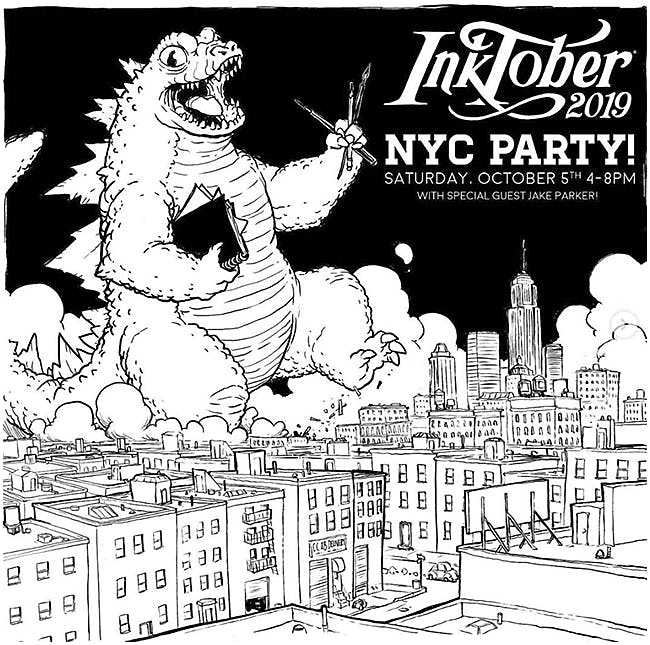 Since we were printing the T-shirts, I was invited to the sold-out event, and of course I was all-in. Being a fan of Jake Parker myself, I was excited to meet him, along with his amazing event coordinator/promotional guru Alita, who I'd been communicating with. I also agreed to deliver our hot-off-the-press T-shirts directly to the venue. Now that's service!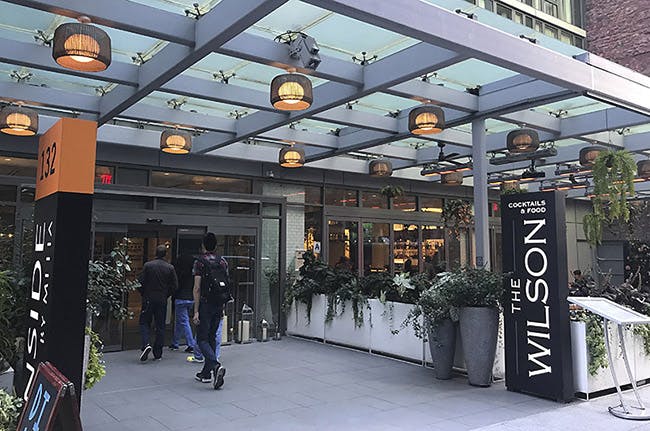 The location of the event was a stylish modern hotel called INNSide by Meliá New York Nomad, and the party would be taking place at The Wilson, a built-in restaurant with a downstairs level featuring artwork made from moss on the wall above the bar, and some kind of gigantic wine tree lamp. There were booths and tables set up, each complete with a pile of candy and some complimentary fine tip markers. Just as the clock hit the start time of 4pm, we were ready.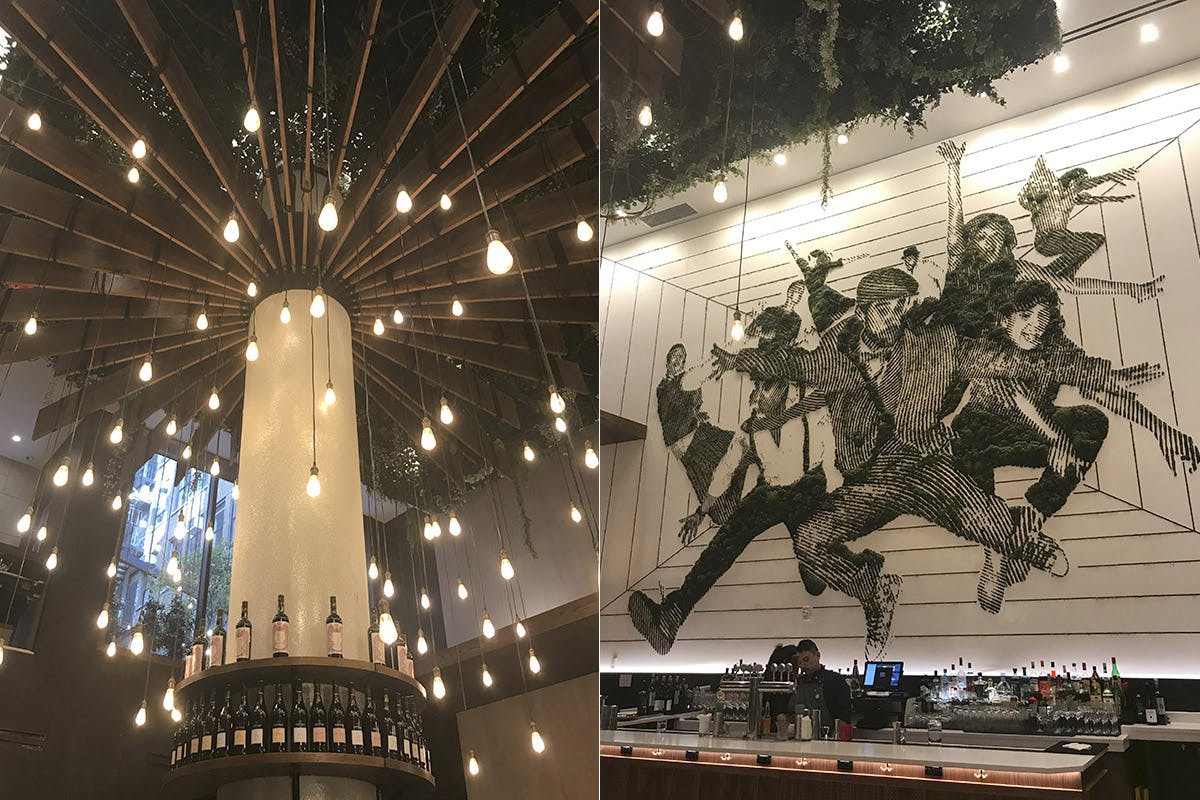 Over 150 artists and fans began filing in and taking seats. On their way in, each attendee was given their gift bag filled with goodies and everyone was raving them. Premium professional ink pens from Pentel, Zebra, and Spectrum Noir, along with supplies from Blick, a printed tote bag, a beautiful premium sketchbook, and of course the Monster tee we printed.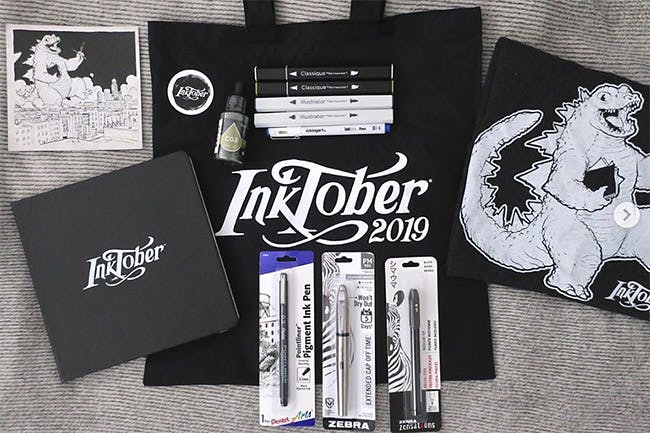 Jake Parker was a great host
As guests began making themselves comfortable, getting drinks and busting out their sketchbooks, Jake starting going around checking on them introducing himself. People were thrilled to meet him and show him their artwork. It struck me how much Jake genuinely cares about his fans. You would think someone who constantly gets shown drawings asked for feedback would get jaded, but he showed no signs of that whatsoever. Jake was happy and in his element.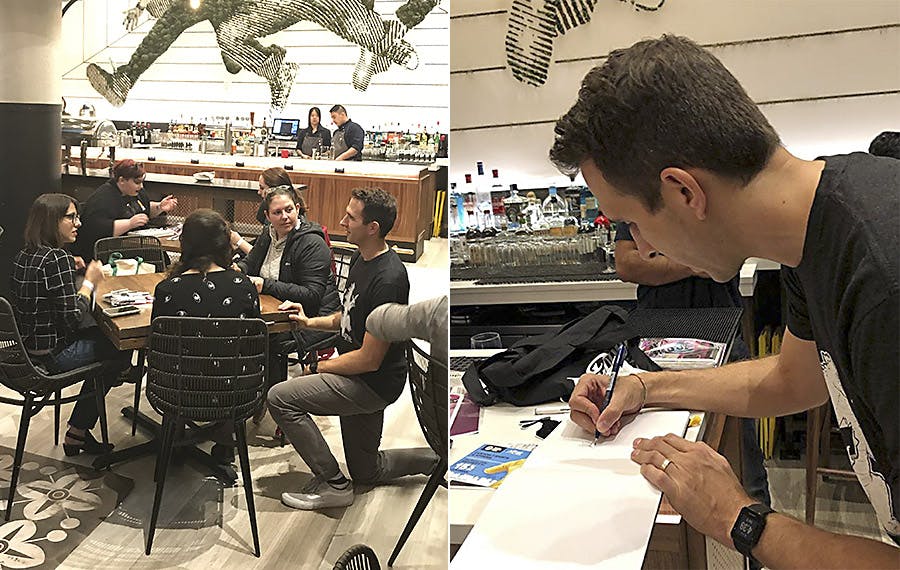 Within twenty minutes, the space had filled with people; meeting each other, chatting, showing their work, and trying out their sweet new pens, while I bellied up to the bar for a nice Pilsner on tap from a local brewery. It was announced there would be food served, photoshoots with Jake, and one winner would receive a big basket full of goodies.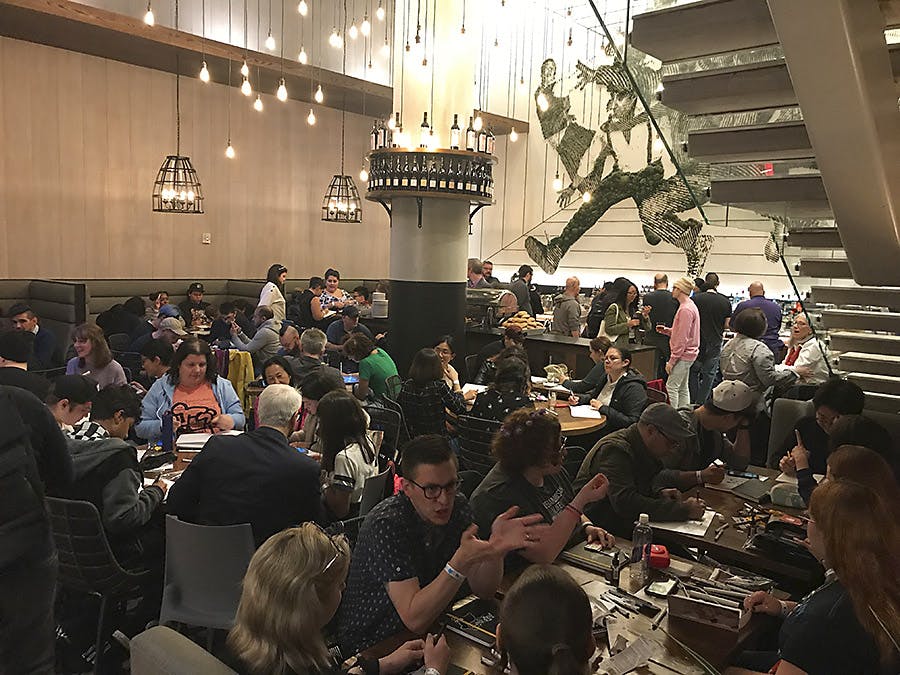 As I moved around the room and met some people, I was surprised by how many young artists were there. I'm not sure what I expected but it was nice to see all the enthusiastic, up and coming artists and students eager to break into the art world. Overall it was a great group. I met some unique and talented people, and some real characters, as you might expect.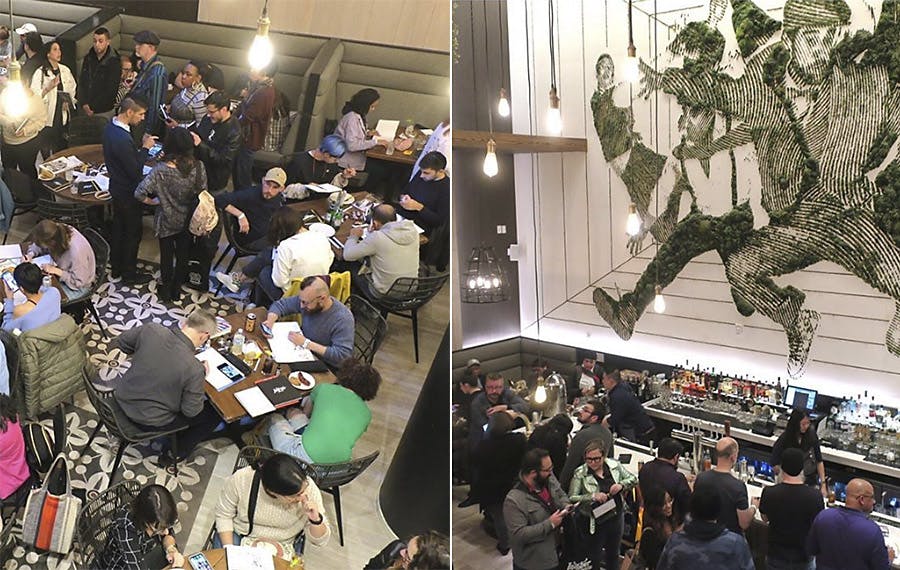 The other thing that surprised me was how many people were working on their ink drawings and coming up with new ones on the fly. Maybe it was the pressure of Inktober, maybe it was the creative juices flowing, maybe it was the inspiration bubbling up from all the talent in the room, but people were going to town on their new sketchbooks and creating some impressive work.


Towards the end of the event, it was time for the photoshoots, and people were lining up to stand in front of the step-and-repeat with Jake and their sketchbooks. Some people took the opportunity to pick his brain a little more, and show him a few more things. He obliged each and every one of them and even posted Instagram photos with their names tagged.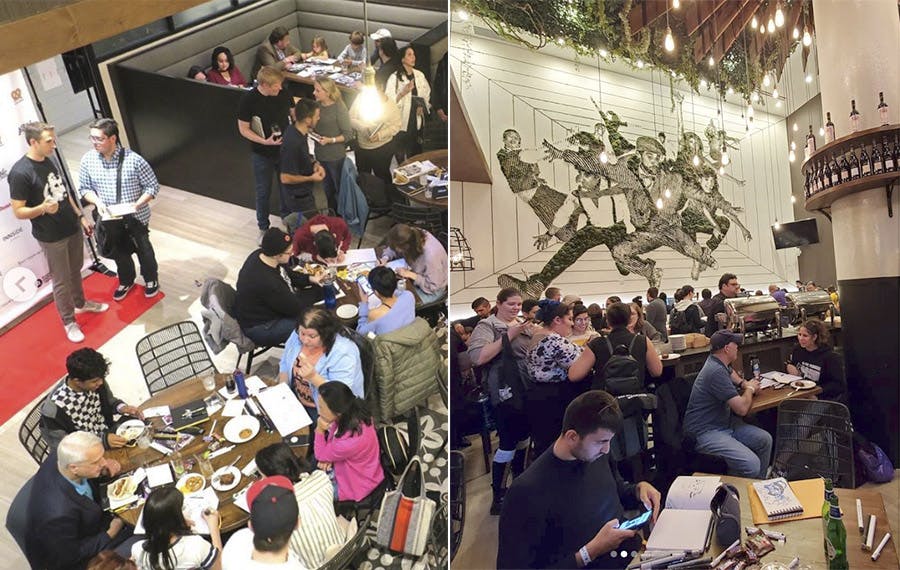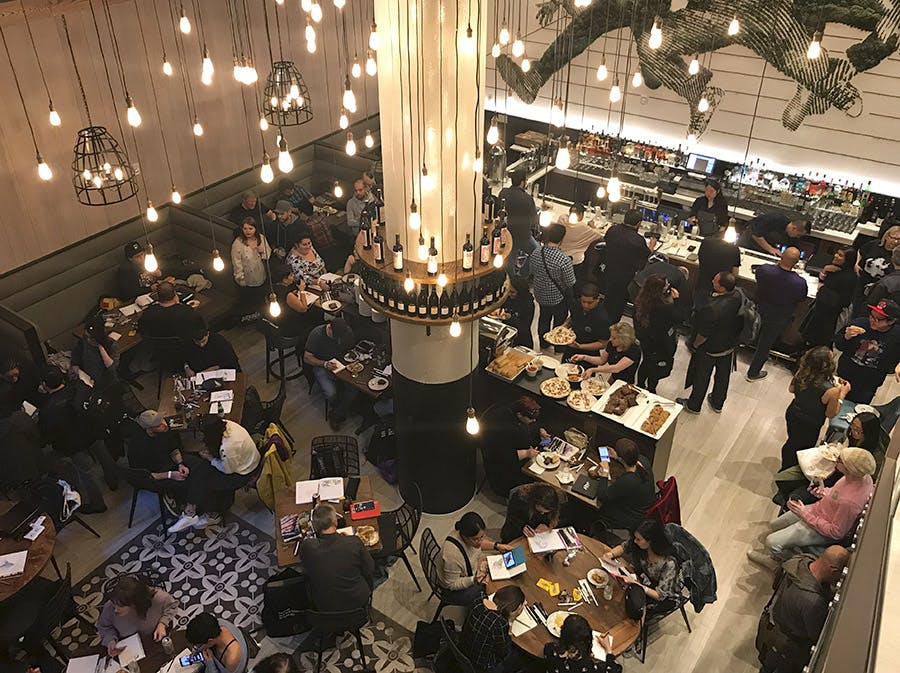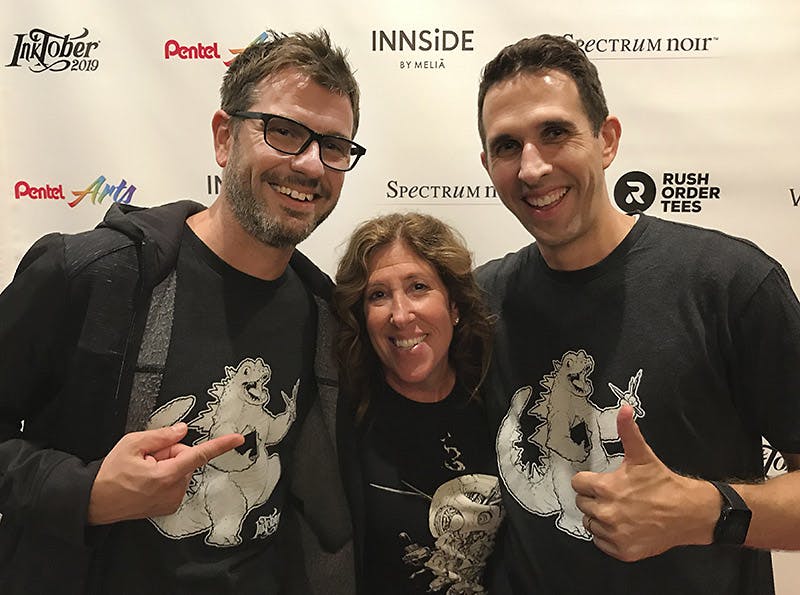 The Inktober promotional team saved the best for last: they gave everyone their T-shirts on their way out. Everyone loved them. RushOrderTees was proud to be a sponsor, and I was proud to be part of this event. Thanks to Jake and Alita for inviting me and for hosting such a great event. Make sure to keep up with them online and see all the amazing drawings.
A little birdie told me they have something very special in the works for next year– can't wait!
Happy designing,
-M
About the Author
A graduate of the Multimedia program at the University of the Arts in Philadelphia, Imri Merritt is an industry veteran with over 20 years of graphic design and color separations experience in the screen printing industry.