Design Custom Gear
Personalize a custom t-shirt with our easy-to-use Design Studio
Start Designing
Are you a runner looking to create custom shirts for your team or upcoming event? This article outlines important aspects of designing custom running shirts. By following these tips, you'll create a running shirt that is comfortable, functional, and stylish, making your running event memorable and enjoyable. Ready? On your mark, get set, go! 

Characteristics of a winning running shirt
There are three primary characteristics that make a great shirt. If you can achieve the trifecta, you and your team will be winners in the t-shirt game.
Comfort: A good running shirt should prioritize comfort above all else. The shirt itself should fit well, not too tight or loose, and be made of breathable, moisture-wicking fabric that keeps the wearer cool and dry during intense runs.
Style: The custom print design should be aesthetically pleasing, including eye-catching graphics, bold colors, and unique typography. The design should not only look good but also help the runner stand out in a crowd and be easily recognizable to friends and family on the sidelines.
Functionality: A good running shirt can also be functional, with features such as mesh fabric, reflective detailing for visibility during early morning or evening runs, and even pockets for storing essentials like keys, phones, or energy gels.
Select a Shirt for the Right Conditions
Choosing the right type of shirt for running is crucial because it can directly impact the comfort and performance of the participants. Ideally, the right shirt should be made of breathable and moisture-wicking fabric that can help keep runners cool and dry during the event.
Lightweight and quick-drying fabric such as polyester or technical mesh will be ideal if the event is held in hot and humid weather. On the other hand, if the event is being held in cooler weather, a long-sleeved shirt made of a warming and moisture-wicking fabric like synthetic fleece would be more appropriate.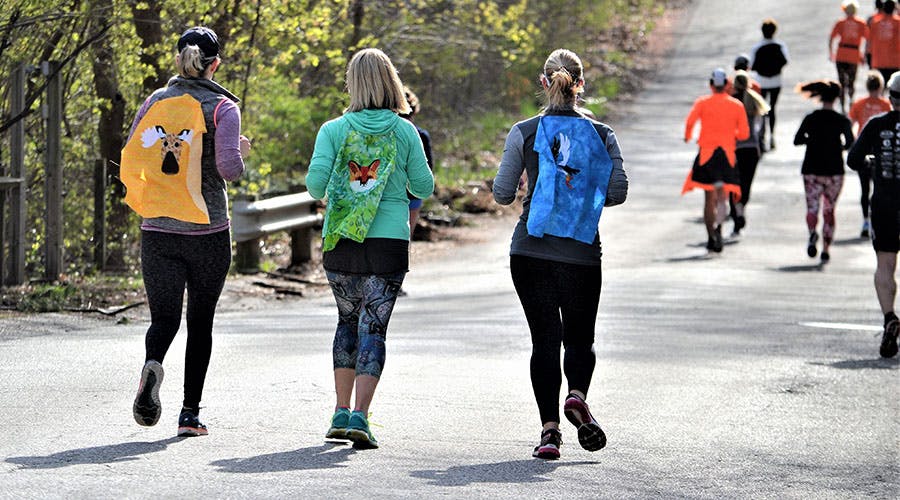 Running shirt fabrics
Performance fabrics are the way to go for running events, especially moisture-wicking materials. Here's a quick look at some of the t-shirt fabrics preferred by runners:
Moisture-Wicking: Moisture-wicking shirts are made of high-tech synthetic fabrics like polyester, nylon, and 50/50 blends specially designed to draw sweat away from the skin and move it to the surface of the shirt, where it can evaporate more easily. They are popular for being lightweight, quick-drying, and breathable, These shirts are often made of synthetic materials that are specifically designed for this purpose and are popular for running.
Our recommended moisture-wicking t-shirt: A4 Moisture Wicking T-Shirt - Style: N3142
Mesh Fabric: Mesh fabric is a popular choice for running shirts because it is lightweight and breathable. The open structure of the mesh allows air to circulate, helping to keep the runner cool and dry.
Our recommended mesh shirt: Sport-Tek PosiCharge Classic Mesh Reversible Tank - Style: ST500
Organic Cotton: For those who prefer natural fibers or have sensitive skin, organic cotton is a popular option for running shirts. Organic cotton is soft, breathable, and environmentally friendly, but it is not as moisture-wicking as synthetic fabrics. Cotton absorbs sweat from the body, but shirts stay wet.
Our recommended cotton t-shirt: Gildan Adult Softstyle® Short Sleeve T-Shirt - Style: G640
50/50: For those who want the best of both worlds, a cotton/poly blend does the job. Its combination of organic cotton and polyester creates a fabric that is soft and breathable but also has moisture-wicking properties. Keep in mind that moisture-wicking is not as effective as 100% polyester.
Our recommended 50/50 t-shirt: Bella + Canvas Poly-Cotton T-Shirt - Style: 3650
Ultimately, the best fabric for a running shirt will depend on the individual runner's preferences and the conditions in which they will be running. Keeping people cool and dry will make everyone's day better.
Learn more about the different t-shirt fabric types.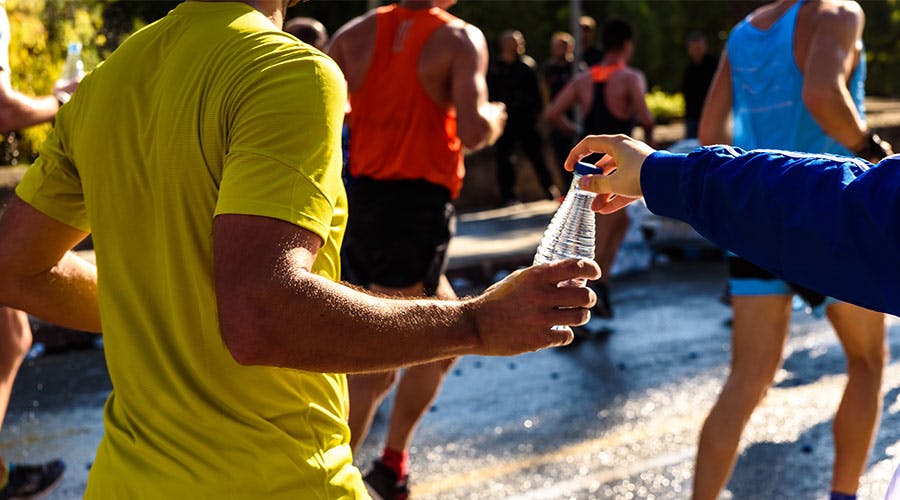 Running Shirt Design Tips
Investing time, effort, and possibly money into a good design, including a logo and slogan for your event's t-shirt, is important for making the running shirt design unique and memorable. Here are a few general tips to keep in mind as you plan your design.
Convey race details
Include the distance, location, and date of the race. A map of the course is a great design idea that will give runners a way to remember how much ground they covered instantly.
Feaure the charity or cause. Often it's part of the race title, but if not, be sure to include it, along with the logo if possible. 
Be bold and clear
Make it clear what the event is about when seen by a casual onlooker. Include the type of race (5K, Fun Run, etc) as part of the title. The design should be instantly identifiable, even from a distance. Our clip art library has lots of images of runners and running to choose from.
Use clean and simple fonts. Avoid anything decorative, novelty or ornate. Make the most important text large and bold, with supplementary information smaller.
Use complimentary colors. This gives the design a visually appealing and harmonious look. Complimentary colors are colors that are opposite each other on the color wheel. When used together, they can enhance the shirt's overall design and make it stand out.
Make it relevant
The logo should be relevant to the race. A fun run can be whimsical, while a marathon can be more athletic and professional looking.
The slogan should be motivating, memorable, and not too corny. Quotes from the founder of the event, local athletes, or people associated with the charity can be good options for the slogan.
Keep it simple
Include a website or QR code. This will increase event awareness without overloading the shirt design. This promotes the event and can help increase participation and fundraising. QR generators can be found online.
Limit the number of elements, including sponsor logos. Too many logos can clutter the design and make it harder to read. To avoid this situation, set the price for inclusion on the shirt high enough to cover costs with only a few sponsors.
Leave space for a number. If runners in your event will be wearing numbers, leave a blank spot on the design where this tag can go.
Running Shirt Design Ideas
Here are some design ideas for each of the most common types of running events. The templates are fully customizable, so use them as a jumping-off point to create your own personalized run shirt.
Marathon Shirt
A marathon is a long-distance running event that covers a distance of 26.2 miles. It is one of the most popular and well-known running events, attracting thousands of participants worldwide.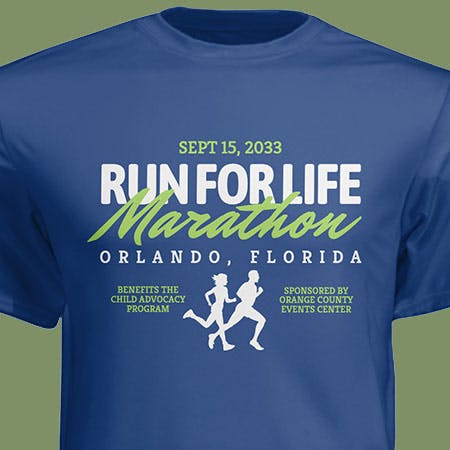 Start with this template: Marathon Run Event
Half Marathon Shirt
A half marathon is a running event that covers a distance of 13.1 miles. It is a great option for those who want to take on a significant running challenge but are not yet ready to tackle a full marathon.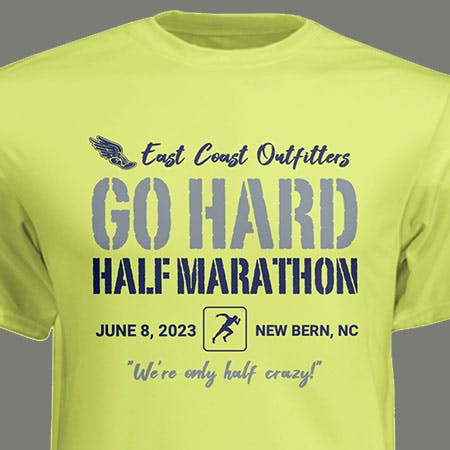 Start with this template: Half Marathon Run
10K or 5K Run Shirt
A 10K race covers a distance of 6.2 miles and is a popular option for those who want to challenge themselves but don't have the time or training to complete a longer race. A 5K race is a popular distance for beginners and is often used as a starting point for those who are just starting to get into running. We've printed thousands of unique 10K and 5K running shirts.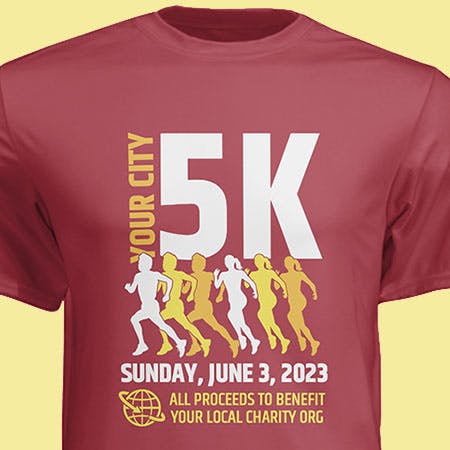 Start with this template: 5K Charity Run
Trail Run
Trail running is off-road running that takes place on unpaved paths and trails in scenic natural environments like forests, mountains, and parks. Trail running events often cover longer distances and can be more challenging than road races due to the rugged terrain.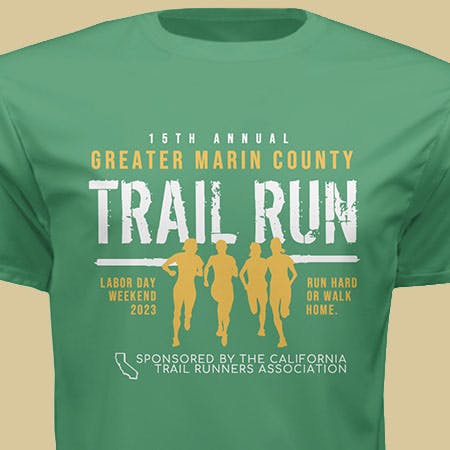 Start with this template: Trail Run Event
Fun Run Shirt
Fun runs are non-competitive events that are often organized for charity or as community events. They can be held over any distance and are meant to be a fun and relaxed way to get involved in running.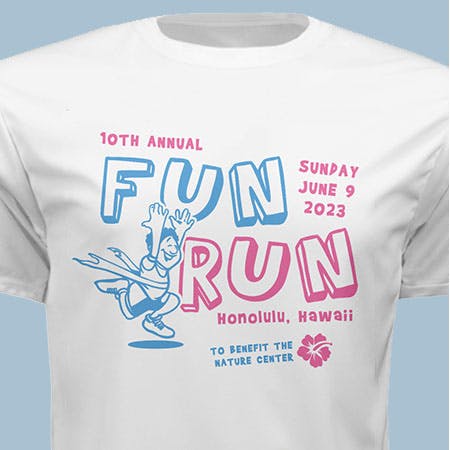 Start with this template: Fun Run Event
Create your own custom running shirt
Runs and races are a great way to bring the community together, advertise local businesses, and promote physical fitness. T-shirts not only help bring participants together but also help attendees identify staff and volunteers. They also serve as mementos and help promote your organization. Providing a quality custom running shirt ensures participants and sponsors will go home happy and ready to register for your next event.
When you're ready to create your own, jump into our easy-to-use Design Studio or start with one of the templates listed above. See you at the finish line!
About the Author
A graduate of the Multimedia program at the University of the Arts in Philadelphia, Imri Merritt is an industry veteran with over 20 years of graphic design and color separations experience in the screen printing industry.