PRINT METHODS
5 Essential Screen Printing Tools
Design Custom Gear
Personalize a custom t-shirt with our easy-to-use Design Studio
Start Designing
There are tons of supplies used to produce vibrant screen printed tees. We all know about artwork, but how does it get to a screen to be printed for a tee? We also know screen printing involves a variety of colored inks to create the design, but how do they get on the tee? Here are some of the other tools of the screen printing trade.
1. Film Positives
After the artwork has been finalized, the design needs to be separated into various of layers each with one color of the design. Each layer is converted to black to create a film positive, which is your design, in black, on a clear film. These are placed on the mesh screens to create the stencil for each layer or screen.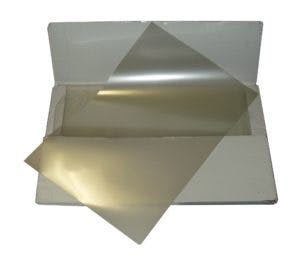 2. Mesh Screens
Mesh Screens are probably one of the most important tools in screen printing, it is called screen printing after all. You place the film positive on the mesh screen and then degrease it and coat it with emulsion. The emulsion is light sensitive so after it is exposed with a UV light it creates the stencil.
3. Squeegee
You've got your ink, your press, and your screens—what next? Each layer of ink is pressed into the screen with a squeegee. The squeegee is pulled across the screen to make sure the ink is evenly distributed. While there are automatic machines that can do this, many companies, like Rush Order Tees, still use manual ink presses because it is faster for small batches and helps with control quality.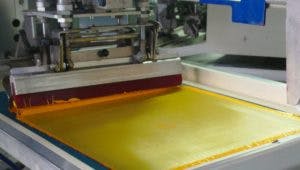 4. Flash Cure Unit
Screen printed designs are commonly flash dried between each layer of ink. A flash cure unit is an infrared heater that the t-shirt is placed under for a few moments before the next layer of ink is pressed onto the garment. This prevents bleeding within the design and is especially important when working with dark garments.
5. Belt Dryer
The final stop in the screen printing t-shirt process is the belt dryer. They come in various sizes, but will all need to use the same temperature gauges for each tee. After a tee is flash cured, it rolls along a conveyer belt heated to 380 degrees to give the tee a final cure and will ensure the quality of the design.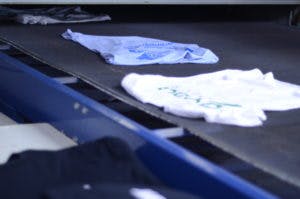 About the Author
RushOrderTees is a nationwide leader in custom apparel. Our screen printing, digital printing, and embroidery services create t-shirts, hoodies, hats and related apparel for individuals as well as group. Our staff regularly contributes knowledge and expertise to our blog to help those interested in creating custom apparel.