Design Custom Gear
Personalize a custom t-shirt with our easy-to-use Design Studio
Start Designing
When the lights go out, a glow-in-the-dark shirt always gets a reaction. Too often overlooked, a glow-in-the-dark effect is simple to accomplish with screen printing, and it can transform a typical T-shirt design into something extraordinary and unexpected.
Let's look at how to make a magical glow-in-the-dark shirt using simple design ideas. We then provide exclusive design templates for T-shirts, explain how glow-in-the-dark works, and answer the most common questions.
Ready to glow?
Glow-in-the-dark T-shirt design ideas
The following ideas come from two decades of printing experience–seeing firsthand what works and what doesn't. When used thoughtfully, these tips will lead to spectacular glow-in-the-dark shirts. If you're new to T-shirt design, you can quickly get up to speed with our Top 10 T-shirt Design Tips.
Glow-in-the-dark ink requires an underbase of white for maximum glow. Using your underbase strategically is the best way to add an extra dimension to your design. Combine these ideas with your imagination and come up with a creative way to use this magical specialty ink for your brand, club, or event.
Complete coverage with glow-in-the-dark-ink
The most straightforward way of using this ink. Every part of the print glows. Maximum coverage of your entire design with glow-in-the-dark ink makes it truly come to life at night. You can print on top of any color, but darker colors reduce the effect. The brighter color of the underbase, the brighter the glow.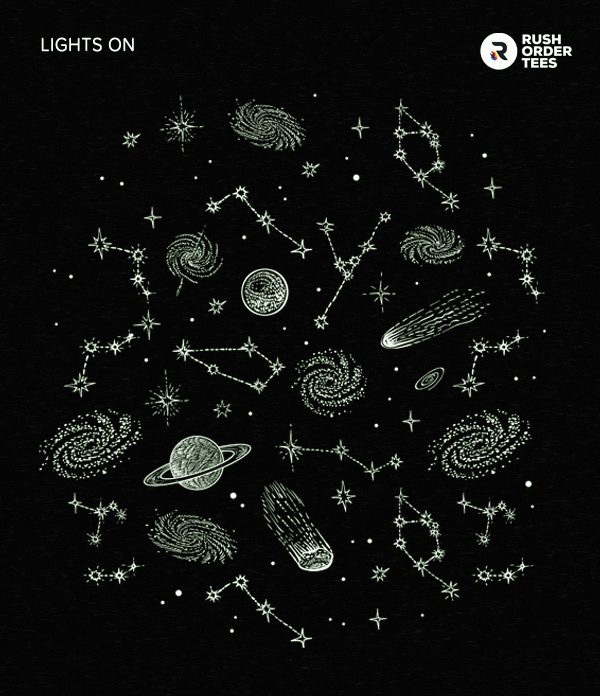 Highlight only particular areas with glow-in-the-dark ink
Strategically add highlights to some parts, emphasizing areas to make it look striking in the dark. Keep in mind that the contrast will change. Parts with glow-in-the-dark ink will be the brightest–even white ink–will appear darker. Make sure the glowing parts of the design look good all by themselves before committing. Outlining areas can help maintain the overall impression of the image.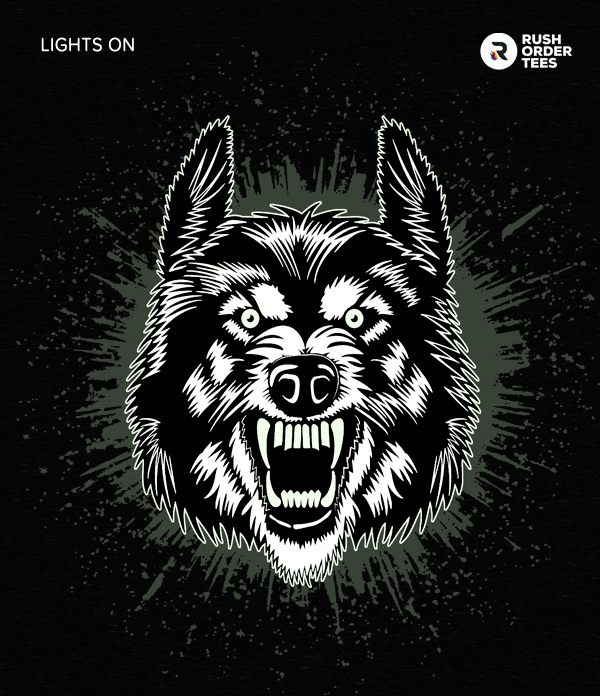 Add a glowing twist to a well-known image
Take a well-known image and add a twist that only appears in the dark. This is one way you can really get creative with a glow-in-the-dark concept. Design the glowing layer to add extra dimensions to your design that are only seen in the dark. A fun way is adding bones to any character, to achieve X-ray vision at night.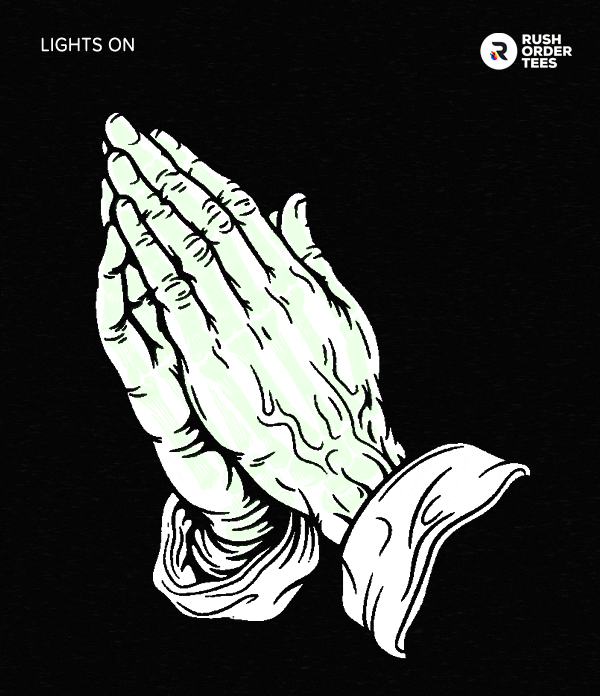 Create a hidden message
Come up with a message that has a hidden secondary meaning, which is revealed when the glow activates. Since glow-in-the-dark ink is almost invisible on white ink, it reveals the secondary text only when the lights go out. Come up with your own inspirational message, a clever pun, or a terrible joke.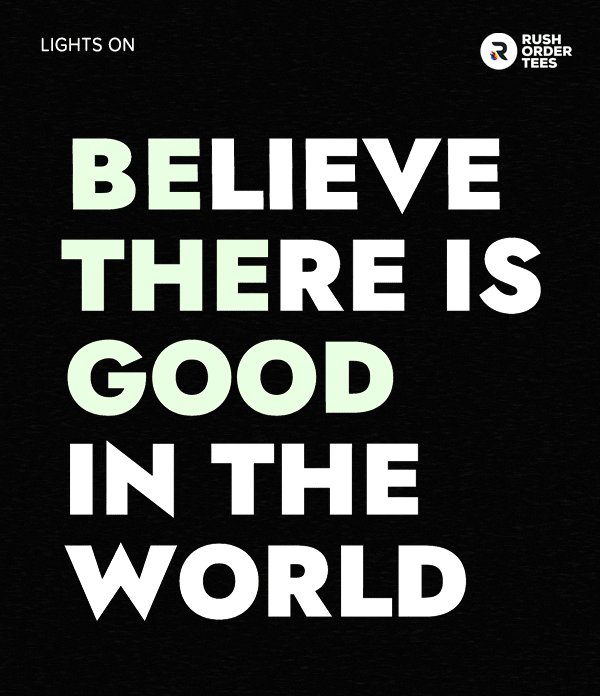 Hide a mystery image
Create a design with a hidden image that becomes apparent when the glow activates in the dark. An optical illusion or cleverly disguised shapes create a surprising revelation to the print. Use the glow to illuminate invisible creatures or light up a magical landscape.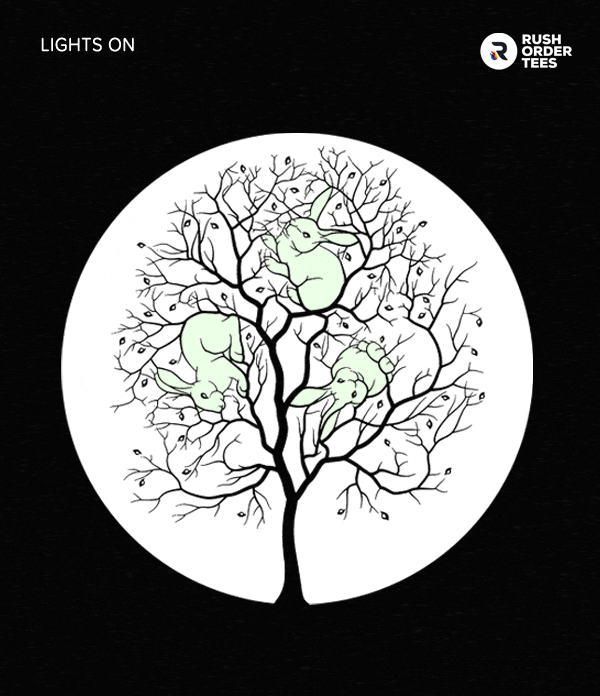 Add dimension by omitting the underbase in some parts
Omit the underbase beneath some areas of the glow-in-the-dark-ink, creating a duotone of glow. Parts of the design with an underbase will be much brighter than parts without it. Keep in mind that the glow will be very dim without an underbase, so make sure anything that needs to be visible has an underbase.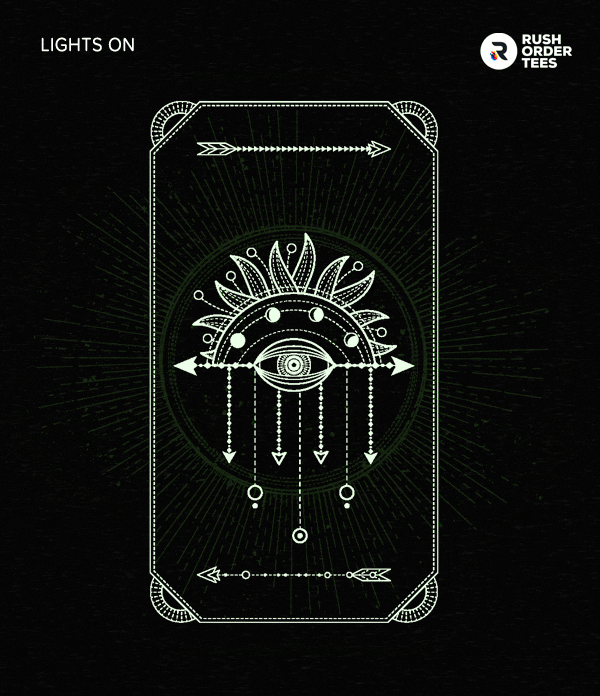 Recommended T-shirts for glow-in-the-dark designs
Use a black or dark-colored T-shirt to optimize the contrast of the glow-in-the-dark effect. Shirt colors besides black that can work well are dark gray and navy. But since we're almost always printing on top of a white underbase, any shirt color can work, to varying degrees of contrast.
Here are three of our top-selling T-shirts (good, better, best) that are all great for a custom glow-in-the-dark print:
Exclusive glow-in-the-dark T-shirt design templates
Below are seven exclusive customizable T-shirt designs, providing a starting point for your own creation. Use these ideas and add your own text. Each link takes you to a Design Studio page with everything you need to get started.
Let's Glow Exploring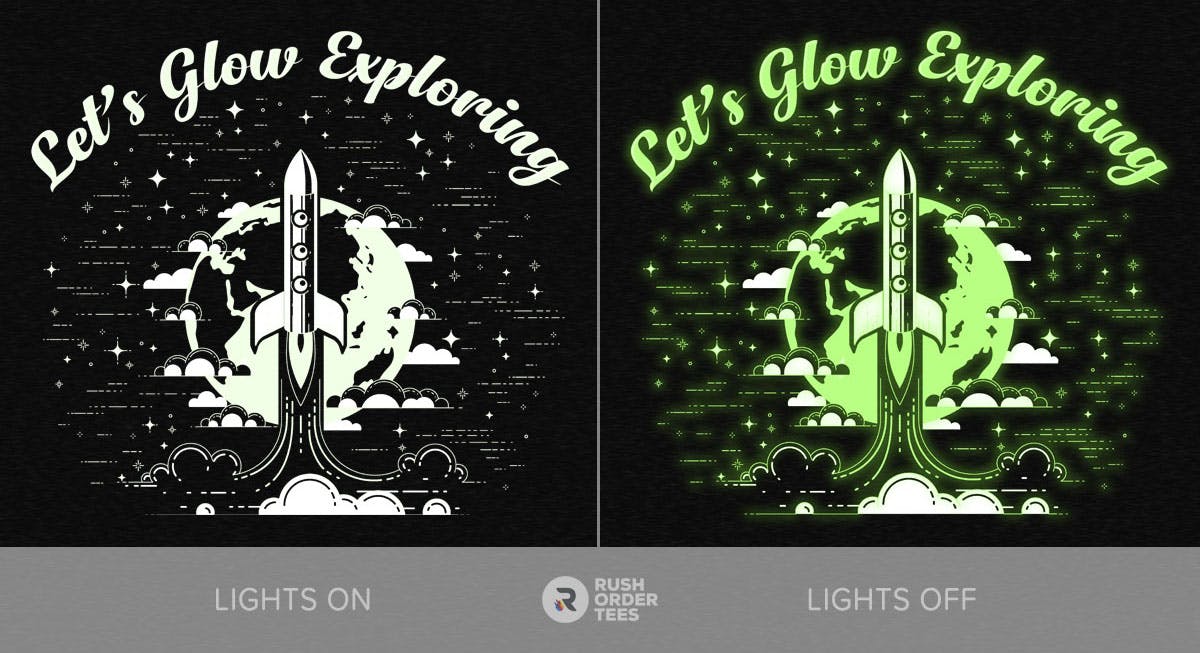 For a glow-in-the-dark T-shirt that's out of this world, this one features a rocket ship blasting off to the stars. If you're going exploring, why not the entire universe? This design is reminiscent of those stickers you might have had in your bedroom as a kid. Add your custom text and logo to celebrate your own interstellar adventure.
Start with this design template: Let's Glow Exploring
Beast Mode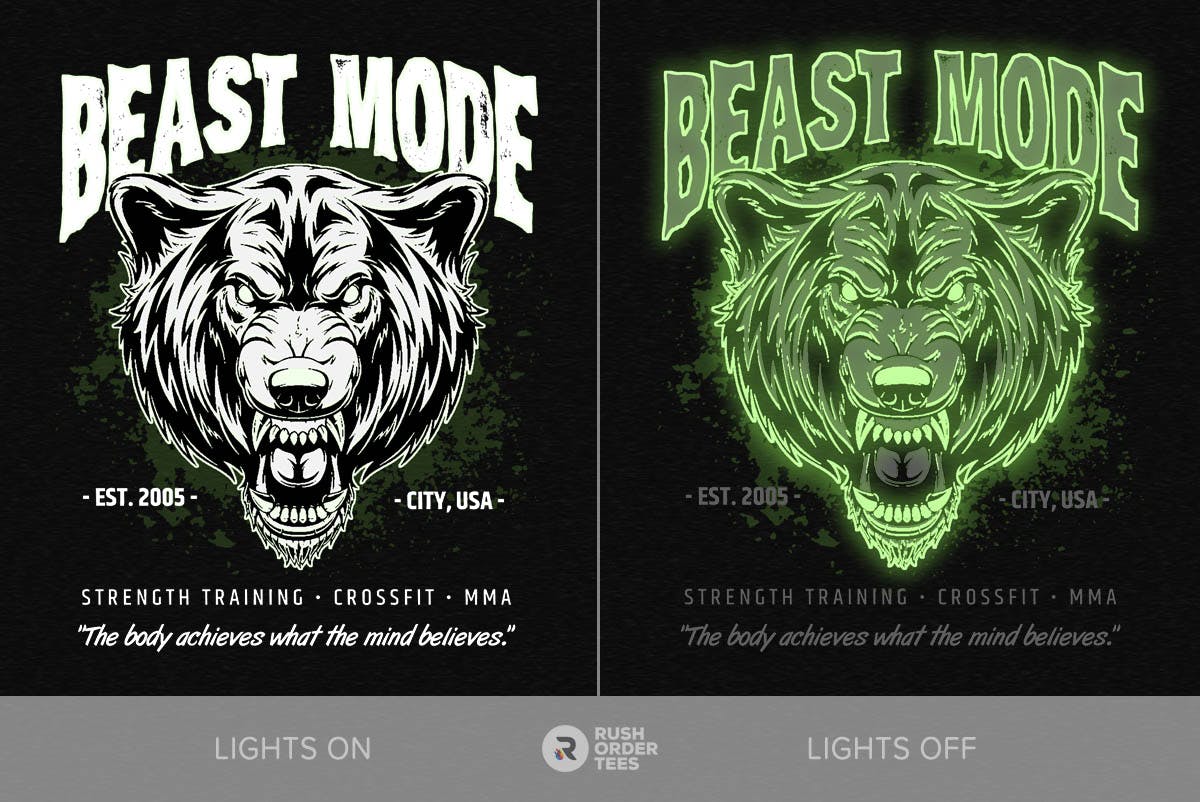 Flex your confidence with this beast of a design featuring a snarling bear nobody wants to mess with. In the light, it looks like a normal T-shirt design with white ink, but in the dark, it really comes to life. We highlight only certain parts of the design with glowing ink, giving it contrasting edges and a sharp feel.
Start with this design template: Beast Mode
The Black Cat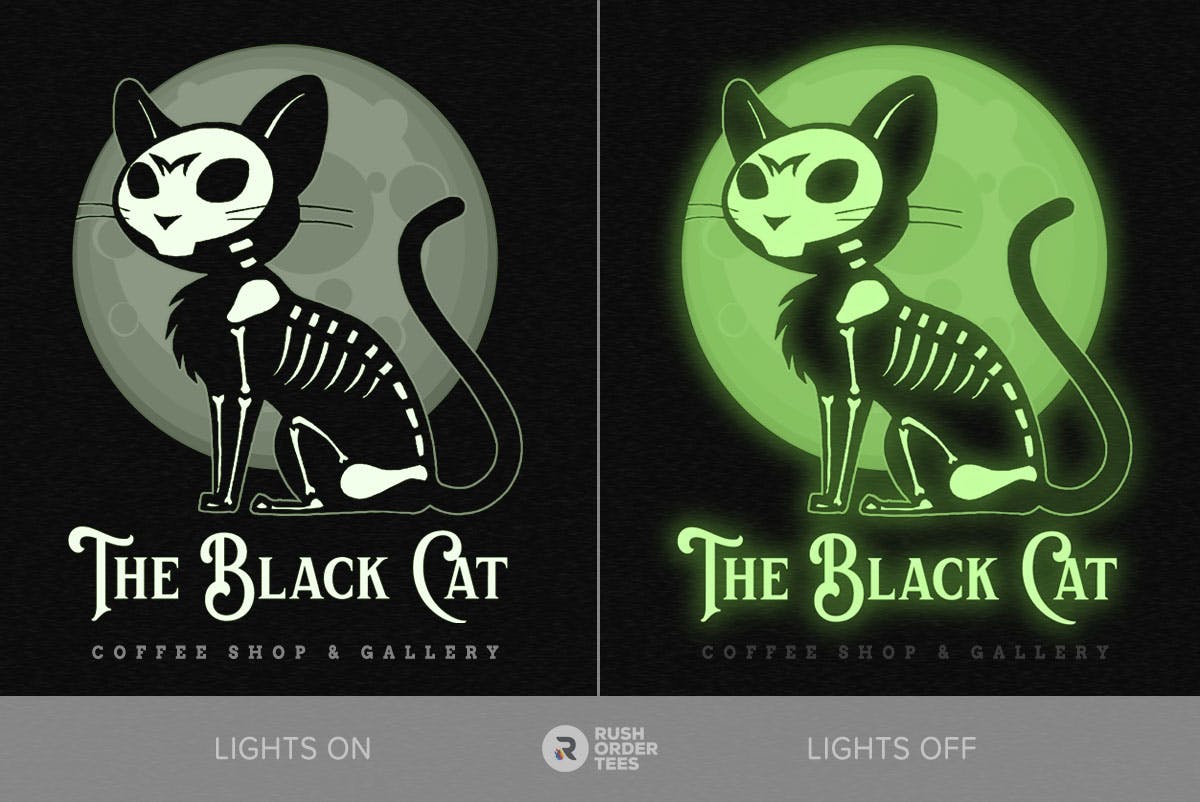 Black cats have a certain magic to them, and this one shows off his skeleton under the full moon's light. Perfect for Halloween or normal nightly rituals. The moon is underbased with gray ink, which will tone down the glow slightly for better contrast. And remember, no need to print black on a black shirt.
Start with this design template: The Black Cat
Zombie Bar Crawl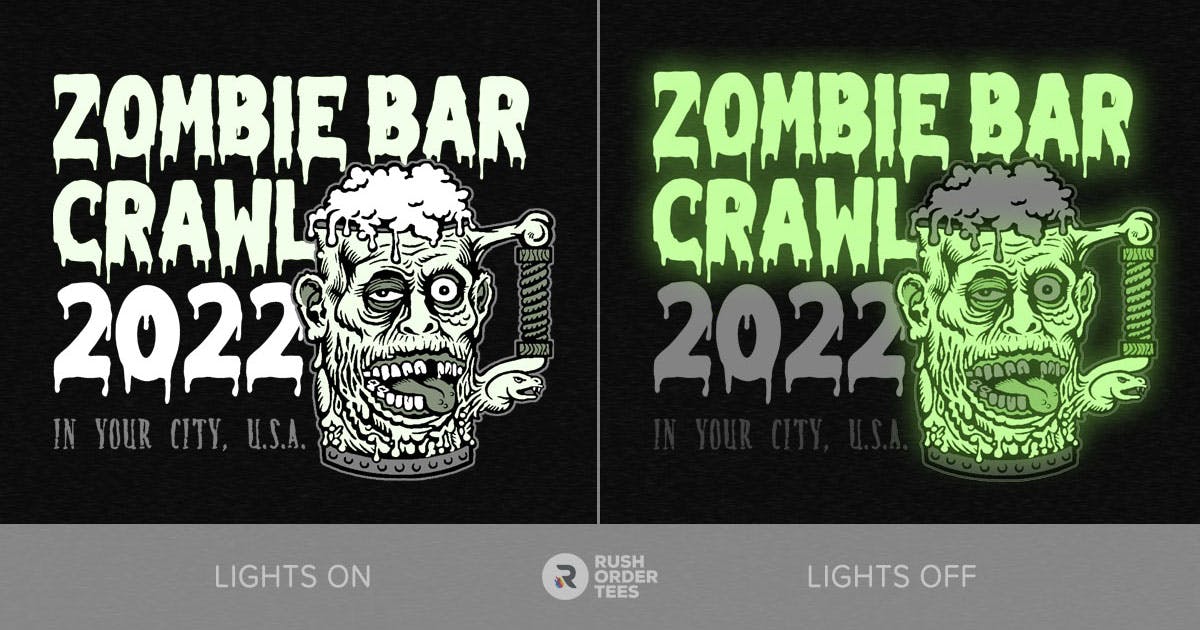 Bar crawls are everywhere, and this zombie-themed glow-in-the-dark shirt will get noticed while you wander around the city at night to dimly lit bars, pubs, and clubs. Some parts of it are underbased with gray to achieve variation and contrast. Add your own title and info in our Design Studio.
Start with this design template: Zombie Bar Crawl
T.G.I.F.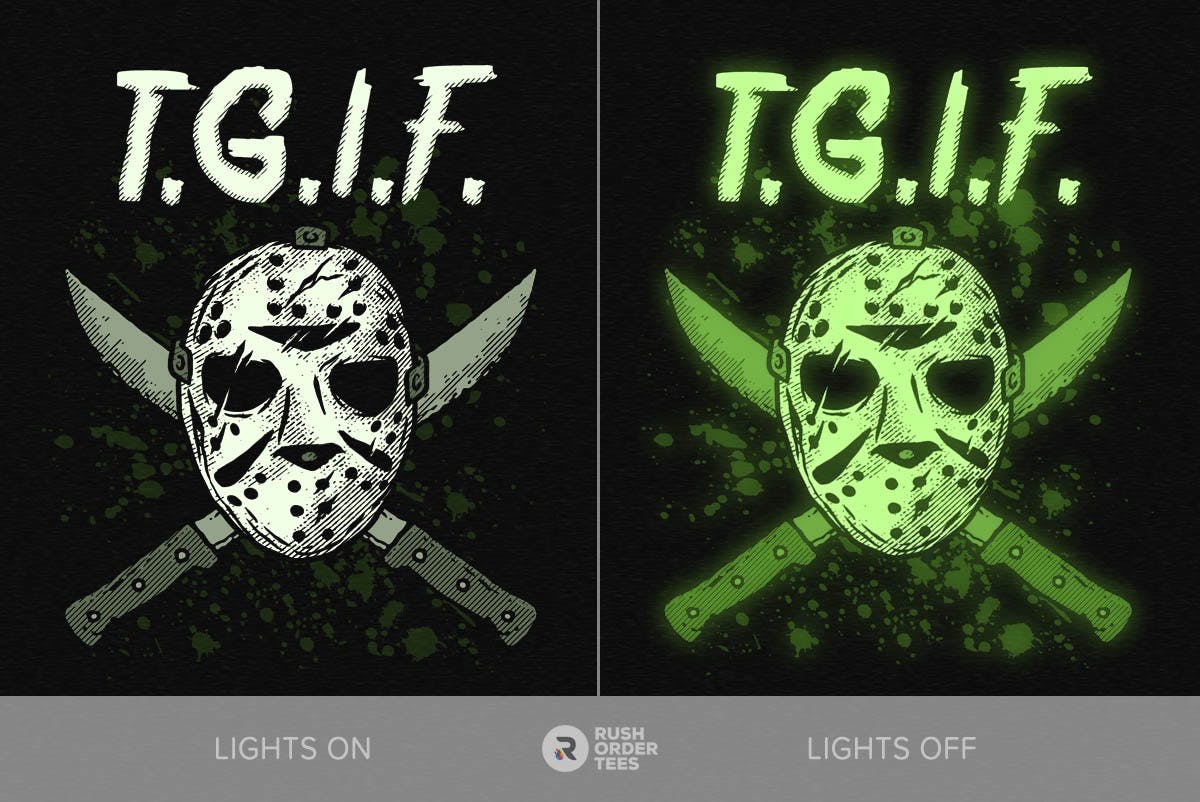 Everyone's favorite killer is back again on a T-shirt design celebrating Fridays. All the parts are separate, so you can easily customize your own. The machetes are underbased with gray ink, so they won't glow as bright, and the background splatter is not underbased at all for a more subtle glow.
Start with this design template: T.G.I.F.
GlowBot5000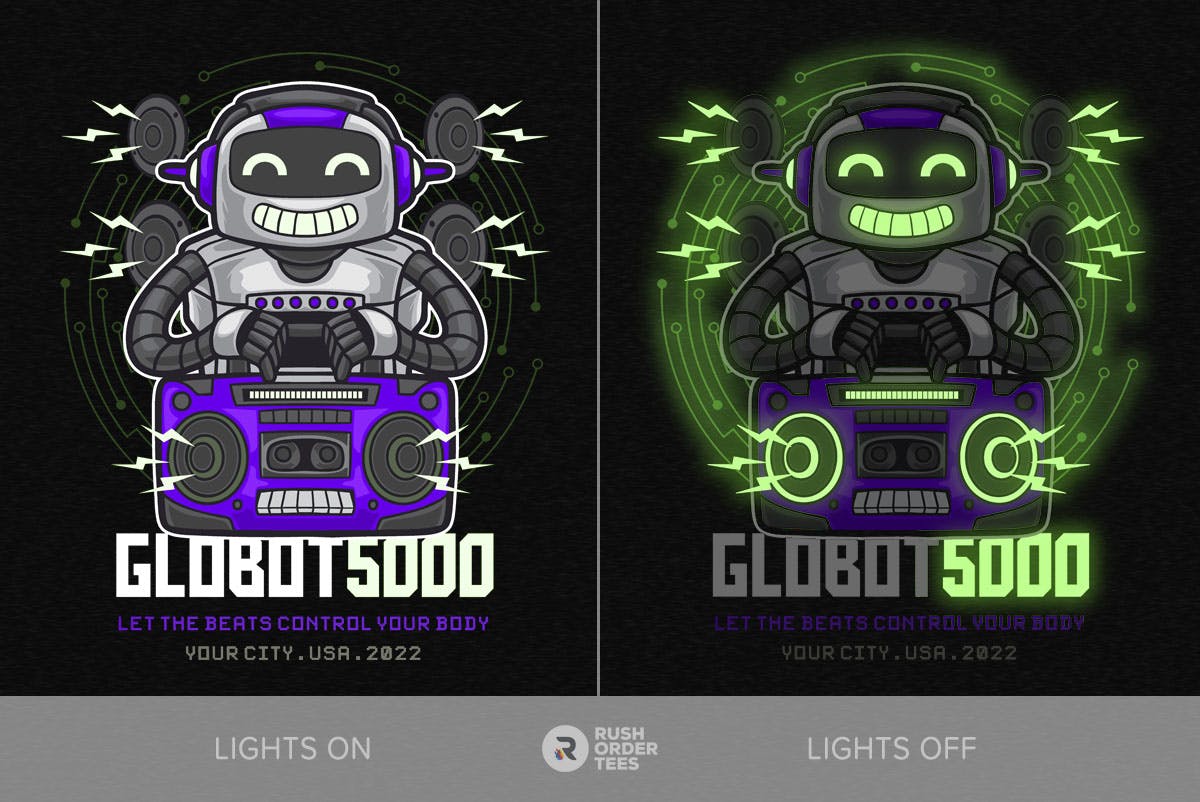 It's the year 5000, and everyone has their own robotic DJ to play their intro music as they enter a room. This design features multiple grays and bright purple for extra pop. Only certain parts have glowing ink to illuminate this bot with an electric feel. The circuitry in the background is subtle to give the design depth.
Start with this design template: GlowBot5000
Glow Big or Go Home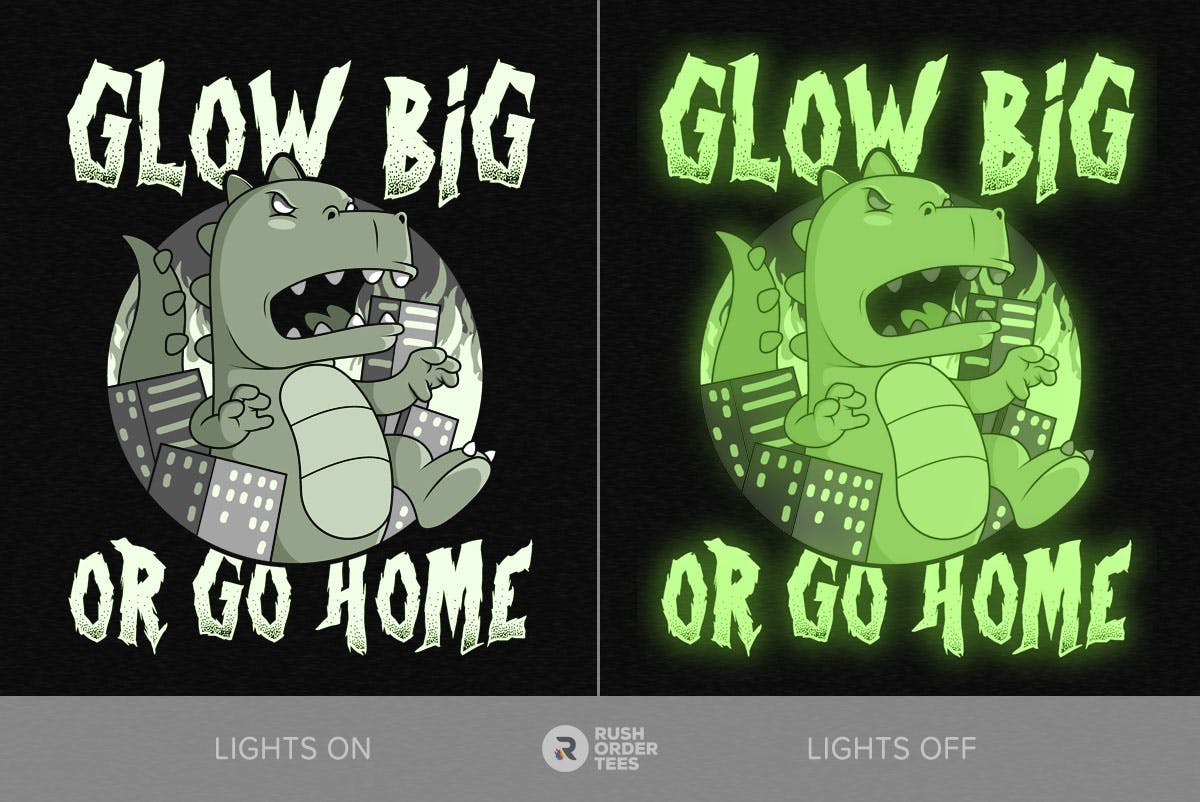 Nothing is bigger than Godzilla going big on some downtown buildings when you want to go big. Most of this design has glow ink covering it, but the variations in gray underbase provide variation and depth. Add a custom title and info to make it your own. The perfect glow-in-the-dark T-shirt design for raging across town.
Start with this design template: Glow Big or Go Home
Thinking about different print placements or multiple locations? Check out the Top 8 Print Locations.
How glow-in-the-dark ink works
Glow-in-the-dark ink is one of many photoluminescent products. If you were lucky enough as a kid to have the glowing galaxy sticker set, your room turned into a sea of stars and planets when the lights when off at night. If you were lucky enough to grow up with glow-in-the-dark Silly Putty, you know how magical that stuff was. (What was it, though?)
These products, including screen printing ink, owe their eerie glow to phosphors–a type of chemical compound that absorbs energy and re-emits it as visible light. Zinc sulfide and strontium aluminate are two of the most commonly used phosphors for photoluminescent ink as they re-emit energy over a long period. They get mixed in with plastics–and, of course, ink.
When you shine a light on a glow-in-the-dark object, the incoming photons (packets of light) excite the phosphor molecules. Very exciting. These molecules slowly release the energy they've stored by giving out photons, creating that glow.
How to charge and glow
Any kind of light will charge glow-in-the-dark ink. Direct sunlight charges it fastest. On a sunny day, only 5 minutes! On a cloudy day, maybe 10. A direct, bright indoor light can work just as well but takes longer to charge at around 15 minutes. Ultraviolet light (aka UV light, aka black light) charges it as well–and makes it immediately glow super brightly.
The effect can last for hours, but it slowly diminishes. This can be profoundly sad as the magic fades away. Keep a light source nearby so you can stay charged up (and happy).
How we print glow-in-the-dark shirts
Learn more about printing glow-in-the-dark shirts in this brief video. Notice the crucial role underbase plays and how to take the daytime look of it into account when creating your design.
Some of the key points made in the video:
A variety of glow-in-the-dark ink colors are available
Glow ink requires its own separate screen
White underbase catches and reflects the light of the ink
Under normal lighting, glow ink is almost invisible
Glow-in-the-dark ink glows even brighter under black light
Glow-in-the-dark T-shirt FAQs
Do glow-in-the-dark shirts cost more?
No. The pricing for glow-in-the-dark shirts is the same as any other custom printed shirt.
Why do most glow-in-the-dark shirts use green ink?
The human eye is most sensitive to green light, so the glow appears brighter. Therefore, it's favored by manufacturers. And it's why night-vision goggles and radar screens (also powered by phosphors) are typically green.
What glow colors are available?
Glow-in-the-dark ink is typically available in Green (aka "off-white") and Yellow, Orange, Pink, Purple, and Blue.
Is glow-in-the-dark ink the same thing as Day-Glo?
No. Dayglo refers to fluorescent colors, which look ultra-bright and saturated in the daylight. Also known as neon colors. Both neon/fluorescent and glow-in-the-dark glow brightly under a black light.
Does it work on top of other ink colors?
Yes, but only on lighter, brighter (and matching) colors like green and yellow. On top of other colors, it can have mixed results. On dark colors will barely work at all. White underbase is your best bet.
Does Glow in the Dark Ink work on white shirts?
Yes, but we don't recommend it by itself. It will give the glow ink a slightly yellow/green tint in the daytime, which could look awkward. The best bet is to hide it among other colors, for a nighttime surprise.
That's how it glows. If you have more questions about glow-in-the-dark ink or how to use it in your design, call us! Or live chat. If you're ready to design your own glow-in-the-dark T-shirt, jump into our Design Studio now. Let's glow!

Imri Merritt
About the Author
A graduate of the Multimedia program at the University of the Arts in Philadelphia, Imri Merritt is an industry veteran with over 20 years of graphic design and color separations experience in the screen printing industry.