Custom Bride Tribe Shirts
Bridesmaid Shirts You Can Wear With Pride
So your best friend is finally tying the knot. She's chosen you (who else?) as her go-to girl for all things wedding-related. There might be one thing she's forgetting though: something comfortable to wear for the downtime you'll share. 
Custom shirts for the bride and her bridesmaids are a must. What else are they going to wear as they roll up to the hotel, meet for the day-of brunch, or hang out at the after party? 
You and the rest of her girls (and the groom's guys) are a team dedicated to making their day as special and stress-free as possible, so why not look that way?
Bride and Bridesmaid Shirts For Your Girl Gang
We'll help bring your best bridal party shirt ideas to life. 
Whether you're looking for 
Bride Tribe shirts 
Team Bride tanks
Brides last ride sweatshirts
Embroidered shirts for getting ready
Shirts for the Feyonce and her Single Ladies
Our cutting-edge printing technology and incredible shipping speed will deliver a product you'll love. Don't forget about a custom maid of honor shirt for yourself. Our personalization services will make sure everyone feels special.
Bridal Party Shirt Ideas for Guys, Too
Is the bride concerned that her groom and his men won't be as coordinated as you and the bridesmaids are? You might want to give the best man a helping hand to get them outfitted with custom gear, too. 
We can print on a wide variety of apparel, not just shirts. Our embroidery service can stitch your awesome design into any number of hats, sweatshirts, and jackets. 
Can't find what you're looking for on our site? Get in touch with one of our sales reps. They have access to our special offline catalog, and can help you discover endless possibilities for your customized items.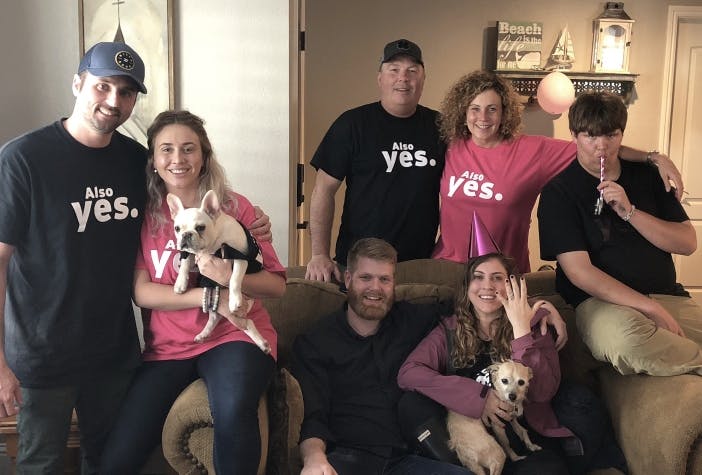 Bridesmaid Shirts Made by RushOrderTees Customers
Great for my bridesmaids!
I made custom shirts for my bridesmaids and they were a huge hit!!! Rushorder got them there earlier than the expected arrival date and everything on them was correct. I was also pleasantly surprised about the quality of tee shirt material! I called to change the size of one shirt and they were so accommodating and made it very simple. Would definitely order again
Lea C.
Verified Review on Yotpo
Excellent Service All Around
It was fun creating my design for the tshirts I made for my bridesmaids. I was able to save them and go back and edit them whenever I wanted. Things got even BETTER when I received emails and texts saying that my designs were being reviewed and edited to be the best possible. They sent over pictures showing what they did to make them look best and I was able to check it off that it was what I wanted. The delivery was truly "Rushed" and on time! Love this little company
Rose
Verified Review on Yotpo
Feeling Inspired?
Get started in our Design Studio by adding text, uploading artwork, personalizing with team names and numbers, and more!
All Custom Wedding Shirts