Design Custom Gear
Personalize a custom t-shirt with our easy-to-use Design Studio
Start Designing
A thoughtful gift can make employees feel appreciated and boost morale. 
Not only do employee appreciation gifts make staff feel good, but employers benefit too. 40% of employed Americans say they'd put more energy into their work if they were recognized more often. In addition, doubling the employee recognition rate results in improved work quality, absenteeism, and inventory shrinkage.
So it's not a question of if you should give gifts– the question is what to give them?
How much to spend per employee on gifts?
Companies on average spend 5 per employee. As a result, we've focused on gift ideas that fall within this range. However, we've also included some more inexpensive employee gift options for those with tighter budgets.
Top 23 staff appreciation gift ideas
We've prepared this list of 23 ideas for 2022 that will work whether you're purchasing a gift for an individual or the entire team.
1. Gift card
The undisputed champ of favorite staff appreciation gifts is the humble gift card, and it has been for years. Probably because it's the next best thing to cash; people can choose to spend it on whatever they want or need. For the buyer they're great, too, taking the guesswork out of gift-giving, easy to buy, and cheap to ship. And hey– no present to wrap.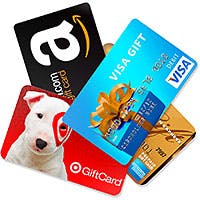 Almost every major retailer and restaurant offer gift cards, but we recommend giving the most open-ended gift cards possible, providing the receiver with the least limitations.
Here are our top 3 picks:
Visa, Mastercard, or American Express – Cardholders can buy from just about anywhere that accepts credit cards through their networks, making these kinds of gift cards the most valuable, and they can encourage people to buy local and from mom-and-pop shops– rather than the big retailers. You can brand them with your company logo or customize them with photographs through sites like Gift Card Granny.
Amazon – Gift cards to this retail behemoth are the most popular for the same reasons the company is so popular: massive selection, great deals, easy to navigate, guaranteed delivery (and free delivery if you have Prime). The one limitation is the card can only be used through their online store. And they have regular deals where you get a 0 credit for buying a 0 gift card.
Target – Target stores are everywhere and have a wide selection of great products, so we're including this for those who want to give a little bit of the excitement of a shopping spree. There's still something fun about browsing the isles with money in your pocket that needs to be spent. If you buy gift cards from Target, they also offer the credit card kind and have discounts for bulk orders (10 or more).
Gift card tip: Make sure to get gift cards, and not pre-paid debit cards. Although prepaid cards may seem to have more options (such as withdrawing from ATMs), they often charge various fees, including activation, monthly, and transaction.
2. Custom branded apparel: T-shirt, hoodie & cap combo
Company-branded swag is a favorite staff appreciation gift. In fact, getting apparel is second only to gift cards. The best part is that custom t-shirts, hats, and hoodies are one of the most inexpensive employee appreciation gifts.
What's also great about custom apparel is your company gains credibility out of the deal, along with some free advertising. Meanwhile, your employees feel appreciated and part of a team. And they look good too. It's a win-win.
Our recommended T-shirt, hoodie, and baseball cap combo customized with a simple logo printed or embroidered will put your price point right around 0 per person at a quantity of 50 (and bigger price breaks with higher quantities).
Browse our catalog to choose your items and then upload your logo. We handle the rest. Here are three of our most popular items that would make a great gift in combination:
Custom branded apparel buying tip: Get everyone's size before placing your order. If you're ordering blind, see this article about ordering the right size breakdown in bulk orders.
3. Wireless noise-canceling headphones
Music helps focus the mind and fuels productivity, along with boosting mood. So what better gift for employees than a brand-new pair of headphones? It's also one of the rare gifts that people still get excited about, even if they already have some. Headphones tend to get lost, damaged, or stolen, so a new set is always welcome.
Plus, technology is always advancing and the price point dropping, so the latest models sound amazing, do a great job at canceling noise, hold a charge for longer, and won't break the bank. Here are two of the best and most affordable headphones to give for gifts this year:
Anker Soundcore Life Q20 Hybrid Headphones – 0. Active noise-canceling over-ear headphones w/ wireless Bluetooth, 40 hours of playtime, BassUp technology, and memory foam ear cups. Over 30,000 ratings on Amazon, and 90% of them are 4 or 5 stars. They come in black, blue, and silver.

TOZO NC9 Hybrid in-Ear Headphones – 0. Active dual-ear noise-canceling and snug design w/ the bells and whistles of expensive headphones: 1-step Bluetooth pairing, transparent mode, wireless charging case, and waterproof. One of the better pairs for this price point. In black, blue and silver.

Headphones buying tip: Avoid any headphones in the 0 to 0 range. According to reviews, they tend to be cheaply made and the sound quality is lacking.
4. Gift certificate to a local eatery
Encourage bonding and camaraderie between employees as they see each other at a great local restaurant on their lunch break or go together after work for happy hour.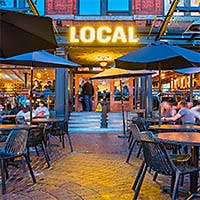 While chain restaurants are dependable and offer something for everyone, we encourage you to support independent mom-and-pop places. A 0 gift certificate should provide four lunches or two visits for dinner.
Local eatery gift certificate tip: Use Yelp to find the best place in the vicinity of your area. Look for not just the highest-ranking, but look for features such as lunch specials and indoor dining, and read a few of the reviews as well. Or ask around the office and find out which places are already employees' favorites and why.
5. Custom-branded backpack
A backpack is one staff gift idea that blends promotion with functionality. Branded with a logo, it can be used daily and increase company awareness. We offer a range of backpacks that are high-quality and have all the features people look for. They can fit a laptop, notebooks, a change of clothes, and more. The minimum order is 6.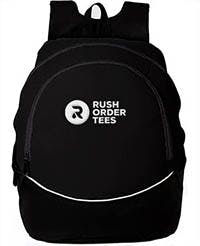 Custom branded backpack buying tip: Choose embroidery as your print method of choice for a classy, professional look that lasts, and simplify your logo or design and reduce the size (price increases with colors and complexity).
6. Gift certificate to a local coffee shop
Everyone has a favorite beverage, so a gift certificate to a local coffee shop is one idea that the staff will appreciate. Off course, coffee is a favorite, but employees will appreciate the ability to get tea, energy drinks, kombucha, or any beverage they prefer. A gift certificate is one staff gift idea that won't leave anyone disappointed.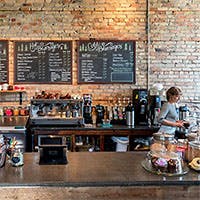 A 0 gift certificate can be used and appreciated many mornings. It's a perk– in more ways than one.
Coffee shop gift certificate tip: Starbucks is the easy go-to as they're everywhere, but look for an independent coffee shop first. Help support small, local businesses. Use Yelp to find the best place in the vicinity of your area, or ask around the office and find out which places are already employees' favorites and why.
7. Grocery delivery membership
Grocery delivery has quickly grown into a big industry. Still, many people haven't yet experienced the convenience and joy of skipping a trip to the supermarket by having someone else do it for you– and deliver it right to your door.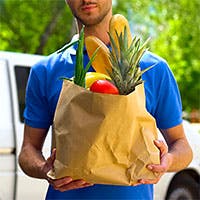 A limited membership to one of these services makes a great staff appreciation gift. If your employees like the service, they can renew it. Each one of our picks offers gift cards:
Instacart – One of the biggest and fastest-growing services out there, Instacart leverages the gig economy to bring their customers groceries from any of their favorite stores. It recently streamlined its service, putting them at the top of the pack. They offer bulk gift card deals, and you can choose from various designs.

Shipt – One of the newer services (owned by Target), Shipt focuses on great service and is similar to rideshare apps: they post your request to the app, and one of their fleet of shoppers takes the order. It also includes a rating system. The app ensures accountability, and shoppers honor the smallest requests. A gift membership is 0 for six months.

HungryRoot – This unique service combines grocery delivery and meal plans, focusing on healthy eating and sustainability. New members take a quiz to create a taste and preference profile and can save about 2 per week. Items are curated, but people can choose their own. Gift cards start at 5 for one week of groceries and meals.

Grocery delivery membership gift tip: Read the fine print for any service you're thinking about. Some plans have membership fees, delivery fees, rush fees, or other fees, so look out for that.
8. Amazon Fire Tablet
Amazon Fire tablets are surprisingly affordable and a popular staff gift idea for those that enjoy reading.
Amazon Fire 8 – 0. A solid budget tablet with an 8″ screen for basic apps, gaming, and ebook reading. It features 32 G of storage, up to 12 hours of battery life, and Alexa. You can't beat that for 50 bucks.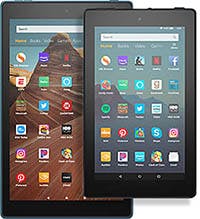 Amazon Fire 10 – 50. With twice the RAM, twice the storage, and twice as fast processor, this works for most apps, along with HD streaming. This is a great backup tablet, even for people with a fancy iPad.
9. Desk organizer/charging station
This gift helps tidy up the desktop and keep personal items in place while charging devices all day. Pens, notebooks, post-it notes, and more have a home with these neat and compact charging stations. Say goodbye to clutter, lost items, and dead phones.
Teslyar Wood Phone Docking Station/Desk Organizer – 3. Elegantly designed, made of handsome solid wood, and fully adjustable. The cords are tucked neatly away underneath, and the acrylic pieces allow for custom configurations. The phone charger is removable.

EasyAcc Wireless Charger/Desk Organizer – 8. Slim, black leather w/ stitching, multiple compartments, and two slots for notebooks, papers, or tablet computers. The wireless charging base works on any Qi-enabled device (most phones). Multiple extra USB ports are on the side.

FutureCharger Desk Organizer w/ Charging Station – 0. Large, black faux leather w/ stitching, various compartments including penholder, slots for cards, and valet tray for keys, watches, etc. The wireless charging base works on any Qi-enabled device (most phones).

10. Branded premium jacket
Our premium jackets make outstanding employee gifts– and jackets tend to be worn more than a custom T-shirt or hoodie, so your company logo is more visible more often. Here are some picks for men, women, and one unisex style:
Threadfast Apparel Unisex Bomber Jacket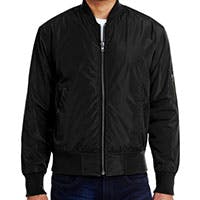 Bomber jackets are awesome and always in fashion. Made with 100% polyester shell w/ PVC coating for a slight sheen and lined with 100% polyester satin. Medium insulation fill for year-round wear. Utility pocket on sleeve. Retail fit, unisex sizing, and premium YKK zipper. Customize it now.
Champion Women's Performance Zip Up Jacket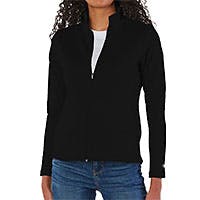 Champion is high-quality, and everyone knows it. 100% polyester lightweight performance fleece fabric provides warmth without weight. Two-ply collar w/ plush lining, forward shoulder, reverse coil zipper, contrasting side panels with side pockets. "C" logo on left cuff.
Under Armour Women's Ultimate Team Jacket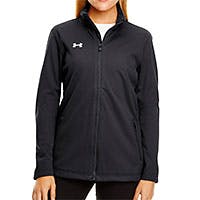 Matching ladies' version of the jacket above. 100% polyester, bonded two-layer softshell material w/ warm brushed inner layer, moisture-wicking, forward shoulder seams for comfort, full-zip, stand collar, zippered hand pockets, athletic loose fit, UA logo on right chest.
Branded jacket tip: Ordering in bulk lowers the cost per item, along with certain other decisions you can make. See our recent article for more tips on saving money.
11. Company trip to a local amusement
Hosting a company outing is an excellent way to demonstrate your appreciation for your entire staff. Having everyone get together is an awesome way to build team cohesion and bonding.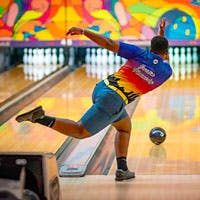 Many places have group discounts on tickets and special deals for teams, like your own reserved area or food and drink specials. Holding a group event is a favorite team gift idea for meeting a goal. Popular venues include:
Top Golf – If you haven't been to Top Golf yet, you're missing out. And you don't need to know how to play to enjoy the fun. It has multiple levels to add a nice view, a variety of games that anyone can play, great food and drinks, and it lights up at night. Price point: around 0 per person for a few hours of games.
Six Flags – When you want the biggest and best amusement park, go to your nearest Six Flags. There are locations all around the country, and each one is filled with unique thrill rides and entertainment. You'll want to go early and make a day of it. The price point is around 0 per person with a group deal (not including food/drink).
Axe throwing – These places are getting popular and are popping up everywhere. While axe throwing sounds like an accident waiting to happen, they prioritize safety by enforcing rules and giving free instruction. Typically offer food, drinks, and group deals. Price point: around 5 per person for a few hours (not including food/drink).
Bowling – The classic game that everyone can enjoy is still alive and kicking, with bowling places thriving while becoming more high-tech (glow in the dark, sound effects, and animated digital score displays) and offering full bars and food menus. Most places have arcades and other games to keep everyone happy. The price point is around 0 per person for a few hours (not including food).
Tip for company trips: Consider the food and drink situation, and if you want to cover that expense as part of the trip. Otherwise, let people know that will be separate.
12. Office chair seat cushion
Sitting in the same chair all day in the same position can take its toll. Give the gift of comfort with these ergonomically-designed seat cushions that will relieve pain and pressure and improve blood flow, happiness, and productivity every day.
Everlasting Comfort Office Chair Seat Cushion Pillow – 0. Designed for back, coccyx, and tailbone pain relief. Made with pure memory foam, conforms to shape and fits any chair. A breathable cover allows air to circulate. Comes in a variety of colors.
ComfiLife Gel Enhanced Seat Cushion – 4. Also designed for back, coccyx, and tailbone pain relief, as well as sciatica, this seat cushion has a combination of non-slip orthopedic gel and memory foam with a non-slip rubber bottom, in black and gray.

Everlasting Comfort Gel Infused Memory Foam Seat Cushion – 9. Similar to the first one but at a lower price point, this one is made with gel0infused memory foam and features ventilation holes to control temperature. Comes in black only.

13. Branded thermos, mug, and tumbler set
A set of company-branded drinkware featuring your logo is the perfect staff gift idea. These items provide a useful service all day, whether it's keeping coffee hot or soft drinks cold. And a coffee mug with the company logo to take home.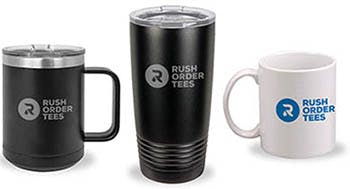 The price point for this combination together is about 7. That's based on a quantity of 50 and includes a 1-color custom print. Larger orders = bigger price breaks.
11 oz White ceramic coffee mug – Classic, standard-size mug, durable, with a wrap-around print area.
15 oz Polar Camel tumbler with handle – 2X Heat and Cold Retention Compared to glass or plastic, double-wall vacuum insulation for maximum heat retention, BPA free, slide lid included.
20 oz Ringneck tumbler – Vacuum-sealed lid; keep cold drinks for 24 hours and hot drinks for 12 hours. Double-wall construction eliminates condensation. Stainless steel with a powder coat finish provides maximum durability against damage. The narrow mouth opening on the lid doesn't spill, and the narrow bottom fits standard cupholders.
14. Digital photo frame
Make your employees feel at home with a digital photo frame they can load up with images of their family, friends, and memories. Maybe even a picture of you. The technology for digital photo frames has come a long way, and most have lots of great features, including the best one: reducing clutter.
LOVCUBE 8-Inch Digital Photo Frame – 0. Features HD display, motion sensor, photo auto-rotate, USB and SD card slots, and remote control. Also has a clock, and calendar, and supports video and MP3s.

BSIMB 9-Inch Digital Picture Frame – 0. Features HD display, USB and SD card slots, and remote control. Also has a clock, and calendar, and supports video and MP3s. Can be wall-mounted as well.

Aluratek 8-Inch LCD Digital Photo Frame – 0. Features HD display, USB and SD card slots, calendar, and auto-slideshow. This one has a wood frame and can also be wall-mounted.

15. Membership to an online learning platform
Knowledge is one staff appreciation gift that employees will value. Not only does it demonstrate your concern for their personal growth, but it also improves employee skills to strengthen your business.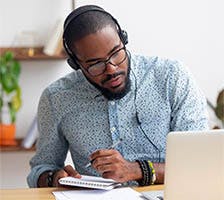 Everyone taking the same course can be fun. Some of them have starter memberships you can give as gifts, and others you can buy individual courses.
Here are the top 4 that stand out:
16. Portable Power Bank
Everyone has electronic devices these days, so power is something we all need– and what's better for portable devices than portable power? You can never have enough, so extra power is always a welcome addition. The kinds you can buy at a department store tend to be overpriced and run out fast.
Anker PowerCore 20 Ultra High Capacity Power Bank – 0. This sleek and lightweight power bank packs a punch, with the fastest charge out there and the capacity to fully charge your phone multiple times over. Includes the multiple ins and outs and comes with a travel case and a micro USB.

Baseus Power Bank – 3. This one holds more charge for a lower price point and can charge up to 3 devices at once. It's also fast at 2.5X times the charging speed of other chargers. It's also capable of pass-through charging, meaning you can recharge it at the same time you're charging devices.

Minrise Solar Power Bank – 3. Heavy-duty construction as well as capacity, this one can be taken on the go and charged in the sun when needed (normal recharge through wall outlet). Dual outputs can support the charging of two devices at the same time. Also has a safety feature to regulate current.

17. Lumbar Support Pillow
An ergonomic back pillow is one staff gift idea that demonstrates your concern for staff well-being and acknowledges that office chairs are uncomfortable for some.
Everlasting Comfort Lumbar Support Pillow – 5. Made with memory foam, dual adjustable straps, and a machine washable cover with breathable mesh for temperature control. A best-seller on Amazon, with 26,000+ ratings and 85% of them giving it 4 or 5 stars. Comes in multiple colors.

Niceday Lumbar Support Pillow – 0. Also made with memory foam, dual adjustable straps, and a breathable mesh cloth cover that is washable. This one has more of a full-back ergonomic design and can be used for a car and wheelchair. It features a built-in zipper and a side pocket.

18. Laptop stand or lap desk
Combining usefulness and affordability, this one is an outstanding gift for those who work from home, either full-time or part-time (which is a lot of people these days). Who wants to sit at a boring desk at home? Give them the gift of being productive from the couch, the bed, the floor, and more.
Rossie Home Premium Acacia Lap Desk – 5. This spacious-size personal desk fits laptops up to 15.6″ and features a wrist rest, leatherette mouse pad, and phone holder, and has a beautiful natural acacia wood surface. The cushion underneath is a blended cotton fabric that contours to your lap.

Amoskey Lap Desk and Tray Table – 9. This highly adjustable (5 leg heights plus custom table angle) all-purpose folding personal desk can work on the sofa, the floor, and the bed, as well as a tabletop. It features a wood surface, storage drawer, wrist rest, and phone holder. And how about that price?

19. Ergonomic under-desk footrest
Anyone who works at a desk all day will welcome any extra comfort that can be afforded. An under-desk footrest can provide exactly that– and boost productivity in the process. Properly positioning your feet can benefit your spine and your legs, reducing aches and fatigue. So show you care and make some feet happy.
ErgoFoam Footrest – 0. Featuring "velvet-soft" memory foam, a large surface area, a detachable cover, and adjustable height, the New York Times called this "the most comfortable footrest in the world," and is recommended by chiropractors. An Amazon bestseller with almost 5000 ratings and 80% are 5-star.

PaceEarth Footrest and Balance Board – 5. Made of high-quality poplar wood, this sturdy footrest will outlast the plastic or foam ones. Its rocking action supports blood flow, improves posture, and can also be used as a balance board for standing desks. Features a non-slip grip surface and supports 400 lbs.

Mind Reader Footrest – 0. Fully adjustable, with an angled structure and textured surface so you can massage your feet while you're working. Features a swivel action for dancing in your seat. Well-built with sturdy resin plastic, this has over 13,000 ratings, and the vast majority of them are 4 and 5 stars.

Foot rest gift tip: Avoid footrests in the 0-0 range. According to customer reviews, they tend to be cheaply made and don't last long. Although they seem like a low-impact item, apparently putting feet on something all day can cause a good amount of wear and tear.
20. Premium lunch box
An insulated cooler is the perfect employee gift for anyone transporting food, which means everyone. They keep food fresh and encourage healthier eating habits.
HSG Thermal Lunch Box Tote – 7. Insulated and leakproof, large and durable, this tactical cooler has everything, including mesh side pockets, an adjustable padded strap, a front compartment, and YKK zippers. Built to last and holds 12 cans or 2-3 meal preps. Veteran-owned company. Four styles.

Lille Home Lunch Box Set – 6. This handy kit includes multiple bento-style, BPA-free food containers, along with a lunch bag and portable cutlery set. The vacuum-seal, insulated lunch box can keep food warm for 4-6 hours, twice as long as most others. This set comes in blue, green, or pink.

FineDine 8-Piece Lunch Box Set – 0. This streamlined lunch cooler has two compartments and 3 glass food containers with lids that lock and are leakproof. It also has an adjustable strap, mesh side pockets, and an ice pack. The inside lining is waterproof nylon and washes easily. Comes in seven colors.

Lunchbox gift tip: You may also want to include name tags if you're buying the same lunch box for everyone.
21. Tile Bluetooth Tracker/Locator
A Bluetooth tracker is a great gift for anyone who is misplacing things or can't find items like keys or their phone, which is pretty much everyone. Bluetooth trackers are not the same as GPS trackers (global, require subscriptions, and have limited battery life); they work in short-range only, and the batteries can last up to a year. Although they cannot track an object out of range, they can tell you the last place it was in range.
Tile Starter Pack – 0. Includes one Mate (for the keychain) and one Slim tracker (for the wallet). Both work up to 200 ft. The Mate has a 1-year replaceable battery and is water-resistant, and the Slim has a 3-year battery and is waterproof.
Tile Pro – 5. Great for attaching to a keychain, bag, or another portable valuable item. Works up to 400 ft, has a 1-year replaceable battery, and is water-resistant. With this tracker in hand, you can find your phone– even when it's on silent mode.

22. Book club membership
Books are one of the best appreciation gifts to give because they come with adventure, love, mystery, comedy, knowledge, inspiration, and much more (depending on the book). The trick has always been picking the right ones.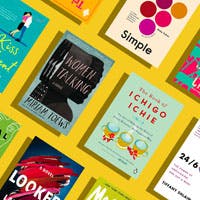 Book club memberships solve this problem by delivering great reads right to people's doors– either curated by discerning experts or chosen based on the subscribers' given tastes and preferences.
People rave about the joy they feel getting a new book in the mail, and membership is the literal definition of the gift that keeps on giving. Even non-readers can become avid readers, and that is life-changing. Here are two of the best we found:
TBR (Tailored Book Recommendations) – Launched by the powerhouse website Book Riot, TBR is one of the newer book clubs on the scene and is designed to be tailored to an individual's taste by their resident "biologists". They have simple gift packages (starting at 6), the main package (5), and a full year (15).
Book of the Month Club – The original book club is still going strong (since 1926!). It also happens to be one of the most affordable and easy-to-use memberships. They have three tiers to give as gifts. Choose from a 3-month plan (0), 6-month (0), or a full-year (70). And they have a cute character named Boxie to assist you.
Book club tip: When choosing a book club, make sure they will have some say in which book they receive, rather than random picks– even if they are picked by book experts. The better plans allow users to fill out a detailed survey about their interests.
23. Spa treatment with a day off
Our final staff gift idea would probably rank highly in any survey: a day off with a spa treatment. This gift is out of the ordinary, but if you want to be the coolest boss and show appreciation, this will do it.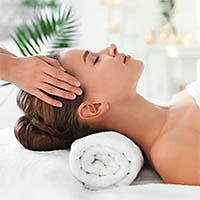 The price point for this will vary from place to place (Omaha vs. Beverly Hills), along with what is included, but the average cost of a day spa will be somewhere between 0 to 50. This is a big-ticket item combined with the cost of giving people a full day off. So you may want to reserve it for extra special occasions. Or extra-special employees.
Alternatively, you can go with just the spa treatment alone– that's affordable enough to give to your whole workforce (and they can schedule the treatment on their own time). We just wanted to end the list with a bang.
Show Employees Your Appreciation With a Thoughtful Gift
Whatever you choose, a thoughtful gift is the best kind. We hope these employee appreciation gift ideas have given you some options to show your staff how much you value their contribution.
About the Author
A graduate of the Multimedia program at the University of the Arts in Philadelphia, Imri Merritt is an industry veteran with over 20 years of graphic design and color separations experience in the screen printing industry.