Design Custom Gear
Personalize a custom t-shirt with our easy-to-use Design Studio
Start Designing
For the global apparel and fashion industries, 2020 was the year when everything changed.
Between the COVID-19 pandemic, the lockdowns, social unrest, and general sense of uncertainty, the past year has been a rollercoaster ride, especially for the apparel and fashion industries, and continues into 2021.
Let's take a look at some of the surprising numbers and key data points to give you a better idea of where we were, where we are now, and where we're going.
Apparel and accessories sales in the United States are expected to reach 95 Billion in 2023, despite a significant decline during 2020 due to the COVID pandemic. (eMarketer)
The baby and young children's apparel market in the US was estimated to be 7 billion in 2019. (Statista)
The US apparel manufacturing industry had 90% fewer employees in 2020 vs 1990, 90k vs 902k. Over the years, many jobs have been outsourced to less expensive labor markets such as Mexico, China, and Southeast Asia and the industry has increased automation. (Statistia)
Athleisure and activewear brands suffered less of a sales decline in 2020 compared to other apparel categories, decreasing by just 2-3% vs 2019. Consumer interest in health and wellness will continue beyond the pandemic, so demand for athleisure and activewear is expected to be strong in 2021. (McKinsey & Company)
An estimated that 25,000 US retailers had to shut their doors in 2020, more than double the number in 2019. About 55-60% of these store closures occurred in malls. (Coresight Research)
Almost 2/3 of American adults say they are wearing sports apparel daily. The rise of remote work in 2020 has led to a major trend of casual sportswear and athleisure, a sector that was already on the rise before the pandemic. Considering that many companies have decided to keep a portion of their workforce remote, this trend is likely to continue. (Pew Research)
Yoga apparel products grew 36% in 2020 compared to the previous year. Many gyms closed in 2020 and people started working out at home and focusing on outdoor activities. Companies like Lululemon have capitalized on this trend. (Edited Marketing Intelligence)
Due to the COVID pandemic, 27% of US consumers said they planned to spend "somewhat" or "a lot" less on luxury and fashion items in 2020. The coronavirus pandemic wreaked havoc on last year's fashion ecommerce predictions. (Shopify)

The size of the global apparel market in 2020 was .46 trillion, down almost 20% from 2019. It's expected to rebound in 2022 and reach .84 billion. (Statista)
The apparel industry lost an estimated 42 billion in 2020 revenue compared to 2019 due to the COVID-19 pandemic. (Statista)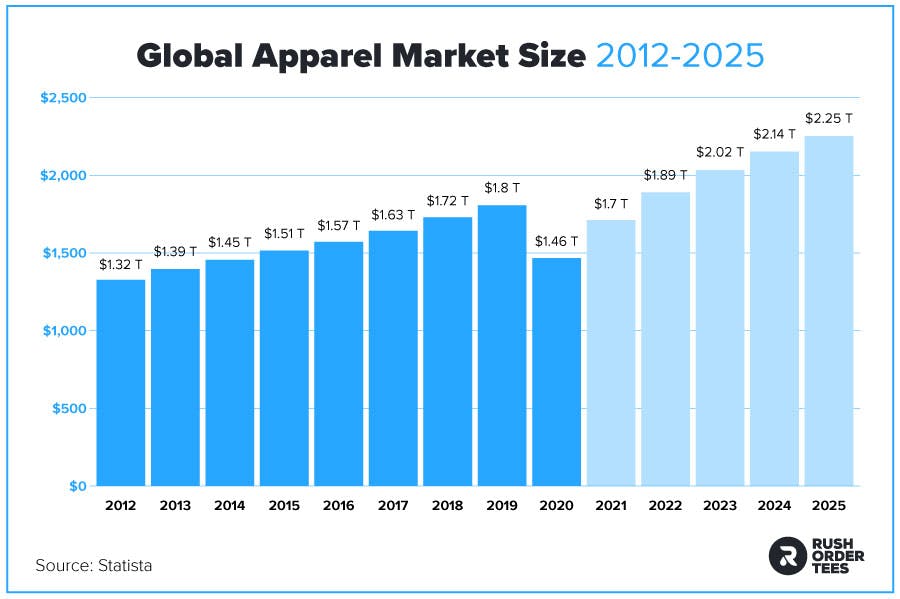 There are an estimated 75 million workers employed globally by the apparel industry including textile manufacturers, designers, sewers, tailors, retailers, and more. (Common Objective)
The Asia Pacific region is the largest apparel market in the world, consuming 33% of global demand. Western Europe is second with 28% of the global apparel market, while Africa represents the smallest share of global demand. (Statista)
Women's apparel is the #1 best-selling clothing category globally with an estimated 65 billion in 2021. (McKinsey & Company)
The global sports apparel market is estimated to grow by 32% from 2020 to 2026.  (Allied Market Research)
Consumers today purchase an estimated 400% more clothing than they did just 20 years ago. The modern industry has notoriously short product life cycles, vast product differentiation, and is characterized by a great pace of demand change. (True Cost)
The world consumes over 80 billion new pieces of clothing every year. As new clothing comes into our lives, we also let it go at a startling pace. Historically, clothing has been something we have held onto for a long time, but with cheap clothing now abundantly available we are beginning to see the things we wear as disposable. (The True Cost)
The global ecommerce fashion industry is projected to grow to 13 billion by 2022. Around the world, shoppers are buying more apparel and shoes than ever before. Experts predict the ecommerce segment will grow at a compound annual rate of 10.6% through 2022. (Shopify)
Fashion companies suffered a 90% drop in economic profits in 2020, after a 4% rise in 2019. (McKinsey & Company)
according to a 2020 survey on consumer preferences. An emphasis on sustainability was also reflected with 3 out of 5 respondents citing sustainability as an important factor in their fashion purchase decisions. (McKinsey & Company)
More than 80% of leaders at consumer and retail companies reported that they were making and implementing major decisions faster than before, according to a 2020 survey. The pandemic and associated economic downturn have forced leaders to come up with innovative solutions that can be quickly deployed. (McKinsey & Company)
With nearly 5 billion in 2020 revenue, Nike was by far the leading apparel brand in the world, generating almost 2x sales of the next apparel brand, Gucci (7.6 billion). Adidas (6.4 billion),  Louis Vuitton (6.4 billion), and Cartier (5 billion) followed closely behind.  (The Vou)
Only 60% of garments are sold at full price due to excessive inventories and widespread markdowns, according to a 2020 analysis. This race to the bottom has resulted in billions of dollars of lost revenues and margin for the fashion industry. (McKinsey & Company)
The fast fashion industry declined by 12% in 2020, decreasing from 5.8 billion in 2019 to 1.4 billion. The market is expected to recover by 2023 and reach 8.2 billion. (ResearchAndMarkets)

The global fashion ecommerce industry declined 8.6% in 2020, down from 31 billion in 2019 to 85 billion, largely due to the pandemic. The market is set to not only recover but hit 72 billion by 2023. (Shopify)
Ecommerce transactions are expected to make up 36% of total fashion retail worldwide by 2022. (Forrester)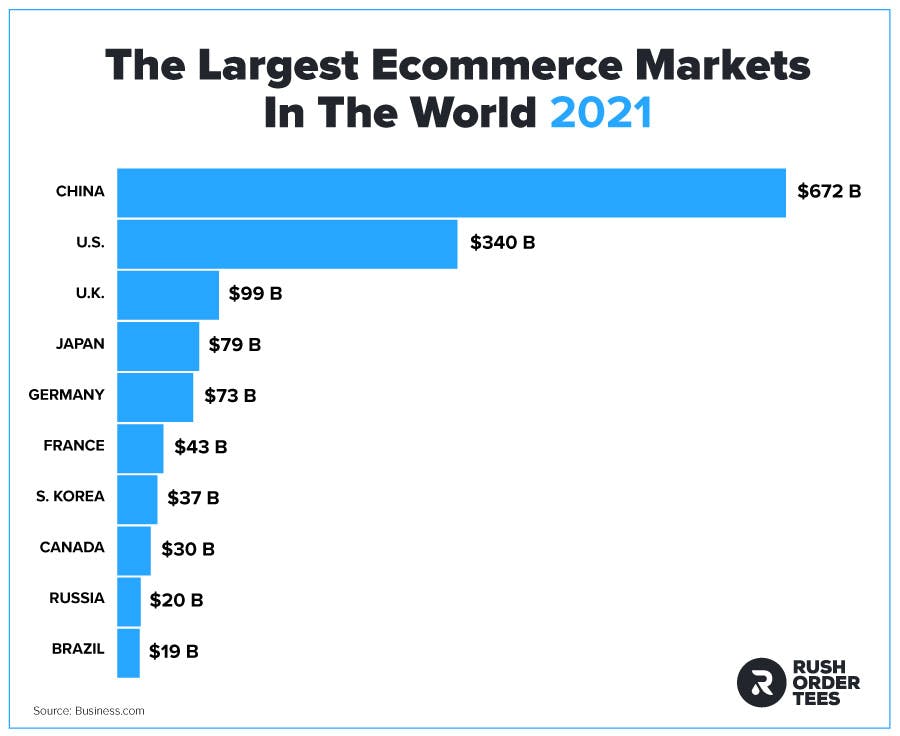 China is the dominant ecommerce leader with market size of 72 billion, followed by the United States at 40 billion. (Business.com)
71% of fashion executives anticipate their online sales to grow by 20% or more in 2021. (McKinsey & Company)
Ecommerce's share of fashion sales nearly doubled from 16% to 29% globally during 2020. With the global pandemic keeping people at home, 2020 may be remembered as the year in which the fashion retail world made a definitive shift online. (McKinsey & Company)
U.S. retail ecommerce revenue from fashion apparel, footwear, and accessories is estimated at 11 billion in 2020 and projected to grow by 39% to 54 billion by 2024. Companies that shifted their resources to ecommerce should thrive in the coming years. (Statista)
Fashion ecommerce accounted for roughly 29% of the total fashion retail sales in the US in 2020.  (Statista)
Online apparel sales are expected to reach 00 billion by 2021. Amazon, Gap, and Nordstrom are the biggest ecommerce chains. Statistics show the increasing number of Americans who resort to shopping from the comfort and safety of their homes.  (Shopify)
6 out of 10 consumers said the option to shop via mobile is an important factor in deciding which brands to purchase from. Online shopping has skyrocketed and fashion brands need to meet customers wherever they are on their mobile devices. (Smart Insights)
In 2019, online fashion sales accounted for 28% of total retail ecommerce sales in the US, while total online retail sales of physical goods amounted to 65 billion and are projected to reach close to 00 billion dollars in 2024. Yet it seems the majority of Americans still prefer shopping at brick and mortar stores. (Statista)
Although 2020 was a challenging year for apparel and fashion companies, the industry proved resilient. Profits nosedived and supply chain disruptions wreaked havoc, but the light at the end of the tunnel is looking increasingly bright. Companies that have pivoted with these changes have been able to survive and even thrive through the turbulent year and have set themselves up well for a strong future.

Imri Merritt
About the Author
A graduate of the Multimedia program at the University of the Arts in Philadelphia, Imri Merritt is an industry veteran with over 20 years of graphic design and color separations experience in the screen printing industry.