DESIGN
American Flag T-Shirt Design Ideas
Design Custom Gear
Personalize a custom t-shirt with our easy-to-use Design Studio
Start Designing
If you're looking for ideas and design tips for creating American flag T-shirts, you've come to the right place. Custom tees are one of the best ways to mark the occasions of the 4th of July, Memorial Day, Veterans Day, and Election Day, but any day is a good day to celebrate the USA and show your love for the country.
You may have heard there are rules regarding printing the American flag. It's true–but they are guidelines rather than laws. We're going to explain a few of them that are reasonable to follow if you want to respect Old Glory (but if you don't, no worries–Uncle Sam will not be coming after you).
This article provides exclusive new design ideas, and you can start using them right away. Clicking each link will take you directly to a template that you can customize with your business, team, family name, or event info. Scroll beyond the list for more American Flag etiquette, plus some helpful design tips. Let's go! 🇺🇸
Exclusive design ideas for American flag T-shirts
Each of these designs has multiple elements you can move, resize, recolor, or omit. It gives you a strong starting point, and then you can add your own custom text, change the T-shirt color, add print areas, and more. Continue reading past the list for some design guidelines and learn the flag's official colors.
1. We The People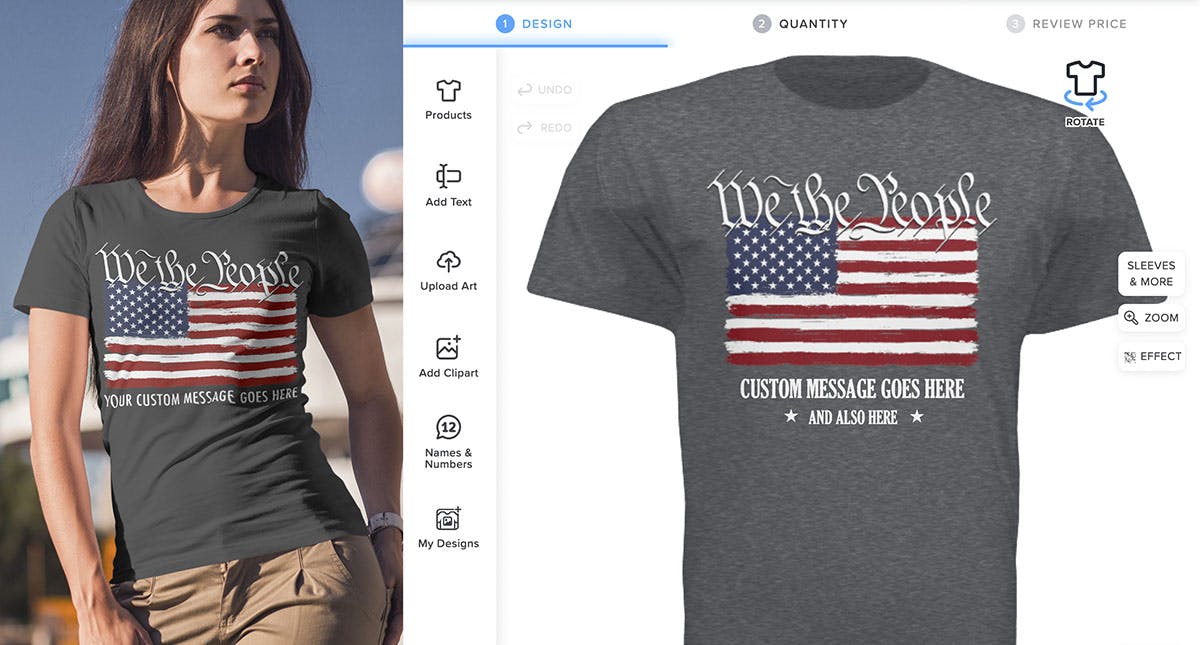 The first three words of the Declaration of Independence eloquently distill the core idea of our country: a government for the people, by the people. This 3-color design includes an image of those handwritten words as they appear on the document, resting atop a hand-painted American flag, representing the DIY spirit of the country. The title, image, and text are all separate for a variety of potential design configurations.
🇺🇸 Start with this template: We The People
2. Home of The Free, Because of The Brave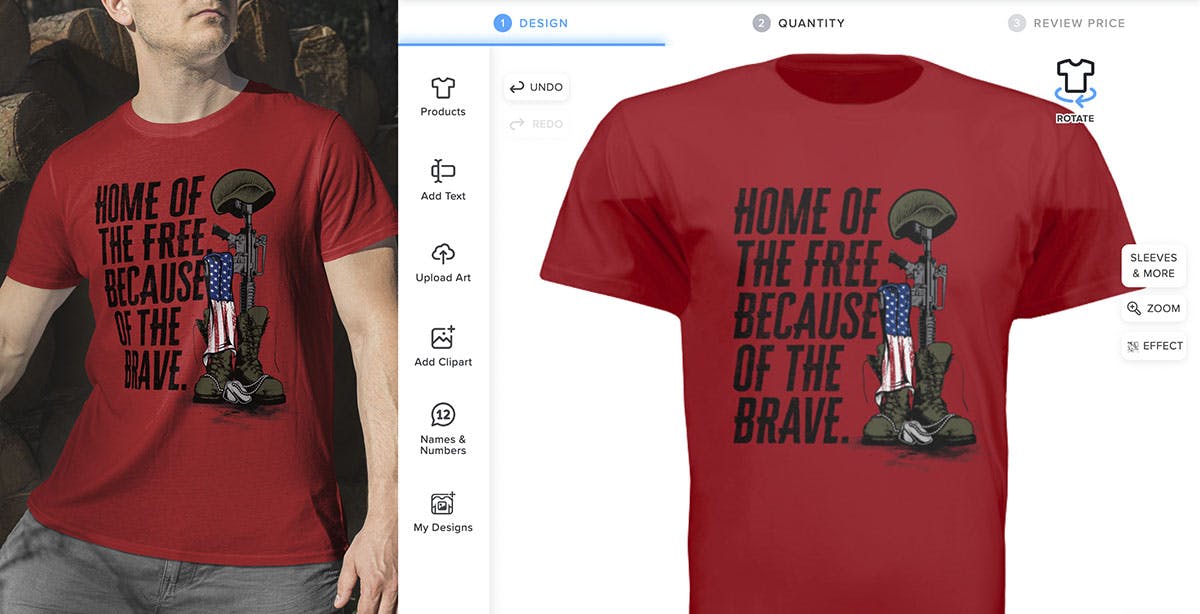 This design makes a powerful statement about the ultimate sacrifice made by our soldiers throughout history. Use it for any patriotic holiday, or as a standalone design. The text is separate from the illustration, so you can add your own. This would make a strong single-color design with the T-shirt color of your choice, and would also work well as a back print.
🇺🇸 Start with this template: Home of The Free
3. Live Free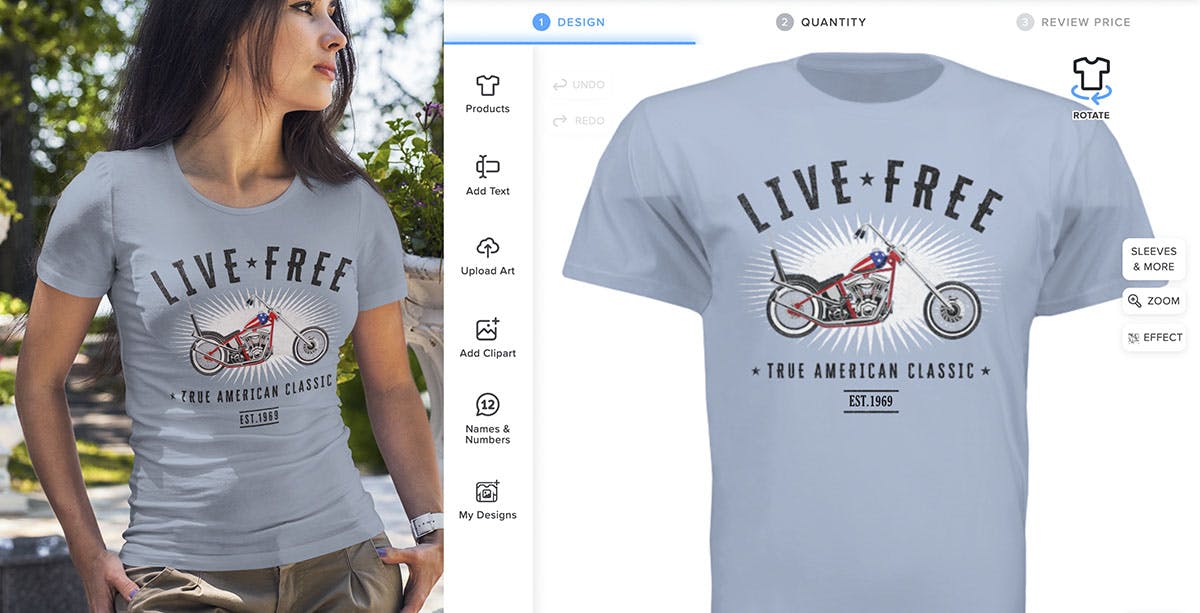 The expression "Live Free or Die" is the official motto of the state of New Hampshire, but the expression has become adopted more widely as an American ethic. This T-shirt design shortens it to the first two words and arches them across the top of a classic chopper-style motorcycle with an American flag gas tank. Add custom text and change the T-shirt color to create your own Easy Rider-inspired design.
🇺🇸 Start with this template: Live Free
4. United We Stand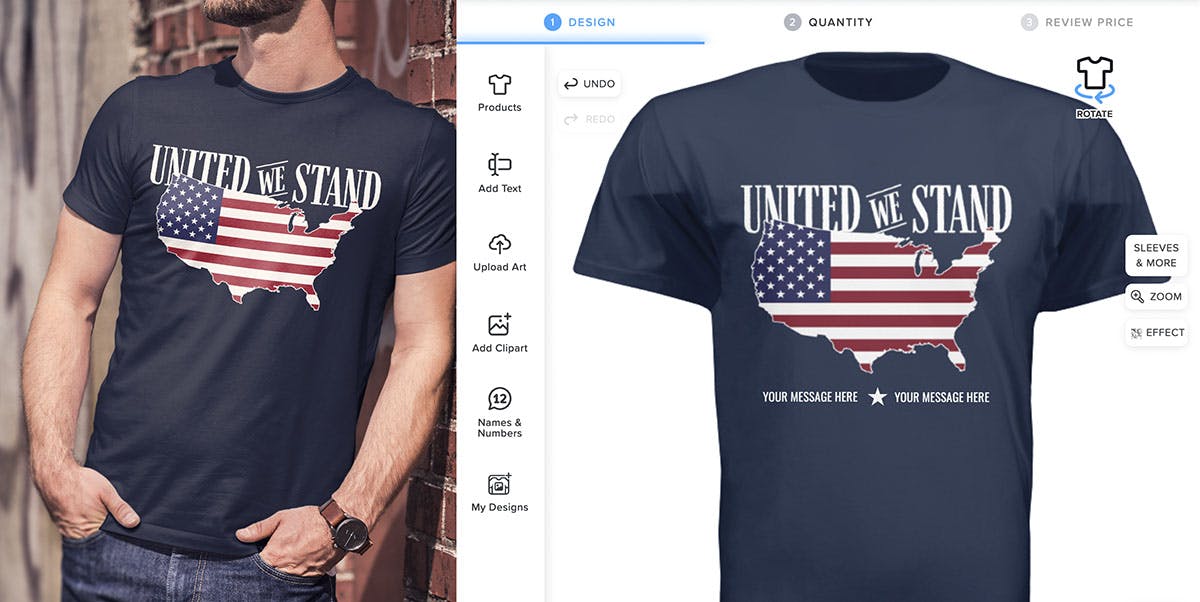 These three words from the Pledge of Allegiance embody the spirit of unity and defiance against division, following from the Latin motto found in the Great Seal and our currency: "E Pluribus Unum" (out of many, one). This simple but strong design features the American Flag contained in the shape of the continental United States. The title, graphic and text are all separate so you can make your own configuration and message.
🇺🇸 Start with this template: United We Stand
5. Let Freedom Ring
These three words rang out across the country in 1962 during Martin Luther King Jr's historical "I Have a Dream" speech. Celebrate the lasting power of those words with this Liberty Bell T-shirt design, featuring the famous cracked bell you can see in Philadelphia, with an American Flag flowing through it. Reconfigure all the parts to create your own custom layout.
🇺🇸 Start with this template: Let Freedom Ring
6. Give Me Liberty or Give Me Death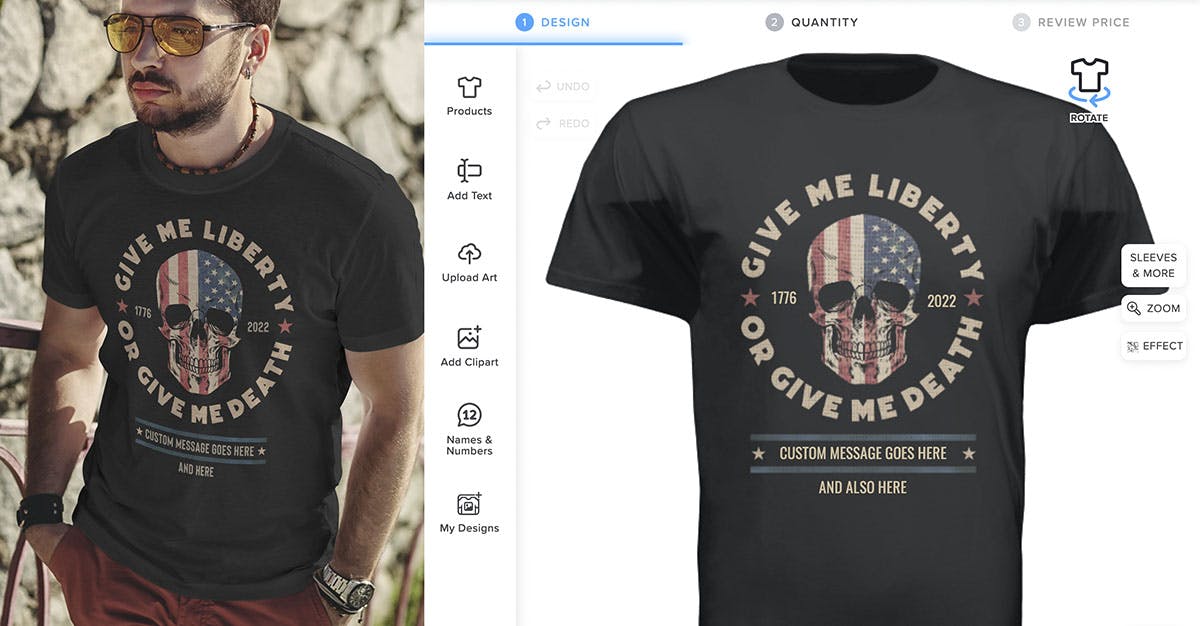 Patrick Henry made this famous declaration in his 1775 speech convincing the Second Virginia Convention to deliver troops to the Revolutionary War. Now it's a rallying cry for all freedom-loving Americans. This 3-color design features a skull with the faded colors of the American flag and a subtle canvas texture. The title, skull, and stars are all separate so you can change them however you like.
🇺🇸 Start with this template: Give Me Liberty or Give Me Death
7. American Eagle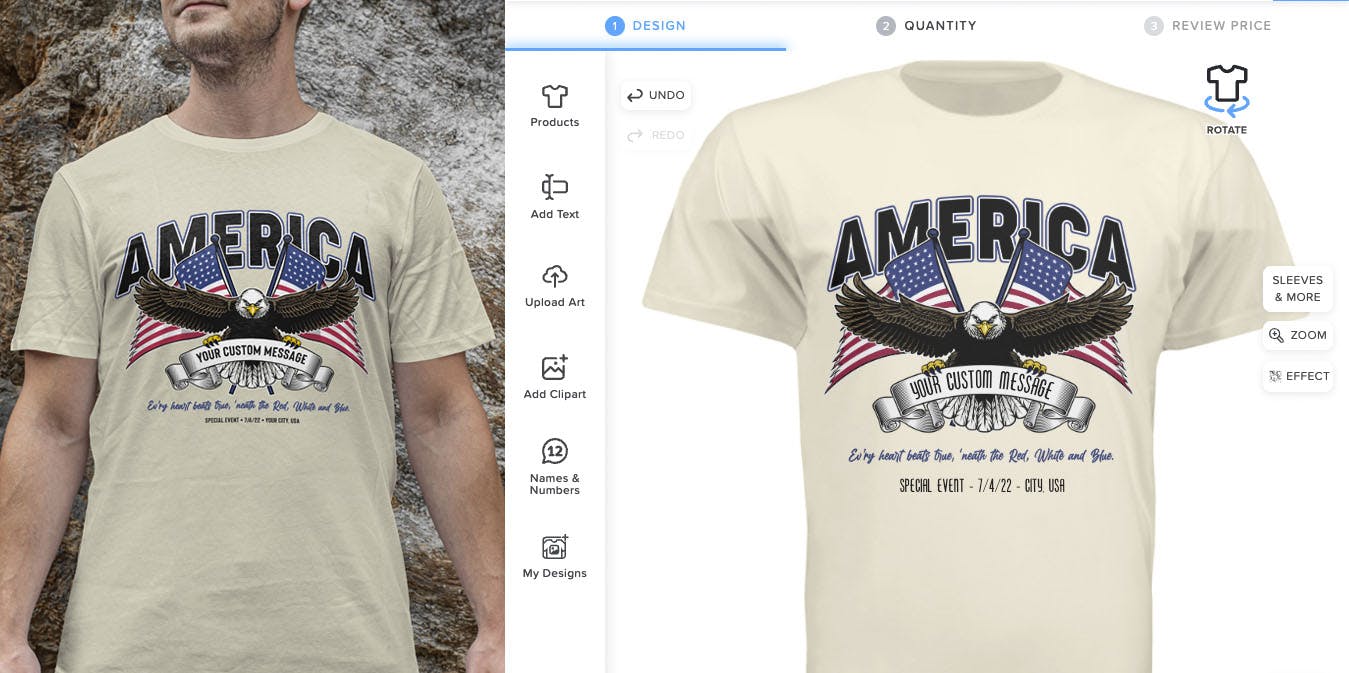 Nothing says America like a strong, regal American Eagle. This design features one with wings spread and a determined look, flanked by American Flags, representing pride and unabashed love for the country. Your custom message can go in the banner, along with additional information below. This design could go on the back, with your logo on the front.
🇺🇸 Start with this template: American Eagle
8. Sweet Land of Liberty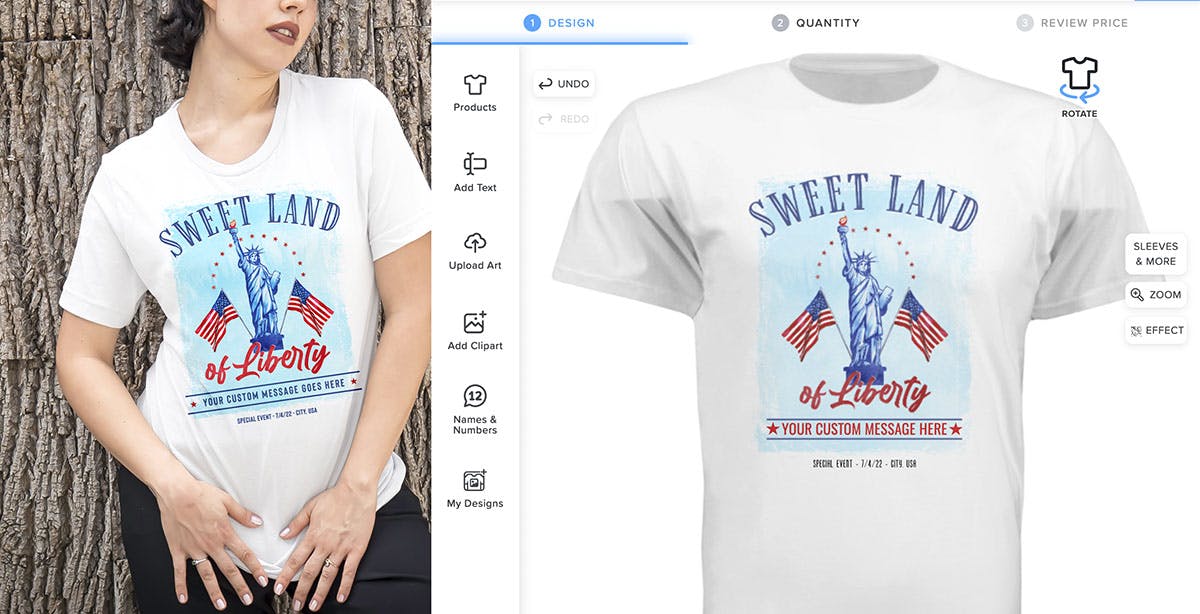 "Give me your tired, your poor, your huddled masses yearning to breathe free" begins the poetic inscription on The Statue of Liberty, and the song "My Country 'Tis Of Thee" inspires this T-shirt design. The statue proudly stands in the center, with a sky blue background and the American Flag by her sides. Customize the message or use this as a starting point.
🇺🇸 Start with this template: Sweet Land of Liberty
9. Bold Stripes, Bright Stars, Brave Hearts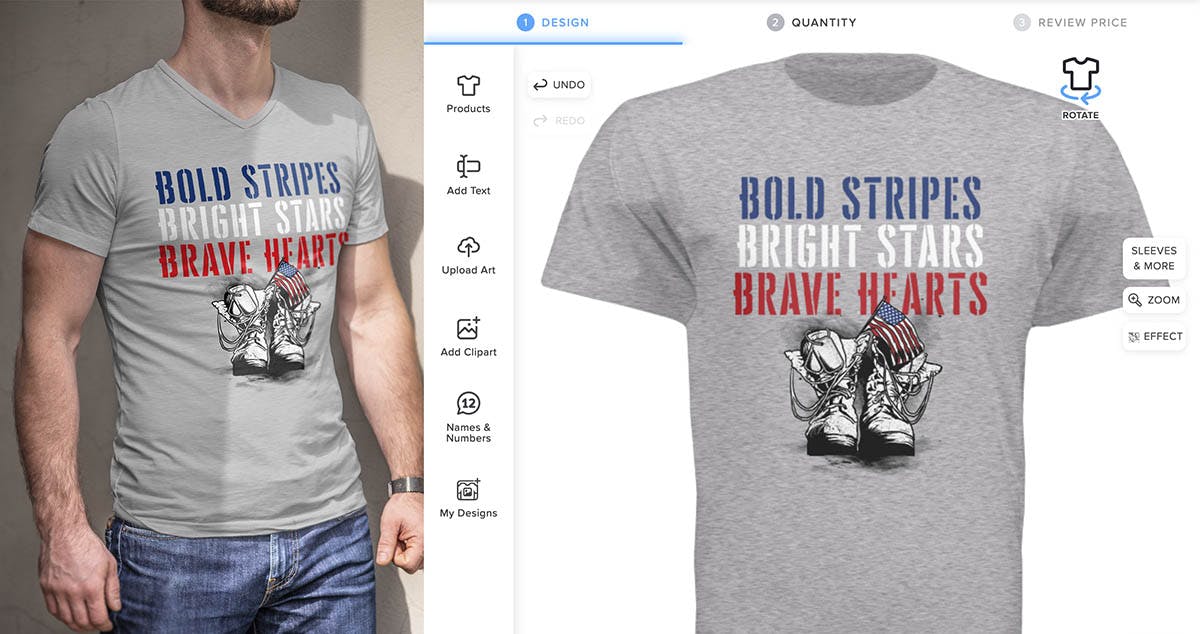 Bold, bright, and brave. This T-shirt design links the characteristics of the American Flag with the courage and heroism of those who have given their lives to defend the values of the country. An ideal design for Memorial Day that will remind everyone what it's really about. Add your own message and information to customize it just the way you like.
🇺🇸 Start with this template: Bold Stripes, Bright Stars, Brave Hearts
10. Liberty and Justice For All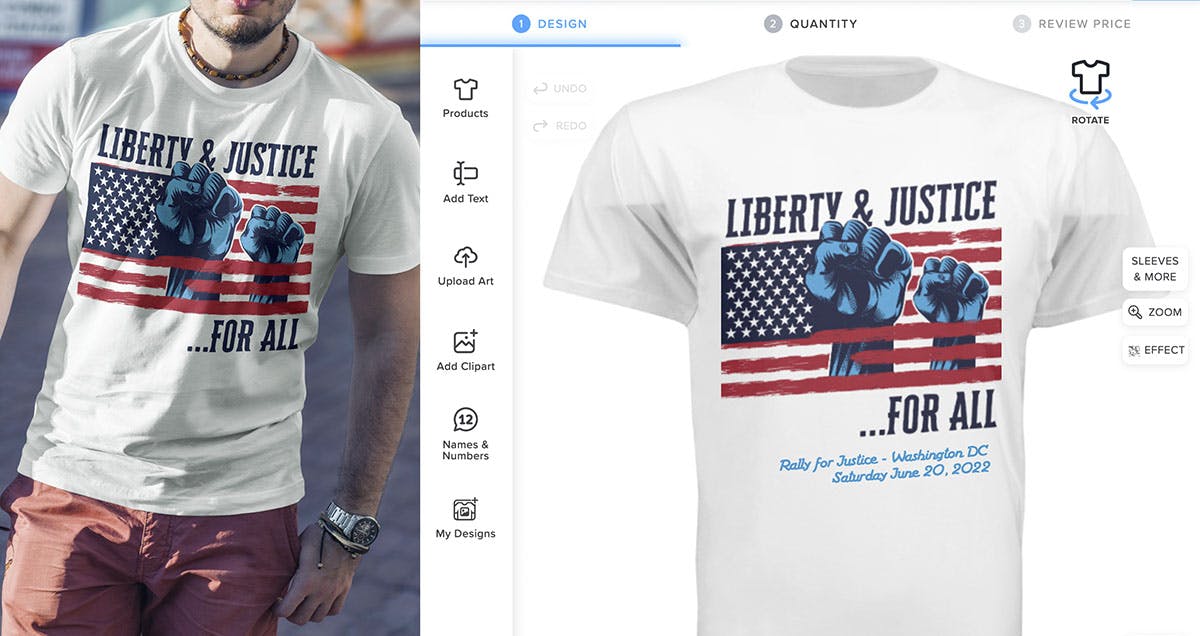 A renewed sense of the fight for justice marks our modern era, and this bold T-shirt calls attention to the main point of the movement: there is no liberty and justice unless it applies to all. The design features a diagonal, distressed American flag with raised fists breaking through it. The title, graphic, and text are all separate so you can create your own layout.
🇺🇸 Start with this template: Liberty and Justice For All
Guidelines for designing American flag shirts
The U.S. flag code provides all kinds of rules for how to treat the American flag. It mostly has to do with how actual flags are displayed and handled, but part deals with printing and wearing the flag. There's a common misconception that it's illegal to break these rules– it's not.
This may have been the case early in our nation's history, but at some point, the Supreme Court decided ‌the flag code is not enforceable by law in a free country. You would never see American flag paper plates or boxer shorts if it were. In fact, printing the flag on almost anything would be illegal.
If you want to print the American Flag while showing respect and following some general etiquette, you can find your own happy medium between total restriction and printing it on underwear. This list of guidelines describing what to do and not to do will help you follow the rules set forth in the U.S. flag code:
Don't print an American flag with less than 50 stars

Some of the clip art flags out there have 48 stars. Some have far less. We're not sure why other than lazy designers. If you want to stay true to the flag, count the stars. The obvious exception to this is the Betsy Ross Flag with 13 stars.
Don't have the stars pointing backward on sleeve prints

It's the opposite of how a flag is normally displayed, also known as the "reverse side flag" and is the standard for shoulder patches on military and first responder uniforms. This way, the stars point forward as you walk (as if carrying a flag). The stars should be to the right on a left sleeve print, like normal.
Don't print the flag on the butt
You may ask, why would I want to do that? You'd be surprised by what people do. The simple reason for this rule is that you never want to be sitting on the flag. Nothing against your butt, it's just a bit rude.
Don't print the flag as a negative
This is a common mistake that happens when you are printing a flag with a single color of ink (white, usually) on a darker shirt color (including red and navy). In these cases, ‌invert single-color clip art flags so that they are negative–but will print positive. For the best results, add an outline. If you don't know how to do this on your own, simply put in a request with your order and our art department is happy to do it for you for free.
Don't show the flag upside down, accidentally or otherwise
An upside-down flag signals distress, and it can also signify being anti-America. How would this happen accidentally? If you print the flag sideways on a sleeve, the flag will appear upside down when you raise your arm (to point, let's say). Avoid this entirely by not printing the flag sideways on a sleeve.
Don't use the wrong colors

The blue should be navy–not Royal. Yes, there are many T-shirts and designs that use Royal Blue rather than Navy. These designs are wrong. Old Glory Blue is much darker than Royal. And Old Glory Red is a deep red, not the bright red that is too often used. If you want to respect the flag, use the true colors. The exact codes are below.
Don't distort, distress, or deconstruct the flag

This one might be the most commonly broken rule in this list, because many American Flag T-shirt designs play with the symbol by twisting it, warping it, or distressing it. Many designs have shredded and torn edges or a grungy, faded, or dirty look. While these stylistic choices can set your design apart, avoid them if you want to respect the flag code and display the flag the way it's meant to be ‌shown.
Don't place the flag below anything else

This is another one from the flag code we feel can be a good guideline for T-shirts most times. When you are using the American Flag in your design, place it on top of all other elements, including arched text. Putting it below other items signifies submission or a lower hierarchy. For true patriots, nothing should come before the flag.
Don't use other objects in place of the stars

We see this sometimes when a designer has taken liberties to be clever and used some other objects in place of the stars. Often it's some kind of reference to a brand's logo. Not only does this end up looking awkward, but the U.S. flag code explicitly states not to substitute anything else for the stars, and we think this is a good rule.
Don't position text directly on or across the flag

Below it is ok, but the U.S. Flag Code considers any text blocking the flag's image to be disrespectful.
Don't commercialize the flag

If your T-shirt design is featuring your logo or brand, or advertising anything, avoid incorporating the flag directly into your logo. It represents the country, not your company. Think about using elements such as stars and stripes instead, or keep them separate.
Reproducing the exact colors of the flag
Everyone knows the American flag is red, white, and blue. But these are not just colors, they are specific shades that are important to get right if you want to reproduce them accurately on your printed T-shirt.
The most accurate way is to ask for the exact Pantone matches shown below. This only applies to screen printing. Our standard in-house ink colors that come closest are Red and Navy.
If you're creating your own design using a graphics program, use the color codes listed below to get the closest matches and avoid the common mistake of using Royal Blue rather than Navy.
Red
Pantone: 193C
RGB: 196, 15, 60  /  CMYK: 16, 100, 76, 5  /  Hex: #C40D3C
Closest in-house ink color: Red 

Blue
Pantone: 282C
RGB: 1, 30, 65  /  CMYK: 100, 87, 42, 52  /  Hex: #011E41
Closest in-house ink color: Navy

Now that you have some inspiration and guidelines, it's time to design your own American Flag T-shirt. Jump into our easy-to-use Design Studio to get started now!
About the Author
A graduate of the Multimedia program at the University of the Arts in Philadelphia, Imri Merritt is an industry veteran with over 20 years of graphic design and color separations experience in the screen printing industry.