ARCHIVE
10 Most Iconic Fictional Sports Team Uniforms of All Time
Design Custom Gear
Personalize a custom t-shirt with our easy-to-use Design Studio
Start Designing
There are no limits when it comes to Americans obsessing over our favorite past time–sports. Not only do we love watching our professional athletes play on TV and our children play on the field, but we also love rooting for fictional teams we see in TV shows and movies. Interestingly enough, some of these fictional teams even have the power to transcend from the big screen into people's every day lives. Here is a countdown of the top 10 most popular fictional sports teams from pop-culture:
10. The (Bad News) Bears (1976)
The Bears' color scheme is iconic. While probably no one would choose white to go with shade of gold today, it remains a fitting relic of baseball past, calling to mind the San Diego Padres, or my Little League baseball team circa 2002.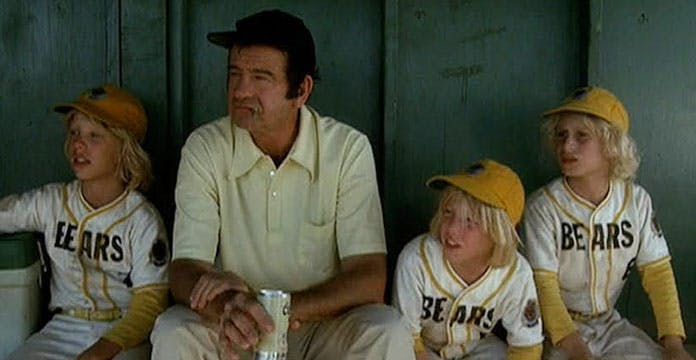 Despite the dated look, the Bears' uniforms hold up better than the rest of the original film does. Its simplicity, combined with those slouchy dad hats, makes it a believable Little League uniform, and the perfect one for the underdog Bears. 
9.Tune Squad & Monstars (1996) 
Fun fact: 90's kids' classic Space Jam stemmed from a Nike commercial. I can't think of a more fitting representation of the decade, can you? 
As a kid, my two favorite people were MJ and Bugs Bunny, so I wasn't paying much attention to the aesthetics of the film. But looking back on it now, there are a number of clever elements to the uniforms. From the dopey Monstars' players all wearing number zero, to the Tune Squad's reference to the old Merrie Melodies (AKA Looney Tunes) logo, both teams' jerseys are thoroughly enjoyable.
8.Milwaukee Beers (1998) 
Is BASEketball a good movie? I don't know (okay, probably not), but that's not the point of this blog. The hybrid sport itself does seem kinda fun, though!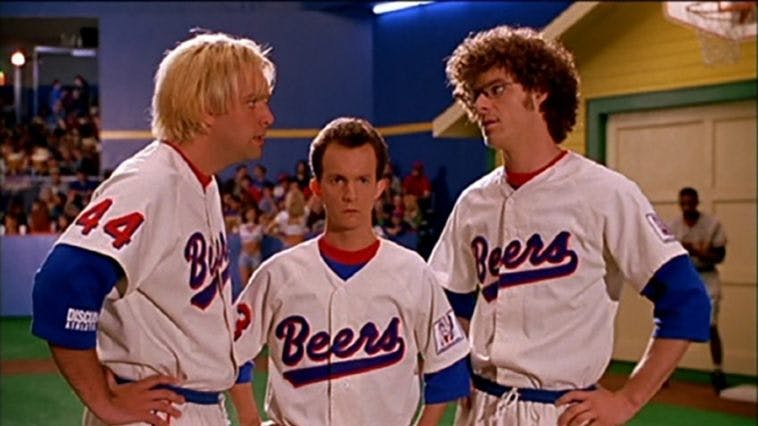 And the blue and white of the Beers' uniform is pretty darn good. It has the classic look of the Dodgers' white-and-blue scheme, while being sufficiently satirical.
You could argue it's a little plain, or would look better with a hat. I think the joke of having "Beers" emblazoned across the front of the jersey makes up for any of its (minor) design deficiencies. 
7. Miami Sharks (1999)
Does a mostly-black uniform ever look bad? The costume designers on Any Given Sunday sure don't think so. I would say they're right. Highly reminiscent of the 90's Atlanta Falcons, not even a weirdly generic shark logo on the helmet could derail this intimidating look.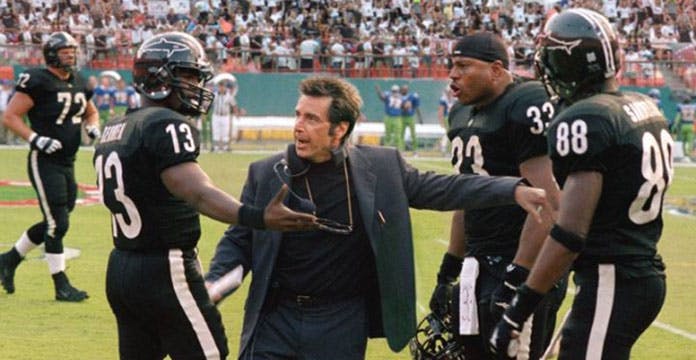 The choice to pair black pants with a black jersey serves to highlight the tension and drama that runs through every scene. It's a bold look that makes Miami look like the dark horse championship contender they go on to be. 
6. Charleston Chiefs (1977)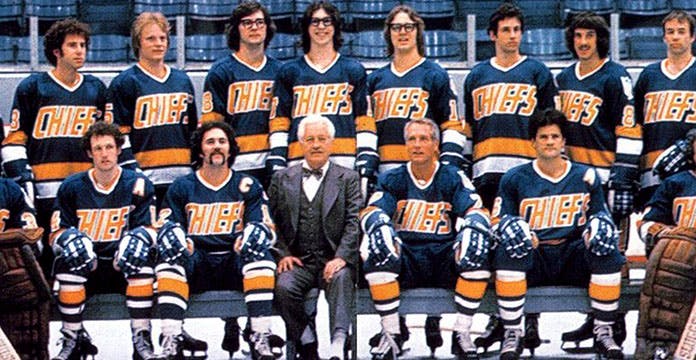 Slap Shot is unquestionably a cult classic, and so are the Charlestown Chiefs' uniforms. The pugilistic team not only answers the question "does violence solve anything?" but does so in style. The large block lettering looks at home in just about every era of the game, and the blue-gold-white colorway is, as I've already established, awesome. 
This timeless look is no doubt a reason why people still buy Chiefs' merchandise now over 40 years after the movie was released.
5. The Mighty Ducks (1992)
I can't in good faith include the "Donald Duck in a Goalie Mask" version of this team's uniforms, because they're also the original uniforms of the Mighty Ducks of Anaheim, a real hockey team. This particular flavor of sponsored content is a little confusing, but I guess that's what you get when you mix Disney with sports.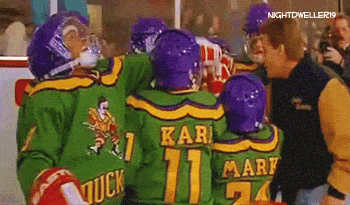 What makes this uniform so good is that it just shouldn't work. That shade of green with that shade of purple is more reminiscent of a certain dinosaur than it is of a duck (with or without the gold trim). But this mish-mash somehow looks regal. Kind of like how that rag-tag group of kids coached by Emilio Estevez won the state championship.
4. Flint Tropics (2008)
Out of all the characters Will Ferrell has played in his long career, Jackie Moon probably isn't the one that first comes to people's minds. But Moon's Flint Tropics in Semi-Pro wore some pretty excellent uniforms. The orange and teal color combo is so perfectly 70's, and fitting for the overall colorful nation of the ABA, the real-life league the movie is based on.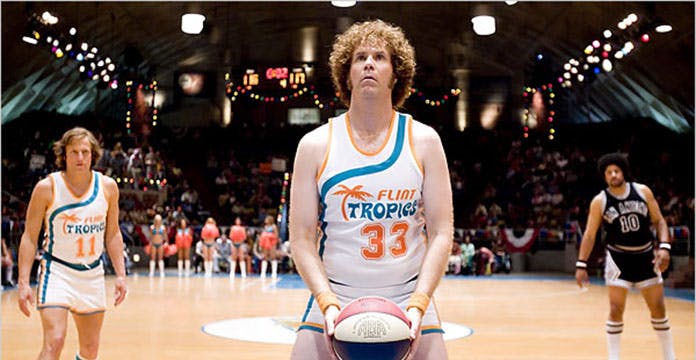 3. Fernfield Timberwolves
has everything in it: an alcoholic clown, an abusive coach, a middle school basketball team whose best player is a literal dog, and a custody battle wherein the judge decides to make up his own rules. They just don't make kids' movies like they used to (thankfully).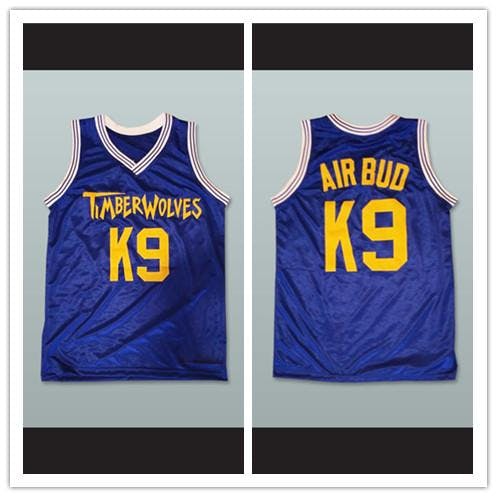 Problematic parts of the flick notwithstanding, our canine hero's team, the Fernfield Timberwolves, at least had some really nice uniforms. The dark blue and yellow combination is reminiscent of the Michigan Wolverines, and the "Timberwolves" logo is vaguely similar to that of the NBA's Minnesota franchise. Also, using K9 as Air Bud's number? The obvious choice, but still excellent.
 2. Dillon Panthers (2006)
It's common knowledge among sports fans that the state of Texas is obsessed with high school football. Now, thanks to Friday Night Lights, everyone else knows, too.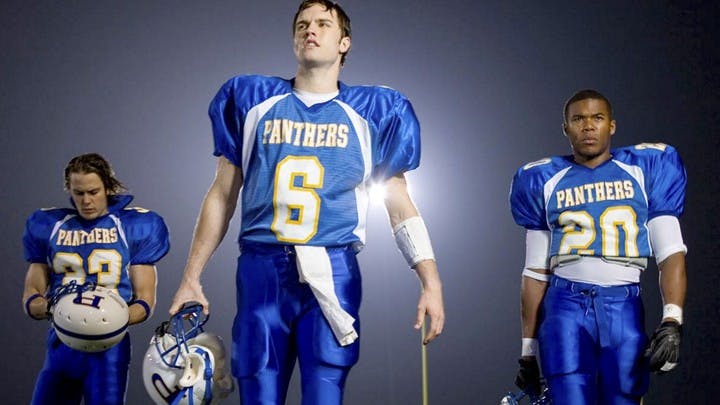 There are so many compelling things about this series, so it feels a little silly talking about the uniforms. But they're near-perfect. The blue-gold-white color scheme is sharp, but doesn't look like something straight off a Hollywood set; it still looks true to what you might find on any high school gridiron. 
The small details are what really sets the Panthers' uniforms apart from the rest of this list. Namely, the use of Under Armor as the team's outfitter. The UA logo was ubiquitous in high school football back in those days, especially in football-crazy towns. It doesn't directly affect the plot of the show, but it does help give it a sense of time and place.
1. New York Knights
Out of all the teams on this list, only this team from had uniforms that convinced me they were a real team, and that Roy Hobbs was a real player.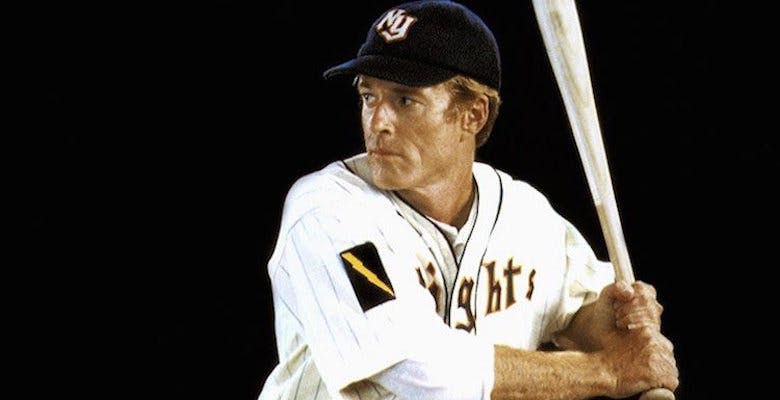 Sure, Robert Redford's batting stance is never going to be taught in spring training, but everything about what he was wearing was pure baseball. The pinstripes, "Knights" sewn across the chest, and the iconic "NY" logo on the cap all make the movie more immersive.
About the Author
RushOrderTees is a nationwide leader in custom apparel. Our screen printing, digital printing, and embroidery services create t-shirts, hoodies, hats and related apparel for individuals as well as group. Our staff regularly contributes knowledge and expertise to our blog to help those interested in creating custom apparel.