Key Takeaways
Garrett Temple of the Chicago Bulls had the highest average pregame outfit rating (7.3/10) in the NBA, while James Harden of the Brooklyn Nets had the lowest average rating (5.2/10).
The top five highest-rated NBA teams based on average pregame outfit ratings were the Chicago Bulls (6.56/10), Denver Nuggets (6.32/10), Atlanta Hawks (6.31/10), Philadelphia 76ers (6.29/10), and Utah Jazz (6.24/10).
An NBA team's pregame drip had no correlation to team success.
NBA Fashion Runway
While we may not think of pregame outfits as integral to the sport of basketball, the fashion industry and the NBA are actually heavily linked. The league's "concrete runway," is both an opportunity to gain serious cash from prominent brands as well as connect with fans on social media as a person beyond the player. Fashion has also been proven to boost self-esteem and confidence, which can certainly have an impact on the game.
With this in mind, we surveyed basketball fans about the pregame clothing choices of NBA players. They shared their opinions on the best- and worst-dressed players as well as the best- and worst-dressed teams. After averaging these results, we were then able to compare the team's overall outfit rating against their on-court success. Keep reading to see just how important fashion really might be to the game of basketball.
Swaggiest Players off the Court
Our study kicks off with an overall look into fans' favorite (and least favorite) clothing choices in the league. After showing fans images of pregame outfits for each athlete, we asked them to rate each look on a scale from 1 to 10 (with 10 being the highest rating). We also asked them to choose some word associations to describe each look.

Garrett Temple of the Chicago Bulls was voted the number one best-dressed player in the NBA. On average, fans rated his pregame outfits a 7.3 out of 10 – a better average than any other image or player received. The best-dressed title did not come without conscious effort. In an interview for BrooklynNets.com, Temple was asked if being well-dressed has always been important to him, to which he replied:
"I enjoy dressing up in a nice suit ... When they're custom, they fit good so you don't have to worry about them not being comfortable. You look good, feel good; feel good, play good, supposedly. So I'm going to keep wearing them."
Just behind Temple was RJ Barrett of the New York Knicks. Barrett's pregame outfits received an average score of 7.1 out of 10 from fans, and was often described as "fresh" (42.7%), "vibrant" (27.4%), and "edgy" (14.1%). Off the court, Barrett even posed for fashion magazine GQ. When they asked which brands he enjoyed, he answered "I'm just starting to learn a little bit. Obviously, you gotta go with the regulars, the Guccis and Louis Vuittons and Dolce & Gabbana. Whenever I put a fresh, clean suit on, I'm like a peacock. That's my most confident moment." Clearly, fashion does influence the confidence of the players, especially the two best-dressed.
Pregame Fashion Fails
Of course, fans weren't handing out high scores to every player. The next part of our study shows the average ratings of the bottom 10 players in the league, as well as the top word associations fans chose for each look.

Some players also proved that no matter how much money you have, style simply can't be bought. In spite of James Harden's $41.25 million salary, fans still voted him the worst-dressed in the league. On average, they rated his pregame outfits as a 5.2 out of 10. That said, they did acknowledge his risk-taking tendencies; 20.4% called his outfits edgy, and 10.4% admitted his garments were "hard to pull off." However, 22.8% simply called his choices "trash."
Just marginally better was Serge Ibaka. As the playoffs edge nearer, Ibaka's center rotation is one of the biggest question marks for the team. Perhaps he could edge out Ivica Zubac for the position if he just dressed the part. Fans rated Ibaka's pregame outfits at an average of 5.3 out of 10, calling his looks "questionable" (16.8%) and "hard to pull off" (13.6%).
Streetwear Heroes
Moving beyond the general pregame outfit selections, we wanted to hone in on the best streetwear outfits seen on NBA players in recent history. Again, it was up to the fans to decide. Results are based on their averages.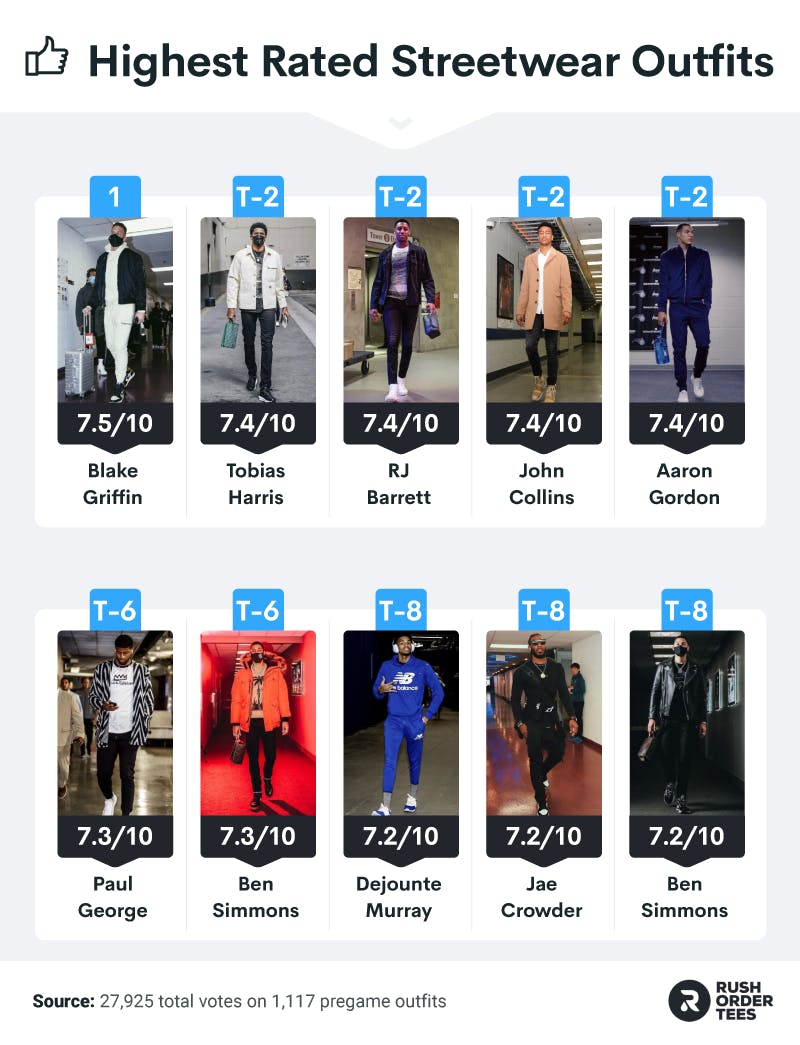 Blake Griffin's streetwear outfit was the fan-favorite. After growing up in Oklahoma (and relatively far from America's fashion capitals), Griffin now works with a stylist and is consistently seen in trendy, contemporary brands as well as high-fashion bespoke suits. In his words, the one trend you won't see him trying are jeans with giant holes.
Tobias Harris of the Philadelphia 76ers scored well, ranking just behind Griffin. Harris also employs a stylist on his behalf – the two have been working together for many years, during which time they have gained a deep level of trust. His stylist's goal is to "make sure that Harris not only looks like himself, but to also make sure he doesn't look like anyone else." Perhaps after some more time working together, they can edge out Griffin for the top best-dressed spot.
Ben Simmons, a teammate of Harris on the Philadelphia 76ers, is the only athlete to appear twice on this top 10 list. Not only is the Australian phenomenon a superstar on the court, his fashion often resonates with the younger generation. Of his many endeavors off the court, Simmons recently teamed up with Hypebeast and HBX to release a limited edition tee to raise money for his foundation.
Describing Drip
Though the number rankings can tell us a lot about style choices, we wanted to gather more qualitative data as well. We asked fans to select which adjectives they felt would describe these outfits, and the top outfit choices for each adjective are listed below.
(START OF FLIPBOOK)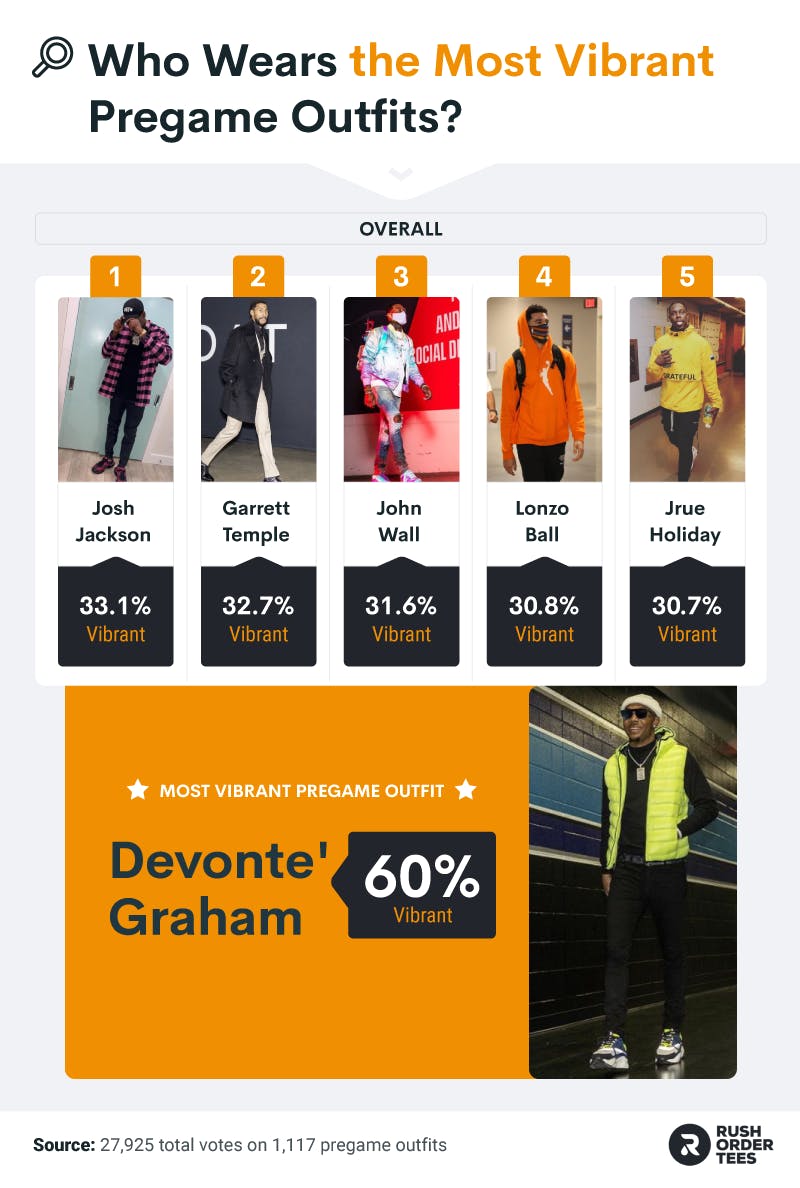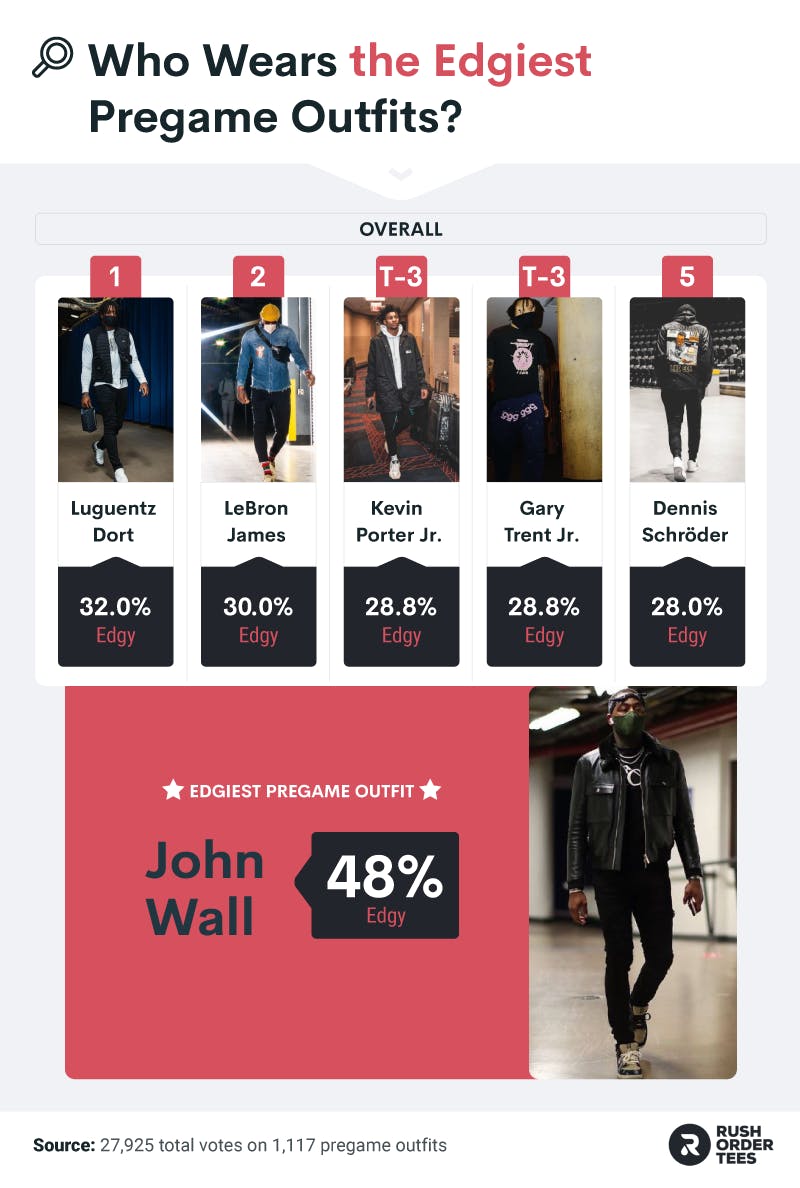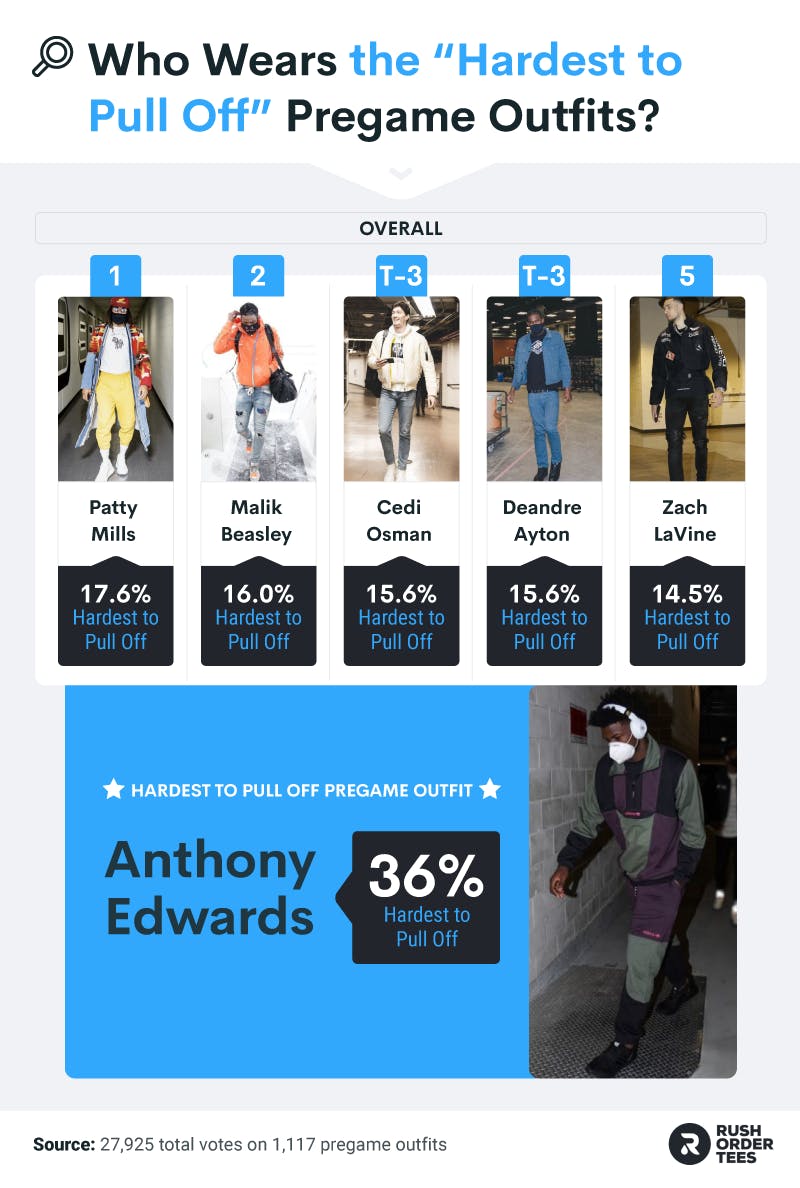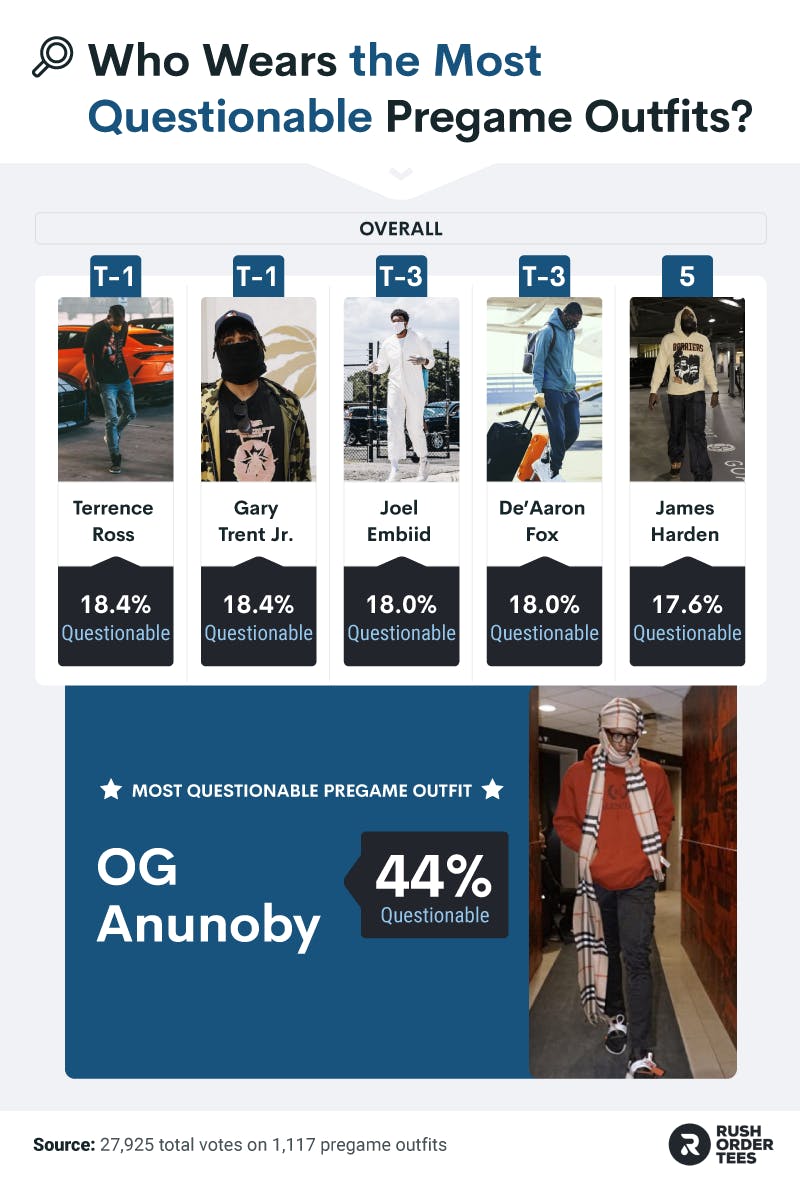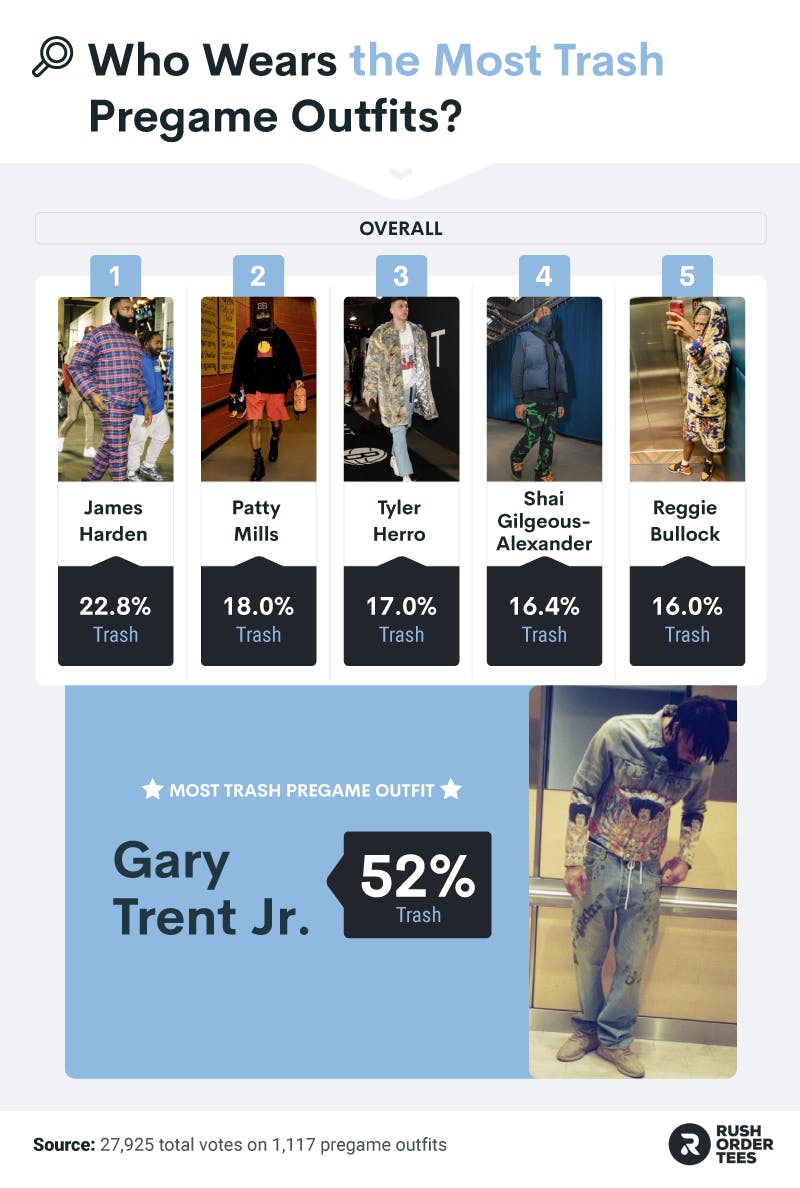 (END OF FLIPBOOK)
For fans of bright colors, we suggest garnering inspiration from the above outfit of Devonte' Graham of the Charlotte Hornets. His outfit was described as "vibrant" by 60% of fans, more than any other pregame outfit by any player. Graham seems to enjoy dressing up and has even invited his fans on Twitter to talk fashion with him.
If you're wanting to take more of a risk and need inspiration, try looking at the tracksuit outfit put together by Anthony Edwards. Most fans described this choice as "hard to pull off." As you can tell from the image above, his fashion choices are certainly not for the faint of heart. At least his outfits weren't too often described as "trash," which 22.8% of fans used to describe James Harden's outfit choices.
All-Swag NBA Teams
After gathering rankings for each player, we were able to combine and create average ratings for the entire team. Based on this data, we compiled the best- and worst-dressed NBA teams along with the words most often associated with their looks.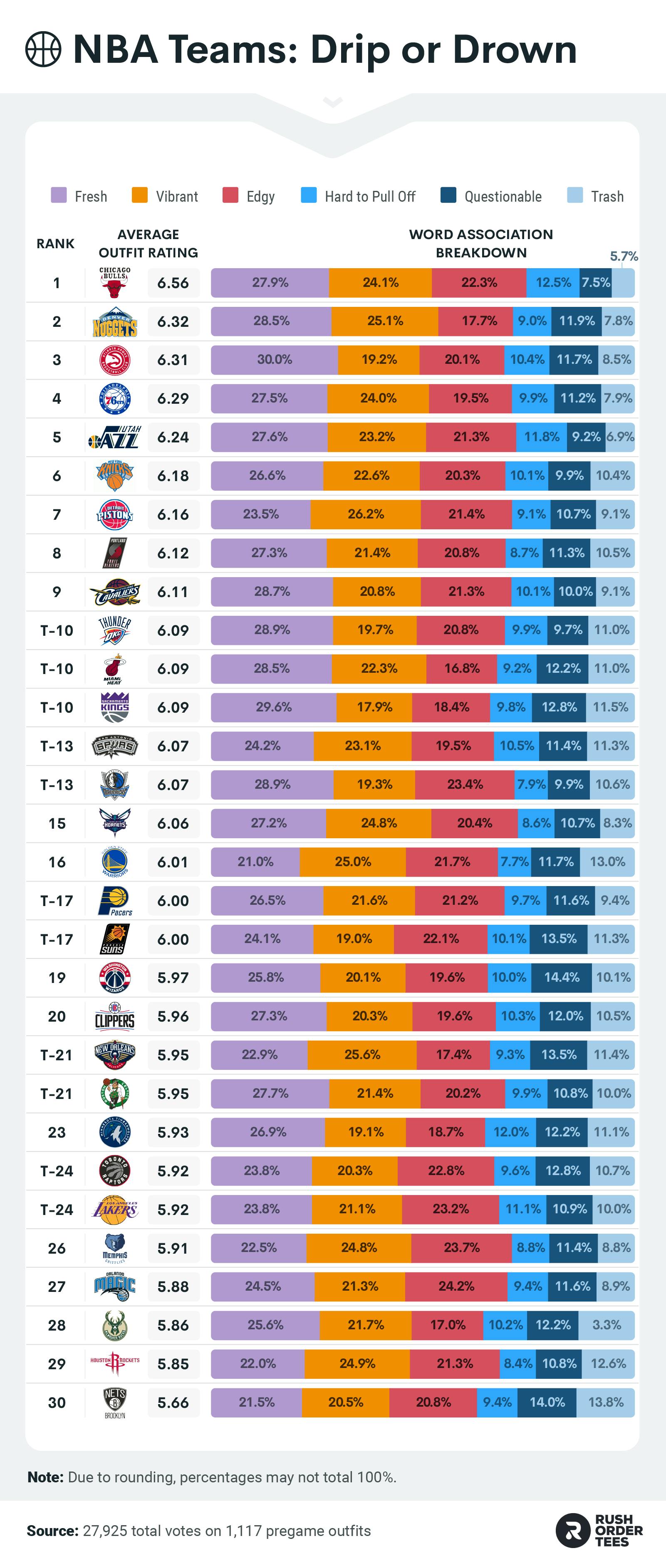 The Chicago Bulls were the best-dressed NBA team. Two of their players, Lauri Markkanen and Garrett Temple, rated in the top 10 for best dressed, with the latter taking the top spot. Their players aren't opposed to taking risks with their clothing either, with Garrett Temple also making an appearance as one of the more vibrantly dressed athletes and their superstar, Zach LaVine, ranking fifth in the "hardest to pull off" category.
The Atlanta Hawks, who came in third overall, had more players than any other team with outfits being described as "fresh." Their overall average outfit rating was also incredibly close to the No. 2 team (the Denver Nuggets).
The worst-dressed team in the league were the Brooklyn Nets. This team earned an average of just 5.66 out of 10 on outfit rating, while 13.8% of their players' outfits were described as "trash." Even with Blake Griffin's strong scores for the team, the overall look was relatively weak.
Dressing for Success
A major impetus of this study was to determine how pregame looks may impact a player's – and even a team's – performance. By comparing the average outfit rating scores from the fans against the team's winning percentage since 2016, we were able to posit an answer to the question of how dressing impacts success.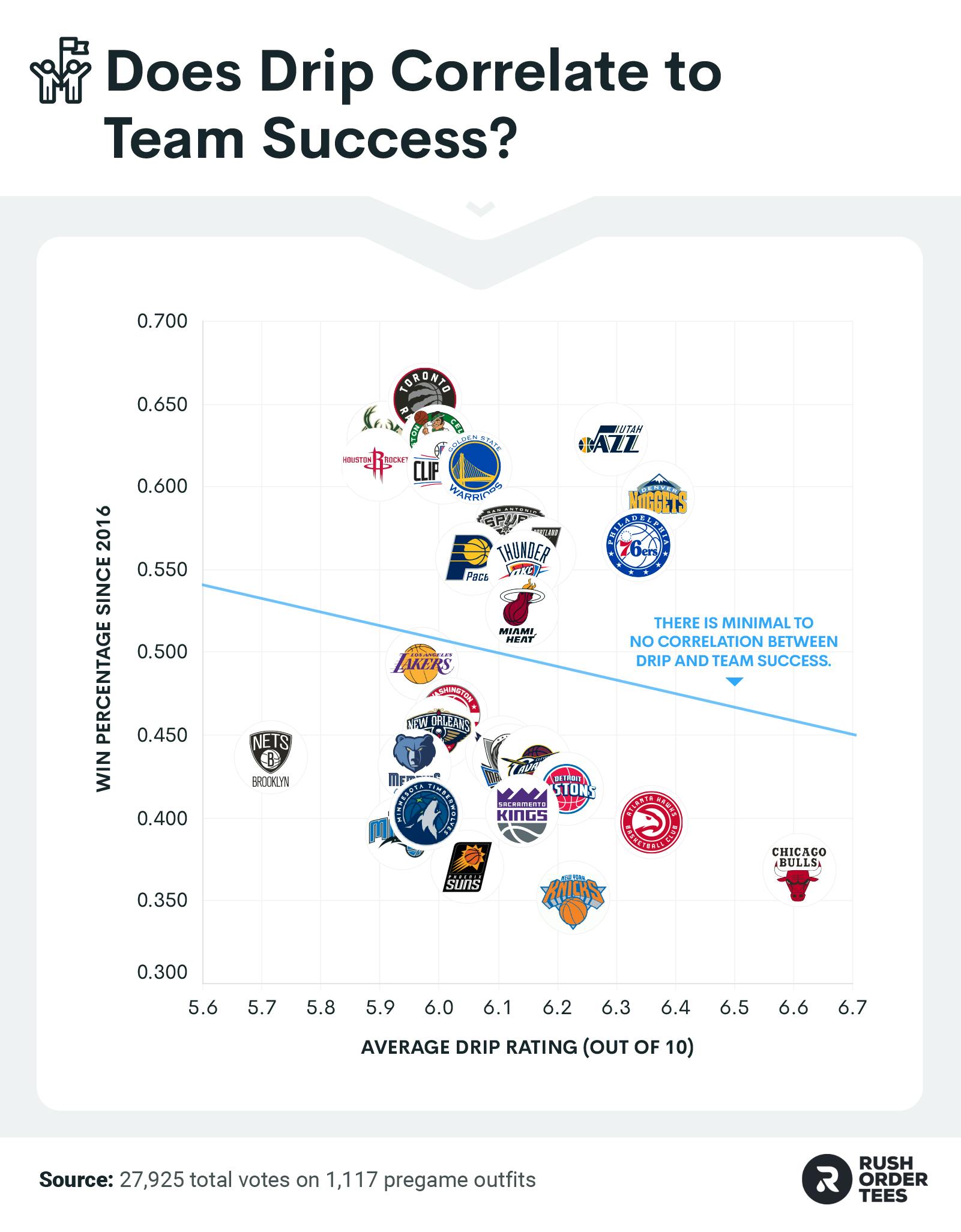 The findings ultimately debunked the theory that dressing better correlates with more wins. The blue line above shows a very minor trend that instead, as drip ratings improved, success ratings declined, however the correlation is not very strong. For instance, while the Chicago Bulls had an average drip rating of 6.6, their winning percentage is one of the lowest in the league. On the other hand, the Toronto Raptors had a relatively poor drip rating of about 5.9, which likely isn't of concern as their winning percentage is so much higher.
Cop or Drop?
According to fans, there are noticeable differences in the way players step up to the courts. Blake Griffin was a favorite for street style, Garrett Temple's custom suits really impressed, and even some of the riskier choices of Anthony Edwards were widely appreciated. Individual player interviews have also attested to the importance of dressing well where confidence is concerned. And while the overall trend line didn't indicate a correlation between style and performance, it does not tell us what would happen were teams to start dressing even better.
If you are looking to improve your personal "drip rating" and perhaps your success, RushOrderTees can help level up both your personal and professional gear and even supply custom basketball jerseys or team uniforms for your whole squad.
Methodology and Limitations
For this study, we collected a total of 1,117 NBA pregame outfit images for the top six players (by minutes per game) for each NBA team. As a result, we had an average of 6.2 images per player with the maximum being 10 images. All players with fewer than five images were filtered out. We collected 25 individual responses for each image (27,925 responses in total) using Amazon MTurk Image Classification where each response asked for a rating of the outfit on a scale from 1 to 10 and a word association based on a list of six words we provided.
The main limitation of this half of the study is the reliance on self-report and subjective personal opinions. Data are solely representative of self-reported claims by respondents. This survey ran in April 2021.
Fair Use Statement
It's always interesting to add another dimension to the conversation of sports. If you think a fan (of fashion or sports) would appreciate this data, you are welcome to share it. Just be sure your purposes are noncommercial and that you link back to this page.