AI Predicts 2021 Fashion Trends
Key Takeaways
On average, 78% of women and 71% of men thought the AI-generated outfits were stylish.
On average, 71% of women and 67% of men would wear the AI-generated outfits.
AI-generated outfits for women were considered more fashionable and wearable by respondents than those designed for men.
The Digital Runway
In a world of ever-changing trends, it can be difficult to keep up with what's "in" in fashion today, let alone what looks might be all the rage in the weekends and months to come. We decided to find out whether artificial intelligence could help take the guesswork out of the fashion game. To this end, we used GPT-3, an advanced learning model that produces human-like text based on different prompts, and StyleGan, an application that generates images based on text inputs, to put together a number of AI-predicted fashion trends.
We then surveyed 1,015 people in the U.S. to get their reactions to the designs that could represent the fashion world down the line. We also asked how accurately AI-generated outfits represented current fashion trends and which outfits respondents could see themselves wearing. Furthermore, we wanted to know how respondents learn about trends and what they know about exclusive brand drops. Read on to find out!
Future Fashion
In the first section of our study, we asked GPT-3 to generate fashion trends that men and women might wear in 2030.
When comparing the "future prep" and "futuristic fashion" looks, respondents were more likely to wear the future prep look than the futuristic fashion outfit. People were pretty split on the "lightweight suit" and female "urban prep" outfit; however, the lightweight suit trend that AI suggested for 2030 was seen as much more expensive, costing almost $500 more than the urban prep look of the future.
The last styles for 2030 were generated for men. Respondents reported that the male "urban prep" look portrayed the current fashion trend better than the "modern cowboy" design. GPT-3 might know street style, but its description of future cowboy fashion did not convince respondents, with the outfit receiving the lowest rankings for wearability and stylishness of all the AI-suggested future trends.
For Her
Next, we asked GPT-3 to describe current fashion trends for women. Take a look to see what the AI stylist suggested.
Regarding the AI-generated outfits for women, respondents felt they were all fairly accurate representations of what current fashion trends look like. AI's "fashionable woman" look was judged to be the most expensive, and more than 8 in 10 women believed it portrayed current trends. The highest rating for portraying a current trend was given to the "old-school glamour" look, with over 88% of respondents agreeing with this statement. Respondents also rated almost all of the AI-designed looks as 6 out of 10 or higher when asked if they would wear them – the only outfit that women weren't particularly sold on was the "retro futurism" look.
For Him
Men can also look forward to AI-designed looks, with GPT-3 generating three current trends just for them.
Between the "bogan style," "hipster style," and "animal print" trends, men were much more impressed with the first, most formal, and expensive look of the three. While "bogan" usually refers to more casual outfits, the AI had a different definition of the style. All three outfits were given a 77% to 78% rating in terms of their accuracy in representing current fashion trends. When taking a look at the perceived price of the outfits, surveyed men believed that the bogan style was the most expensive, giving it a price tag of over $800. On the other hand, the animal print look was perceived to be the cheapest, with an estimated cost of $229.
Putting the Influence in Influencer
As well as having our respondents rate AI-designed clothes, we also asked them about their interest in fashion and where they look to learn about new trends.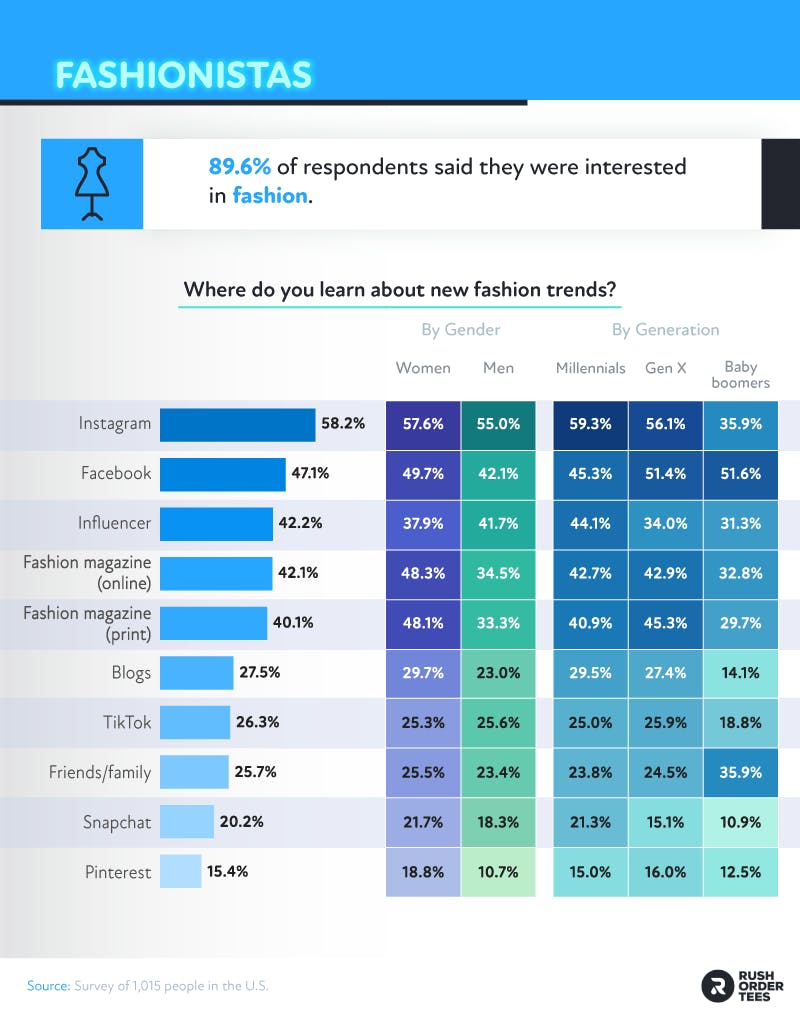 Nearly 90% of respondents said they had an interest in fashion, and the most common place to learn about new trends was on Instagram, which millennials frequented the most. The next most popular platform was another social media outlet, Facebook – where baby boomers were the most likely to learn about new fashion trends. In fact, half of the listed mediums were social media platforms, and over 40% of respondents got fashion inspiration from influencers who often promoted clothing on their personal profiles. For example, in 2020 American Eagle partnered with TikTok superstar Addison Rae for one of their back-to-school campaigns. Rae posted videos in American Eagle outfits, reaching millions of viewers and increasing the likelihood of her fans purchasing the company's products. In truth, social media can have a monumental impact on the fashion industry.
By gender, women generally learned more about fashion trends throughout the listed mediums than men, but the generational differences were a little less obvious. Millennials referred to Instagram, influencers, blogs, and Snapchat more than other generations, whereas Gen Xers were the most likely generation to find themselves sifting through a fashion magazine, on TikTok, or browsing Pinterest for fashion inspiration. Lastly, baby boomers referenced Facebook and spoke to family and friends the most about fashion trends.
Favorite Looks
Most liked to keep their wardrobes updated too, with 75% of respondents saying they bought clothes, at the very least, once a month. The average receipt totalled $176 after each shopping spree.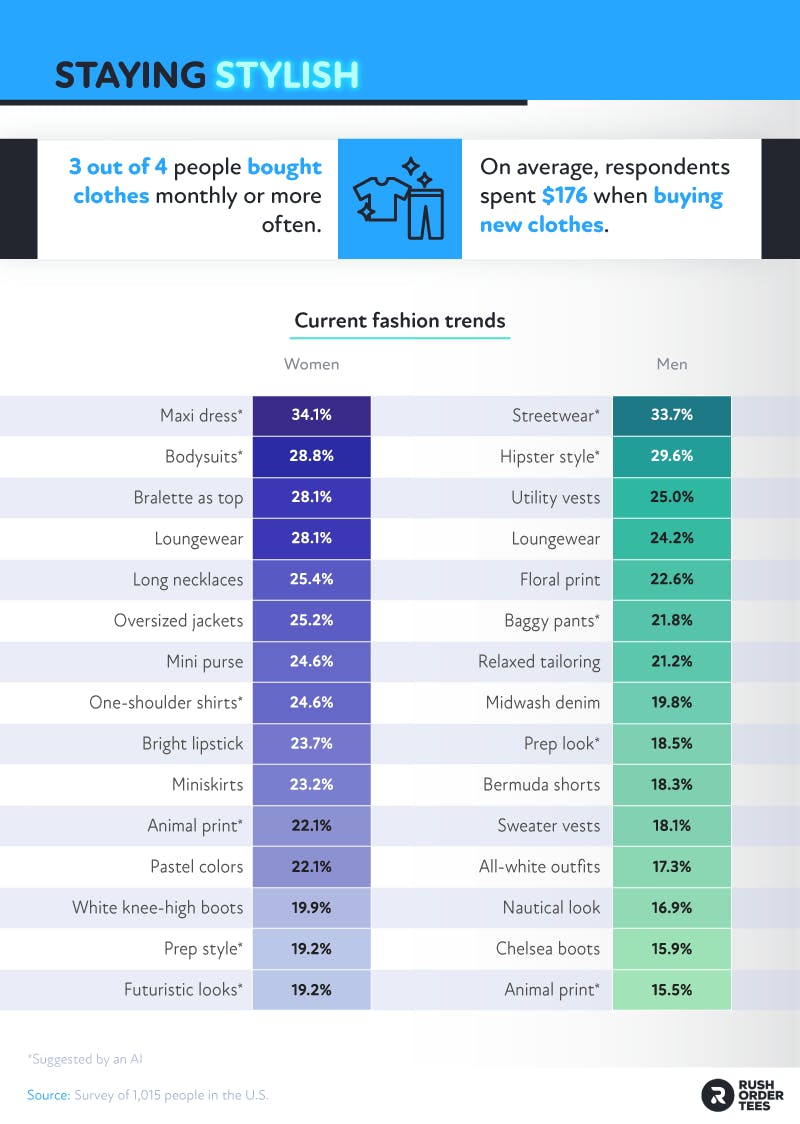 For women, the most popular fashion trend is currently maxi dresses – long, free-flowing, and comfortable dresses that are usually made from breathable fabrics, such as cotton. They are considered a staple for the summer season and sunny destinations in general. Over a quarter of women also enjoyed the tighter fit of bodysuits, wearing a bralette as a top, and the comfiness of loungewear.
On the other hand, streetwear has become a very popular trend among men. In essence, it can be defined as fashionable, yet casual clothing. According to a survey, what draws people to streetwear is the "coolness" of it, as well as the comfort, exclusivity, and status that it brings to the table. Popular streetwear brands include the likes of Supreme, Off-White, and BAPE. Otherwise, men were also interested in more hipster styles, and some sported niche items like utility vests.
For a Limited Time Only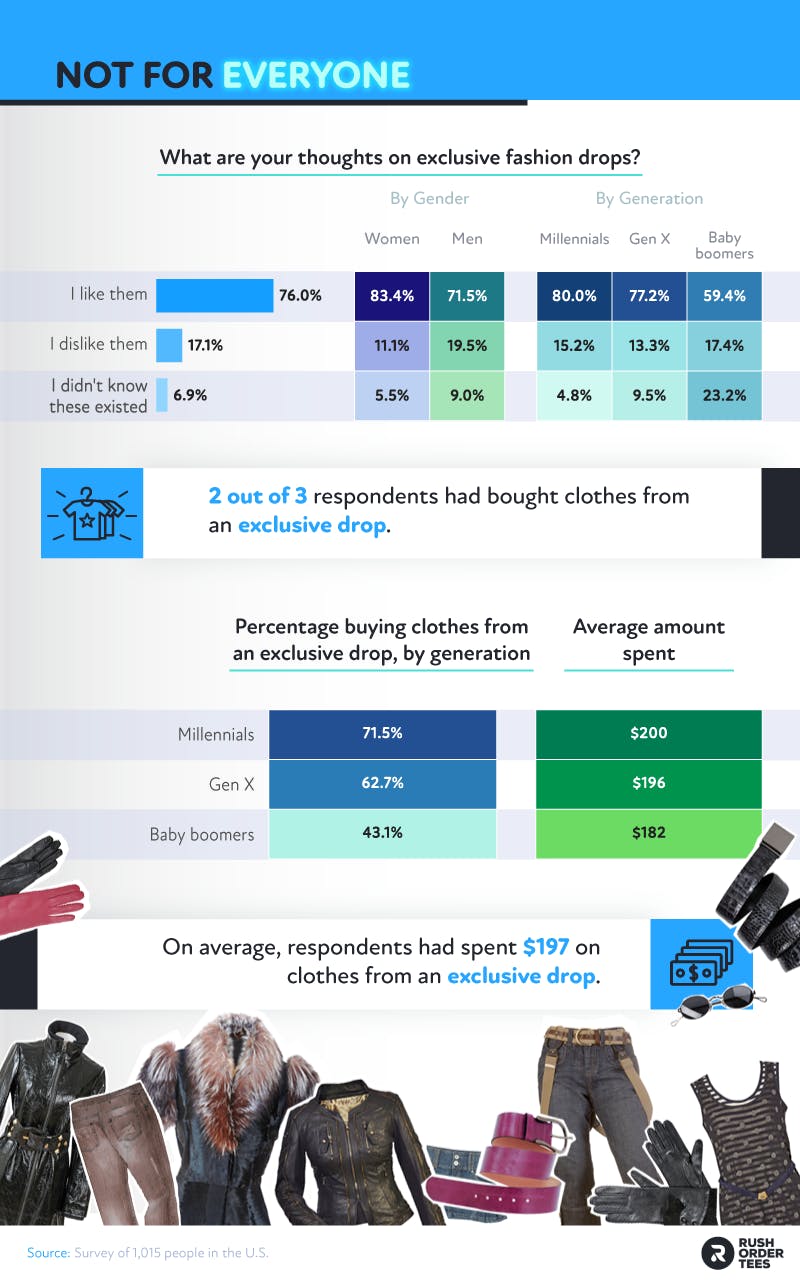 On the topic of exclusive fashion drops, over three-quarters of respondents were a fan of them – women slightly more so than men and millenials more than older generations. In fact, 2 out of 3 had purchased clothing from an exclusive drop before. Here's how they work: A given brand will usually use social media to announce an upcoming product release on very short notice. Then, a sense of hype develops as people get excited for a one-of-a-kind, limited edition item that will soon become available. Finally, the brand or company will release the product(s), either online or in store, with limited stock or time to buy it.
Supreme, a major player in the streetwear market, is one of many companies to roll out exclusive drops here and there. For example, they partnered with luxury luggage company, Rimowa, for an exclusive collaboration project. Both companies simply posted an Instagram of two of the exclusive suitcases against a white background and captioned their post with both brand names and the date of the drop. When the limited edition suitcase was released, the product sold out in a grand total of 16 seconds.
Millennials were the most likely to jump on the opportunity to try and get their hands on an exclusive product and also spent the most money on them, on average, compared to older generations.
What to Wear
It seems as if AI has a decent understanding of fashion trends, as only two of its generated outfits were rated lower than 70% in terms of compatibility with current trends. While none of them got rave reviews from respondents, many would still consider wearing the generated outfits. Almost all of our surveyees were interested in fashion too, and social media played a big role in keeping people up to date with new trends. Companies also often partner with influencers who promote their clothing on social media, reaching millions of followers and potentially skyrocketing their sales because of it. Exclusive drops are another strategy that brands use to garner hype around their products and encourage consumers to purchase sought-after items.
We've also learned both men and women like to wear many different types of clothing, ranging from elegant styles and streetwear to loungewear. The only thing better than feeling comfortable in the clothing you like is wearing pieces that you've designed yourself. Head over to RushOrderTees to customize your favorite kinds of tops and accessories includings hoodies, hats and more.
Methodology and Limitations
Generative Pre-trained Transformer 3 (GPT-3) is a language model created by OpenAI that uses deep learning to generate human-like texts. Using identical prompts, GPT-3 was asked to produce output for current and future fashion trends. This output was lightly edited for length and repetition but not for content or fact-checking. These prompts were then used to create images using the StyleGan, an AI that generates images based on text inputs. The StyleGan-generated images were given to human designers to clean up and update to ensure they looked appropriate for the survey. The findings in this article are limited by small sample batches and are for exploratory purposes only. Future research on the capabilities of AI should approach this topic in a more rigorous way.
A survey of 1,015 Americans was run on the Amazon Mechanical Turk survey platform where respondents were presented with a series of questions, including attention-check and disqualification questions. 50.1% of respondents identified as men, while 49.9% identified as women. The average age of respondents was 38.6 years old with respondents ranging from 18 to 76. 4.4% of respondents were Gen Zers, 64.4% millennials, 20.5% Gen Xers, and 10.7% baby boomers. This study has a 3% margin of error on a 95% confidence interval. Please note that survey responses are self-reported and are subject to issues such as exaggeration, recency bias, and telescoping.
Fair Use Statement
If you know any fashionistas out there, feel free to send this article their way. We just ask that you do so for noncommercial use only and to provide a link back to the original page so contributors can earn credit for their work.