Custom King & Queen Shirts
Design custom-printed king and queen t-shirts online.
Free Shipping
As soon as Wed Oct 04
Rush Shipping
Guaranteed by Mon Sep 25
King & Queen Shirt Templates
Happy Customer!
I needed 60 custom hoodies within one week. Rush Order Tees produced a thick high quality cotton hoodie. Everything was perfect for a great price. The logo was clean and clear with the most vibrant colors. We will definitely be using them again.
Rasheedah G.
Verified Review on Yotpo
I would like to take this opportunity
I would like to take this opportunity to thank all of you on your prompt and efficient service. This order was placed with extremely short notice and you all have been genuine lifesavers with your outstanding support and fast, free shipping.
Debra G
Verified Review on Yotpo
Design Shirts in 10 Minutes ! 10 MINUTES!!!
I found your website while doing a search for a local screen printer. Within 10 minutes I had the shirts designed and had already talked to someone about getting that same design printed on some sweatshirts, too. What great service!
Randy W
Verified Review on Yotpo
Custom-Printed King and Queen Shirts FAQs
Start Designing Now
Create a custom king and queen tee by uploading your logo, adding text and personalizing your design for the perfect look.
Get Started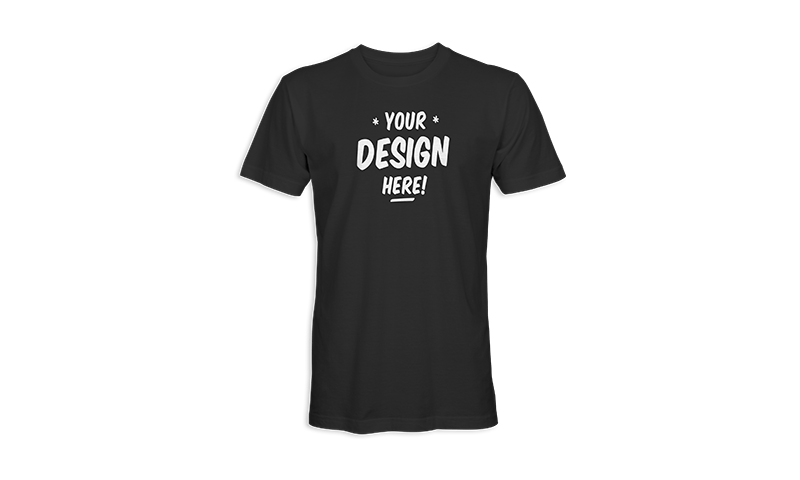 Designing custom king and queen t-shirts online has become an exciting and personalized way to celebrate special occasions and relationships. Whether you're commemorating an engagement, a milestone anniversary, a bachelorette party, or simply want to express your love for your partner, these personalized king & queen shirts offer a unique and stylish option. You can choose from a variety of designs, colors, and fonts to create the perfect match for your event. King and queen shirts are not limited to just weddings. They can also be worn at family reunions, birthday parties, and even during fun-themed photoshoots. The versatility of these shirts makes them a popular choice for couples looking to make a statement and share their special bond with the world.
In addition to king and queen tees, at RushOrderTees, we offer a wide selection of complementary products that bundle seamlessly with the shirts. Matching accessories like hoodies, tote bags, and tumblers can complete the look, enhancing the overall theme of the event. For weddings, personalized king and queen shirts can be bundled with customized bridesmaid and groomsmen apparel, ensuring a cohesive and memorable bridal party ensemble. Beyond events, these custom-printed king & queen shirts can be used as thoughtful gifts for loved ones or as a fun way to express unity and love for any occasion. Designing personalized king and queen shirts provides individuals with a creative outlet to celebrate love, unity, and life's special moments in a uniquely personal way.
Ordering custom-printed king and queen tees is easy at RushOrderTees. First, select your color and click "Start Designing" and enter our easy-to-use Design Studio. Then upload your logo/design, or use our free resources like design templates, fonts, and clipart and adjust your design until you are satisfied. Lastly, select your preferred shipping method and place your order.