APPAREL
What Is a Tri-Blend Shirt?
Design Custom Gear
Personalize a custom t-shirt with our easy-to-use Design Studio
Start Designing
Tri-blends have only been on the market since the mid-2000s, but in that time have become a favorite for those who love soft, lightweight t-shirts. We've recently declared tri-blend to be the world's softest T-shirt material.
This article provides a quick guide to the tri-blend t-shirt: what it's made of and the features people love about it. We also give you our recommendations and answer the most common questions about this fabulous fabric.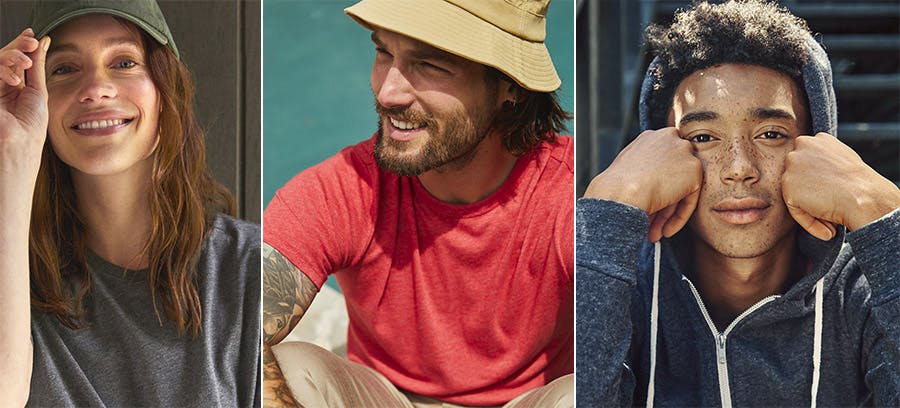 What is a tri-blend shirt?
Tri-blend is a fabric type combining cotton, polyester, and rayon to make t-shirts and other apparel that are soft, durable, flexible, and lightweight. They typically have a vintage, dappled look known as "heathered" and are more form-fitting than standard tees.
Tri-blend materials
Tri-blend fabric is a blend made by combining cotton, polyester, and rayon. These three materials each have their strengths (and a few weaknesses). But together, they form a best-of-three-worlds fabric that's become hugely popular, especially for merchandise/retail and sportswear.
The standard ratio of materials in a tri-blend is 50% cotton, 25% polyester, and 25% rayon, although it may vary slightly among brands.

Cotton - The world's favorite fabric plays a starring role, providing natural softness and comfort, along with being excellent for printing on.
Polyester - This popular synthetic fabric brings more durability and breathability to the mix, along with anti-wrinkling and anti-stain properties.
Rayon - This newer textile, developed as an alternative to silk, adds a bit of flexibility, drape (flowy-ness), and, yes, silky smooth softness.
For more about the different t-shirt fabrics, check out our comparison of polyester, cotton, and 50/50 blends.
Tri-blend shirt features
Most tri-blends in the blank apparel market share the following features:
Soft - While the top shirts compete for absolute softness, every tri-blend out there is soft to a degree and typically much softer than the average tee.
Smooth - Tri-blends are considered premium tees, typically made with ringspun cotton and 30 singles or more for an exceptionally smooth print surface.
Lightweight - Most tri-blends have a light fabric weight, ranging from 4.1 oz down to 3 oz. Some shirts are so light they are semi-transparent.
Semi-fitted - Whether you call it slim fit, fashion fit, or just fitted, tri-blends contour the body more than their counterparts. Most feature side-seams.
Semi-flowy - While not quite as flowy as silk or viscose, tri-blends have better drape and movement than cotton or polyester because of the rayon.
Heathered - The speckled appearance comes from the three different materials in tri-blends taking dye differently. There are now solid-color tri-blends available.
Price point - Let's be real, tri-blends have a higher price point than their standard counterparts. But you get what you pay for, and they are still affordable.
Printing on tri-blends
The important thing about customizing tri-blends is to avoid using a lot of ink. Large prints with mostly solid areas will weigh down these lightweight tees. Use designs with fine lines, less filled-in areas, and smaller print sizes for best results.
Recommended print methods
Screen printing - Always the best bet for tri-blends, traditional screen printing has the most versatility, and the ink sits naturally on the fabric's surface. Keep the ink coverage low and the print size smaller, and you'll have the perfect printed tee.
Digital printing - Best for unlimited colors, photographic designs, and crisp details, digital printing has come a long way and now rivals screenprinting in quality.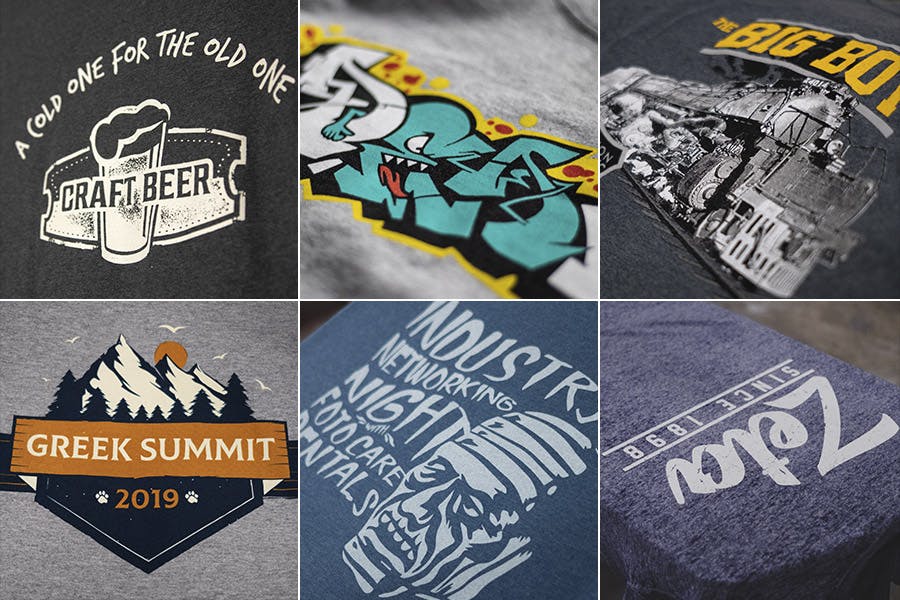 Print methods to avoid
Vinyl and printed vinyl - Too heavy, it weighs the shirt down, and the edges of the design can appear slightly pinched because of the characteristics of the fabric.
Embroidery - Again, too heavy for the fabric and the same pinching issue. The one exception would be a small logo embroidered onto the edge of the sleeve or the upper back near the collar.
Pro tip: Use a distressed effect
For a lightweight, flexible print with added breathability and less ink deposited, used a distressed effect that breaks up the print surface . Plus, it gives your design a distinctly retro/vintage look that works especially well on tri-blend shirts. Learn how to use a distressed effect.

The top 3 tri-blend shirts
Now the important question: which tri-blend t-shirts are the best? We've learned a thing or two from being in business for 20 years, and we have the answer.
1. Bella+Canvas tri-blend t-shirt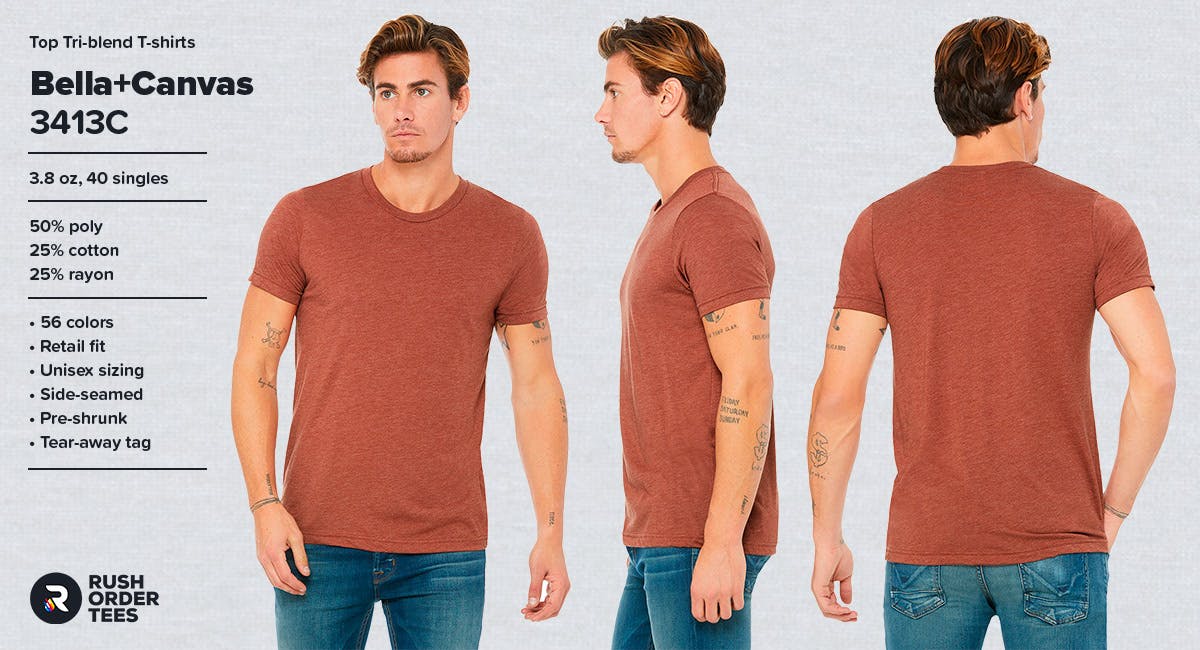 There's a clear winner, and it's the Bella+Canvas 3413C. On top of being incredibly soft, it's the only tri-blend on the market with 40 singles (similar to a high thread count), giving it a super smooth print surface. It's also the only one that comes in solid colors.
Bella+Canvas has perfected the tri-bend. These unisex tees are available in a whopping 56 colors, have a great retail fit, and have a competitive price point.
For more, check out our recent comparison of Bella+Canvas vs Next Level.
2. American Apparel tri-blend t-shirt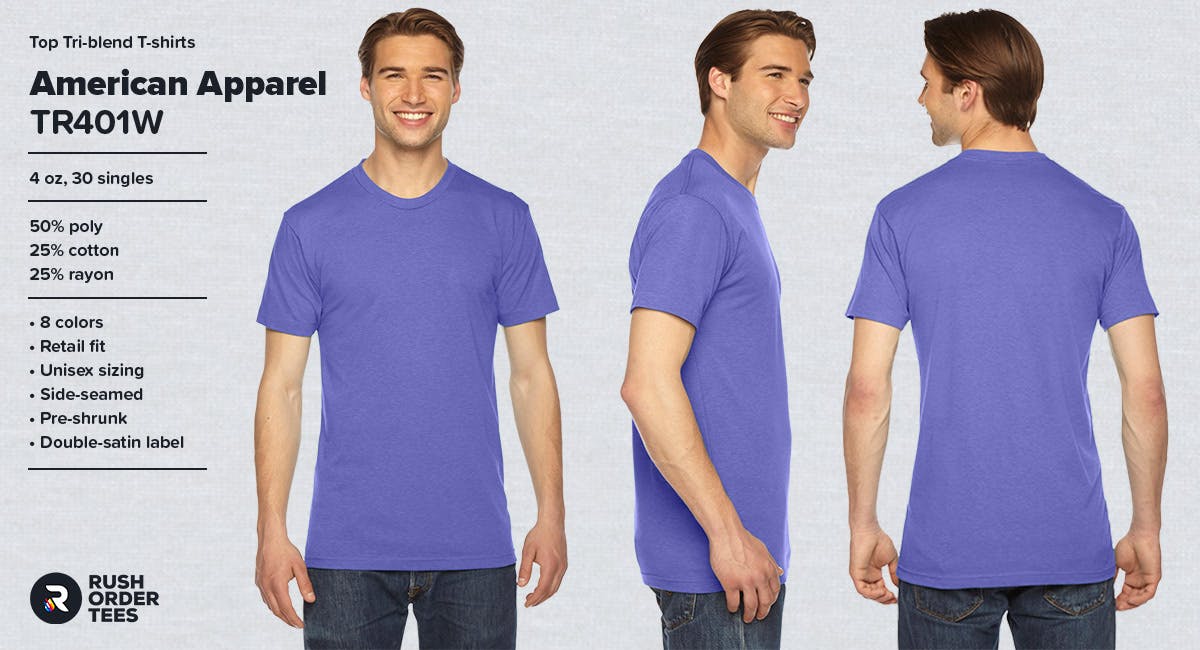 Coming in a close second is the American Apparel TR401. Super soft (we dubbed this tee the softest of all) and lightweight with a great fit. This pioneering brand debuted "The Track T-shirt" in the mid-2000s and changed the game.
After American Apparel was acquired by Gildan, its price point dropped considerably and is now more in line with the other brands listed.
3. Next Level tri-blend t-shirt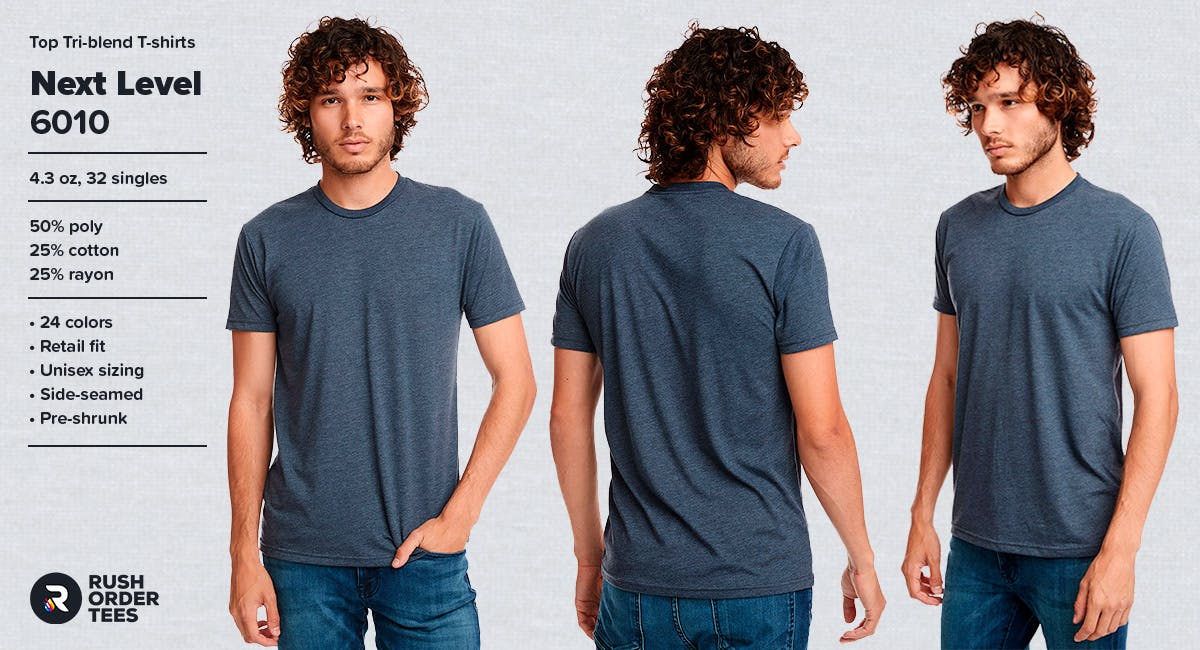 Third place means nothing to the people who consider the Next Level 6010 their favorite t-shirt. The fit is flattering, the fabric is soft, and it comes in 24 colors. Next Level gets many things right, and their tri-blend is one of them.
Alternative tri-blend options
Here are two honorable mentions in the tri-blend category. One at a lower price point, one made in the USA.
Threadfast tri-blend t-shirt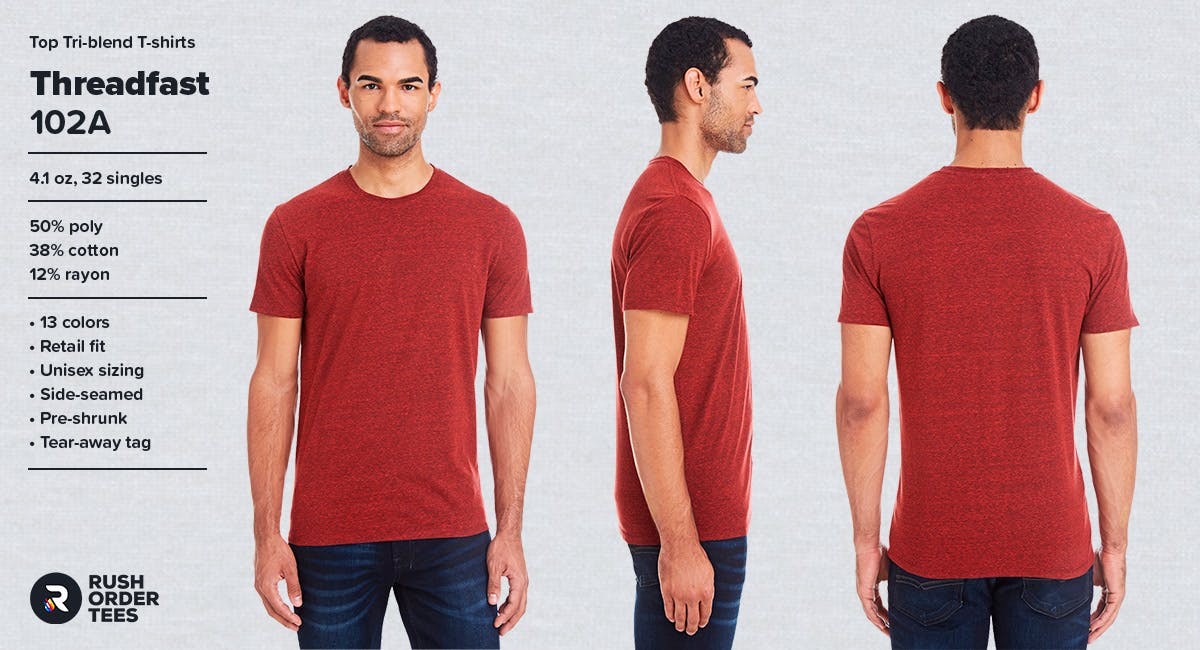 The Threadfast 102A is an outstanding tri-blend at a slightly lower price than the others. It has a unique ratio of 50% poly, 38% cotton, and 12% rayon. This company is newer on the scene, but its quality, affordability, and fashion-forward offerings are making waves and gaining fans.
Bayside tri-blend t-shirt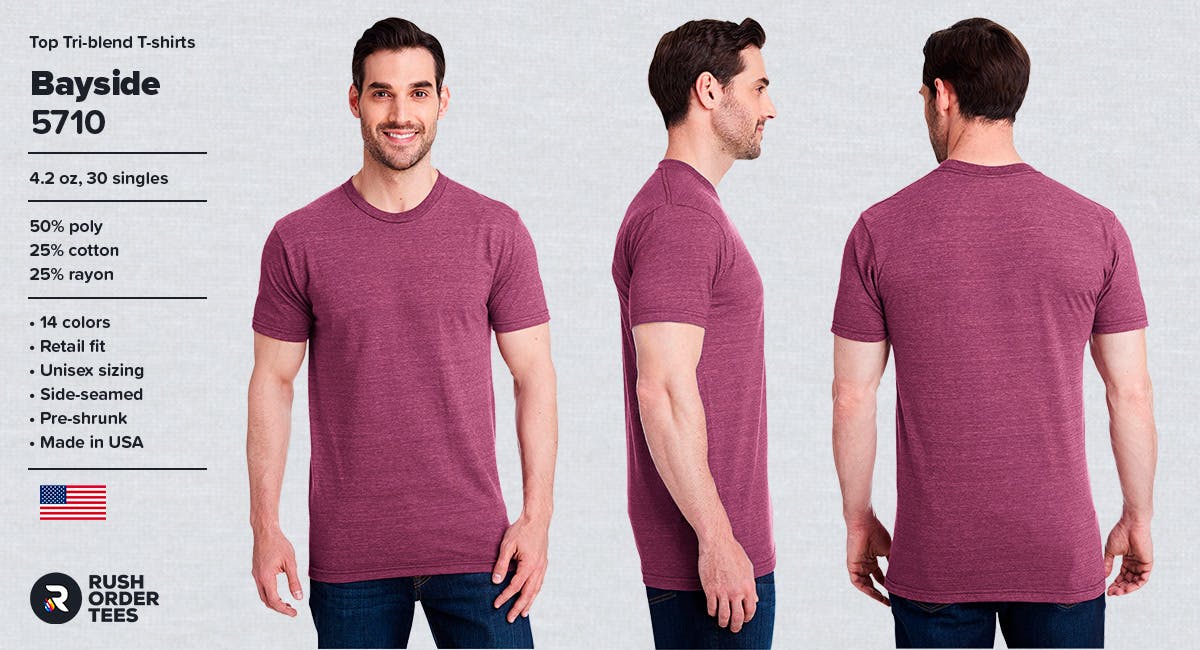 If you want your tri-blend made in the USA, you want the Bayside 5710. It's a high-quality shirt with all the same features as competitors. The price point is higher, which is typical for anything made stateside. For those who wish to actively support US manufacturing, it's a small price to pay. 🇺🇸
Are tri-blend shirts for you?
If you love t-shirts that are soft and lightweight, with form-fitting comfort and flexibility, you should definitely go with tri-blends. They've become the go-to shirt for merchandise and retail, especially among those who want a retro/vintage look. We hope this quick guide has given you the necessary information to create your custom tri-blend.
Tri-blend FAQs
Short answers to a few of the most common questions about tri-blends:
Are tri-blend shirts expensive?
While the price point is generally higher than standard tees and considerably higher than budget tees, they are still affordable for custom printing. Ideal for retail, merch, and company shirts, they have a much higher perceived value.
Do tri-blend shirts shrink?
Not really. Although almost every T-shirt shrinks slightly after washing, tri-blends hold their size and shape much better than the rest and less than the 2% industry standard. Just make sure you follow proper washing and drying guidelines.
CVC vs. tri-blend: what's the difference?
CVC shirts are an affordable alternative to tri-blends. CVC stands for "chief value cotton," so there's always more than 50% cotton blended with polyester (no rayon). They are soft, lightweight, and heathered, but lack the tri-blend drape.
About the Author
A graduate of the Multimedia program at the University of the Arts in Philadelphia, Imri Merritt is an industry veteran with over 20 years of graphic design and color separations experience in the screen printing industry.