Design Custom Gear
Personalize a custom t-shirt with our easy-to-use Design Studio
Start Designing
If your workers get the job done in hazardous conditions, they probably need high visibility clothing. This is the place to learn all about it. In this post, we'll review what qualifies as high visibility clothing, how to wear and care for it, along with the standards business owners should know about. 
What is High Vis clothing?
High visibility clothing (shortened to high vis, hi-vis, and even hi-viz) is clothing that stands out against any background thanks to fluorescent colors and strategically placed reflective stripes. 
This term encompasses a wide range of clothes and designs, from shirts to pants, outerwear, and headgear.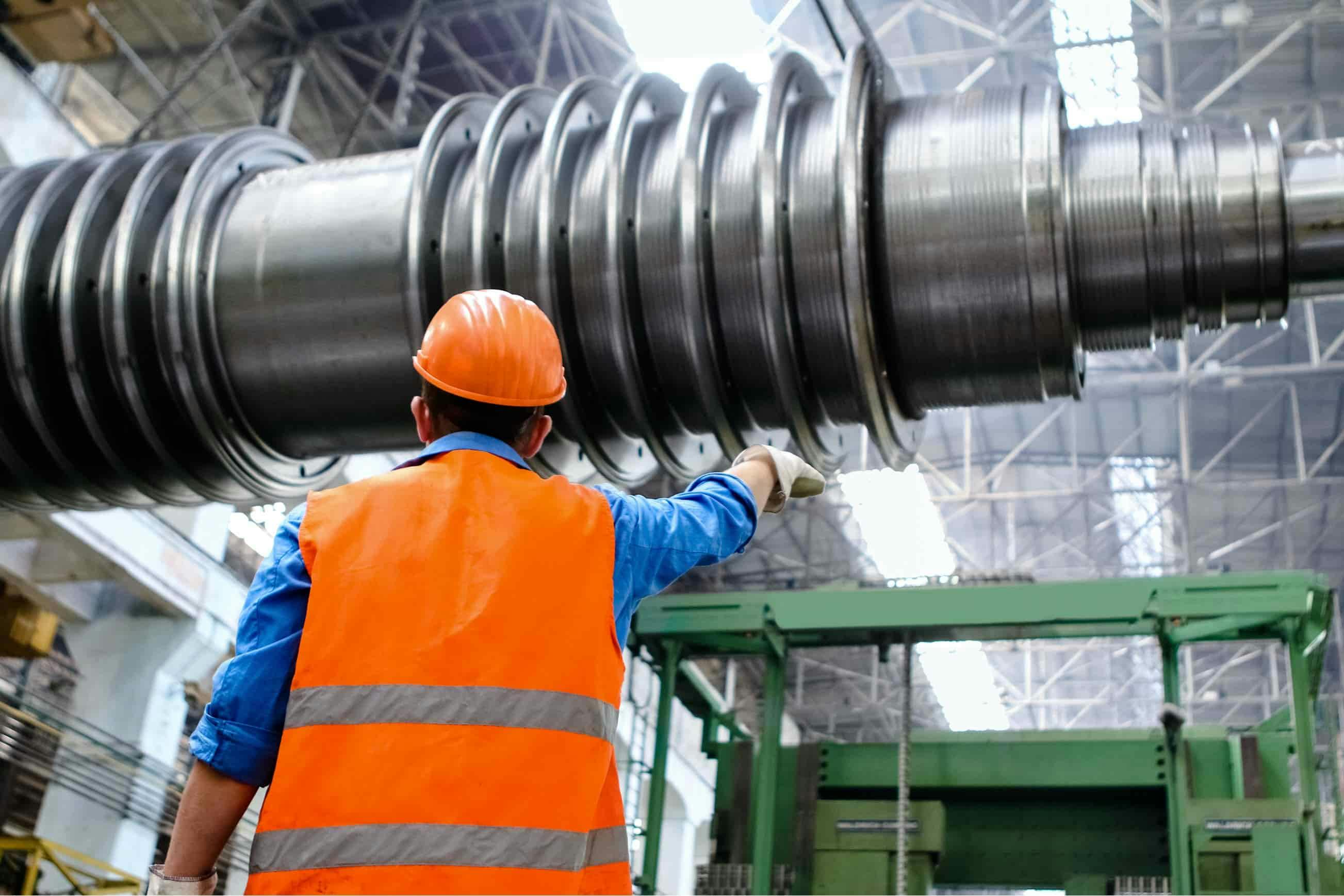 Who Uses High Visibility Clothing?
Workers in industries like construction, maintenance, utility, and emergency response all make heavy usage of hi-vis clothing. This is because they're often exposed to hazards that require them to be seen by other individuals. 
A crane operator needs to see where his co-workers are to avoid causing an accident. Highway maintenance workers need to be seen by the people driving on the road alongside them. 
High-vis clothing is used for recreational activities, as well. Road runners and cyclists will don reflective vests and fluorescent shirts or shorts to make themselves seen by oncoming traffic. Hunters wear bright orange (a color that generally can't be seen by game animals) to identify themselves to fellow hunters.
Is High Visibility Clothing Mandatory?
Hi-vis clothing is mandatory in certain instances. The Federal Manual on Uniform Traffic Control Devices 2009 stipulates that workers in the fields of highway maintenance and road construction must wear high visibility clothing to reduce the risk of on-the-job accidents.
While this is a national guideline, how it is enforced depends on the state. 
That's why it's best to just follow the Occupational Safety and Health Administration's (OSHA) interpretation of the manual which stipulates that workers must wear hi-vis clothing if they satisfy one of the following criteria:
-They're working on a highway maintenance job
-They're working in a road construction zone
– They're exposed to public vehicle traffic or construction equipment
Other industries are not required by law to mandate high visibility clothing for their workers, but choose to do so anyway, because of how it ensures safety on the job. Industries like general construction, airline, warehouse, and electric power transmission are just some of the others that make hi-vis clothing a requirement for workers.
If you have a business in one of these lines of work, it's a good idea to stay up to date with your state's standards for worker uniforms.
What Qualifies Clothing as High-Vis?
It isn't enough for a garment to be bright to qualify as high visibility clothing. It has to meet the standards as set out by the American National Standards Institute, in conjunction with the International Safety Equipment Association.
These standards are not of the one-size-fits-all variety. Instead, apparel is designated by "Type" and "Class." There are three types and four classes.
Hi Vis Apparel Types: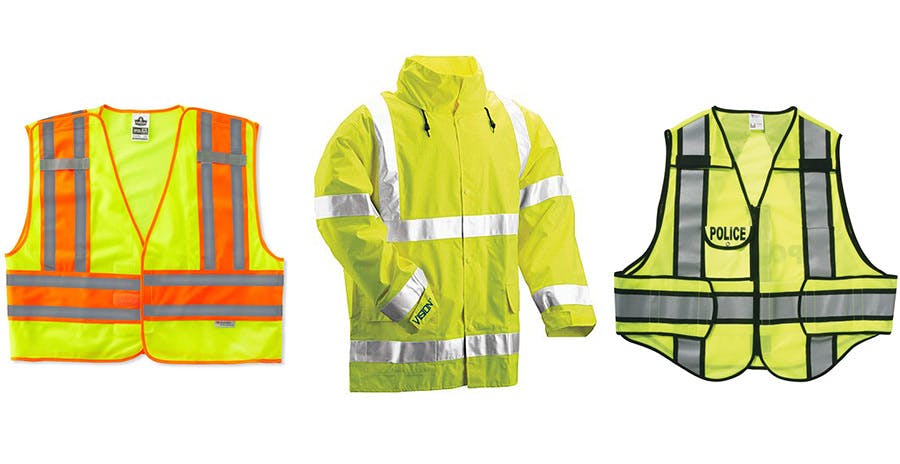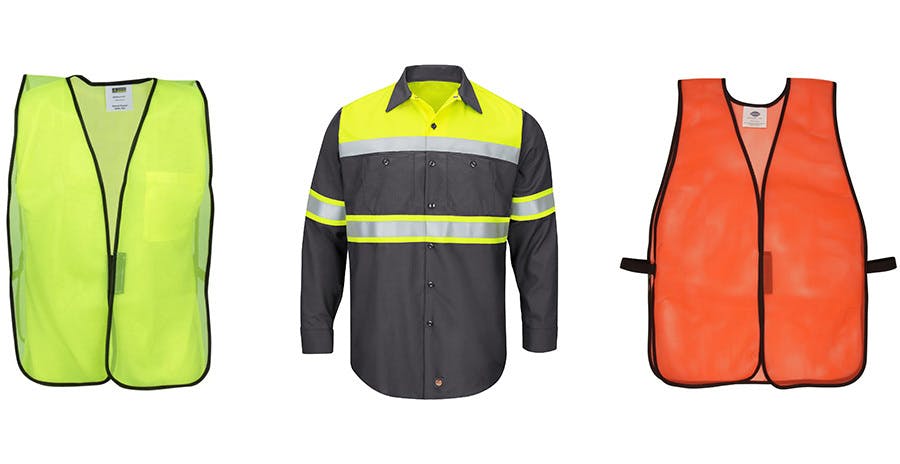 Off-Road or Type O is for workers who aren't required to wear high visibility apparel, but work in an environment where visibility is crucial to safety.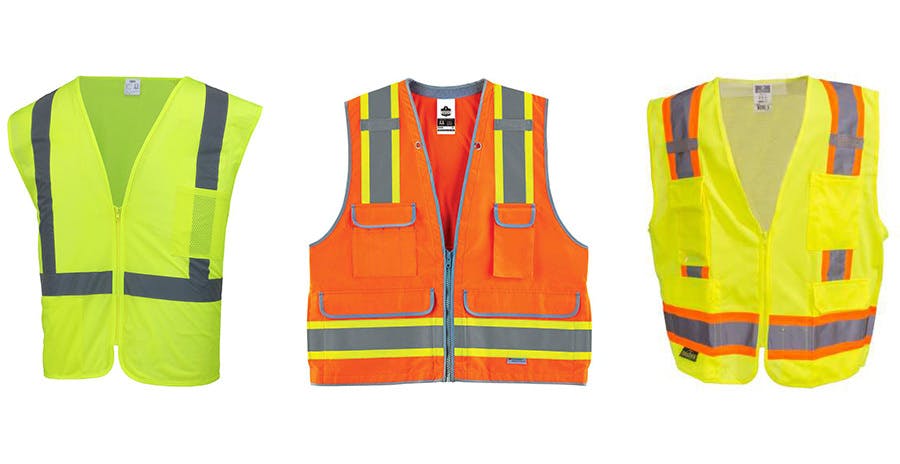 Roadway or Type R is for workers who are exposed to road traffic, as well as heavy equipment and its associated vehicles.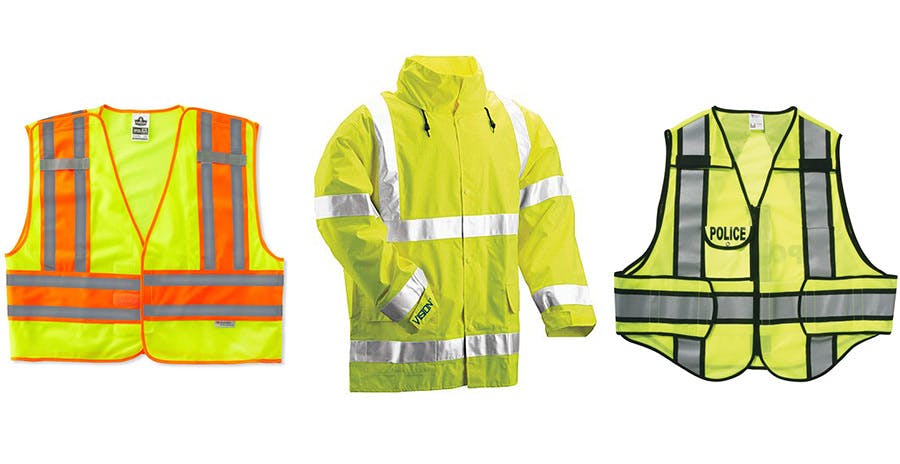 Public Safety or Type P is for first responders and emergency personnel. 
Hi Vis Apparel Classes
Class 1: Off-Road or Type O apparel belongs to performance Class 1. 
Class 1 requirements include 155-square inches of reflective material against 217-square inches of background material (the fluorescent-colored fabric). The reflective material has to have a minimum width of one inch.
Class 2 and 3: Both Roadway (Type R) and Public Safety (Type P) belong in these two classes. Class 2 requires less reflective material than Class 3. The exact proportions of background material to reflective material varies from class to class across the two types.
There will be cases where only Class 2 compliance is necessary, and times when workers will have to upgrade to Class 3. 
Fortunately, there's an easy way for workers who typically use Class 2 apparel to comply with Class 3 specifications– adding Class E bottoms. Class E is reserved for supplemental items, like pants and certain types of vests. 
As with anything in life, better to be safe on the jobsite than sorry. Opting for the minimum visibility your jobsite requires is fine, but leveling up to Class 3 garments will only add to the safety of your operation
What Are The High Visibility Colors?
OSHA's standards for high visibility clothing stipulate that for daytime work, workers must wear a top colored orange, yellow, or a "strong" yellow-green. 
For nighttime work, they must wear "retroflective"  material (i.e. reflecting light back to its source) in one of the following colors:
-Orange
-Yellow
-White
-Silver
-Strong yellow-green.
Is Red Considered a High-Vis Color?
Red is a high-vis color, but not a retroflective one. This means it can only be a background color for high visibility clothing. It needs reflective tape in order to meet ANSI/ISEA standards.

How Do I Take Care of High Visibility Clothing?
Start by washing them turned inside out,  in cold water with like colors. 
This preserves the reflective material on the outside. Leaving the item right side in while washing can cause reflective tape to wear out more easily, leading to fading and eventual tears in the material. If you think you can get around this by running a gentle cycle, think again.
Safety vests are a little bit different. The mesh material can wear out in the washer, so it's better to soak them in neutral laundry detergent dissolved in cold water. Let the vest stand in the dissolved detergent for half an hour. Stains and other particularly soiled spots can be brushed out.
Remember, if you're not seen, you're not safe. That's why it's important to replace hi-vis clothing regularly. If the apparel isn't visible from 1,000 feet away at any time of day or night, it's time to replace it.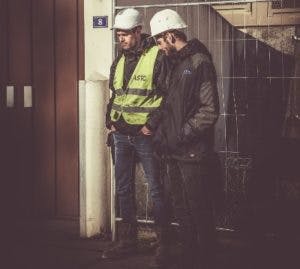 When worn daily, most high vis clothing will last for six months before becoming ineffective. When worn less often than that, these materials can last up to one year.
Is There Hi-Vis Clothing for Different Seasons?
If you've ever worked outside, you know conditions can change in an instant. Bad weather makes it even more important to be visible. Fortunately, there is a wider variety of high visibility clothing on the market now than ever before. 
Warm Weather
There's no shortage of t-shirts that come in hi-vis colors, so what better place to start building your warm weather uniform? Moisture-wicking varieties like this A4 Short Sleeve Moisture Wicking Shirt in Safety Yellow or Orange make for an ideal base that keeps your crew cooler and drier throughout the day. 
Mesh safety vests are another crucial element of the summertime uniform. Not only are they breathable, they also offer the necessary reflective tape to meet industry standards and maximize visibility.
Sometimes, the job will require long sleeves. Wind shirts can help in these circumstances. They offer breathability and rip-proof protection. Utility shorts and mesh pants can satisfy Class E standards while still meeting the needs of sweltering workers.
Cold Weather
When the temperatures drop, t-shirts and mesh pants just won't cut it. Your crew will need to layer up, with long-sleeve shirts as the base. Class 3 outerwear and rainwear protects against the elements.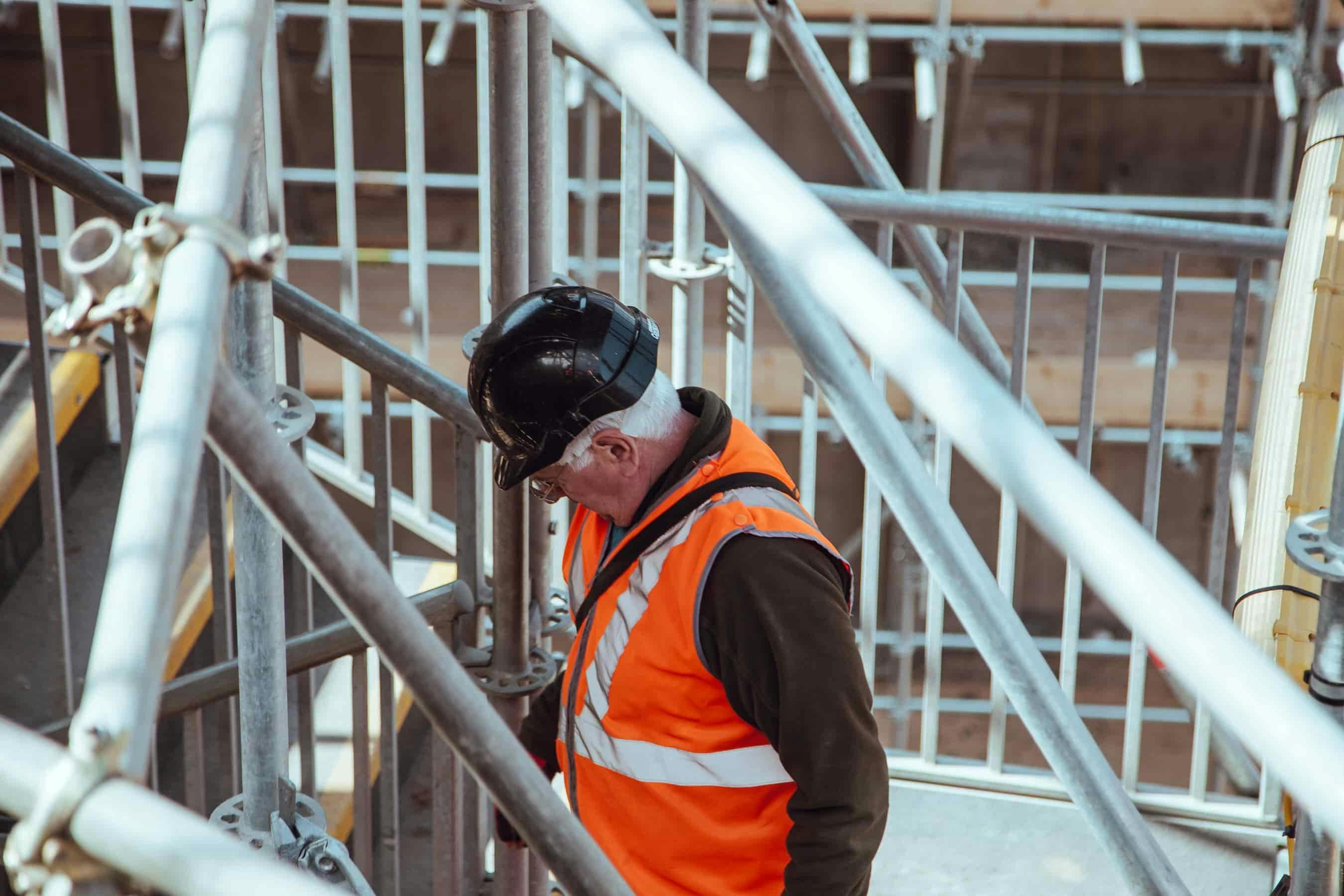 Of course, all shifts end, and when they do, it's important to give your crew something warm and dry to change into. That's where embroidered pullovers and hoodies can factor in. Giving them branded and personalized gear gives them something to look forward to at the end of a hard day.
High visibility clothing gives your crew an extra level of safety while on the job. Now that you know what they need, they'll never have to work without it.
About the Author
Kyle Greco is the resident writer at RushOrderTees, where he blends word nerdery with his love for T-shirts. A graduate of The College of New Jersey, he is interested in exploring the intersection of clothing and culture. In his spare time, he makes music, builds guitars, and cooks with his wife. He enjoys hot dogs, sports, and collecting too many hats.