MARKETING
The Ultimate Family Vacation Packing List
Before you and your family can enjoy some quality time together, you first have to pack. That can be the bane of some parents' existence, but it doesn't have to be. 
Believe it or not, you don't have to leave something behind in order to get away from it all. Keep reading to find our master list of things to pack for vacation. 
First Things First: How do You Pack a Family Suitcase?
It's always wise to travel light, especially when you have a family to think about. Believe it or not, you can probably pack the necessities for your whole family in just one suitcase. Here's how.
Get a large rolling suitcase or duffel bag. Go as big as you can for this one. If you're taking an airplane, you'll have to stick to your airline's designated dimensions. Try to go for models with soft sides and spinner wheels so you can maximize your space and move it around easily.
Use packing cubes. I'm not saying packing cubes are the most underrated invention in luggage history, but I'm also not not saying that. Give each member of your family their own packing cube. Color code it if you can, as this will prevent clothes from getting mixed up.
Bring only one week of clothes. Once everyone has their own packing cube, instruct them to bring only one week of clothes. Teenagers should be able to do this on their own, but little ones might need some help. Because most family vacations usually aren't longer than a week, you shouldn't have to do any laundry. 
What you bring will depend on the weather of your destination. Warm climates call for shorts, skirts, and dresses. Colder locales will require sweaters and pants. A T-shirt can work well for both, be it as a cover-up for the beach or a base layer for the slopes. Bring one for each day of your trip– you may be surprised by how often you find yourself wearing them. 
One of the shirts you bring should be a T-shirt commemorating the family trip. It's a great souvenir that's not only unique, but comes from the heart, as well– all because you designed it yourself! Make them all the same color. This way, when your family wears them together, you can find each other in crowded areas or other unfamiliar spaces.
Share toiletries. Does everyone need their own shampoo and body wash? Probably not, especially if you're only taking a short trip. This is a good exercise in sharing for kids, while giving parents the choice of cleansers.
Of course, don't share things you shouldn't, like contact lens solution, medicated lotions, and the like. If you're not bringing four different conditioners, fitting these specialized items shouldn't be a problem.
Now it's time to address the age-old question: Is it better to roll or fold clothes in a suitcase? 
Both have their benefits. Rolling your clothes is more compact, while folding them keeps them neater. My take? KonMari it— the organization legend's methods work as well for the dresser as they do for the suitcase.  
With that settled, let's take a look at some of the must-haves to bring along on three common types of family vacation.
Family Beach Vacation Packing List
Some of the things a family should pack for a beach vacation are obvious.
– Towels. We all need to dry off after a dip in the ocean!
– Bathing suits. Because you're not going to swim in your jeans.
– Beach Toys. This can take on so many forms, and really depends on what your kids are into. If they like sports, bring along a Wiffle ball and bat, a football, a frisbee, or anything else you can throw or kick. If they're more into building things, bring along sandcastle tools, like little shovels, buckets, and molds. Beaches tend to be windy– perfect conditions for kite flying! 
– Sunscreen. For protection against vacation-ruining sunburn.
– Life jackets. No matter if your kids are excellent swimmers or still developing their sea legs, a life jacket is always good to have on hand. Sea conditions can change rapidly, going from calm to rough and choppy– safe to less safe. A life jacket adds an extra bit of security in the water, giving moms and dads extra peace of mind.
– Hats. You're going to spend a ton of time out in the sun, so it's a good idea to protect your scalp and shade your eyes. Dad hats and big floppy sun hats will work equally well– just bring along the style you'll actually wear.
– Eyewear. You're already protecting your skin and your head, so why not your eyes? Sunglasses combat against glare and eye strain, while goggles will help prevent stinging underwater.
– Flip flops. Shoes on the beach are just uncomfortable!
Family Vacation Packing List For a Road Trip
The key to packing for a family road trip is to make the car as fun a space as possible. That means bringing the following things along.
– Games. The car is your home away from home during a road trip. If there are multiple legs of driving, chances are you'll spend more time there than at any one destination. That makes it the perfect place for games that are on the louder side. Trivia games like Brain Quest and the Trivial Pursuit app are great fun, and wordplay games like Mad Libs are sure to put everyone in a silly mood.
There are so many other games uniquely suited for road trips. Whether you're playing one of these or making up your own, they'll help you pass the time in harmony.
– Snacks. Feeling peckish on a road trip isn't fun, and sometimes you'll need to stretch the drive time between meals. So pack something to munch on for the journey. Ideally, you should bring along some healthy and not-so-healthy snacks, that way you can have a treat, but also not feel guilty about eating candy at 10am. 
– Headphones. Back in the day, my sister and I loved to play "our music" on the car stereo for our parents. It was so much fun to get their reactions in real time. But we couldn't blast Hillary Duff and Linkin Park the whole trip (which was probably for the best). There was always a portion of drive time where we had to use our headphones or earbuds. When the parents need a little break, or just want to listen to their own stuff, the kids will have a way to fight the boredom with their own tunes or videos.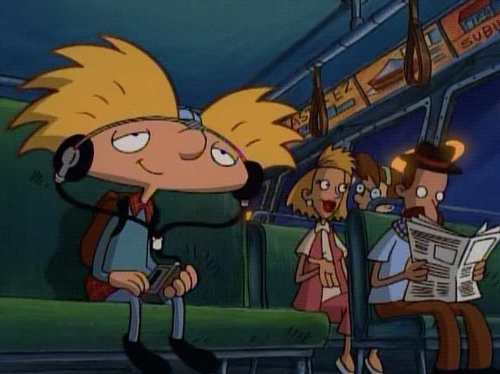 – Travel batteries. There are only so many AC adapters in the car, and they should probably be reserved for the most important devices (like Mom or Dad's phone or the GPS). It's always good to have backup, though, especially for the kids. Portable power banks are more affordable than ever, meaning everyone can stay charged up during the trip.
– Mini garbage bags. Keeping things neat isn't the highest priority on the list when you're traveling, but a tidy car can make the ride that much nicer. Give everyone their own plastic grocery bag to collect their garbage in. That way, when it's full, it can be thrown out easily at a rest stop.
– A cooler (with plenty of water). Hydration can be a tough thing to balance during a road trip. On one hand, you don't want to take a bathroom break every half-hour, but being thirsty is no fun, and can even be dangerous on the road. Err on the side of more stops; bring a cooler stocked with reusable water bottles (which you can refill during breaks) and a few soft drinks as treats. Want to save a little more time and money? Pack a picnic-style lunch in there for everyone, too. 
– A few small toys. Kids might want to bring along their whole toybox, which is a non-starter. Before your trip, have them choose a few things they'll be able to play with in the car. Action figures, die-cast cars, and plush buddies are all well-suited for backseat fun. 
Remind your kids to keep track of the toys they choose, so they won't get lost. Letting them only pick a few will help them do this, which reduces the chance for tears on the trip.
Packing For a Flight
– Books or magazines. A plane ride provides the perfect opportunity for your kids to sink their teeth into a good book. Let them pick out something they'll enjoy. A trip to the book store is both a fun way to expose them to a wide variety of books and a chance to show them how we bought books in the old days. Yes, you're old now.
– Tablet. Some parents might cringe at the thought of this: another screen? The answer is yes. It doesn't matter how long your flight is– any flight is a long one to a child. Download kid-friendly games and apps ahead of time. 
– Sanitizer and wipes. Did you know? Airplanes are basically glorified petri dishes. A quick wipe down of the touchable surfaces will go a long way toward keeping you and your family from getting sick before your vacation even starts.
– Blanket and pillow. To piggyback off the sanitizer and wipes, your kids might be better off using their own creature comforts. Remind them to try to keep them off the floor, though. This is honestly not a bad thing to bring along for any trip. Napping during travel is never a bad thing.
– Cuddly toys: For some people, flying can be scary. Honestly, I don't blame them– the idea of a giant metal tube hurtling through the sky is, um, terrifying. That frightened feeling can be even more intense for your kids. Help them soothe their fears by letting them bring along a soft and cuddly friend to hold during take offs and landings. That stuffed toy can also help them at night if they have trouble sleeping in unfamiliar places, like hotel rooms.
– Small games and games for one: once the plane is in the air and your kids adjust, boredom starts to set in. TVs in the headrests aren't a guarantee, and the tablet or book might only hold their attention for so long. Bring along card games they can play with the parent or sibling they're sitting next to. 
Any small, two-player game will do really, but card games are particularly good because they're relatively quiet, don't require small playing pieces that might get lost, and can feed into their competitive spirit, which might keep them occupied for longer. Games for one, like a Rubik's cube or peg solitaire, can challenge their minds and help time fly.
You and your family are going to have a blast on vacation together. With this list, you'll be able to spend less time wondering if you brought everything you need, and more time focusing on fun.
About the Author
Kyle Greco is the resident writer at RushOrderTees, where he blends word nerdery with his love for T-shirts. A graduate of The College of New Jersey, he is interested in exploring the intersection of clothing and culture. In his spare time, he makes music, builds guitars, and cooks with his wife. He enjoys hot dogs, sports, and collecting too many hats.