APPAREL
Every Beginner Cyclist Needs These 13 Items
Ready to dust off that bike and adopt a cycling lifestyle? We know you can do it!
But first, you need to equip yourself with several necessities. These are the items that keep you comfortable, prepared for mishaps, and empower you to push toward your next milestone.
A lock that works
Are you planning on leaving your bike in any public space, even for just a few minutes? Then you need to lock it. You always lock your car, right? Locking up your bike should be second nature, too.
A cheap lock is not synonymous with a good one. You get what you pay for here. The best (and most expensive ones) will protect your bike from any theft attempt that doesn't include power tools.
There are so many different types of bike locks on the market, and it can be hard to judge what makes one better than the other. That said, D-shaped shackle locks are a good place to start. 
Your new lock should have plenty of protection around the mechanism and use a flat key (cylinder keys are more vulnerable). The curved portion of the lock should engage inside of the housing from both ends.
The right hydration system
Intense training requires you to fuel properly. That means drinking plenty of water before, during, and after your rides. At the very least, you should have gotten basic metal bottle cages with your bike when you bought it. This could work early on in your new regimen, though bottles have a tendency to fall out of certain cages.
If you're planning on doing lots of long-distance riding, you might want to forego the cages altogether and invest in a backpack with a water bladder, as it holds more than a cage can, and does so more securely.
Moisture wicking clothes 
During your regimen, you'll see a number of riders fully "kitted out" with form-fitting jerseys and pants. But, unless you're racing, you probably don't need to drop an obscene amount of money on training gear. While certain things (like padded bike shorts– more on those later) are nice additions to your workout outfit, bike-specific gear isn't absolutely mandatory.
But you will want to stock up on clothes that use moisture-wicking fabrics. This kind of "performance wear" will keep you cool and dry throughout your ride, making it a must-have for any weather.
A waterproof jacket
Speaking of staying dry, it's definitely a good idea to invest in waterproof outerwear. Your average rain jacket is woefully equipped for biking, though.
Why is My Normal Rain Jacket Not Suited For Biking?
– It's not breathable. That means the harder you work, the more heat (and moisture) will get trapped close to your skin. While that might be useful for the first few minutes of a cold-weather ride, it quickly becomes uncomfortable.
– It's not actually waterproof. Unless your jacket comes with waterproof treatment, it might be merely water resistant. Those two things are not the same! That water resistant jacket might be good for a quick run from the house to the car during a shower, but it won't stand up to prolong soaking, which is what you're going to face out on your bike.
Look for close-fitting collars and sleeves to keep raindrops out, as well as reflective patches for dark and dreary days where visibility might be compromised.
Fleece quarter zip Pullovers
There are some days where you just won't be able to train normally. Maybe it's snowing, or there's black ice on the ground. That means you have to make the most of all the other days, including those with frigid temperatures.
That's where the quarter-zip fleece comes in. It offers the perfect blend of breathability and warmth, is machine washable, and can stand up to the rigors of all kinds of tough road conditions.
The right storage bag
Every cyclist trains differently. Some prefer short sprints. Others take the scenic route. But when they're out on the road, they all need some sort of bag to put their essentials in.
One option you can go with is the traditional saddle bag, which sits underneath the bike seat (aka the saddle). For rougher, off-road terrain, opt for a compact backpack. There are plenty of other good ideas worth assessing, including racks that attach to the bike (and thus take the weight off of you). 
Lights
You might not ever intend on riding at night, but you should still invest in a good set of bike lights. Because you don't want to try to fit in a ride before sunset and end up in the dark, where it's significantly more dangerous for cyclists.
There are two types of bike lights you need to have: ones for seeing where you're going, and ones for being seen by other travelers. For seeing where you're going, look for lights that read 500 lumens (units by which brightness is measured) or more. For being seen, look for lights rated at 100 lumens or more.
Repair kit
Like it or not, you will get a flat at some point in your cycling career, and it might not come at the most convenient time. That's why you need to have a repair kit with you for every ride.
Things Every Cycling Repair Kit Should Have
A patch kit.

An extra inner tube

Tire levers.

An air pump.

A multi-tool. 
Remember, you're better off prepared for the worst-case scenario.
A Helmet
Biking comes with a number of hazards, so use your head and get a helmet. Helmets can minimize or prevent head injuries in the event of an accident.
The right helmet for you should fit well and offer some form of venting to keep your head cool. Lighter is better, as it offers more comfort, which is something every rider should consider seriously if they want to step up their training.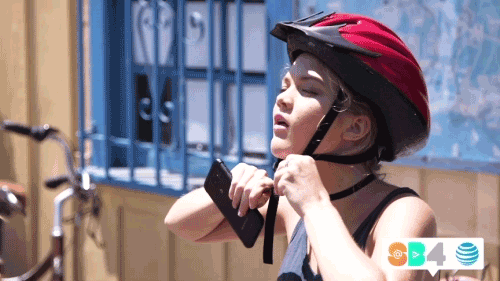 For extra protection, opt for a helmet with a MIPS inner shell. This variety of "brain protection system" is designed to reduce the risk of brain injury in the event of an accident.
Cycling shoes
Ever wondered why your feet get sore from biking in normal sneakers? It happens because the flexible rubber of the soles don't offer enough support for long-distance or intense biking. That leaves your feet to bear the brunt of the pressure, and pressure leads to pain.
Cycling shoes, on the other hand, have stiff soles to help the energy transfer from leg to wheel go seamlessly. The soles have threads that allow you to bolt on cleats that go with clipless pedals, which can improve your comfort and performance.
Don't make the mistake of using hard-soled cycling shoes without said clipless pedals, as wearing them can actually make it harder (and even dangerous) to push normal pedals.
Eyewear 
Serious cycling requires eye protection. While casual rides might not call for anything more sophisticated than a pair of sunglasses on a sunny day, long-distance and training rides can be hard on the eyes in more ways than one. 
Aside from eye fatigue on a bright day, riders have to account for bugs and other debris kicking up and into their eyes. That's why it's important to get a pair of riding glasses that offer plenty of coverage. 
Frames with interchangeable lenses help you adapt to the conditions of your ride on any given day. A bright summer ride in the country? Dark tint all the way. Nighttime training? Switch the tint out for clear lenses. Orange and yellow lenses can help with contrast in overcast conditions.
Computers
One of the joys of committing to your bike routine full-out is the sense of achievement you feel as you make incremental improvements in your performance. The satisfaction that comes from a new personal best or eclipsing a milestone can be addictive.
But you can't feel that rush if you don't have a way to keep track of it. That's why it's a good idea to invest in a bike computer, which attaches to your bike and collects data about each ride. 
You can find a worthwhile bike computer at a wide range of price points, so research what you'd like to track and make your decision based on that.
Bike shorts
Three words: padded bib shorts. You're going to spend a lot more time on your bike, and your body is going to need time to get used to it. While it might never be comfortable, per se, padded cycling shorts certainly make long rides easier on your backside.
With these items checked off your list, you'll be ready to ride!
About the Author
Kyle Greco is the resident writer at RushOrderTees, where he blends word nerdery with his love for T-shirts. A graduate of The College of New Jersey, he is interested in exploring the intersection of clothing and culture. In his spare time, he makes music, builds guitars, and cooks with his wife. He enjoys hot dogs, sports, and collecting too many hats.