APPAREL
How to Pack Properly for a Road Trip
The open road is calling you, but first, you have to pack. You probably already know to bring all the necessary documentation needed for your trip, as well as things like your car manual, first aid kit, and roadside repair kit. Unsure of what else to bring? Here's a list of everything you need to make your next road trip an undeniable success.
Getting Comfortable
Spending hours on the road can start to feel pretty cramped, which is why you need to bring items that keep you comfortable.
Packing Cubes
Space is always going to be at a premium on a road trip. You basically have to bring your life on the road for a while, after all. But space is also what you need to feel comfortable. These two things can be hard to reconcile.
That is, unless you have packing cubes. These storage solutions allow you to pack more clothing into a smaller space. When there's less space taken by clothes, there's more space to stretch out, and to fit your other amenities.
Figuring Out How Many Outfits to Bring on Your Road Trip
-First, consider your accommodations. Will the places you're staying overnight have laundry facilities? If so, you can probably get by with just a week's worth of clothes.
-What is a week's worth of clothes? Consider what climates you'll drive through. If you'll be in places both warm and cold, bring a mix of long pants and shorts, as well as short and long-sleeve t-shirts. Do not bring one of each for each day, though.
Travel Pillow
If you plan on spending any time on the road and not driving, you'll want a neck pillow. This is especially true if you're the type of person who nods off in the passenger seat. Who wants to wake up with a pinched nerve in their neck, all because their head was hanging during a nap?
To pick the right travel pillow, look for something that offers good neck support and is made out of materials that are both lightweight and comfy. A pillow with simple cotton filling is not likely to support you very well, but memory foam or microbead-filled pillows can. 
Full-zip Hoodie
Everyone has a different personal temperature. Normally this isn't a big deal, but it can be a real source of friction on a road trip. When you're spending hours on the road, and only one or two people can control the temperature at any one time, diplomatic attempts to make everyone comfortable can come up short. 
So, instead of shivering because Derek likes to drive an icebox, bring a full-zip hoodie along with you. Full-zips are preferable to pullovers in a road trip situation because they're easier to put on in a tight space, and allow you to adjust your temperature in half-measures. 
Traveling with a big group? Consider getting customized hoodies for everyone. It will prevent cabin-fever induced fights over whose is whose, and will help you pick one another out at crowded rest stops.
Plugging In
We live in a world of pocket-sized supercomputers, which makes spending those hours on the road safer and more fun. To stay connected, make sure you bring this tech on your trip.
Headphones
If you're taking a road trip with other music or podcast lovers, you'll probably have hours of fun sharing your own personal playlists made specifically for this occasion. But eventually everyone will want to listen to their own stuff.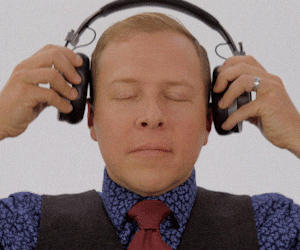 A good set of headphones or earbuds really comes in handy here. Ones with noise-cancelling properties would be ideal, but they can get expensive. Brands like Bose, Sony, and Audio-Technica offer some of the best quality, at varying price points.
Apps
There's no doubt you're bringing your phone with you– why not fill it with useful apps for your trip?
Gps and traveling apps. It's never been this easy to get around unfamiliar territory. Google Maps is a must-have, especially when you know cell phone connection is going to be suspect, as it allows you to download maps ahead of time. Waze is perfect for seeing traffic in real time, while Gasbuddy will help you fuel up on the cheap.
Games. Road trips just aren't the same without games. It's the perfect way to kill time while getting from one destination to the next. With your phone, there's almost no limit to the types of games you can play in the car. There are ones you can play as a group, or by yourself. 
Social media. Yes, we are all probably on our phones too much these days, especially when it comes to social media. But if you want to keep track of all the best parts of your trip and share them with the world at the same time, platforms like Facebook, Twitter, and Instagram really come in handy. 
Travel Batteries
Any given car has only so many AC adapters, and they should probably be reserved for the most important devices (like the driver's phone or the group's GPS). It never hurts to have backup in the form of portable power banks. They're more affordable than ever, so you and all your tripmates can keep their devices charged up.
Fueling Up
Every good road trip needs fuel, and not just in your gas tank. Keep your energy and spirits up with the following!
Snacks
Everyone gets peckish at some point on a road trip. Whether you're trying to stretch drive time between meals, or just need something to hold you over, snacks are a must-have on your journey.
Have a balanced spread of healthy and less-healthy snacks. Nuts, dried fruits, and raw vegetables are good for when you're hungry, while pretzels, chips, and candy act as a fun treat. 
Whatever you bring, just make sure it's handheld and easy to eat. Things like pudding cups can make a mess with one false move.
A Cooler (With Plenty of Water)
Hydration is one of the toughest things to balance on a road trip. On one hand, you're trying to make good time, which means there's usually not a lot of room in the itinerary for frequent bathroom breaks. At the same time, dehydration can have dangerous consequences on the road.  
My opinion? Take the safer route and go with more stops. Better to be well-watered on the road than thirsty! Fill your cooler with refillable water bottles and soft or energy drinks, for when you need a little boost.
What to Pack in Your Road Trip Cooler
Soft Drinks. Sodas, seltzers, energy drinks and iced coffees all work as a change-of-pace from water.
A Picnic Lunch,

if you want to save money on meals.
Mini Garbage Bags
Snacks and drinks create trash. And while neatness isn't the highest priority when you're traveling, but a tidy car can make the ride wear on you less. Give everyone their own plastic grocery bag to collect their garbage in. When they fill it up, they can dispose of it in the nearest trash can.
These are the essentials you need on a road trip! Besides, you know, a car. And gas. 
About the Author
Kyle Greco is the resident writer at RushOrderTees, where he blends word nerdery with his love for T-shirts. A graduate of The College of New Jersey, he is interested in exploring the intersection of clothing and culture. In his spare time, he makes music, builds guitars, and cooks with his wife. He enjoys hot dogs, sports, and collecting too many hats.