DESIGN
The Things You Need to Design the Perfect Bar or Restaurant Shirt
Whether you need new server uniforms for your staff, or just want some more merch for your webstore, your bar or restaurant needs new tees. You don't want this to be any ordinary shirt– you want it to stand out, to be something people wear with pride. 
In other words, it needs to be iconic. But you're a small business owner, not a graphic designer! Never fear, we'll guide you through everything that makes a bar or restaurant tee iconic right here.
Your Restaurant Name and/or Logo
What makes something iconic? It's an interesting thing to break down and nerd out about. 
Not that you have time for that. 
Fortunately, your resident nerd here has already taken the time to figure that out for you. You see, an icon represents something both physical and intangible at the same time. It can represent a person, place, or thing, while also being the embodiment of a feeling or a set of values. 
That makes it a very powerful thing for a business. You want future patrons to recognize your bar or restaurant as a place they can go to, as well as a provider of good times. Remember that a good time looks and feels different to everyone. Some want a refined dining experience. Some want a place to watch the game on Sunday. Some just want to go where everybody knows their name, y'know?
Fortunately, you have a head start to this end. (For the sake of this post, I'm assuming your bar or restaurant has been up and running for a while. If not, you'll understand what your next steps should be in a bit.)
That head start is your logo. If you want to have an iconic shirt, use your logo as the foundational piece of the design. It's what your patrons see along the side of the road. It's what gives them that hit of Good Brain Juice and makes them want to come back week after week.
If you weren't planning on doing this, what are you thinking? Seriously. You've probably already spent a considerable amount on the branding of your establishment (and if you haven't, that's probably worth looking into before making any shirts). So why not use the logo that's on all of your other branded materials?
(Hint: if you're not crazy about the look of your logo right now, check out our design makeover series, as well as how you can improve your brand's aesthetics.)
In the end, name recognition is the name of the game. The more people see your brand around, the more likely they'll be to stop in to check it out. And shirts can play a major part in visibility. If they don't have your bar or restaurant's logo on them, though, strangers won't be able to make the connection between your restaurant or bar, the shirt, and all those good feelings you serve up hot and fresh on the daily. Hence, the shirt won't be iconic. 
Shirts emblazoned with your logo or bar name are basically walking billboards for your business. Even if you're only planning on giving them out as restaurant uniforms, they'll still help spread the word. People run errands in their work clothes all the time. Plus, as folks move on from working at your place, they'll still have the shirts. And if those shirts look great, people will want to wear them long after they're done working with you.
A Design That Fits Your Brand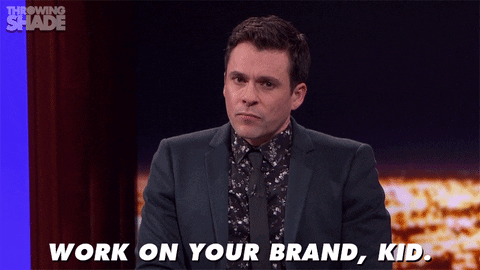 What makes a shirt look great? A dynamite design! But what does that actually mean?
Ninety-nine percent of all great shirt designs achieve certain things.
There's a balance to the shapes used.
They're symmetrical.
They make good use of negative space (see our blog post for more about this design concept.)
But you aren't just going for an aesthetically pleasing design. You want your design to sell your brand, both as an idea and a real-life enjoyable experience. 
In other words, it needs to tell a story. Not in a literal way, like you'd see in a four-panel comic, but more subtly. 
The font you choose can do a lot of this heavy lifting. Read more about how to choose the right font for your brand here. 
The type of garment you pick is part of the design, too. It should reflect the message you want to get across. A shirt will work in most circumstances, but what type (and which accessories) can make a big difference. Here are a couple of examples:
– For a more refined look, choose button downs or waistcoats. 
– For a more casual look, a dark, high-quality shirt will look great even through the busiest of shifts. Aprons customized with your brand logo can also look great, and are particularly useful for front-of-house staffers.
Of course, shirt color must be considered, as well. Offering the same design in various shirt colors can be cool. There is a certain appeal behind a 'collect-em-all' approach to shirt colors. But this is only worth doing if you know that those variations will sell well. 
Instead of offering your shirt design in a million colors, start with just one or two. Black and white are good to start with because they go with just about every other color, and take ink well.
Note the instances where you hear customers' wishes for other colors. When the time comes, you may even want to survey your patrons (via facebook poll or otherwise) about which color you should add next to your collection.
Which shirt color should I pick?
-Darker colors wear better. They're less susceptible to stains, and thus look less 'worn' over time. This is especially important if you're making restaurant uniforms.
-Vibrant colors pop. It can be hard to stand out in a crowd. It's easier when you use bold colors. Keep in mind, you'll need to be mindful of the contrast between the color of the shirt and the color of the ink so as to not make your design too hard to see.
A Reasonable Price
If you plan on selling your restaurant shirts, it's important to recognize the barrier that money is between your brand and its mass recognition. Selling your tees is a complicated mix of advertising investment and straight-up commerce. Your patrons buying a shirt is as much a transaction as it is an offering of goodwill. Essentially, anyone who buys one is implicitly saying "I want to advertise for you."
So it follows that people probably don't want your shirt to be the most expensive one they'll ever buy. Forego that extra dollar profit on every shirt with this in mind. You'll sell more shirts, and patrons will be jazzed that you're not trying to gouge them.
We can't promise that your restaurant or bar will be known worldwide just by following these tips. But they will put you well on your way to becoming the best-known bar and restaurant in your area, and further endear your establishment to patrons.
About the Author
Kyle Greco is the resident writer at RushOrderTees, where he blends word nerdery with his love for T-shirts. A graduate of The College of New Jersey, he is interested in exploring the intersection of clothing and culture. In his spare time, he makes music, builds guitars, and cooks with his wife. He enjoys hot dogs, sports, and collecting too many hats.