DESIGN
5 Fantastic Last-Minute Costume Ideas Perfect For Halloween
10/30/2019 by Kyle Greco
This month was a busy one, wasn't it? So busy that you actually forgot that Halloween is coming up. Whether you love the season because it gives you the chance to dress up, or just eat a lot of candy, we have the last-minute costume ideas you need to have a good time. 
Pop Culture
If you want to look like you didn't forget about Halloween, these costumes will help you pull it off. That's to say they're easy to make, but don't look easy. You can even lie and say you spent the whole month perfecting your look!
The Big Lebowski
What You'll Need:
1) Bathrobe
2) Ratty T-shirt
3) Pajama pants or shorts
4) White Russian
Don't think this is a good costume idea?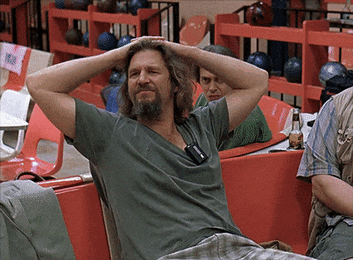 You're not really in a position to discriminate. The fact of the matter is, this is an awesome last-minute Halloween costume. It allows you to be comfortable and pull from a highly quotable movie all night long. 
When people ask you what you are, your only response needs to be "The Dude." It doesn't get much easier than that, now does it?
Prison Mike
What You'll Need:
1) Suit
2) Purple bandana
3) No idea of what prison is really like
If you want to celebrate one of The Office's best episodes this Halloween, you need to grab your suit and your favorite purple bandana. No seriously, that's all it takes to be Prison Mike. Now you can scare your friends straight with your tales from the clink.
Plus, you can eat your own hair.
Timeless classics
Generic isn't always a bad thing. These might not reference any specific person, but both are great options for die-hard and casual Halloween fans alike. How will you put your personal spin on these ideas?
Bank robber
What You'll Need
1) Striped shirt
2) Black pants
3) Mask
4) Cunning plan
If you don't have a Clyde to your Bonnie, this Halloween costume is a good alternative. Maybe it isn't as stylish as the Barrow Gang, but it is silly, and when has silliness ever been a bad thing? 
You can't be a robber without the goods, which is why you might want to add a money bag to your ensemble. Draw a big dollar sign on an old pillowcase to let everyone know your 'one last job' turned out alright. 
Hippie
What You'll Need:
1) Tie-dye shirt
2) Jeans
3) Retro, round sunglasses
4) Open third eye
If you're all about peace and love, this costume is a perfect fit. You don't need to visit a shaman to catch a hippie vibe, you just need some tie-dye in your life. That, and round sunglasses. 
Because rectangles are for squares.
The Cop-Out
Is this a good Halloween costume? Is a hot dog a sandwich? Great philosophers have pondered these questions for centuries. 
The truth is, there is no clear cut answer. Expect the debate to rage on if you decide to make this your "costume" this year. 
Error 404
What You'll Need:
1)The Shirt
2) Ability to withstand a barrage of criticism
It certainly is an easy idea. No one can argue that. All you need is a shirt. Whether you think it's lazy or genius, we'll make sure it gets to you on time. 
Just don't ask us to defend your choice. You're on your own for that one!
Halloween may be right around the corner, but you don't have to skip the costume just because you're short on time. These last minute costume ideas give you the foundation you need to let your creativity shine through. 
About the Author
Kyle Greco Kyle Greco is the resident writer at RushOrderTees, where he blends word nerdery with his love for T-shirts. A graduate of The College of New Jersey, he is interested in exploring the intersection of clothing and culture. In his spare time, he makes music, builds guitars, and cooks with his wife. He enjoys hot dogs, sports, and collecting too many hats.