Design Custom Gear
Personalize a custom t-shirt with our easy-to-use Design Studio
Start Designing
Are you ready to brew up some frightful fun this Halloween season? 
Planning a Halloween-themed party is a fantastic way to celebrate the spookiest time of the year. Whether you're hosting a cozy gathering or a larger event, here are 20 bewitching Halloween party themes that are perfect for turning heads and creating memories. 
The best part? These ideas can easily be transformed into t-shirt-worthy designs, keeping costume costs down while keeping the fun at an all time high! Read on to discover party theme ideas that you can intertwine with your Halloween party.
Creepy Carnival
Step right up to a creepy carnival extravaganza! Think vintage circus vibes, with contortionists, fortune tellers, and cotton candy. 
Design a t-shirt featuring a menacing clown face or a mysterious fortune teller's tent. Combine with carnival games and food like corn dogs, caramel apples, popcorn and cotton candy.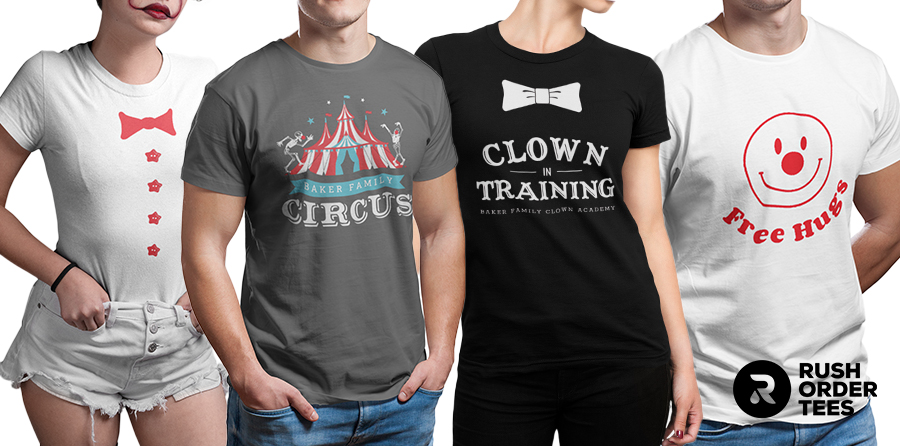 Enchanted Forest
Transport your guests to an enchanted forest filled with mystical creatures and magical surprises. Think whimsical owls, mischievous fairies, or towering old trees. A few fairy lights and dim lighting can give your event a magical feel indoors or out. 
Perfect for nature lovers, the enchanted forest theme can see costumes along the lines of mushrooms, pixies, butterflies, elves, fairies, gnomes and all sorts of playful creatures!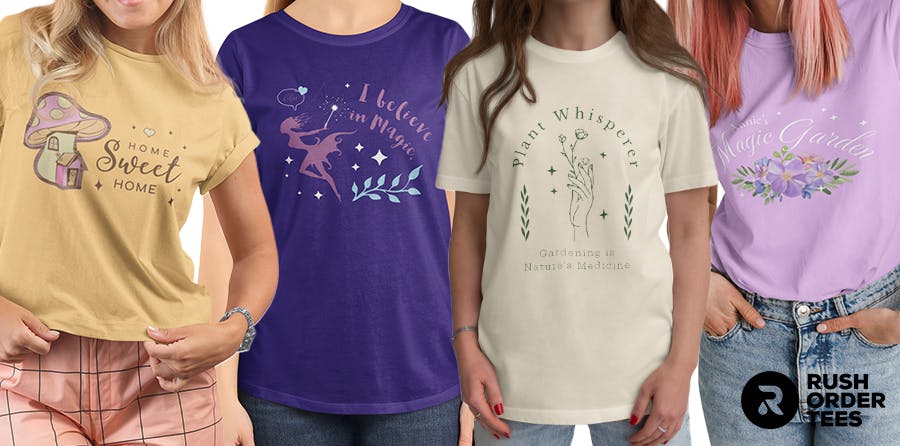 Haunted House
Turn your home into a haunted mansion with eerie decorations and spine-chilling surprises around every corner. A spooky mansion silhouette or ghostly apparitions could be the costume of the year with a haunted house theme. You can really push the boat out and give your guests a jump scare or two throughout the night. 
A haunted house party theme can keep your guest's hearts racing.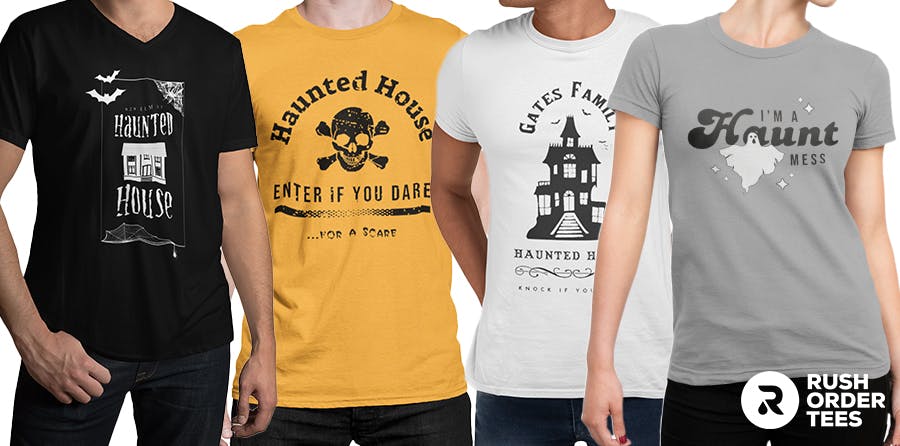 Pumpkin Patch Party
Celebrate the harvest season with a pumpkin patch-themed gathering. Design costumes and party accessories featuring adorable pumpkins, scarecrows, and fall leaves for a cozy touch. This is perfect for a kids event (imagine a room of toddlers all sitting in matching pumpkin outfits!) but is perfect for a warming fall party or event too.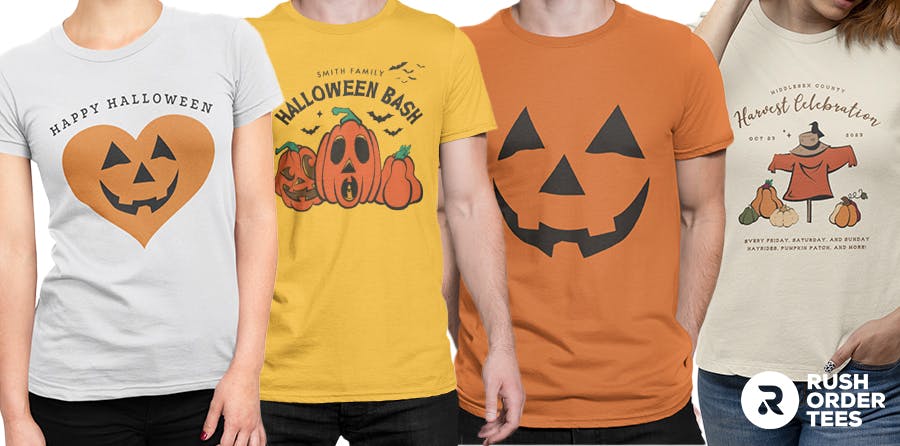 Mystical Masquerade
Host an elegant masquerade ball with an air of mystery and magic. A masquerade ball is a popular event, with swirling masks, big hair and fancy attire. Can't quite splash on a full ball? No problem! Our shirt templates can feature different styles of masks and a Mardi Gras feel.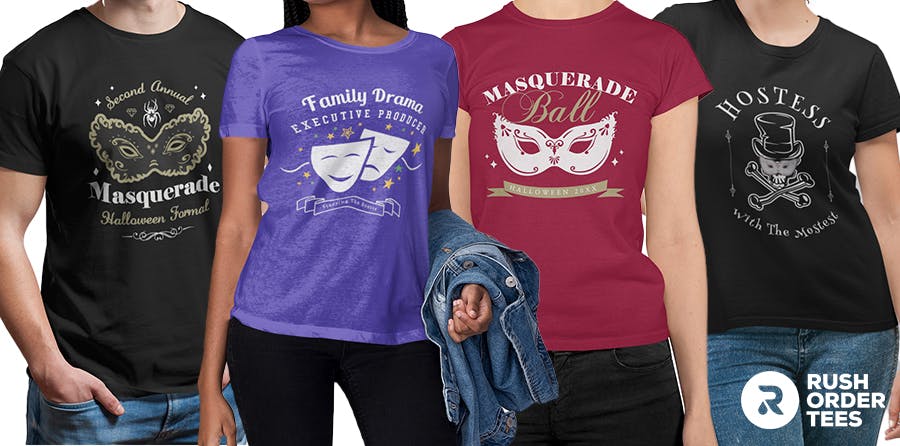 Witch's Coven
Nothing says spooky more than a witch's coven. Gather your friends for a night of spellbinding enchantment. Feature cauldrons, broomsticks, or whimsical potion bottles to match your witchy attire. A witch's coven should be full of black, smoky purples and deep, dusky greens for a truly Halloween feel.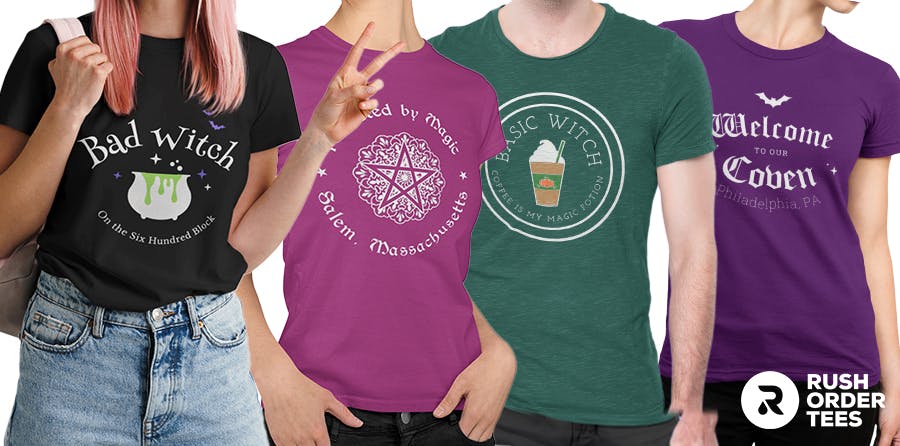 Alien Abduction
Take a cosmic twist on Halloween by throwing an alien-themed party. Design t-shirts with quirky extraterrestrial figures and flying saucers for a spacey touch. The best part about this theme is that your aliens can look like anything you can think of! Different colors, extra limbs or even a few extra eyes for luck, an alien theme is always a big hit with friends, family, colleagues and clients!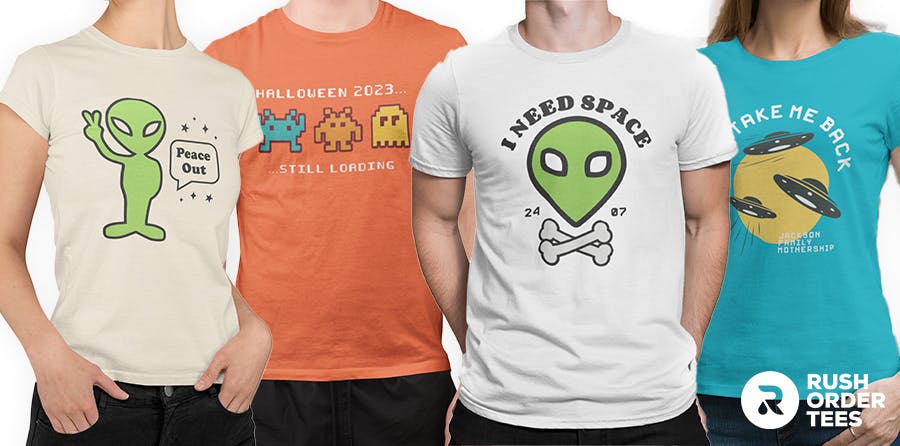 Monster Mash-Up
Combine various classic monsters like vampires, werewolves, and mummies into one quirky and fun party. T-shirt designs could feature a playful mishmash of these creatures or could allow you to show off your favorite. You don't need to stick with a traditional monster though - unleash your creativity and design your own monster to scare the guests with.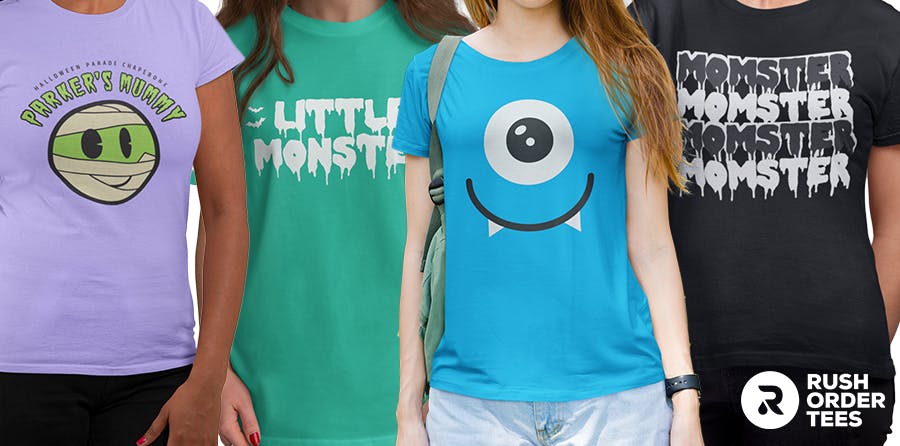 Dia de los Muertos Celebration
Honor the Mexican tradition of Day of the Dead with vibrant colors, sugar skulls, and marigold decorations. T-shirt designs could incorporate ornate sugar skull designs or marigold motifs.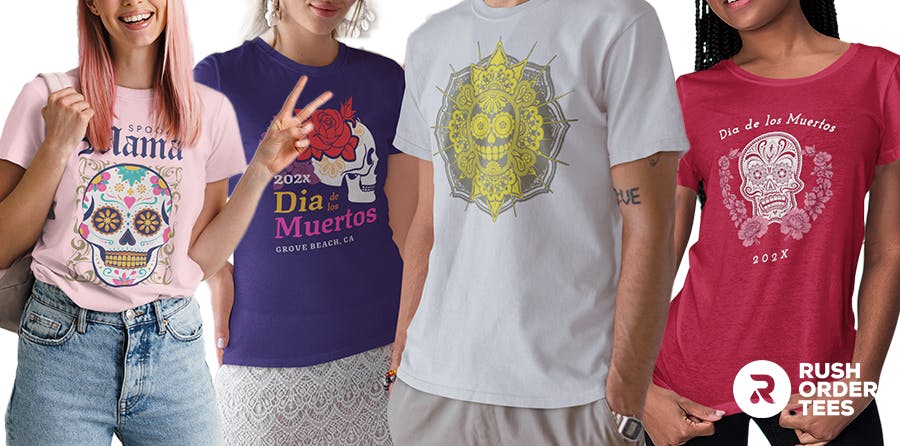 Underworld Mythology
Delve into ancient myths and legends with a theme centered around gods, goddesses, and mythical creatures. T-shirt designs might feature symbols of different mythologies. From Greek and Norse, to Roman and Japanese, as well as plenty of other sources to pull from, the possibilities are endless with this theme.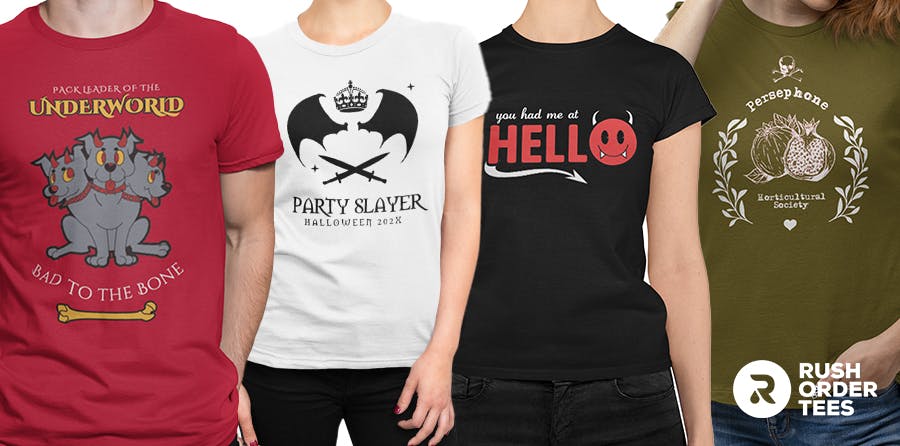 Mad Scientist Lab
Embrace your inner scientist by transforming your party space into a crazy laboratory. Incorporate bubbling potions, beakers, and quirky science equipment into your theme. In fact, this is a great theme for a cocktail party where guests get to experiment with their very own flavors and drinks. Add a curly wig for an even better costume.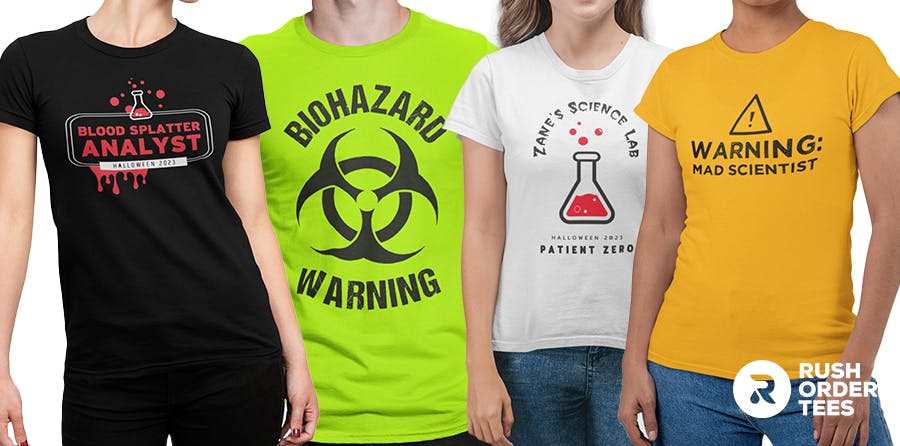 Spooky Safari
Go on a mystical safari where guests encounter fantastical creatures like unicorns, griffins, and dragons. T-shirt designs could showcase these mythical beasts in a creative way to get everyone really into the theme. This kind of safari can be complemented greatly by figurines to really set the scene.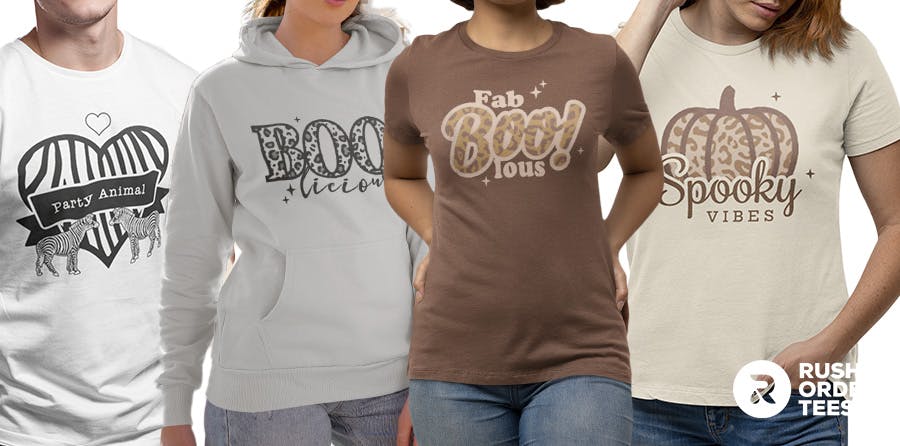 Ghoulish Garden
Turn your backyard into a spooky garden filled with larger-than-life insects, carnivorous plants, and eerie garden gnomes. Design t-shirts featuring these garden-dwelling terrors and 'green up' your space. This is a great idea for an eco-friendly business or event to keep plants or garden equipment/furniture at the forefront. 
Time-Traveling Costume Party 
Explore various eras of history with a time-traveling costume party. T-shirt designs could represent different historical periods, from the Victorian era to the roaring twenties. You can niche this into one specific century or era or you can let everyone bring their own unique designs from any era they want! It doesn't have to be super historical either - you could even opt for a 70's, 80's or 90's party!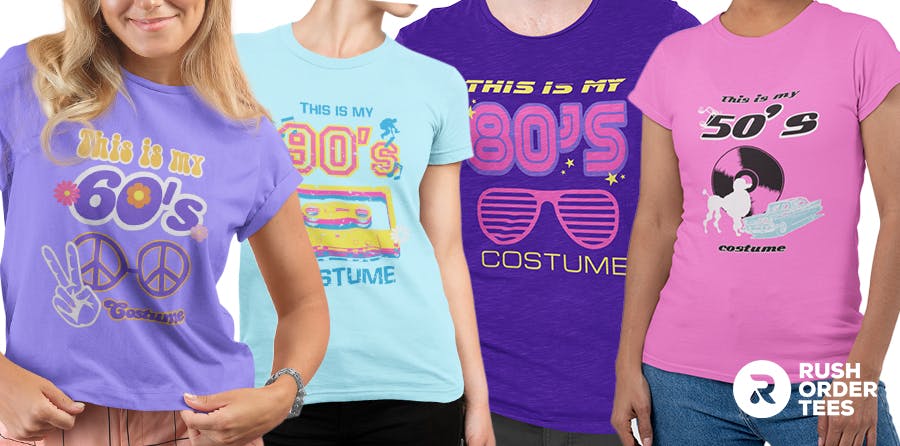 Ghostly Gala
Host a classy black-and-white ghost-themed soirée with a vintage touch. T-shirt designs might include elegant Victorian-style ghosts or intricate cobweb patterns.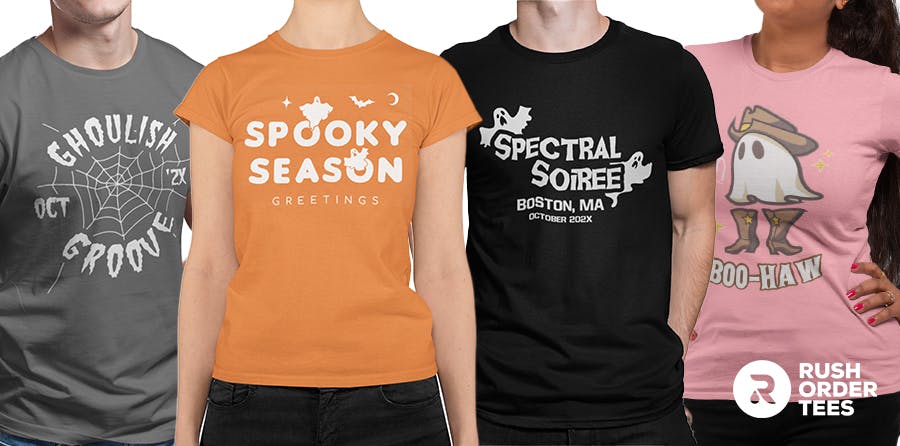 Zombie Apocalypse Survival
Turn your party into a thrilling post-apocalyptic setting where guests must survive a zombie outbreak. Design t-shirts with distressed zombie graphics and survival gear.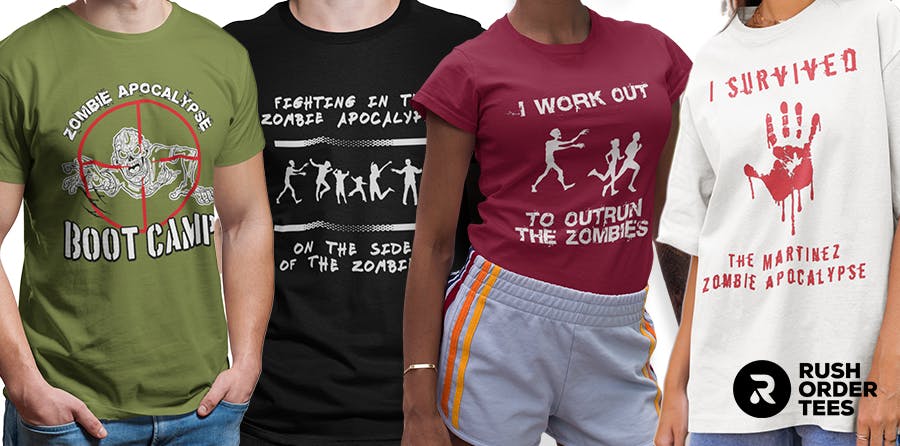 Freaky Fairy Tales
Put a dark twist on classic fairy tales by bringing characters like Little Red Riding Hood and Hansel and Gretel to life. T-shirt designs might reimagine these characters in a more haunting light.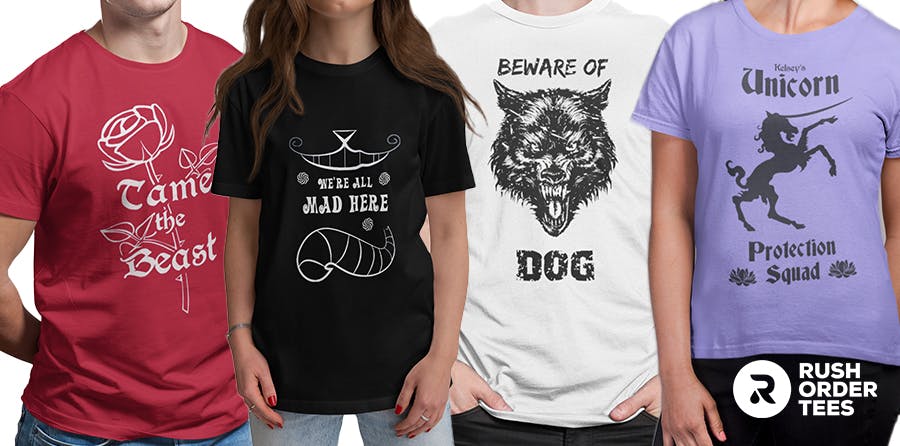 Wizards and Wands Soirée
Host a magical night inspired by wizards and spells. Create an enchanting atmosphere with spellbooks, potion stations, and mystical decorations. T-shirt designs could showcase wands, spellcasting motifs, and magical symbols.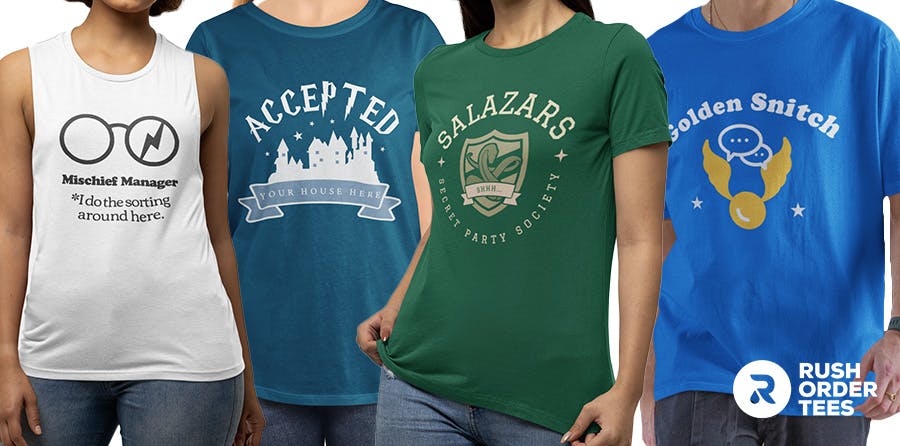 Cryptid Hunt Adventure
Embark on a hunt for mythical creatures and cryptids from around the world. From the Loch Ness Monster to Bigfoot, turn your party into an expedition of mystery and discovery. Design t-shirts featuring sketches or silhouettes of these legendary beings.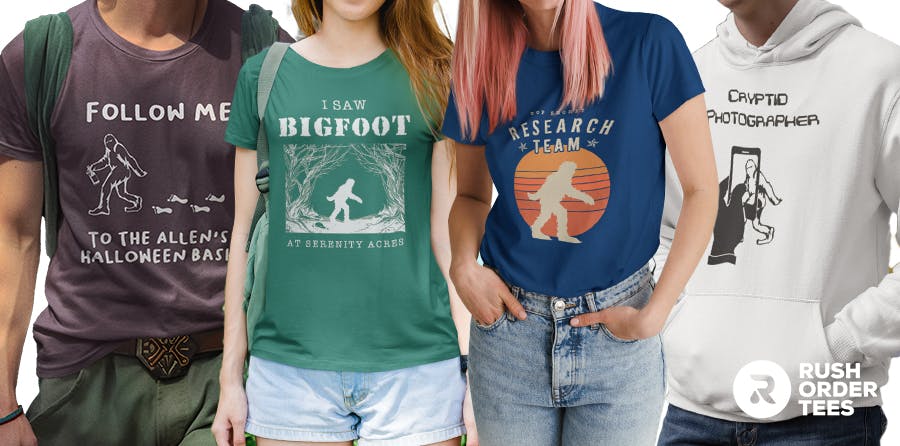 Gothic Glamor
Combine elegance with the macabre by hosting a gothic-inspired glamor gala. Think dark and luxurious décor, candlelit ambience, and guests dressed in their finest Gothic attire. Design t-shirts with intricate lace patterns, ornate chandeliers, or gothic architecture motifs.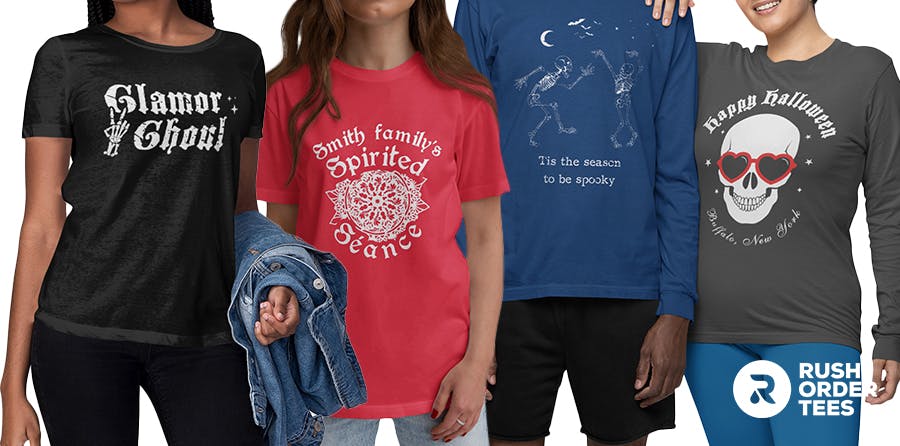 With these 20 spooktacular Halloween party themes, you'll be well on your way to creating a memorable and visually captivating event. Whether you're drawn to whimsy, mystique, or the downright eerie, these ideas will ensure your Halloween bash is a howling success!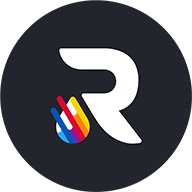 RushOrderTees.com
About the Author
RushOrderTees is a nationwide leader in custom apparel. Our screen printing, digital printing, and embroidery services create t-shirts, hoodies, hats and related apparel for individuals as well as group. Our staff regularly contributes knowledge and expertise to our blog to help those interested in creating custom apparel.