Custom 50th Birthday Shirts
Create your own 50th birthday shirt with our easy-to-use Design Studio.
Selected Color:
Light Blue
Free Shipping
As soon as Mon Oct 09
Rush Shipping
Guaranteed by Thu Sep 28
50th Birthday Shirt Templates
Get started with one of our professionally designed templates!
Customer Created 50th Birthday Shirts
Very impressive 50th Birthday Shirts
I needed a small order of shirts to surprise my husband for his 50th birthday. The printing is top quality and super quick. They even called to confirm details of my order. The finished product looked even better than I hoped. Highly recommend!
Sharon D.
Verified Review on Yotpo
Fifty & Fabulous!!!!!
Five (the FAB5) of us were going to Nashville to celebrate my sister's 50th birthday and getting t-shirts was our plan from the very beginning. But, with everyone's hectic schedules we totally dropped the ball. It was 2 days before the trip and I just thought it can't happened. Just in case, I googled "rush order t-shirts" and found RushOrderTees.com instantly. And, I thought it can't hurt to ask. HOLY COW...they said sure, no problem! I started hustling to get them the design ASAP, but I work a full-time job so I wasn't able to finish the design until the end of the day. I submitted the order late on a Wednesday. Of course, driving to work on Thursday morning I thought of something I wanted to change on the design. I called RushOrderTees.com first thing Thursday morning and spoke to someone about making a change and they said...NO PROBLEM! As soon as I got to work, I checked my email and there it was--a confirmation email with my change request. Now, they have to make the t-shirts and ship them to Nashville for the next day, Friday delivery. This is a tall order, but I am cautiously optimistic. We arrive in Nashville Friday morning around 8:30am and the t-shirts were delivered to the hotel at 10:47am. The design was perfect, the sizes were perfect, the quality was perfect and the smile on my sister's face was perfect! It really is the little things in life that make us happy. THANK YOU RushOrderTees.com for making my sister's birthday celebration so special!!!!! Sincerely, #FAB5.0 (insert big smile here)
Karen T.
Verified Review on Yotpo
Highlight of the Show
These T-shirts were an absolute hit at my sister's 50th Birthday Whiskey Walk! They are soft and comfortable not at all itchy, like cheaper T-shirts can be. The printing was very visible and professionally done!!! Thank you for an absolute great touch to make my sisters's day memorable!
Veronica B.
Verified Review on Yotpo
Start Designing Now
Create a custom 50th birthday shirt by uploading your logo, adding text and personalizing your design to make the event special!
Get Started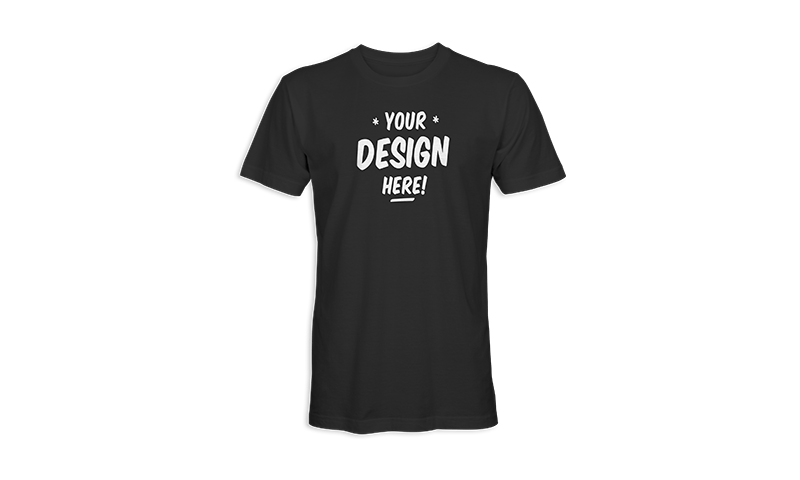 Raise a Glass to Half a Century with 50th Birthday Shirts
Turn a significant milestone into the party of the century with custom 50th birthday shirts. Whether you're planning your small birthday get-together or a bash for a friend, commemorative shirts help the celebration go down in history. No matter if they're serious or silly, custom 50th birthday shirts will be the talk of the party!
Birthday Shirts for Groups
Our broad product selection makes it easy to create 50th birthday shirts for a group. From sleeveless t-shirts to women's tees, we have something that everyone will enjoy. If you're looking for identical shirts, designing a 50th birthday design for the entire group is even easier. Whatever you choose,  rest assured that your custom 50th birthday shirt will be a souvenir everyone will enjoy.
We Make It Easy to Create Memorable 50th Birthday Shirts
Designing 50th birthday shirts for a group party couldn't be easier at RushOrderTees. Just upload your image and text or choose from our various design templates. Next, hit submit, and we'll get to work printing your order! If you're in a hurry, ask us about rush shipping to ensure your birthday shirts will show up in time for the festivities.