Screen Printing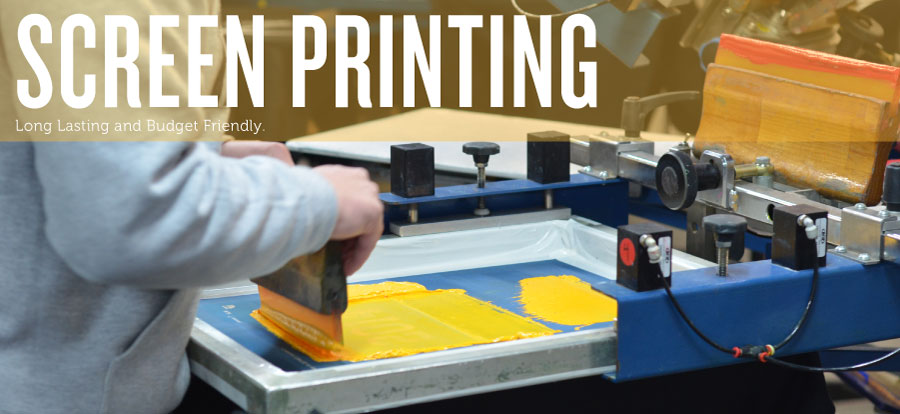 What is Screen Printing?
Screen printing (also known as silk screening) is a printing technique where the image to be printed is transferred to a very fine fabric or mesh, otherwise known as the "screen." The areas that are not to be printed are blocked out on the screen so that only the negative of the image remains.
Then, the screen is laid on top of the garment to be printed, and ink is pushed with a squeegee through the area of the screen that is not blocked by the emulsion. This leaves an inked imprint of the image on the garment. By layering several different screens and ink colors, we can create intricate multicolor designs.
We recommend screen printing for most t-shirt printing orders because it is the most durable process with the widest range of design possibilities.
Screen Printing FAQ
What kind of ink do you use?
We use only the highest quality plastisol inks. These are known to withstand years of washing and wearing.
Do you print with water-based inks?
Water-based inks are available upon request. Please Contact Us to discuss options for water-based printing.
Will your screen printing come off in the wash?
Not at all. Due to the quality of the inks that we use and the thoroughness of the drying process, our screen printing will be durable and vibrant for years to come.
Our Screen Printing Process
Step 1: You send us your image, almost any image, or easily create using our design studio and we will figure out how to screen print it properly.
Step 2: We separate the colors in Photoshop or Illustrator and then expose each color on separate screens.
Step 3: We manually ink up each screen with the approved color.
Step 4: We print each color in the correct print order while flash drying in-between each color.
Step 5: We dry your printed item at 380 Degrees for approximately 25 Seconds on a Conveyer Dryer (Kind of like Quizno's Rolling Heater) to ensure even temperature and curing of your ink. This step of the process ensures no cracking, no fading, no wash off, and no peeling.
Step 6: We double check your print for quality and then begin printing the rest of your order!
Step 7: We ship your order to your door, you're the happiest customer in the world, you call us next time... rush or no rush!

Most Common Screen Printing Questions
1 Will your screen printing wash off?
Never, with the curing process and rolling dryer, it is cured at the right temperature for the same amount of time for every single piece of apparel we print.
2 Will you flash your prints on dark color garments?
YES, always. We are perfectionists, we do not ship any screen printed products less than perfect. And chances are, we have a better eye than most people when it comes to print quality and accuracy. We staff some of the country's best screen printers (One of our printers holds the record for "Most t-shirts loaded in 15 minutes") to ensure that every job is printed correctly and to the best of your design's possibilities. We are confident that above all, your end product will be 100% satisfactory, or give us a call and we will be happy to fix it for you!
3 How do I know what your printing quality is like? Can I trust you guys to do a good job?
We get asked this question everyday and we understand where you are coming from. With Rush Order Tees, there is nothing to worry about! We gain the trust of over 100+ new customers everyday and service hundreds of reorder customers every month. Chances are, our headquarters are not within walking distance from your workplace or home, but we understand quality. Quality is what drives this company forward. Our number one core value in our company handbook is, "Quality is king," and it is a core value every member must understand fully before retaining a full time position with Rushordertees. Every order is reviewed by a designer, then a printer, then the production management team, then the quality control department. Our staff goes above and beyond to ensure your product is printed perfectly so that you can worry about what is most important, your event.
If you have any further questions, check out our FAQ, or give us a call at 1-800-620-1233 to speak with a customer service representative.
Custom t-shirts are commonly associated with screen printing. While they are our top selling product, we also print on a multitude of apparel, such as sweatshirts, womens apparel, caps, sweatpants, towels, and bags, and more. You can view our full catalog or give us a call at 1-800-620-1233 for product or printing questions.